Making candles at home is fun, easy, and safe, as long as you have the right supplies. Even though the wicks, wax, and molds aren't available at just any old store, when you know where to look, and know that you are looking for, it's a cinch to stock up some supplies for candle making at home.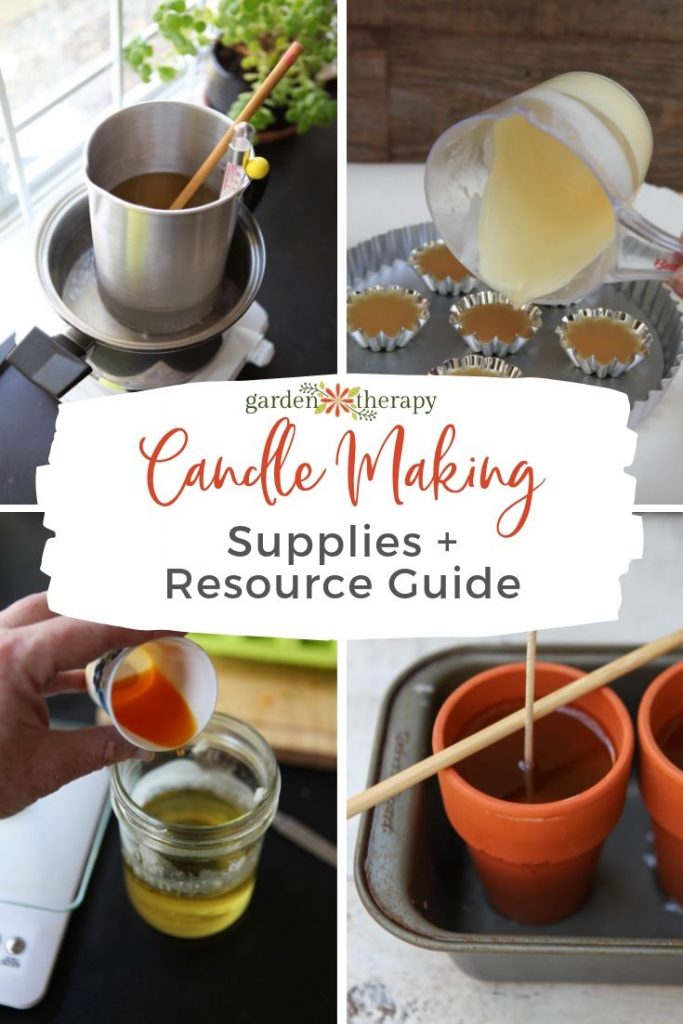 Before you get started with the supplies, do you have a copy of Make & Give Home Candle Making? I wrote this book to showcase 12 techniques for candle making at home. There are a number of different methods and some gorgeous gift ideas for artisan-inspired candles. Once you have your recipes and materials list, it's time to stock up your supply closet!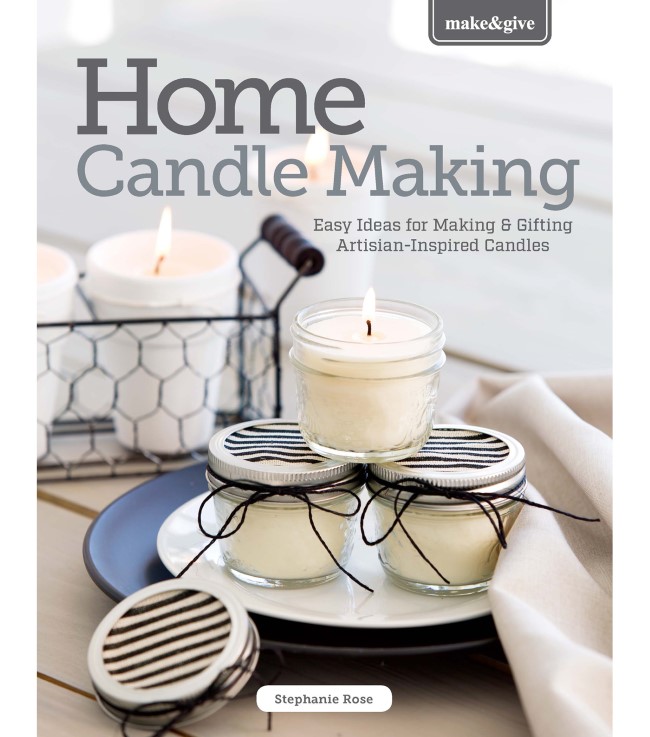 Disclosure: Links in this post may go to online stores where I am an affiliate, which means I may earn a small commission if you buy them. This helps to support the website and creative projects found here on Garden Therapy. I scoured the web for the best and most creative ideas and researched all of the products so you can get right to the fun of candle making!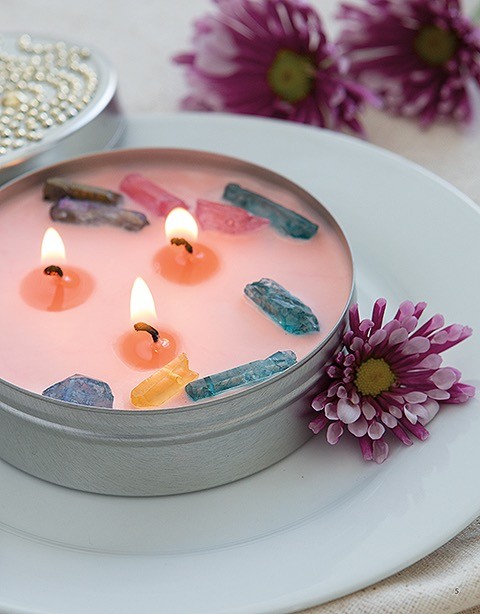 Two Ways to Get Supplies for Candle Making
Candle Making Kits
When I first started sharing my candle making recipes, I got a lot of questions about where to find the supplies. There are so many wicks and wax options, that well-meaning crafters can become overwhelmed with choices. To help with this, I started putting together candle making kits for making jam jar candles and seashell tea lights and listed them in my Etsy shop. They sold out almost as soon as posted the listings and I found myself spending a whole bunch of time packaging and shipping kits, but I would have much rather been out in the garden or crafting! So, I stopped selling kits and looked for other kits that could get people started. Here are some great kits that are a one-stop shop to candle making:
A la Carte
Kits are great, but you can easily collect supplies to make candles a la carte. It gives you a lot more options for projects, allows you to make larger quantities, and can save you the convenience fee of buying a kit. The rest of this post is full of links to buy the equipment and supplies you might need to get you stocked up for candle making.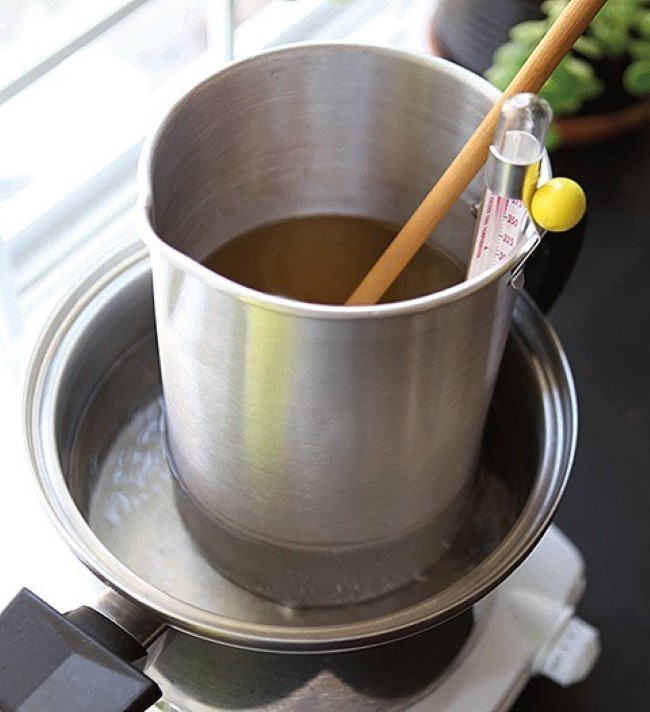 Equipment for Candle Making
Many of the materials that you need for candle making can be easily found in your kitchen or craft drawer. Luckily, these items are also very easy to acquire at thrift stores and inexpensively online because it's best to dedicate the equipment to candle making. Wax, dye, and scent oil are difficult to remove completely from pots and jars, so set aside a stash of equipment just for candle making.
Wax for Candle Making
Wicks for Candle Making
Wicks come in many different materials and forms, from basic cotton on a roll to wired and waxed wicks with tabs. No matter which you choose, you need the right size (thickness) for your candle to burn properly. Wicks that are too small will not melt the wax all the way to the edge of the candle, creating a tunnel in the center. Wicks that are too large will create a lot of smoke. (Although both of the aforementioned situations are also used as techniques in projects in this book.) Look for labeling on the package of wicks to see what wax and diameter they are appropriate for.
Fragrance and Essential Oils
Fragrance oils offer the most consistent and reliable scent. They have been formulated to be heated to high temperatures and added to molten wax without evaporation. Fragrance oils also come in a wide-variety of lab-created scents like strawberry and green apple that are pleasing and not available as essential oils.
Essential oils are natural scents extracted from plants and they are sometimes better tolerated by people with scent sensitivities or allergies. Essential oils are used in aromatherapy with different healing effects (such as relaxation or focus) being ascribed to the aromatic diffusion.
Colour and Dyes
Coloring your candle can be done with liquid wax dye, solid wax dye, or crayons. Wax dye specifically formulated for candle making will give you the most even color and burn performance. Liquid wax dye is the easiest dye to use because it doesn't need to be dissolved like solid dye does. Solid wax dye comes in blocks or chips that can be dissolved into melted wax to obtain the desired color.
Containers
Making container candles allows for a great deal of creativity because you can customize so many parts of the process: melting wax, adding color and fragrance, pouring it into a heatproof container, and adding a wick. If a container is in the appropriate shape to hold a candle, and it is made of a material that can withstand the heat of molten wax, then you can probably make a candle in it!
Wax Melts and Candle Warmers
In Home Candle Making, I show two methods for making natural wax melts using molds and wax warmers to release the scent.