When it comes to dry, sensitive skin, chamomile is a powerful ally to have on your side. This gentle soap is infused with dried chamomile to pack it full of the herb's healing properties. So, treat your skin with love and make your own chamomile soap.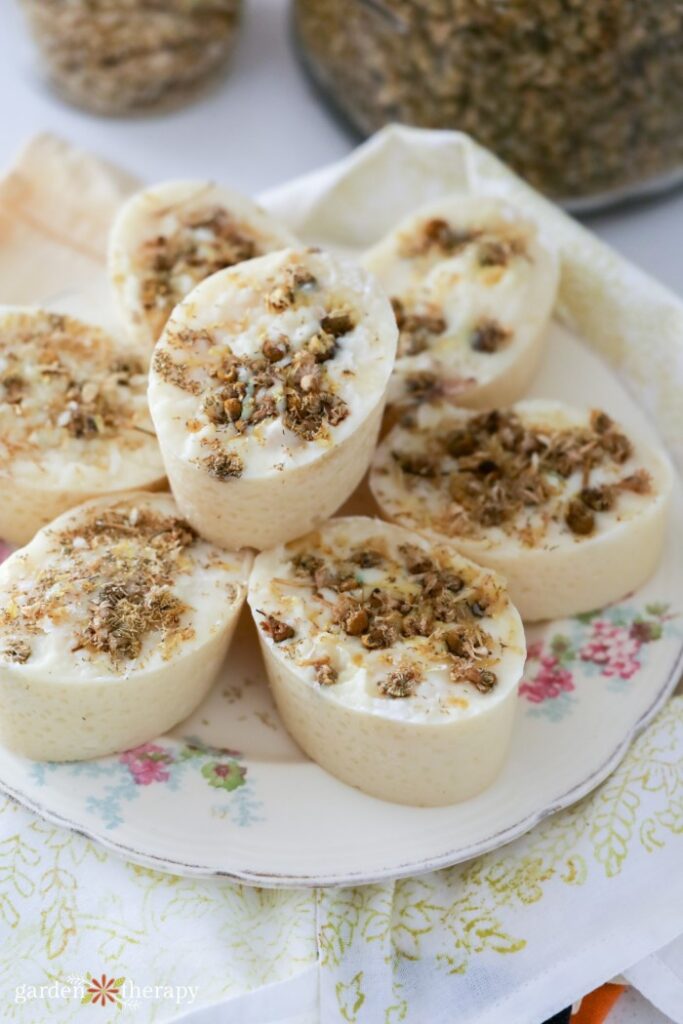 When it comes to the herb garden, there are few herbs as versatile as chamomile. Easy to grow, lovely to look at, and potent in its power, it's a no-brainer addition to the garden.
I have a deep love for this herb, and I wanted to harness its properties into an ultra-moisturizing yet calming soap recipe.
This chamomile soap is designed with sensitive skin in mind. Chamomile is one of the best herbs for irritated skin, and this will give it a nice, gentle cleanse.
This post will cover…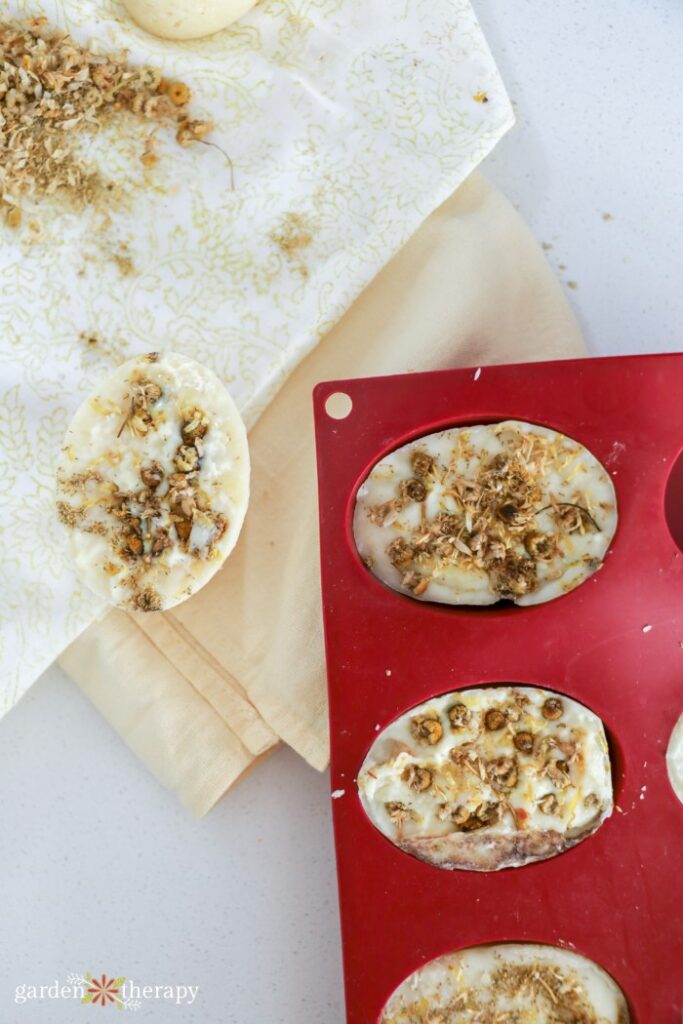 Chamomile Soap Benefits for the Skin
Many of us know chamomile as the queen of herbal tea. While it's excellent for digestion and cramps, the soothing effects also extend to the skin.
Traditionally, chamomile was used to treat skin-related issues like wounds and scrapes. The antibacterial and antifungal properties of the herb make it great for open wounds, cuts, scrapes, and bruises. You can also find anti-inflammatory properties thanks to the Chamazulene essential oil in chamomile.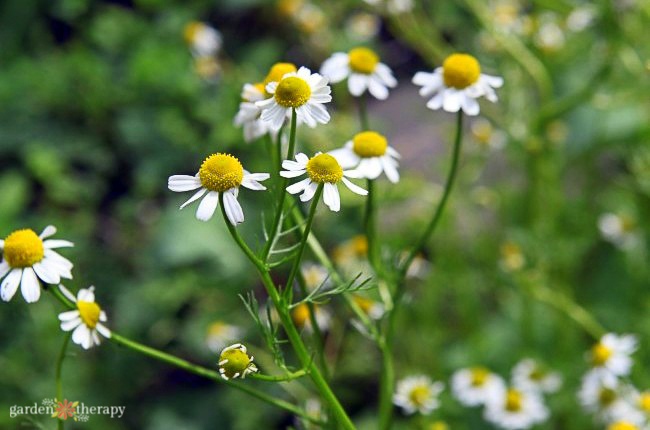 Chamomile can be applied topically to help with eczema. In fact, a study shows that chamomile as a compress for skin lesions works just as well as hydrocortisone creams.
With all this being said, chamomile sounds like a powerful skin herb. Yet, it's very gentle on the skin. Those with sensitive skin and even babies can safely use chamomile soap and will find it helps soothe irritated skin.
A chamomile oil infusion works best for minor skin irritations, which is the base of this chamomile soap. By infusing chamomile into this soap, you get all the calming properties the herb offers.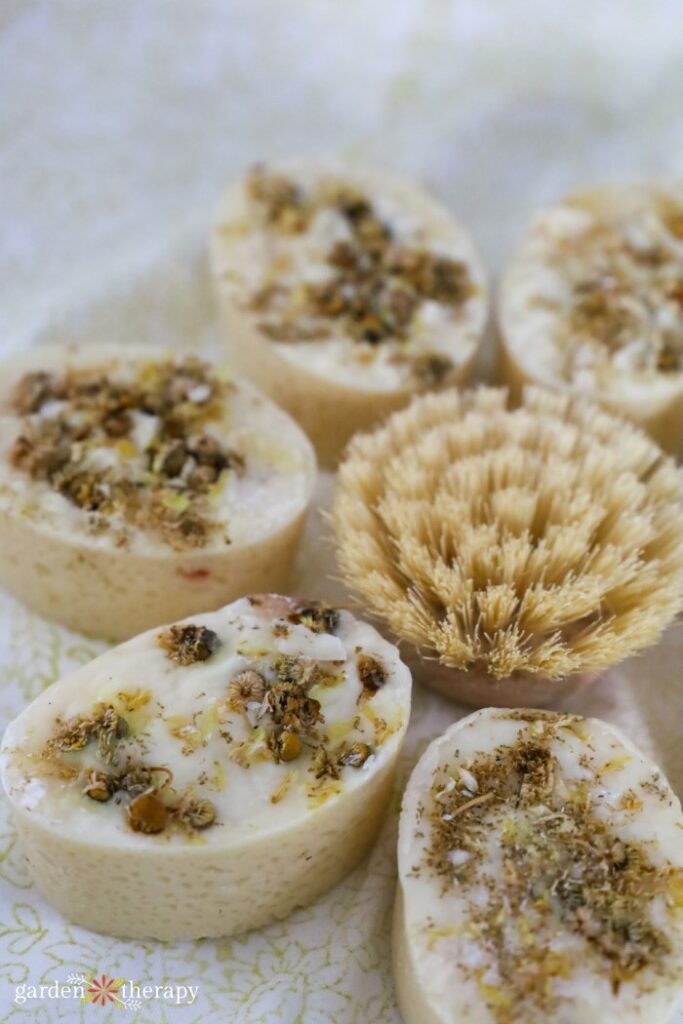 How to Make Chamomile Soap
To make this chamomile soap, I infused my moisture blend recipe. It's made from 75% olive oil and 25% coconut oil for a seriously moisturizing bar of soap. Your skin is left with a subtle silky feeling that minimizes the need for lotion after showering.
Ingredients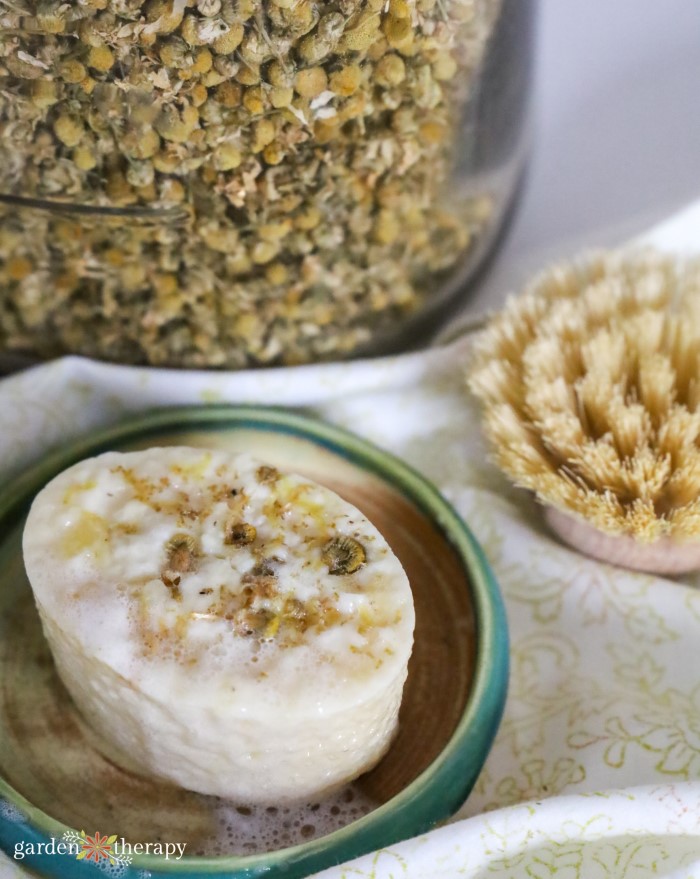 Infuse Oils
The first thing you need to do for this recipe is infuse your olive oil with chamomile. Not only will the soap take on the light chamomile scent, but it will also take on the herb's healing properties.
Use dried chamomile, as fresh chamomile will increase the chances of the soap spoiling if not used fresh. You can try cold infusion if you have time; otherwise, you can use the heat infusion method.
For infusing over heat, place the olive oil in a double boiler. Add as much chamomile as you have available while still being covered in oil.
Let it sit on low for a couple of hours or until the oil becomes aromatic. Strain your oil, and then it's ready for use.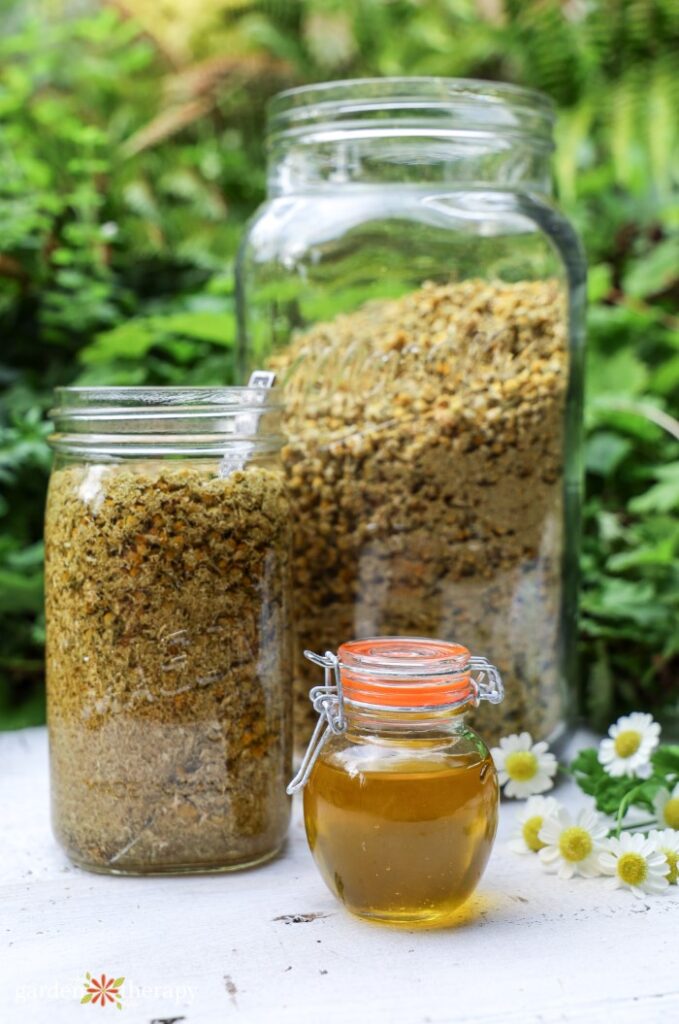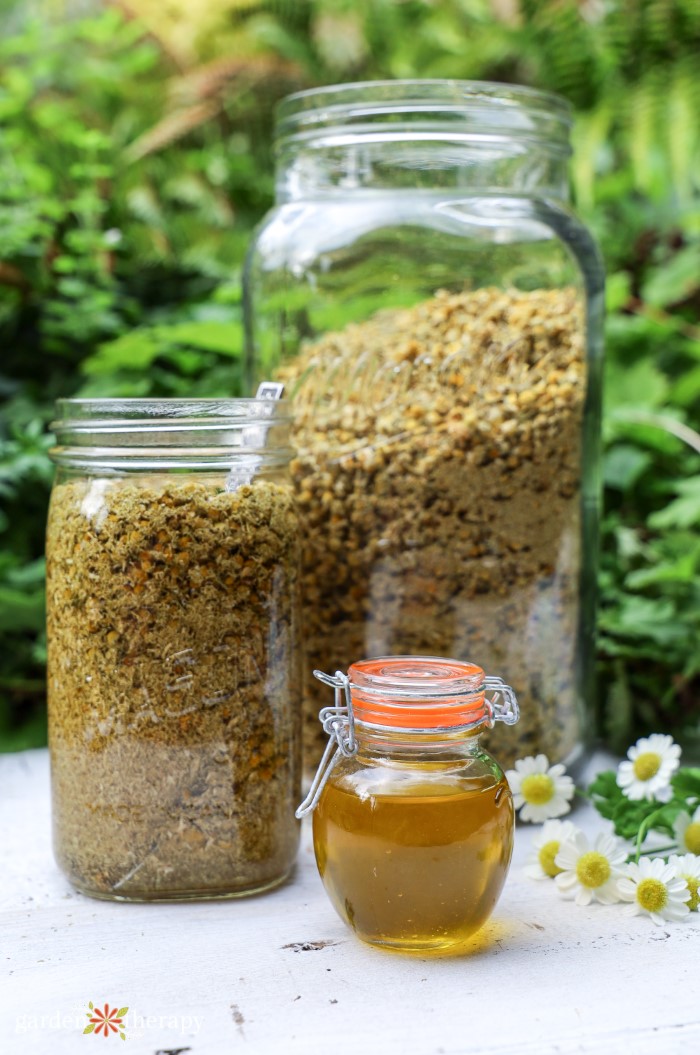 Make Your Soap
If you've never made soap before, check out this post here. I won't go into detail about all the instructions here, so you can read those instructions for step-by-step guidance.
I left my soap unscented to go with chamomile's soothing and natural spirit. If you want to add scent or color, you can do it when the soap is at a light trace. Blend it in, then pour it into your soap molds.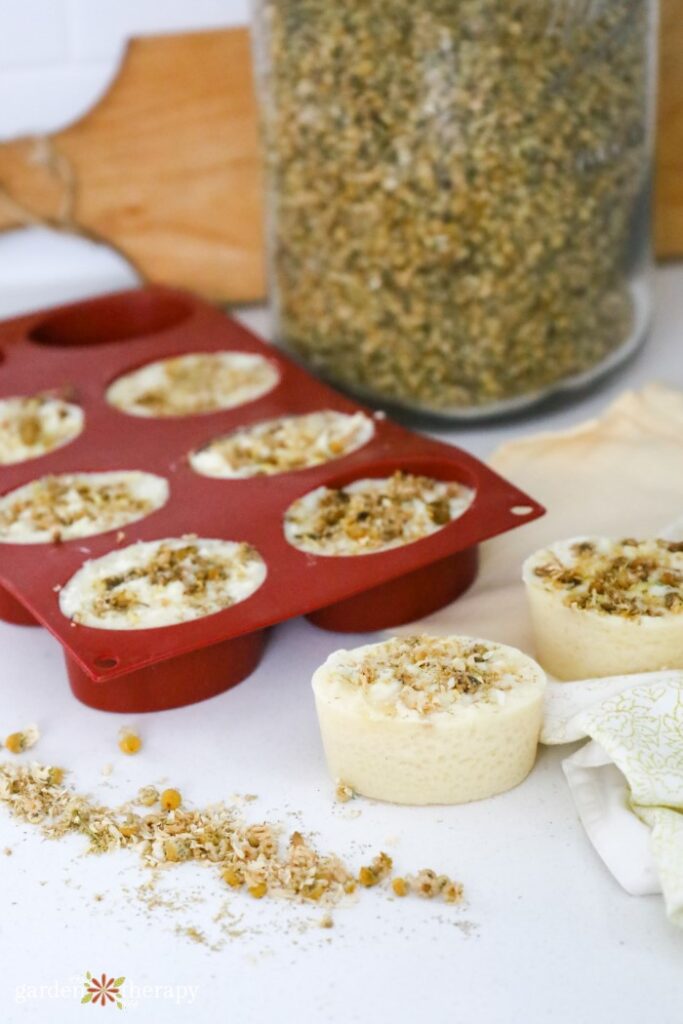 For my chamomile soap, I poured the soap into oval molds. Smooth the top layer with a spatula, then top off the soap with dried chamomile flowers for decoration.
Let your soap sit on a warm surface (such as a fridge) for 48 hours before unmolding the soap. The soap must cure for a further six weeks, and then it's ready for use!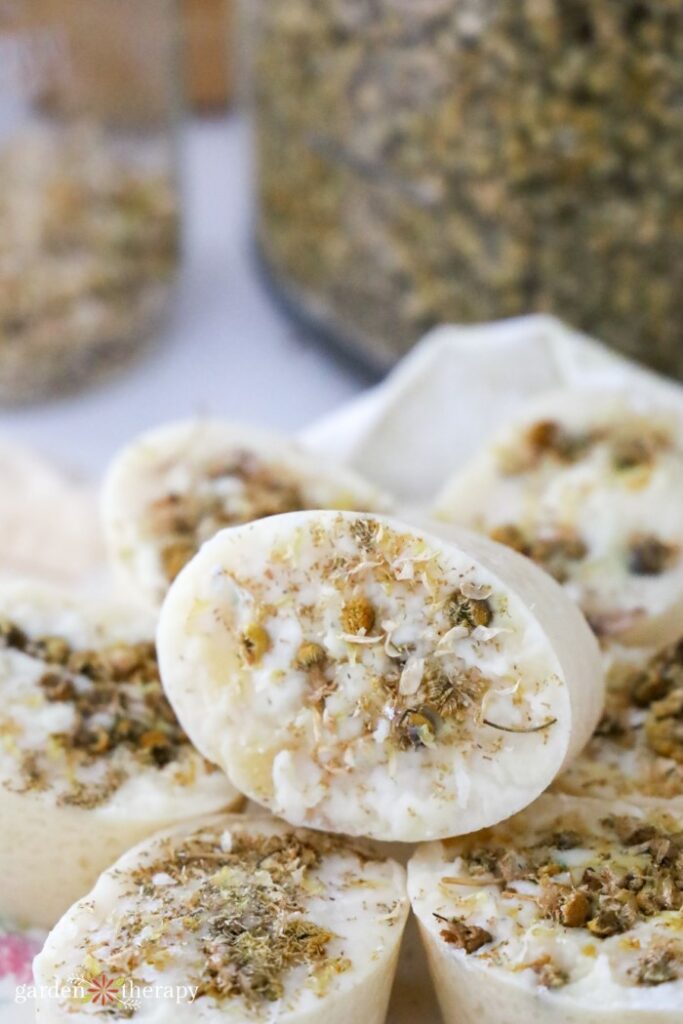 Frequently Asked Questions About Chamomile Soap
What is chamomile soap good for?
Chamomile soap is great as an all-purpose soap that provides gentle cleaning. The herbal properties of chamomile will extend to the skin, soothing while cleansing. Keep these chamomile soap bars handy for dry, irritated, and sensitive skin.
Is chamomile soap good for your face?
This chamomile soap is very gentle, which is exactly what you want for the delicate skin on your face. It will have antibacterial and anti-inflammatory properties that will help calm sensitive, irritated skin and conditions such as eczema, acne, sunburns, and rashes. This chamomile soap is also very moisturizing and won't strip the oils on an already sensitive face.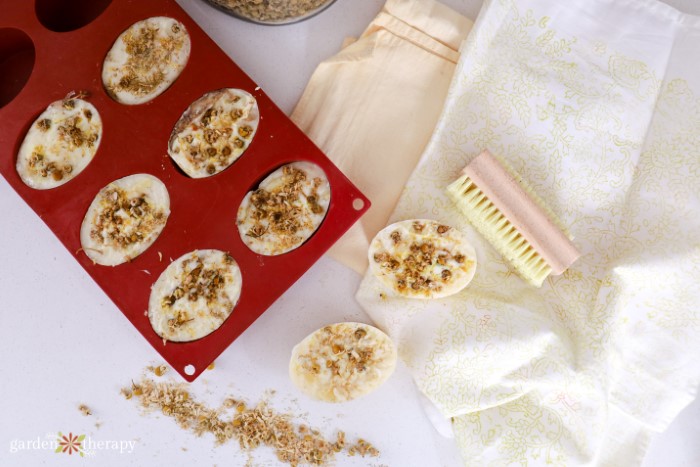 More Soap Recipes to Try
Soothing Chamomile Soap
Gently wash your sensitive skin with this moisturizing chamomile soap recipe.
Equipment
Safety gear (rubber gloves, face mask, apron, eye protection, etc.)

Double boiler, soap making pitcher, and a pot of water.

Oval silicone soap/cupcake mold
Instructions
In a double boiler, heat olive oil and dried chamomile flowers on low heat. Let sit for 2 hours until the oil is aromatic. Strain oil.

Weigh the remaining ingredients on a scale.

Heat your oils on the stove until they reach 115°F with a thermometer.

While the oils heat, add lye to water in a heat-resistant container in a well-ventilated area. Stir until dissolved. Place the container in an ice bath until it reaches 115°F.

Combine the lye water with the oils and mix with an immersion blender until the mixture reaches a trace.

Pour soap into oval soap molds. Sprinkle dried chamomile flowers on top. Let sit for 48 hours undisturbed.

Remove soap from mold. Let the soap cure for six weeks before use.