This aloe vera soap recipe contains plant-based, skin-soothing herbs that help to repair and protect skin when hand washing. It is simple to make at home and can be customized to any scent that you like to use. As an added bonus, aloe is great for both the hardworking skin on your hands and the delicate skin on your face.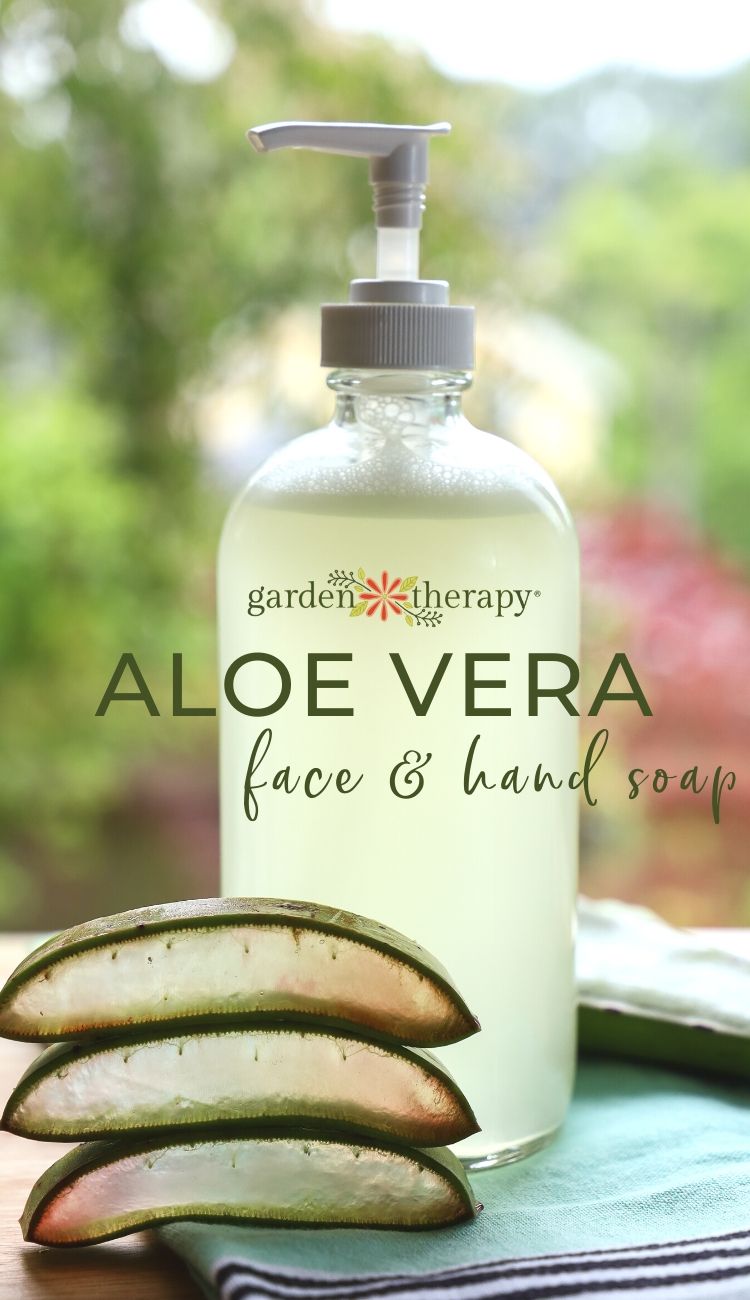 I have seen so many bars of aloe vera soap around. I've always wondered how beneficial they are to your skin. After digging in and doing a bit of research, I'm happy to say that I was rather impressed by the benefits. So much so that I decided to make a batch of my own.
Benefits of Aloe Vera
Aloe vera (Aloe barbadensis) is one of the oldest plants on record to be noted for healing properties. It has been cultivated around the world due to its highly adaptable nature and usefulness as a skin-healing herb.
Aloe is naturally anti-bacterial and contains antiseptics which help clean cuts and wounds by killing bacteria and fungi. Aloe's pH level closely matches our skin, enabling it to gently (but thoroughly) cleanse our skin while also closing pores. Its anti-inflammatory qualities can calm inflamed skin.
With all the hand-washing that we've all been doing lately, I wanted to take this wonderful skin-healing herb and add it to soap. Just adding this one extra element can really help the drying and cracking that happens from washing hands so regularly.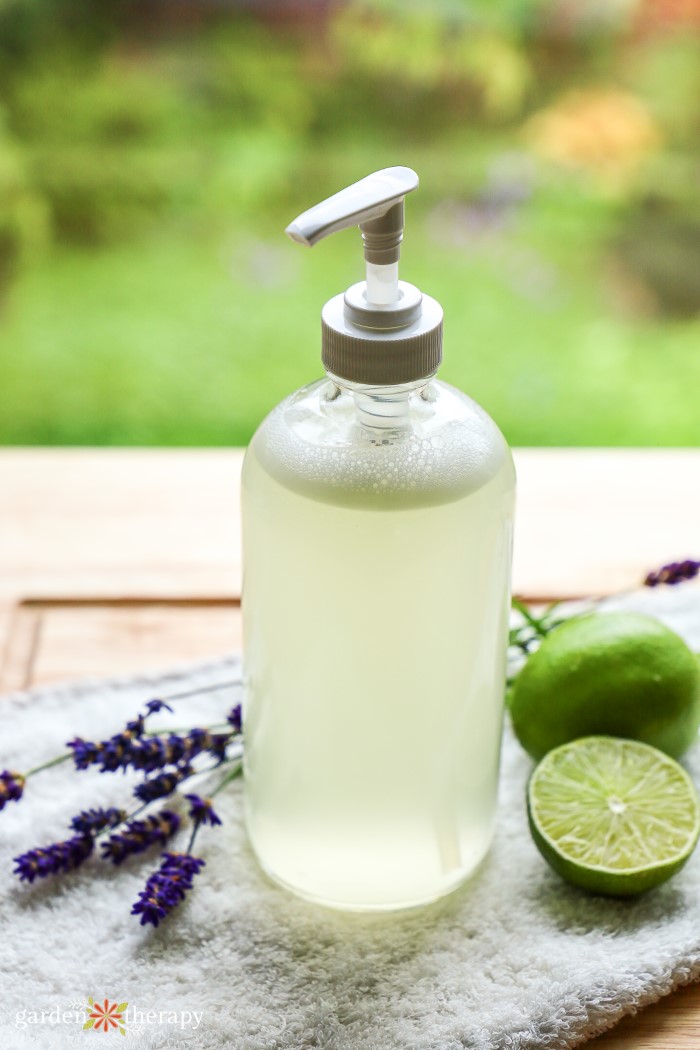 We know that aloe vera is amazing for skin. It has been used throughout history to treat burns, rashes, wounds, and other forms of skin problems. It can also be taken internally as a laxative, to aid in digestion, and to help with inflammation.
But it's usually prepared as a juice or gel for both internal consumption and external application. So when it's added to a soap recipe, I wondered if the beneficial properties of the aloe gel added are minimized by the hot temperatures that this aloe vera soap recipe requires.
Thankfully, the answer is yes—the benefits of aloe vera seemed to be mostly intact.
I always recommend having an aloe plant in your home or garden as part of your herbal first aid kit. I have a lot of great info in my herbal guide to aloe vera about how to harvest the gel. Plus it shows you how to use it to calm down sunburns and other skin irritation.
Fresh Aloe Vera vs Aloe Vera Gel
In this recipe, I'm using a pre-packaged gel because of the shelf life. However, as with many herbal products, there is a lot of confusion as to what is actually inside the bottle of aloe gel that you're purchasing. If the fresh gel only lasts for a week or so in the fridge, then can the store-bought gel have the same properties and last for a year to two years?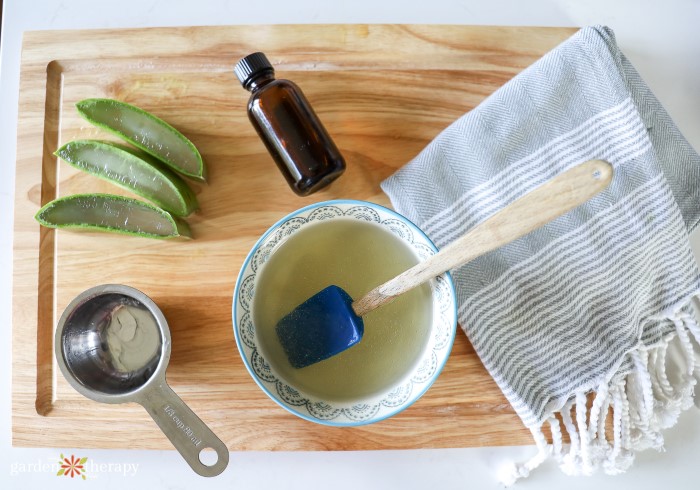 The answer is certainly not, but it doesn't mean that the gel that you buy from the store doesn't have any beneficial properties. It just means that there's a trade-off between the benefits and the shelf life. Any amount of processing of aloe reduces its effectiveness.
The best way to get the most potent aloe vera is to grow a plant in your home or garden. But a suitable alternative is to find a high-quality aloe vera gel that can be used in recipes like this liquid hand soap.
How to Make Soap with Fresh Aloe
You can certainly make this recipe with fresh aloe gel. However, you will need to keep the liquid soap in the fridge, and discard it after one week. It is certainly possible to make a weekly batch as it's quite easy to make. But, if you want one that lasts for a bit longer then I suggest doing some research to find the best aloe vera gel with the least amount of processing.
I like using Lily of the Desert aloe gel as it claims to be harvested from the inner filet of aloe, processed minimally in their own facilities, and certified USDA organic. Lily of the Desert aloe gel is food grade and contains over 99% organic aloe vera juice with a few other ingredients such as carrageenan (thickening agent), citric acid (pH stabilizer), potassium sorbate (mold inhibitor). By the way, they have not sponsored this post. I just have used the brand for years and haven't had any problems with it.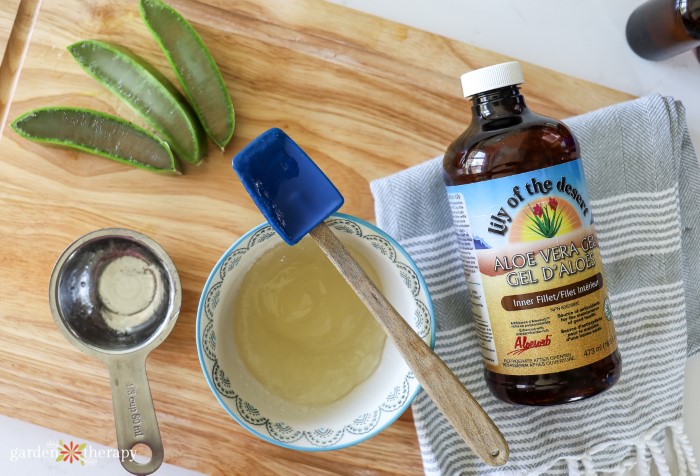 How to Make Aloe Vera Soap
The base of this recipe is Castile soap, which is the name for the olive oil soap formulation that comes from Castile, Spain. I purchase liquid Castile soap from a local soap dispensary or Dr. Bronner's brand online, and with these "Castile" refers to a plant-based liquid soap. It can be made from olive, coconut, avocado, or other plant oils.
This biodegradable, non-toxic soap comes concentrated so it should be diluted at different concentrations for various purposes. I always choose an unscented soap as my base, and add my own essential oils to the final recipe.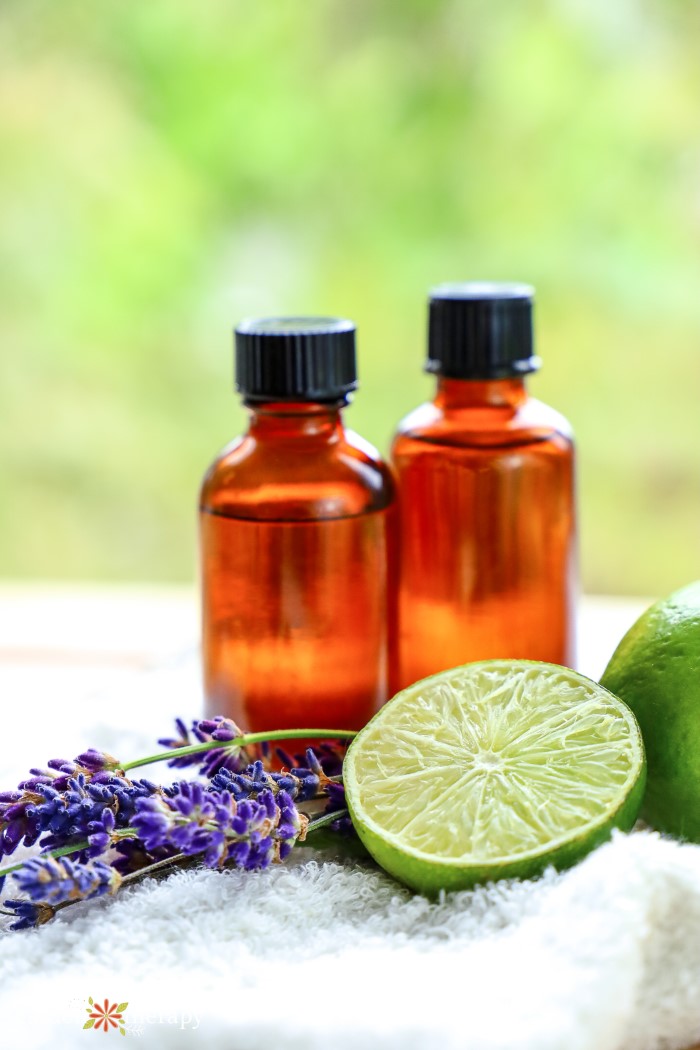 Once you have your ingredients, making the aloe vera soap is quite simple.
First, whisk together water and aloe vera gel until it's homogenous. Then, add in your castile soap and stir again to combine well. Add the essential oils of your choice—I used lavender and lime which is a lovely combination.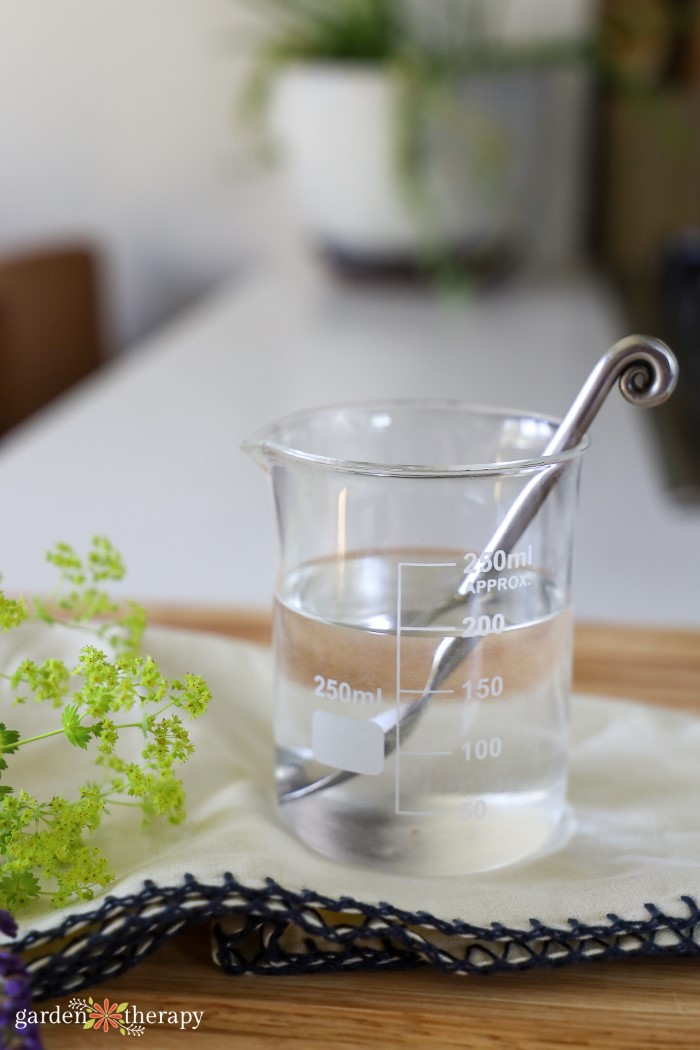 Then pour it into a glass soap bottle and shake it well. I find it easiest to do this with a funnel.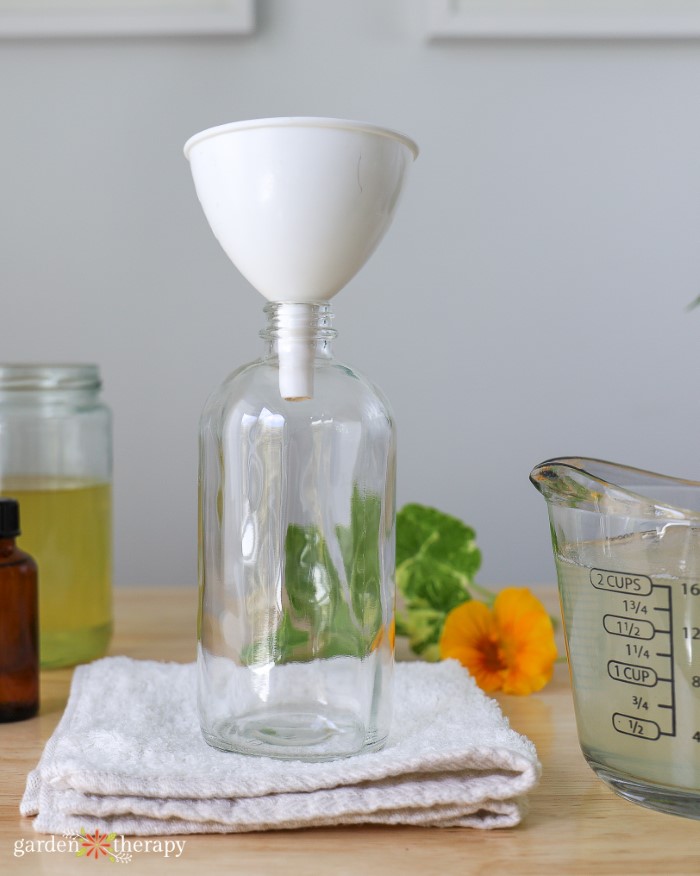 Before using the soap, shake the bottle. A batch will last you for up to three months, but if you notice any discoloration or strange scent, discard it.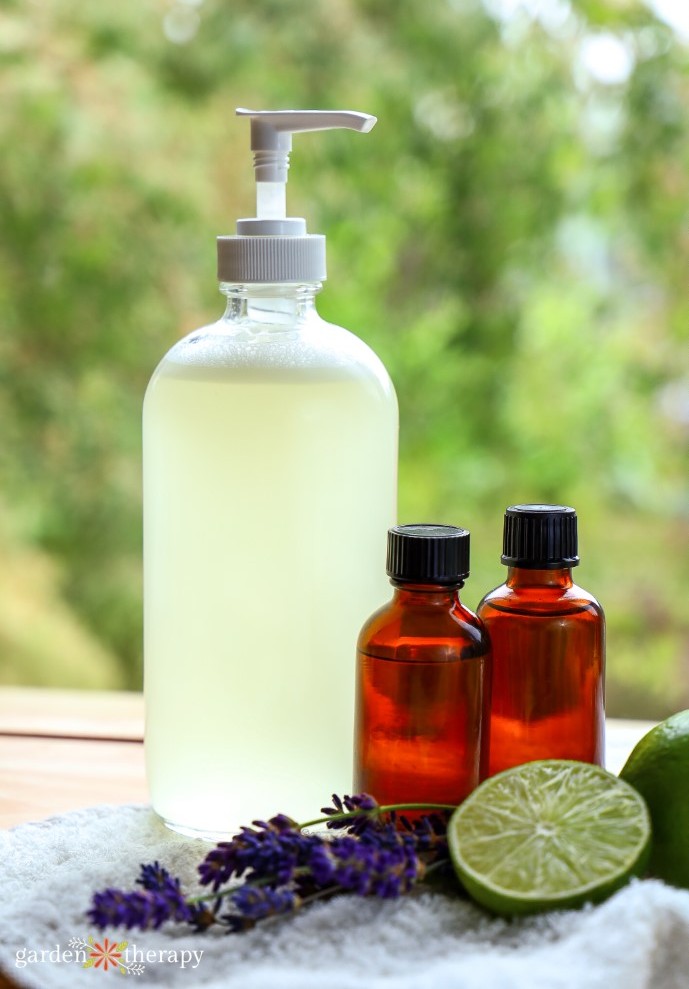 Take a look at the recipe card below to learn how to make aloe vera soap. 
More Projects with Aloe Vera Gel
If you are looking for more ways to use aloe vera gel, give one (or more) of these projects a try.
DIY Aloe Vera Soap
If your hands are rough and raw thanks to an increase in washing and sanitizing, give them soothing relief with this DIY aloe vera soap.
Equipment
Beaker

Glass container for mixing
Instructions
Whisk together one cup of the water with the aloe gel until mixed.

Then add in the rest of the water and which well.

Add the Castile soap and stir to combine.

Add in essential oils and stir to combine.

Pour in a glass bottle using a funnel.

Cap the bottle and shake well to combine.

Shake well before each use for the first few days. Over time, the ingredients will combine permanently and shaking will not be necessary.
Notes
How to Use:
Apply one or two pumps of soap to wet hands and lather for 20 seconds. Use a nail brush to get the dirt that hides under your nails as well. Rinse well and dry with a clean towel.
Shelf Life:
This soap will last for up to three months. Discard if it becomes discolored or smells unpleasant.