This handmade soap focuses on getting back to basics with 3 simple cold process recipes. Each of these will create an unscented soap bar that will nourish and clean your skin. Keep reading to learn how to make soap that is plant-based and 100% vegan.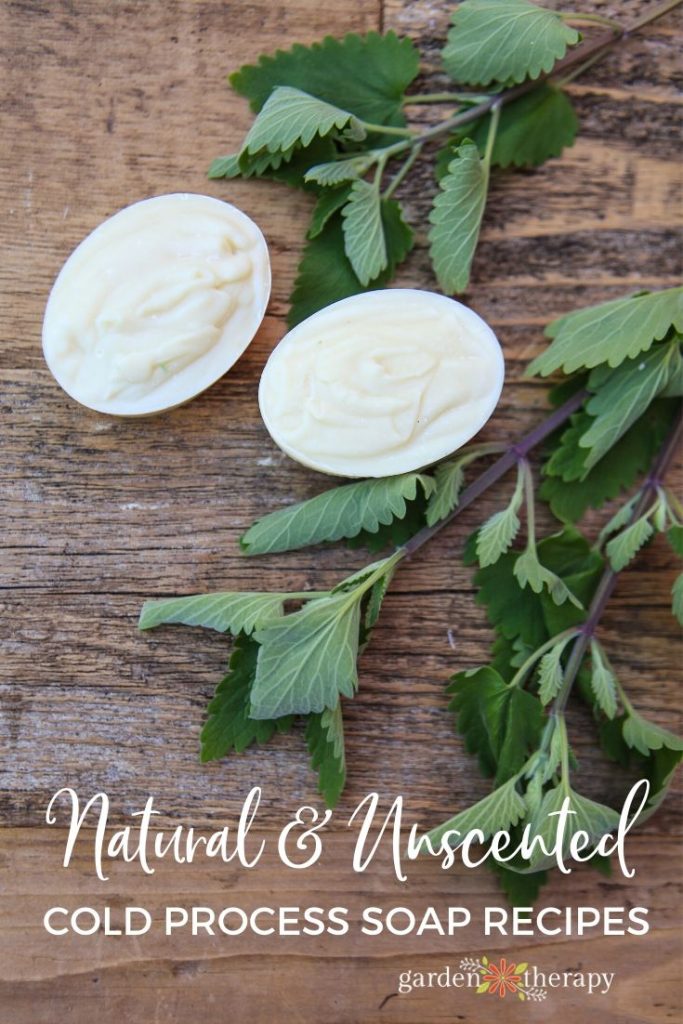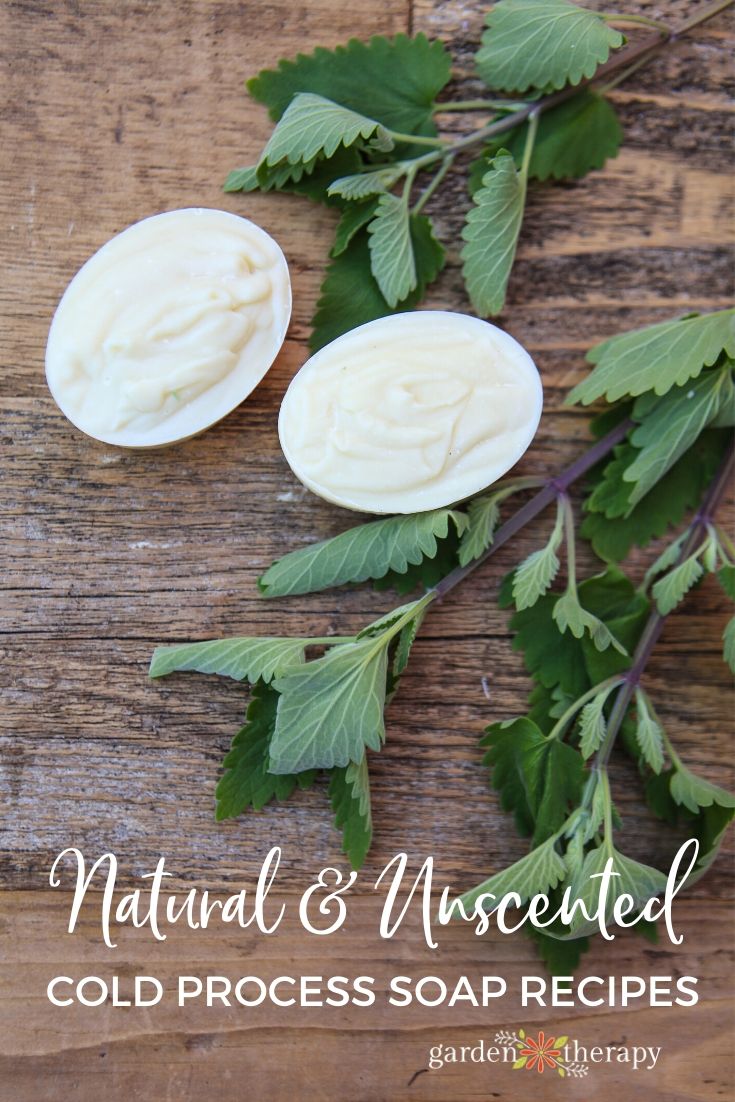 Lately, I've been craving a return back to simplicity, so to speak. This is probably because I've been hard at work on my book, Garden Alchemy, which is all about following processes that nature already sets up for us and reconnecting with the earth. Or maybe because January always lends itself to the feeling of a fresh, blank slate. If you can relate, you'll love this project!
Simple Handmade Soap
When I first started making soap years ago, I was excited about the opportunity to create beautiful bars of soap coloured with natural botanical ingredients and scented with essential oils. Each time I made a batch, I felt like a bit of an artist given a blank slate that could be coloured (and scented!) any way I wanted. If you have tried making soap you know exactly what I'm talking about! It's such fun to create and try new recipes.
I experimented a LOT with different methods, recipes, and ingredients over the years, and shared some of my favourite soap recipes on the blog. I've used botanicals to infuse the oils, added ground plant powders to add colour, and topped it with dried petals just for a bit of decoration.
But even when you strip away the colour and fancy swirls, homemade soap is so beautiful. I love how these bars come out looking like scrumptious truffles that look good enough to eat!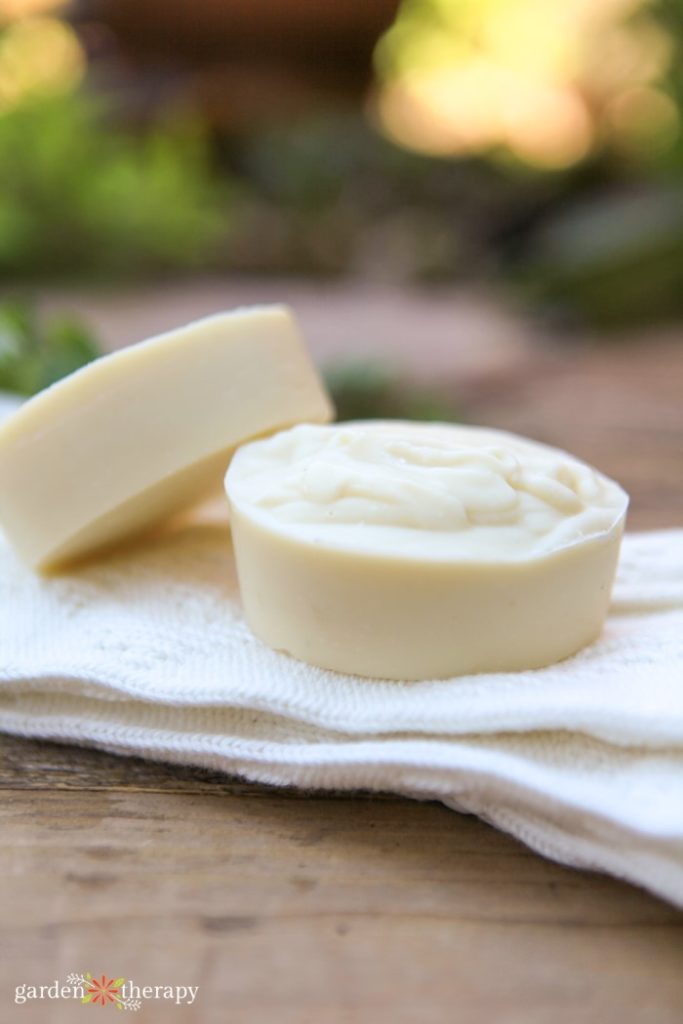 Throughout my soaping journey, I make a lot of sample bars to test the various ratios and blends of plant oils together to see how each performs when there no botanicals, colours, or other elements added to the soap.
I have quite the stockpile of test bars of soap and THAT is what my family tends to grab and use in the shower! My son, in particular, is at an age where he's sensitive to scents (even natural, kid-friendly scents like lavender and orange) and the test bars are just the right thing for him.
As we start the new year on a clean slate, I wanted to share three of my favourite recipes showing you how to make plant-based soap that's unscented for sensitive skin (or noses!).
How to Make Soap
There are a lot of decisions you will need to make in soap making before you even get started in the process, such as which method you'll use. For this recipe, you'll also need to decide the oil blend you choose for your soap. Here's what you need to know.
3 Methods for Natural Handmade Soap
First of all, there are three main ways to I like to utilize when making handmade soap:
Cold Process – when properly made, cold process will give me a natural and healthy base bar that I can use on its own or add scents and colours to. Cold process soap making does require some experience because of the chemistry and ingredients involved. If this is your first time, I have shared the steps along with photos to guide you in this post on how to make cold process soap.
Hot Process – similar to cold process. I make soaps infused with tea, beer, and wine using this method. This post from The Nerdy Farm Wife has great step by step directions for making Oatmeal Honey Soap in the Crockpot.
Melt and Pour – this is a great soap-making option for someone who is new to soap making or short on time. The biggest thing to consider when making melt and pour soap is to purchase a soap base that doesn't have additives. I have a helpful post about melt and pour soap making supplies and resources so you can choose the most natural ingredients. Additionally, I also have a book called Good Clean Fun: THE Idea Book for Creative Melt and Pour Soap Projects.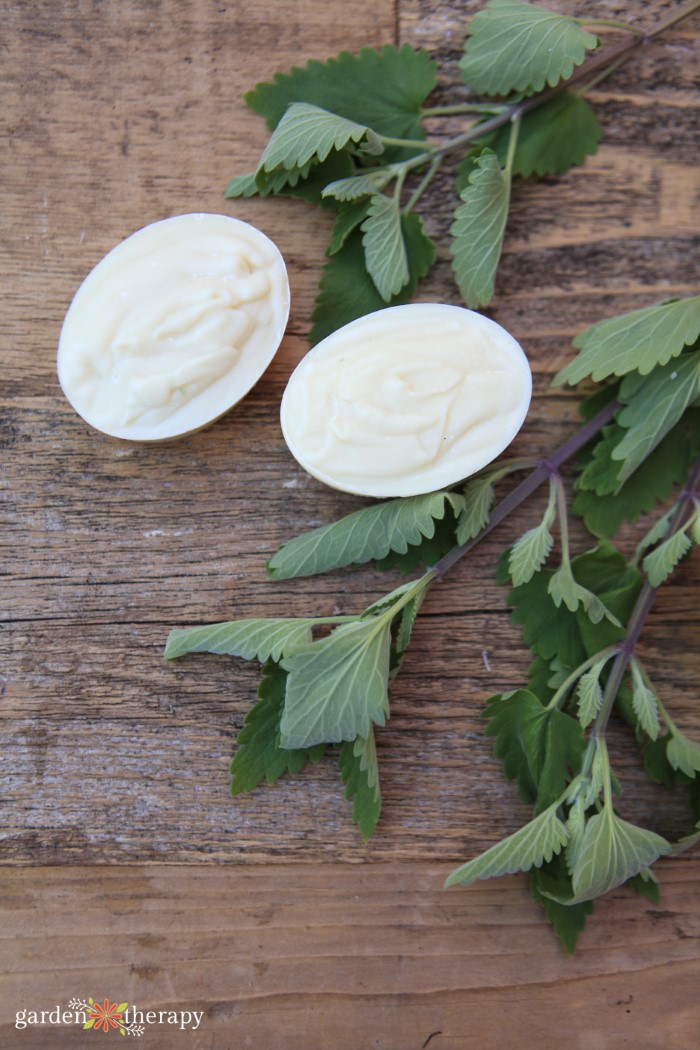 How to Make Cold Process Unscented Soap: 3 Recipes to Try
Each of these three unscented soap bases is plant-based and vegan. Again, that pull to return back to nature leads me more and more towards plant-based, simple beauty recipes like this one.
Read about each base and who it might be good for below. Once you choose which unscented soap base you'd like to try, I'll show you how to make soap—with or without fragrance.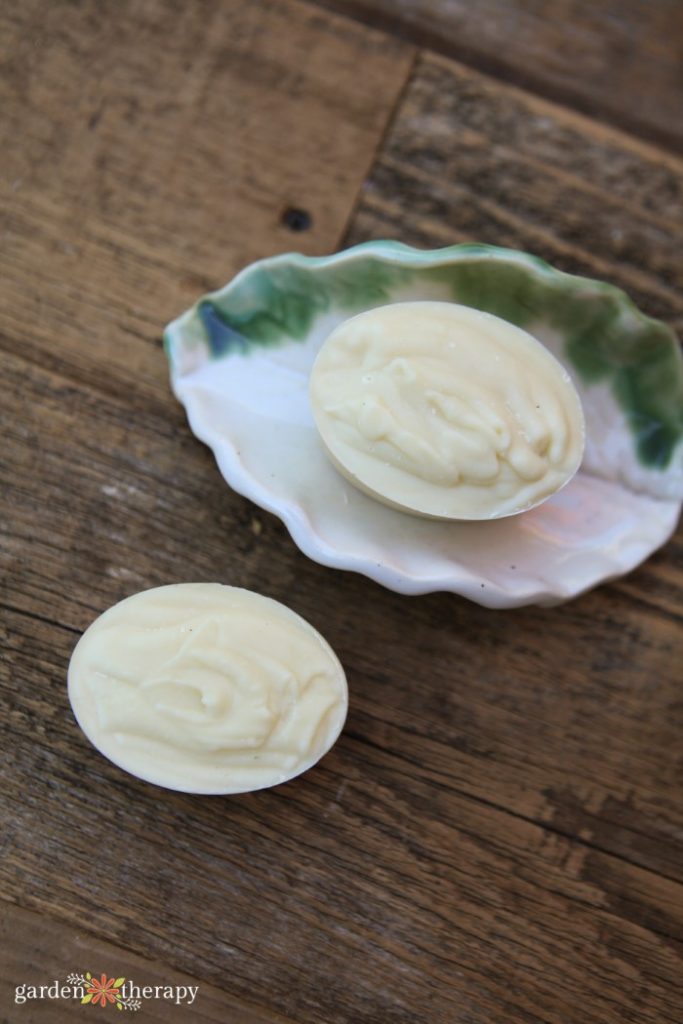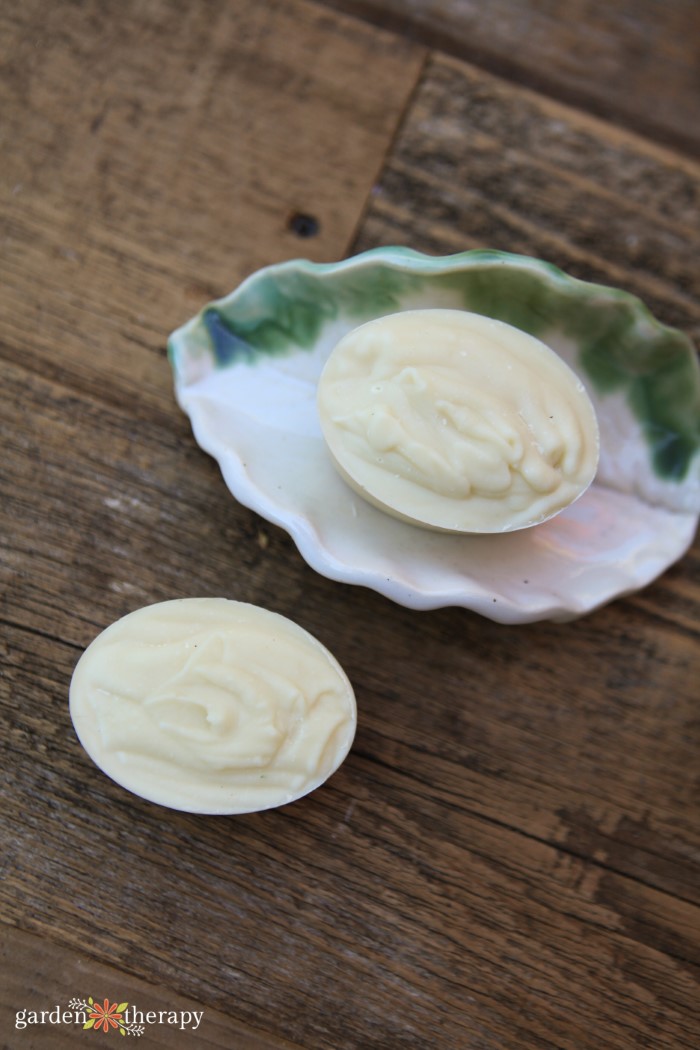 Lather Blend: 75/25 Coconut Oil/Olive Oil
Sometimes you just want a good lather. In this case, create your base with 75% coconut oil and 25% olive oil as your base. This combination will give you the best lather possible. Additionally, this is also the hardest homemade soap bar, and thus lasts the longest. It is great for really scrubbing up in the kitchen or after gardening.
The downside here is that it can be a bit drying, for people with dry skin like me. I don't use this blend in the shower or during the winter months when my skin is already dry, but if you don't have dry skin and like a hard, bubbly bar, that lasts a long time, this could be the perfect one for you!
Ingredients
Moisture Blend: 25/75 Coconut Oil/Olive Oil
On the other end of the spectrum, if I want the bar to be more moisturizing and luxurious, then I reverse the ratios to be 75% olive oil and 25% coconut oil. This bar is quite soft and doesn't last nearly as long as the other bars. Additionally, it doesn't have much of a lather.
However, it's quite moisturizing with a silky feel left on your skin after washing. If you have dry skin, you'll love this one!
Ingredients
Balanced Blend: 50/50 Coconut Oil/Olive Oil
If you like lather AND a silky, moisturizing soap then the way to get both (without going overboard) is a 50-50 olive oil coconut oil blend.
This is my go-to base recipe for plant-based handmade soap, as it has a balance of hardness, good lather, and glycerin feel for moisturizing.
Ingredients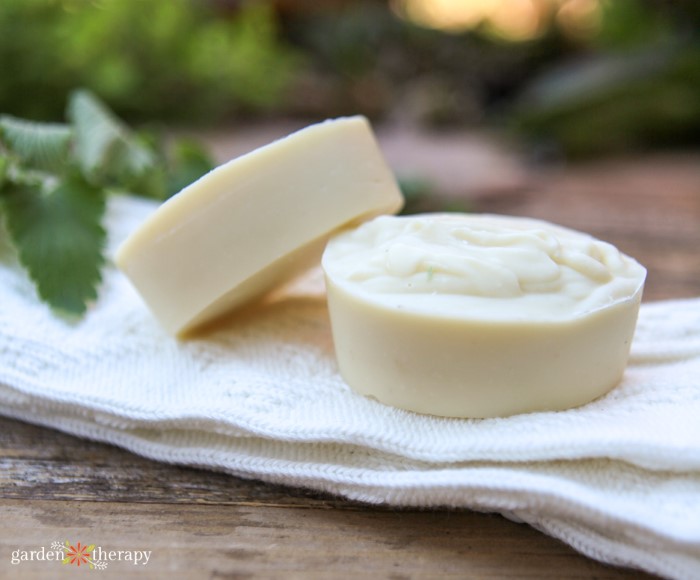 Adding Scents to the Homemade Soap
Any of the three handmade soap bases above are excellent to use as-is, without scents or colour. However, if you want to experiment, you can certainly use them as a base for adding natural botanical-based shades and scents.
The easiest way to do it is to add 15ml (0.5oz) of essential oils to whichever oil base you choose, then make as directed below. If you want to cater to sensitive skin, try adding calendula, lavender, or chamomile infused oil as opposed to essential oils. These will give you plant-based benefits and work well for sensitive skin.
Ingredients for DIY Soap
Materials
Steps to Making Homemade Soap
These instructions show how to make soap using the cold process method and are great if you have made soap before. If it's your first time, please follow the step-by-step tutorial on how to make cold-process soap.
Protect your skin, eyes, and clothes with safety gear like goggles and work gloves.
Weigh all of the ingredients on a scale.
Gently heat your oil base blend in a stainless steel pot on the stove or in a microwave-safe container in the microwave. If using a microwave, heat the oils on high for two minutes, then at shorter intervals until they reach 115°F.
In a well-ventilated area, add water to a heat-resistant 4-cup measuring cup. Very slowly add lye to the water while stirring. Keep stirring until dissolved and be mindful to not breathe in the fumes.
Once lye is dissolved, place the glass container with the lye/water mixture in an ice bath and cool to 115°F. If your oils drop under 115°, you can reheat them if necessary.
When both the lye/water mixture and the oils are at 115°F, slowly pour the lye/water into the oils while blending with an immersion blender.
Keep blending the mixture rapidly until it thickens to the consistency of pudding.
Pour mixture into a soap mold.
Cover the mold in cardboard and towels and set somewhere warm (like the top of the fridge) for 48 hours.
After 48 hours, unmould the soap.
Place each bar on a wire rack in a cool, dark place to cure for four weeks.
Enjoy!
More Homemade Soap Recipes to Try: