Invite your old soap to the party because we're making confetti soap! This method is a brilliant way to utilize those old soap scraps or batches that just didn't turn out right. Don't throw them away! Instead, give this fun and unique soap recipe a try.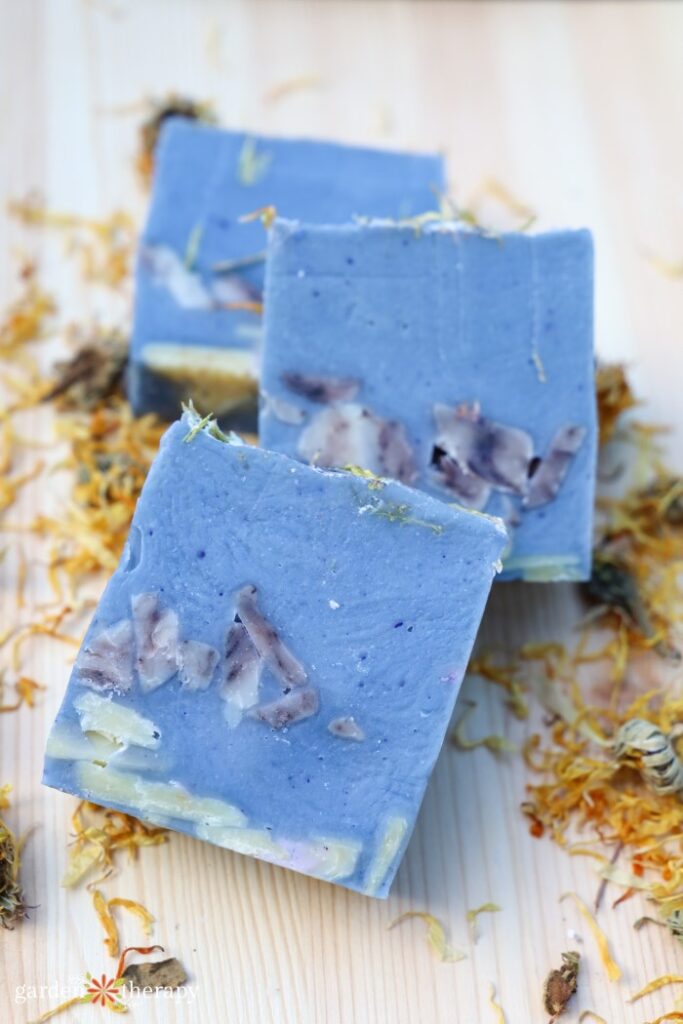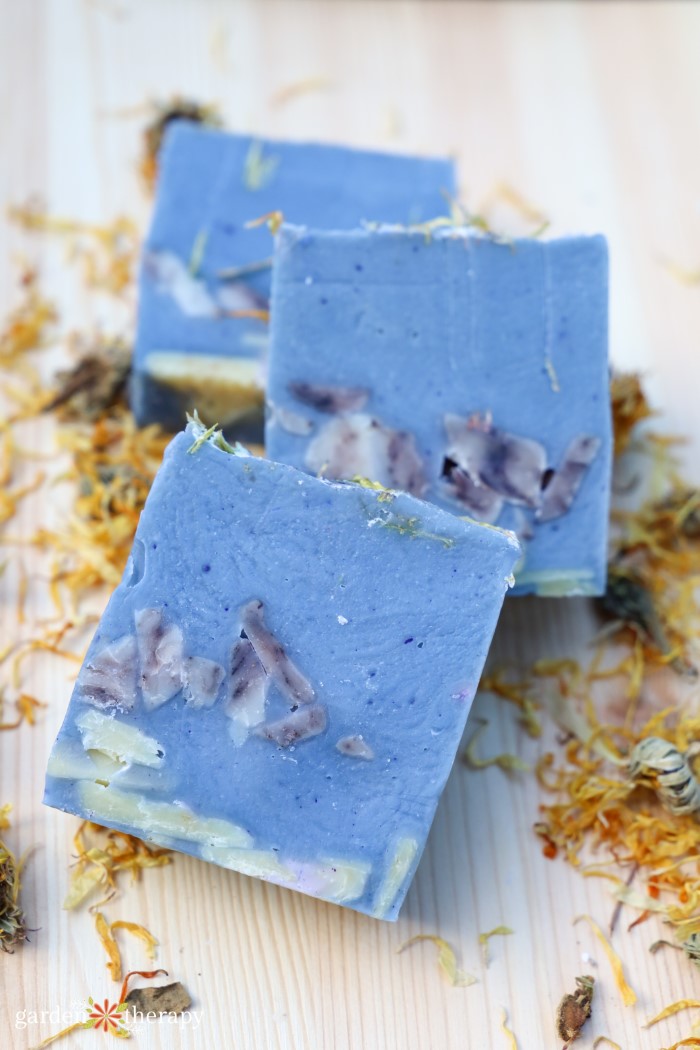 Making cold process soap isn't for the faint of heart. Even to this day, I still routinely mess up on my recipes. From blending too much to not blending enough, to incorrect temperatures and oil ratios, to just plain bad-looking soap. Since I create and experiment with so many recipes to share with you, many of my soaps do not turn out.
If you're new to soap-making, don't let these mistakes set you back. I know how expensive it can be to buy quality supplies so it's always disappointing to see a batch fail. But you don't have to chuck it in the garbage and waste all your precious time and resources!
So, when I created a batch of soap that not only looked bad but felt oddly chalky, I knew it was a batch that I couldn't give away. Luckily, there's a way you can reuse soap that didn't turn out well or with the scraps you've been holding on to. Confetti soap is just as pretty as it sounds!
This post will cover…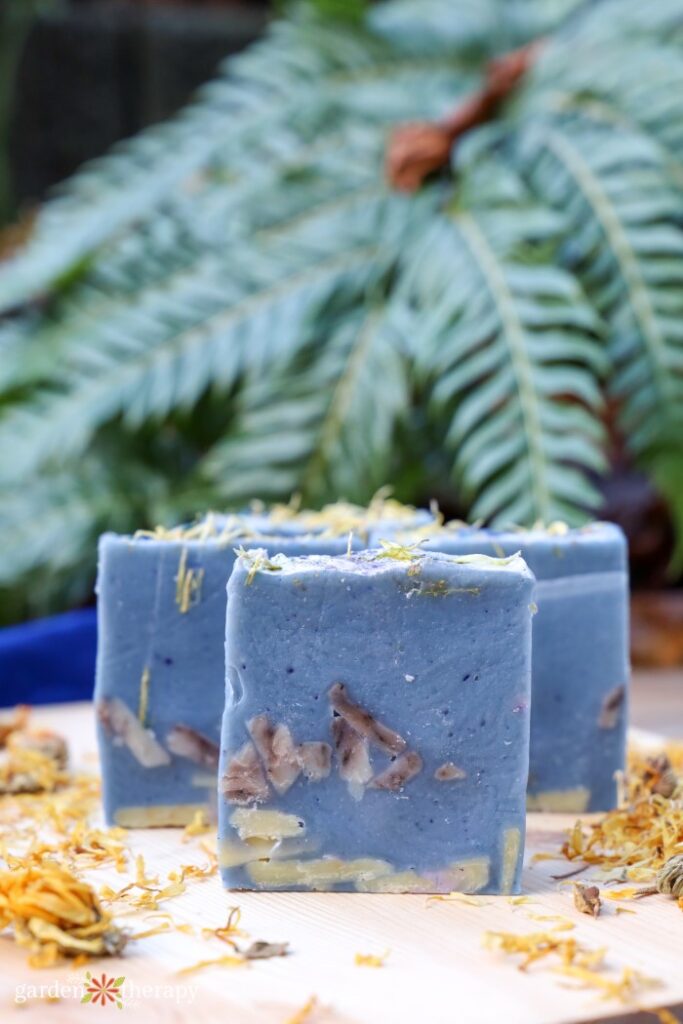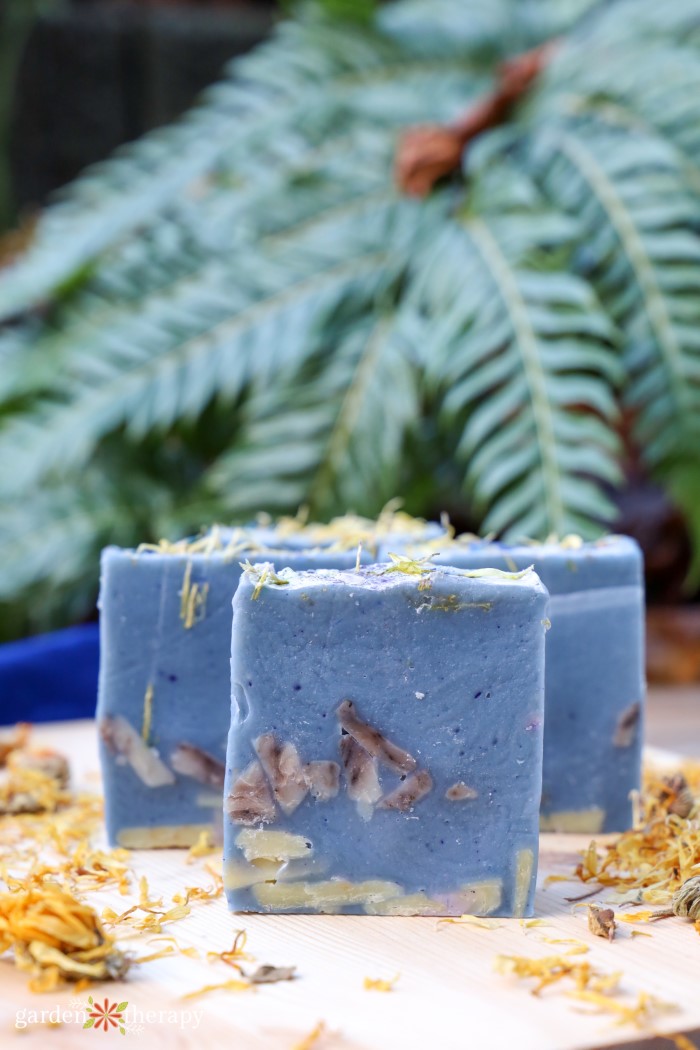 What is Confetti Soap?
Confetti soap gets its name because it looks like pure, fun confetti! This comes from the chunks or scraps of recycled soap inside a loaf of brand new soap. By using a different coloured soap than your recycled soap bits, it creates a confetti-like effect in the soap.
This is one of the most popular ways to turn old soap into something new.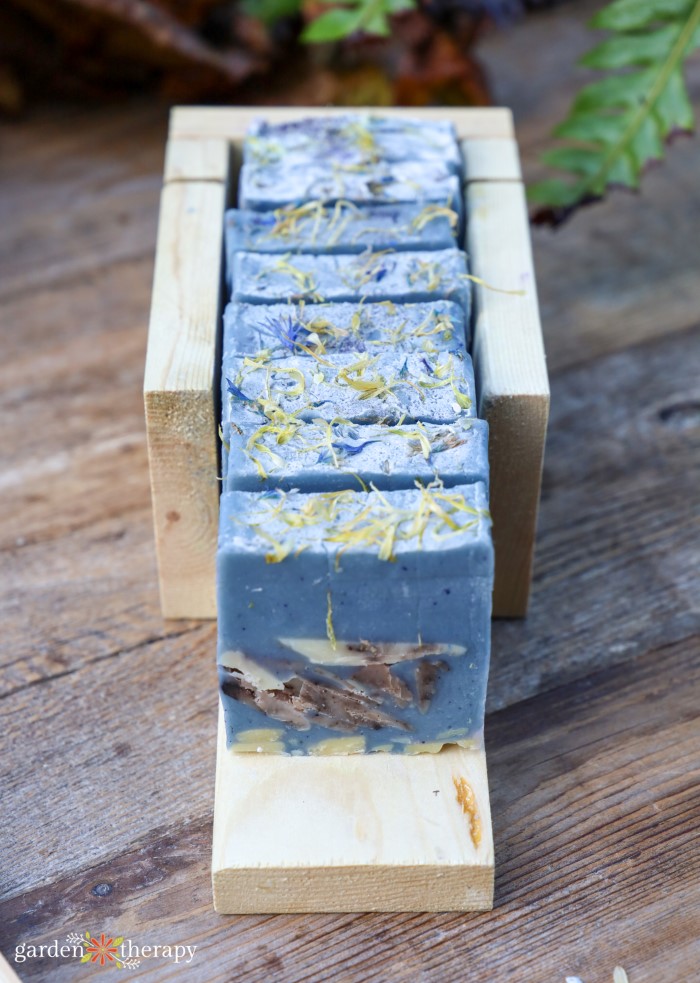 How Do You Make Soap Out of Leftover Soap?
For this recycled soap recipe, I used the confetti or chunk method. I'll list full instructions as well as a recipe down below.
However, there's another method you can use that is also easy and safe to do. You can actually melt down your soap and remold it.
To do this, you would scrape your soap using a cheese grater and then melt down the bits over the stove using a double boiler. The trick is to use very low heat and let it slowly melt while stirring occasionally. Typically, this takes around an hour.
Once melted, you can pour the soap back into a loaf mold. While this method is easier than making soap, I find the colour usually defaults to brown, especially when mixing multiple soaps. You also need a fair amount of scrap soap to do this method.
I prefer the fun look of confetti soap so that's how I turn my old soap into something brand new!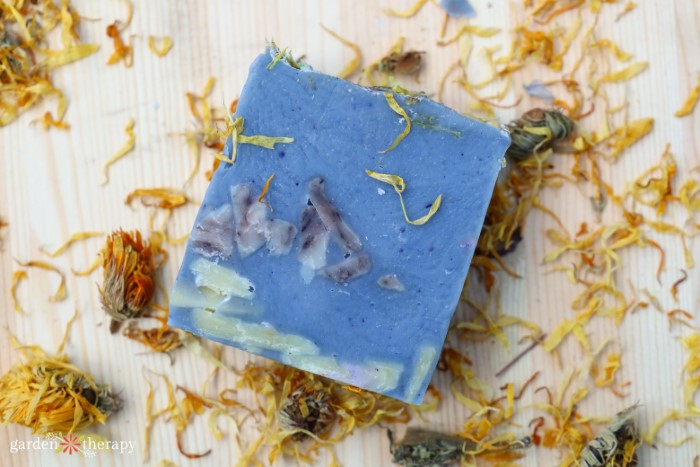 How to Make Confetti Soap
I use this confetti soap method anytime I have leftover chunks of soap, broken pieces, or soap that didn't turn out as expected.
Making confetti soap is easy! First, you'll need to get your recycled soap ready for its new life, and then you'll make a new batch of soap to put the confetti inside.
This recipe creates 3 lbs of soap
Ingredients
Materials
Knife and cutting board
Chopsticks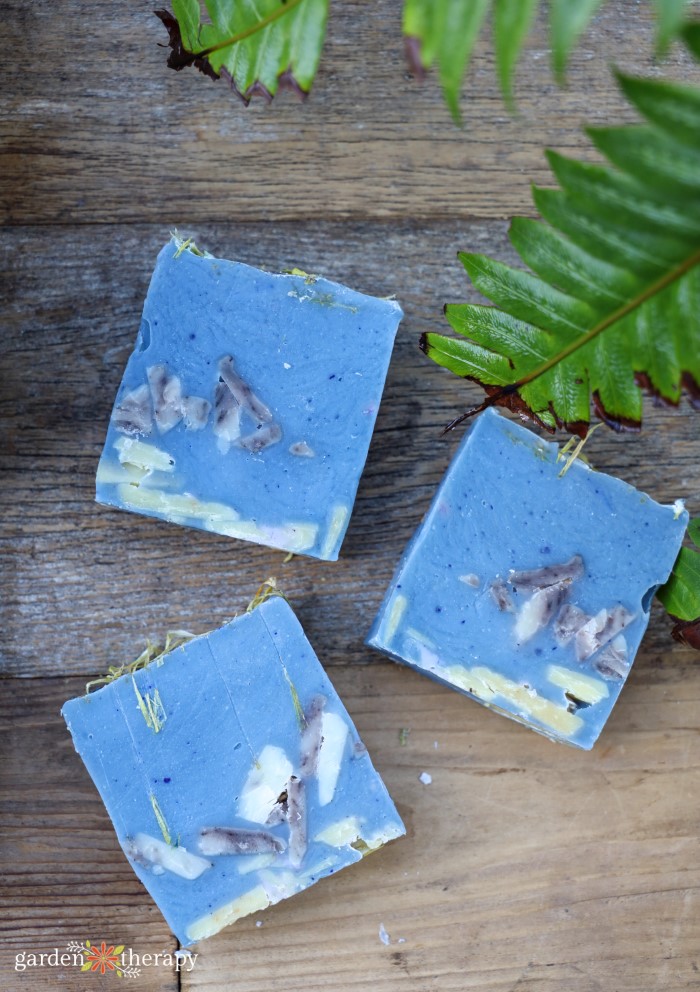 Make Your Confetti
Choose which soap you would like to use for your scraps. If you have a lot of soap in different colours, the best way to make it look good is by combining two contrasting colours. My old soap was natural coloured and lilac-coloured with a swirl. I'm going to pair this with a blue colour once I've prepared my chunks!
Using your cutting board and knife, cut up your recycled soap pieces into chunks of half an inch or smaller. Don't worry, they don't need to be even! You can also grate your soap with a cheese grater to get a different confetti look.
Weigh your soap on the kitchen scale. You want 1/2 lb of recycled soap chunks.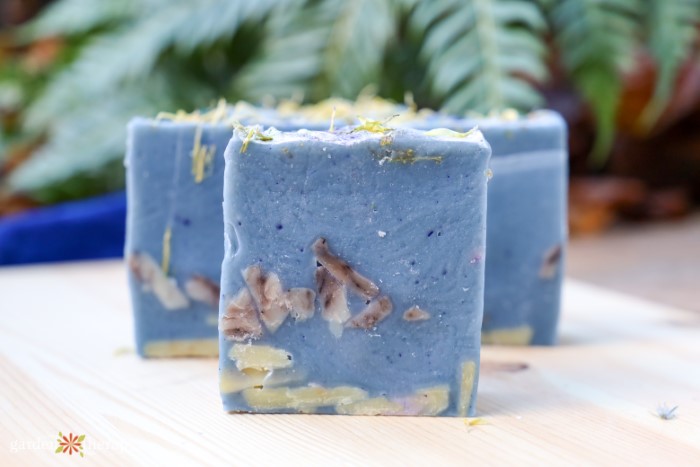 Make Your Soap
Now, you want to make your base soap. For this recipe, I used my 50/50 coconut and olive oil blend which makes 2.5 lbs of soap. You want to blend until it reaches a light trace so that it's not too thick to add in the recycled soap. This way, it will wrap around each of the chunks easily and you won't end up with too many air bubbles.
Once at a very light trace, add in your blue mica and blend again. Next, add in your lavender and grapefruit essential oils and blend again.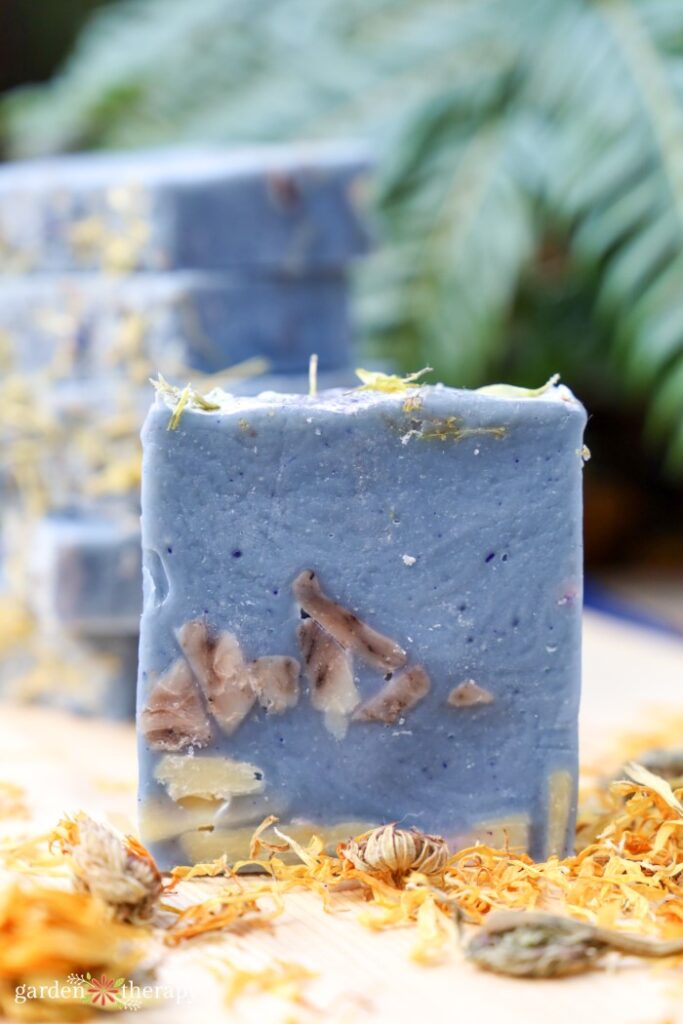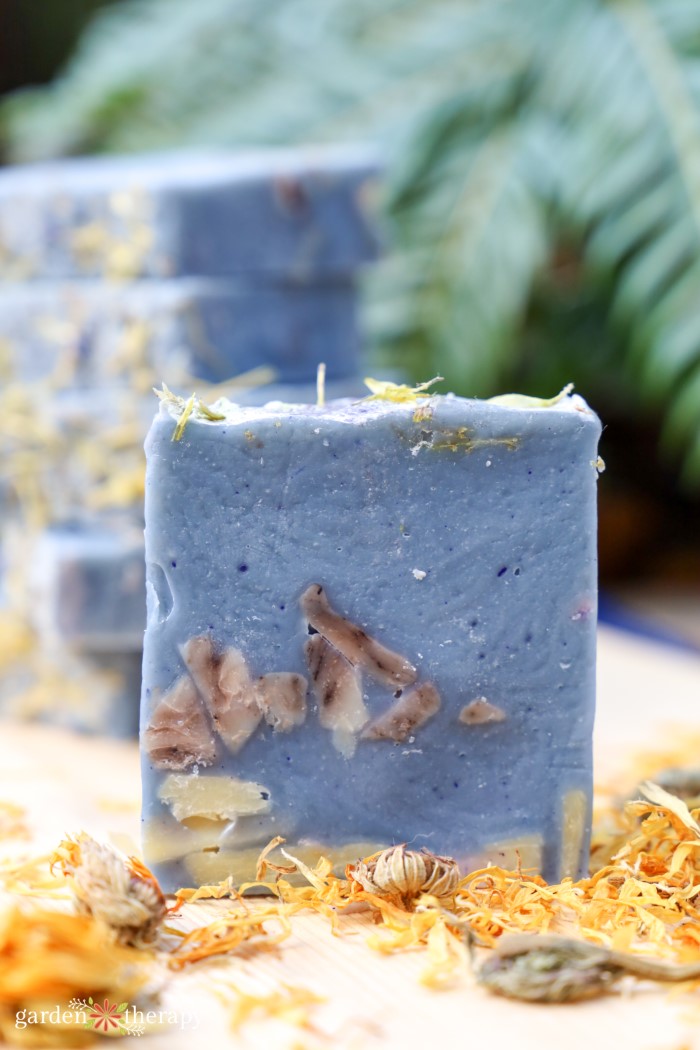 Combine Your Soaps
Before pouring your soap into the loaf mold, sprinkle some of the chunks at the bottom of the mold. Layer in your soap and use chopsticks to swirl the chunks around into the batter.
Next, add in another layer of your soap chunks. If you have different colours, it can be fun to alternate them. Add in more soap batter and use the chopsticks to swirl them around again and fill up any empty spaces.
Once your mold is full, top it off with flower petals. For my soap, I used centurea or bachelor's buttons in blue and white.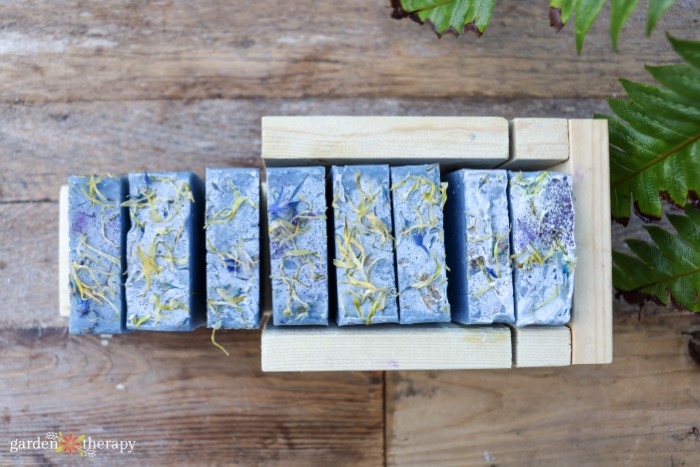 Let the Soap Rest
Let your soap sit somewhere warm, such as on top of the refrigerator, wrapped in a towel for 48 hours. Then, you can unmold your soap and cut it into even chunks.
This step is so fun because you get to see all your confetti chunks sprinkled in the soap.
Now you want to let your soap cure for six weeks. Leave it in a cool, dark place to cure. Then, get ready to lather up!
More Great Soap Recipes:
Confetti Soap
Use up your old soap and bits from batches that just didn't work with this confetti soap recipe. This recipe makes 3 lbs of soap.
Equipment
Knife

Cutting board

3 lb soap mold

Chopsticks
Instructions
Cut up your old soap using a cutting board and knife into 1/2 inch chunks. Weigh the chunks on the kitchen scale until you have 1/2 lb worth.

Make your 50/50 soap base. Blend until it reaches a light trace.

Add in your blue mica and blend again.

Add in your essential oils and blend again.

Sprinkle a layer of soap chunks at the base of your soap mold. Cover with a layer of the new soap. use chopsticks to swirl in the chunks.

Add another later of soap chunks, alternating colours if you have them. Cover in a layer of new soap, mixing in the chunks and filling up empty spaces.

Once the soap mold is full, top it off with flower petals such as centurea or bachelor's button.

Let the soap rest somewhere warm while wrapped in a towel for 48 hours.

Unmold the soap and cut it into even sections. Let the soap cure in a dark, cool location for 6 weeks.