If you haven't seen an issue of Delish yet…what are you waiting for?! It's fall, it's free to reader, and it's a pretty fantastic read.
I have a few pieces running this season, but since I've been posting about preserving lately, I thought I'd post a taste here. For the full article with recipes and handy links, check out Delish. Oh, and if you make your own creative canning labels, check out my Jam Label Inspiration Contest.
PRESERVING SUMMER
Gardeners know what a tomato is. And it's not the geneticallymodifiedmushyblandwateryshippedfromfarfaraway tomato that can be found in grocery stores. It can be perfectly round, or bulbous and odd looking. Red, orange, yellow, green, pink, purple black, or all of the above. Grape-shaped, cherry-shaped, strawberry-shaped, lemon-shaped, egg-shaped, or whattheheckisthatshape-shaped. A garden tomato can be meaty and sweet, with such a big punch of flavor that you can easily chop a bit up and add it to eggs or sautéed veggies to brighten up the flavor. Or it can be a cheery cherry tomato treat still warm from the sun that bursts in your mouth as you garden. Some are lemony, tart, sugary, earthy, salty, buttery, but never, never the blah of the non-garden variety grocery store tomato.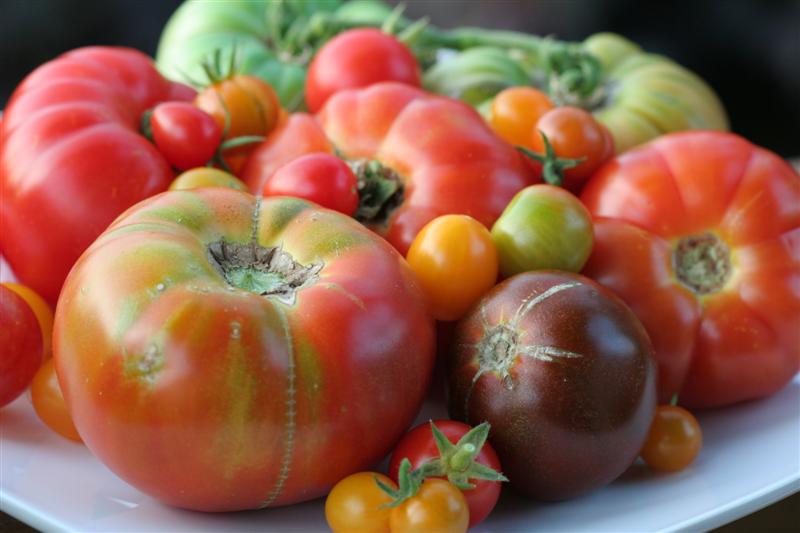 With all this variety it's no wonder we gardeners wait all year for fresh garden delights to be in season. We plan out our seed lists in the chilly winter, start our prized seeds in heated trays and grow lights while still under frost, watch the temperatures rise in the spring until that magical day of last frost that the seedlings can be set out on their own in the garden. We spend the summer pruning, staking, watering, and nursing our leafy babies, praising their flower buds and watching the fruit grow bigger week after week. Until one day in the heat of summer, when we can't wait even another day, there it is: the first tomato.
Finally!
The recipes that swirl around in our heads fall victim to our primal urge and we just gobble it up right there in the garden. Luckily, before long there is another and another and another of those prized globes. In summer and fall, garden goodies will ripen faster than you can get your harvest basket out and soon your friends and family are overflowing with your bounty as well.
Amidst the lavish cornucopia of fresh foods available during fall harvest, it's difficult to remember days spent in front of the fire with seed catalogs and desperation for a freshly picked goodie. But when the leaves and temperatures have dropped, so does the flavor and freshness of the produce available. You can't buy a strawberry, pear, tomato, corn cob, cucumber, beet green, apple, fig, or pea pod from the grocery that tastes like the garden variety in season.
With the explosion in popularity of growing food at home, farmers markets, and local eating, it's no wonder the lost art of "putting food by" (preserving, pickling, and canning) has experienced a resurgence in popularity among foodies and gardeners. How wonderful to plan and work ahead to preserve the delicious harvest when it is plentiful, to enjoy at a time when it is not.
Once I started canning foods myself, I learned just why the practice was abandoned in my mother's generation for prepackaged foods with eon-long shelf lives. It's much more difficult to make applesauce than to buy a can of applesauce at the store. It takes time, which is increasingly difficult to find in today's busy schedules.
But preserving foods back in the day was a family activity; a skill passed on to the next generation that in many cases remains a fond memory. It didn't mean adding chemicals for shelf stability nor adding thickeners and artificial flavors. It meant extending the harvest to feed your family throughout the year. And today, it means taking a snapshot of the flavor at its ultimate peak, capturing it in a can or jar and reliving the memories in a much less abundant time. And I can tell you, it's worth the work.
Putting Food By In The Modern Age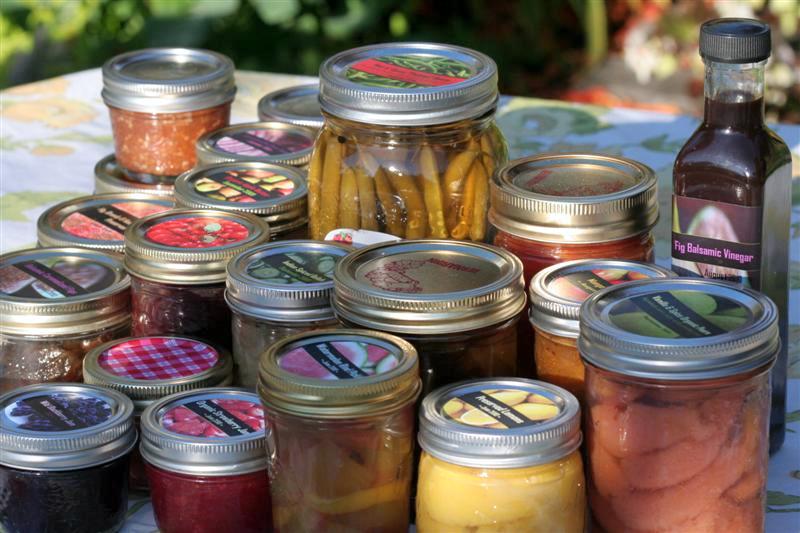 You'll likely be familiar with canning, which means preparing foods into jams, jellies, compotes, relish, salsa, and sauces and processing them in canning jars. Whole fruits and veggies can also be canned in syrup (fruits) or brine (pickles) or be fermented in jars as in olives, kimchi, and sauerkraut.
Other foods benefit from drying (yes, bring out that Ronco Food Dehydrator you bought from late night TV) like plums, apricots or tomatoes. And perhaps the easiest way is to simply freeze what you harvest in bags, freezer jams, sorbets, and even single-serve pesto in ice cube trays.
Regardless of the method chosen to preserve food, it is important to follow a trusted recipe. This is not the time for creative additions or substitutions — as hard as that may be for many a home chef. The recipes are designed to balance the flavor of the end product with the right mix of ingredients to ensure food safety.
All foods that need to be preserved are perishable by nature; the goal of preserving is to slow this process but be mindful they will not last forever. I've yet to run into the problem of having anything left over in my pantry come summer as what I don't dish up for myself, I give as gifts, keeping lots of shelf space available for next ingredient inspiring me to dig out the canning pot.
Whether you are a gardener, a chef, a foodie or all of the above, growing an edible garden breeds appreciation for how freshly-grown produce is supposed to taste, and preserving gives year-long joy. What I can't grow myself I hunt for: organic and local ingredients where possible and as close to the farm as I can get, all the while being mindful of what is in season to ensure I get the freshest, best tasting produce to start with.
Many ingredients will be available year round, yet the growing conditions required for global transport will surely affect quality, so be on the lookout for monstrous displays at the market of organic sun-ripened produce on sale and ask for the price of buying in bulk. Ask a neighbor if you can pick their fig tree instead of letting the fruit go to the birds. Or even just plan to grow a few more tomatoes next year to make your own pasta sauce. I do the work in the early months and then enjoy the ease of short days reaping the rewards of past labor.
With a wealth of great recipes to tackle, I may never have a month go by without a new gem to add to my pantry shelf. The time is well spent, gifting me with a year-long reminder of longer, warmer days. Remembering an afternoon the gang got together to make jam from our U-Pick bounty warms me from the inside on a winter's morning. Popping a spicy bean in a guest's New Year's Bloody Mary makes me resolve to grow more beans the coming year. And with a belly full of fresh pasta and last fall's tomato sauce, I curl up with my seed catalog once again, planning the next year's crop and what it will all become: a jar of summer's bounty, a comfort and an art, stimulating time travel for the senses that can't be bought.