Rose water toner is easy to make and absolutely essential for my skincare routine. Using a rose toner will keep your skin's pH balance at the perfect level while also providing healing benefits to the skin.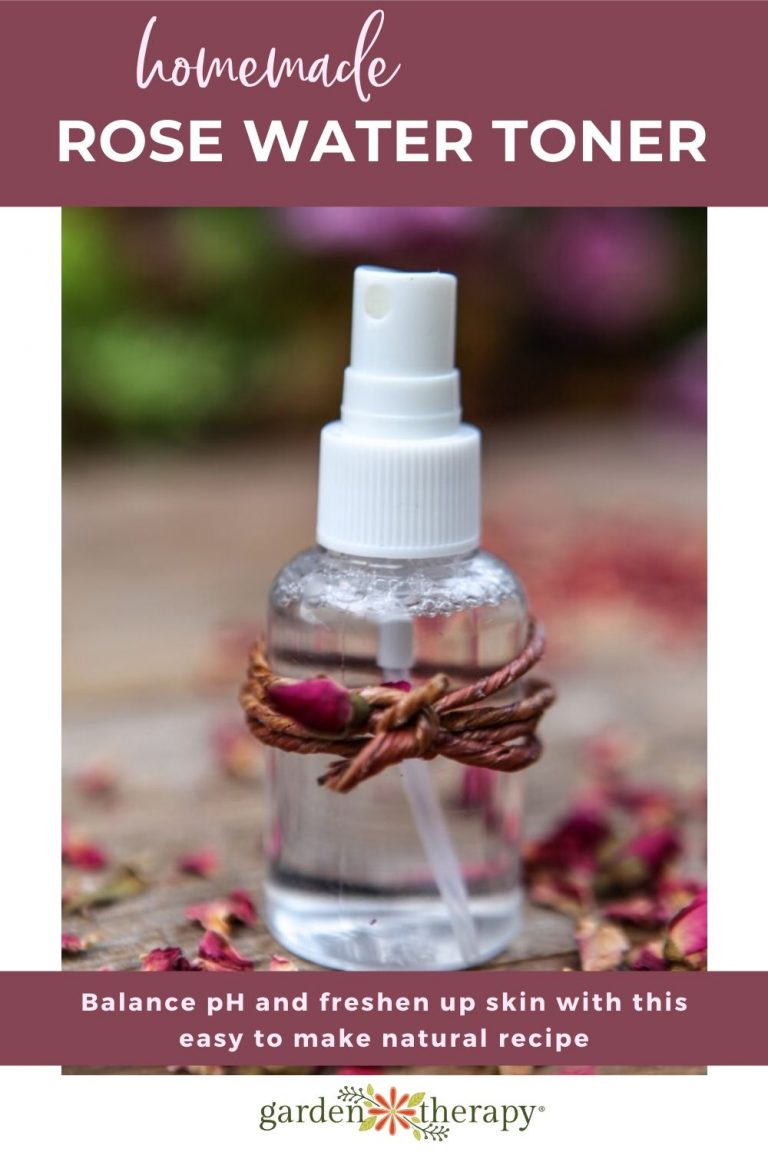 I am often asked about my skincare routine when I talk about natural beauty. People often want to switch to plant-based beauty products but fear that as skin ages, they are not as effective. Nothing could be further from the truth!
I'm closer to 50 now than 40 and have almost no wrinkles. I realize that is more determined by a multitude of factors and to be honest,  when I get my wrinkles, I'll wear them with pride. They are badges of laughter and tears, many emotions felt.
I think the important this is to feel good in your skin, and by using the most natural products, I feel great. And if the side effect is younger-looking skin…so be it! :)
How to Wash Your Face
I know this may seem like an obvious topic, but washing your face is actually a bit more complicated than you have been led to believe. If all you're doing is grabbing a bottle of face wash, scrubbing, and patting on some lotion…you're likely doing it wrong.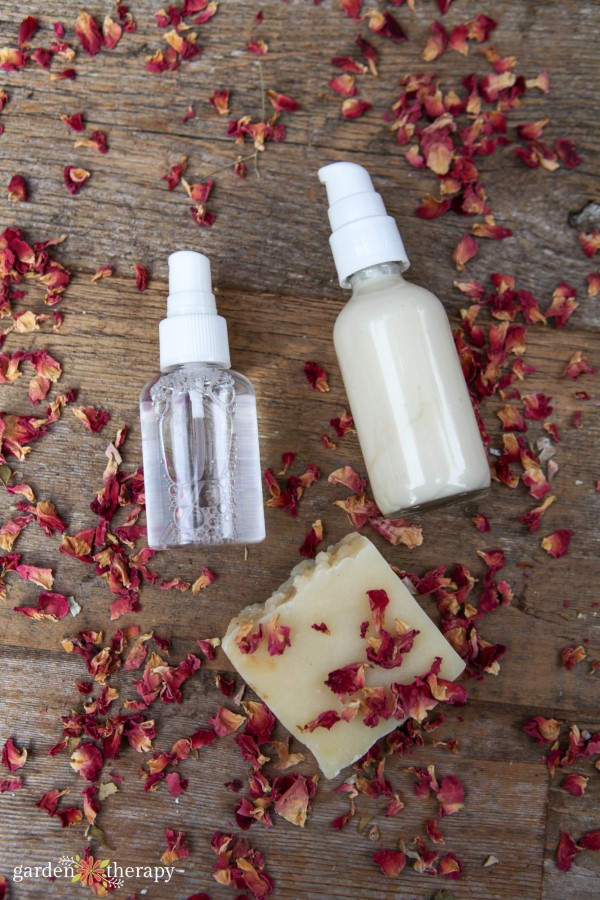 The Problem With Most Facial Soap
Question: would you ever walk into your laundry room, grab your detergent, and rub it all over your face?
Probably not.
What if I told you that's what you are essentially doing every single day if you use body wash or a beauty bar to wash your face.
Soap can only be called "soap" if it goes through the saponification process of turning fat/oil + water & sodium hydroxide or potassium hydroxide into…you guessed it, soap. This process (even though its got the scary word "hydroxide" in it) makes the most nourishing, gentlest, and healthiest wash for your skin.
Soap retains the natural glycerin that's created in the soap-making process and this helps to repair and replenish skin. Beauty bars replace it with much less expensive ingredients that make the wash feel like it has glycerin in it, but don't be fooled.
Just get some glasses out (even if you don't normally wear them because those words are tiny!) and read the list of ingredients on the back. Do a little bit of reading on each of those. Do you really want to put that all over your face?
No thank you!
A Healthy Alternative for Your Skin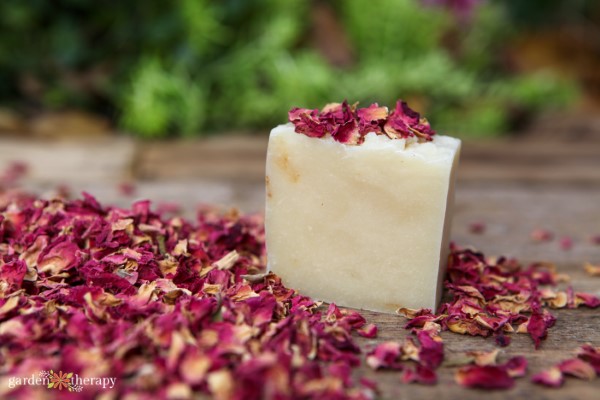 So, what's a girl (or guy) to do? The solution is easy enough! Swap out your "detergent" for an actual plant-based soap to use on your skin.
You can buy one on Etsy, at a craft show, or at a natural grocery store and you'll be supporting the natural skincare movement along with doing your skin a huge favor. Use it for a few weeks in place of your regular face, body, and hand wash and you'll be amazed at the difference you feel.
If you are feeling extra adventurous, you can even make your own cold process soap.
The one issue with using natural soap on your face is that soap is not pH balanced. This means that after washing, you'll want to balance out your face with a toner.
Why skin pH matters
In case you haven't noticed, your skin is an incredibly delicate organ. Your skin should be on the slightly acidic 5.5 on the pH scale to help ward off harmful bacteria and assist with sealing in moisture to keep your face nice and plump (in the best way).
Unfortunately,  skin can also be easily thrown off whack, and when it does—you'll notice. Acne, eczema, and rosacea can all be clues that your skin balance is off.
When you wash your face, even with the most natural soap, you are stripping the acid layer off the top of your skin. You'll need to add it back in to prevent drying and premature wrinkles.
That's where toner comes in. Toner will add that acidic protective layer back and keep your skin nice and healthy! For this reason, I consider toner—this exact rose water toner, in fact—as essential to my skincare routine.
Rose for Skin Care
So why do I use rose for my skin in particular? Easy—the benefits are incredible! I'll be sharing more below, but when it comes to gentle, healing properties, it's hard to beat rose.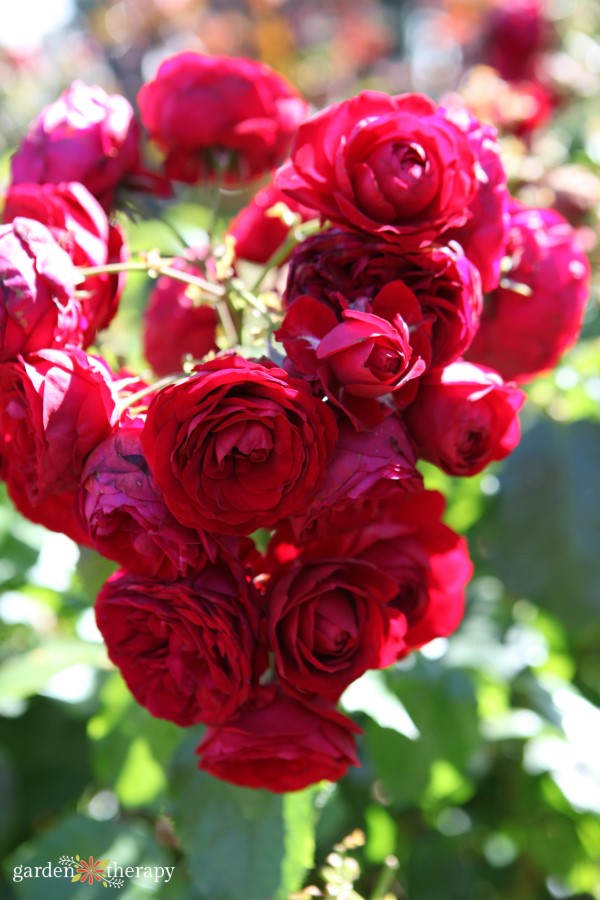 Rose Water Benefits for the Face
Rose has natural astringent qualities that can help tighten and support your skin tissue, leading to naturally firm skin. Rose can also help tone your skin by lightening age spots or blemishes.
Rose water delivers those healing benefits of rose in a gentle and effective way. Rose water has been used for centuries by numerous cultures for this very reason!
I could talk for days about the incredible benefits of rose water. In fact, I love rose so much that I wrote an entire post discussing the benefits!
How to Make Rose Water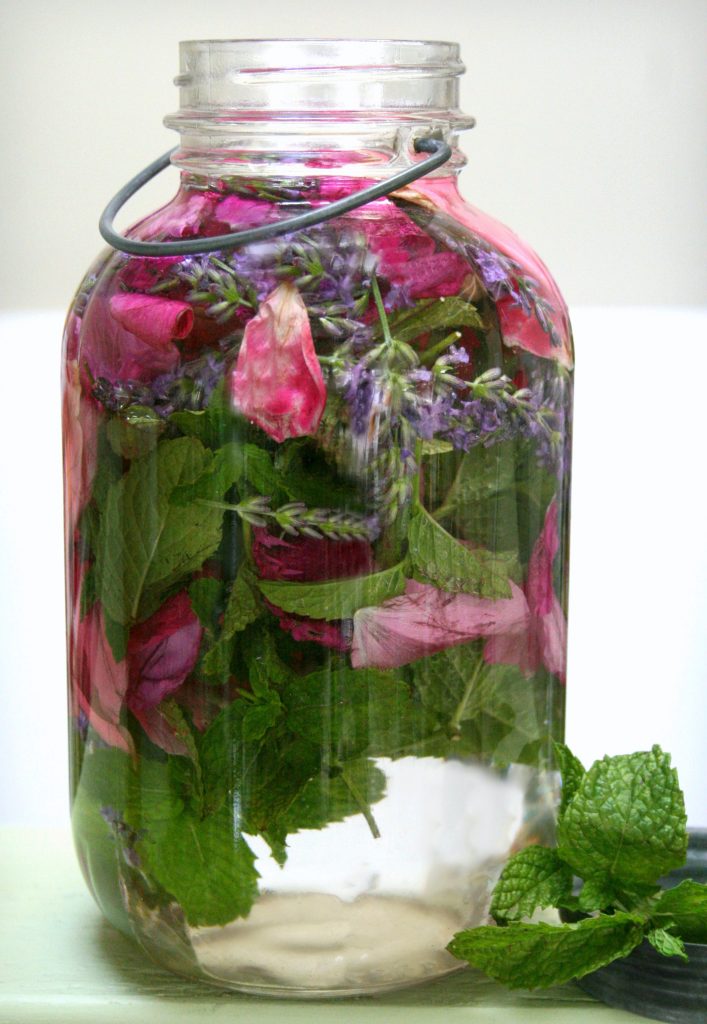 It's fairly simple to learn how to make rosewater. If you want to give it a try, there are full directions for how to make rose water in this post.
The one thing that is a bit challenging about DIY rose water is that it needs to be used immediately. It does not stay fresh. Because of this, I often buy my rosewater from an organic, high-quality source.
Rose Water vs Rose Hydrosol
You may have also heard of rose hydrosol before. Rose water and rose hydrosol are two different things, however. For this diy rose toner recipe, it's important to use rose water instead of hydrosol.
What is Hydrosol?
Hydrosols are essentially "flower waters," that are produced by distilling parts of flowers like petals and leaves. They have similar properties to essential oils but are less concentrated.
On the other hand, rose water is made only using the actual flower, without any stems or roots.
The difference is subtle, but it's there.
Where can I Buy Hydrosol?
If you want to give hydrosol a try, you'll need to purchase it. Just make sure you buy from a trusted brand.
Witch Hazel in Skincare
The other major component to a DIY rose toner is witch hazel. Witch hazel is an incredible tool for your skin, particularly when you pair it with rose water!
Benefits of Witch Hazel
Witch Hazel is plant-derived, coming from the leaves and bark of the Hamamelis virginiana. Similar to rose water, witch hazel has natural astringent properties that help correct your skin.
Witch hazel is also very gentle. In fact, it has been commonly used as a diaper rash treatment on young babies and was shown to work just as well as a commercial diaper cream.
It is also fantastic for skincare after sunburn, so if you get too much sun try using witch hazel to help your skin heal.
How to Make Witch Hazel
You can make your own witch hazel, but similarly to rose water it will need to be used immediately. If you want to give it a try, I have a blog post showing you exactly how to make your own witch hazel toner.
Where to Buy Witch Hazel
Because of the shelflife, I often purchase witch hazel. I use the brand Thayers, and my favorite is the pure witch hazel, particularly for this rose water toner recipe.
I sometimes also purchase the Thayers witch hazel with rosewater added, or their witch hazel with lavender too.
How to Make Rose Toner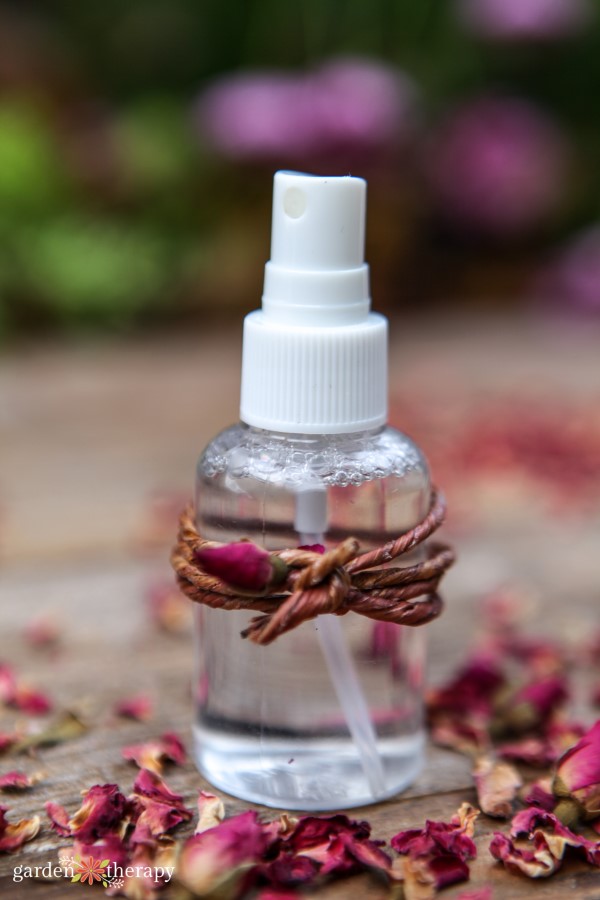 Making a rose water toner is SO simple! Honestly, this can be put together in mere minutes and make a massive difference in your skincare!
Ingredients for Rose Toner
Make Your DIY Rose Water Toner
Mix ingredients in a small atomizer. You can store the rose face toner in the refrigerator for up to one week. It doesn't keep for long and it's best used fresh, so make in small batches and discard any leftovers.
How to Apply Rose Toner
Spray on clean skin after washing. Let it soak in and the follow up with a lotion like my favorite DIY rose lotion!
Remember, your skin is your body's largest organ and takes a lot of abuse. Keep it healthy and happy with plant-based natural beauty products like this easy DIY rose toner. I promise you, your skin will thank you!
More Natural Beauty Recipes with Rose:
DIY Rose Water Toner
Rose water toner is easy to make and provides countless healing benefits to your skin. Give this simple DIY natural beauty recipe a try and keep your skin happy!
Notes
This recipe will keep fresh for about a week, so I recommend making it in small batches that last you 5-7 days.