Rose water is so much more than a fragrant way to stay hydrated. Read on to learn more about rose water and the bounty of benefits it can provide for your body's largest organ, your skin! Plus, learn how to make your own batch of rose water easily at home.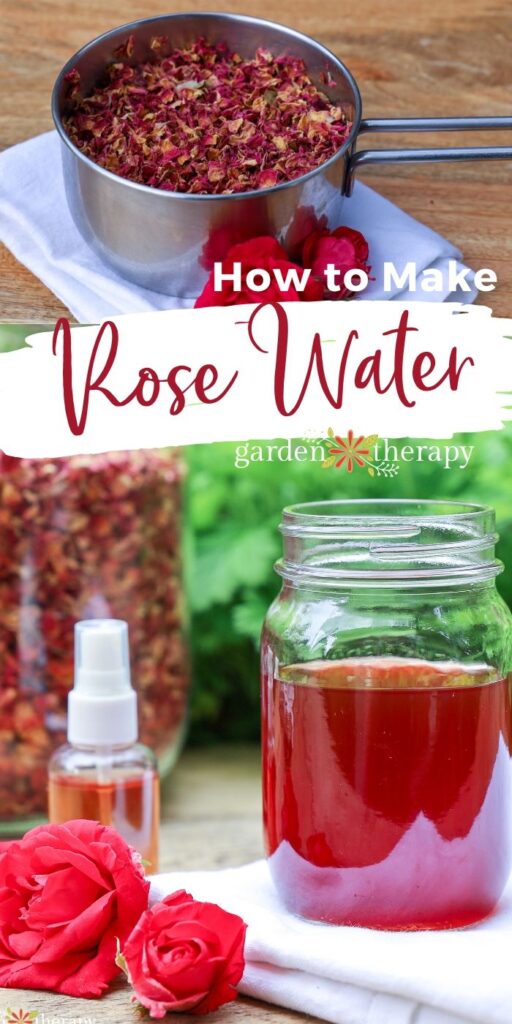 As I've thoroughly researched and studied natural skincare over the past several years, I've come to the conclusion that there are few ingredients as beneficial and all-around good for your skin as rose water. This ultra-gentle, natural ingredient is fairly easy to make and can be used in so many different ways.
Plus, it has a fantastic scent that I find so calming.
In this post, you will learn:
How to Use Rose Water
Many people think that rose water is simply for drinking as a refreshing cool drink or a rejuvenating hot tea. Due to its versatility, there are SO many more ways to use it.
Here are just a few to give you an idea:
As a

toner

on your face after washing

To hydrate skin as a

face cream

As a makeup remover

Reduce puffiness under the eyes

As a mouthwash

In your bath

Spritz on clothes while you're ironing

Add it to baked goods like cakes for a floral flavor

Pour it into a lemonade or iced tea
Use it as a surprising (and fun!) cocktail addition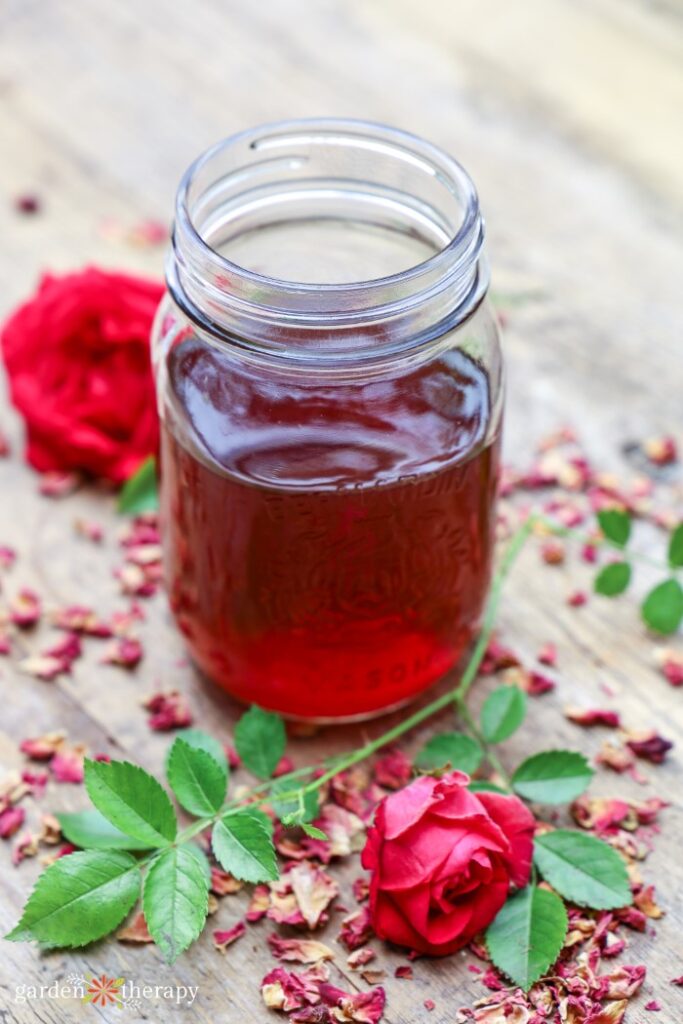 The Benefits of Using Rose Water
Not only are there many uses when it comes to rose water, but they are also some incredible benefits that come along with it.
Maintains skin's pH balance

Helps hydrate and moisturize the skin

Astringent properties that help cleanse pores and tone skin

Anti-bacterial properties that help clean and heal wounds

Anti-inflammatory properties that reduce redness in irritated skin

Antioxidant properties that help regenerate skin cells

Fights wrinkles and fine lines
With perks like that, it's no wonder that this is one of the most popular natural beauty product ideas out there!
How to Harvest Roses
One important thing to know is that rose petals tend to easily break down. Use these tips to properly harvest your rose petals so you are able to dry them.
Pick the petals in mid-morning once the dew has dried but before the hottest part of the day

As you gather the petals, lay them in a single layer on absorbent paper to prevent them from touching each other
How to Dry Rose Petals
Dry your petals by hanging the stems upside down or by removing the petals and putting them on a tray. Let them dry slowly and naturally to maintain the most colour and fragrance possible.
Dry your petals in a cool, dark place in a single layer with lots of airflow.
It is possible to dry your rose petals in a food dehydrator, but I find that even at its lowest temperature, it's often still too warm to properly dry them.
Regardless of whether you use a tray or dehydrator, it's important to ensure that your petals get plenty of air circulation.
NOTE: Do not leave these in the sun or they will brown and lose some of their fragrance.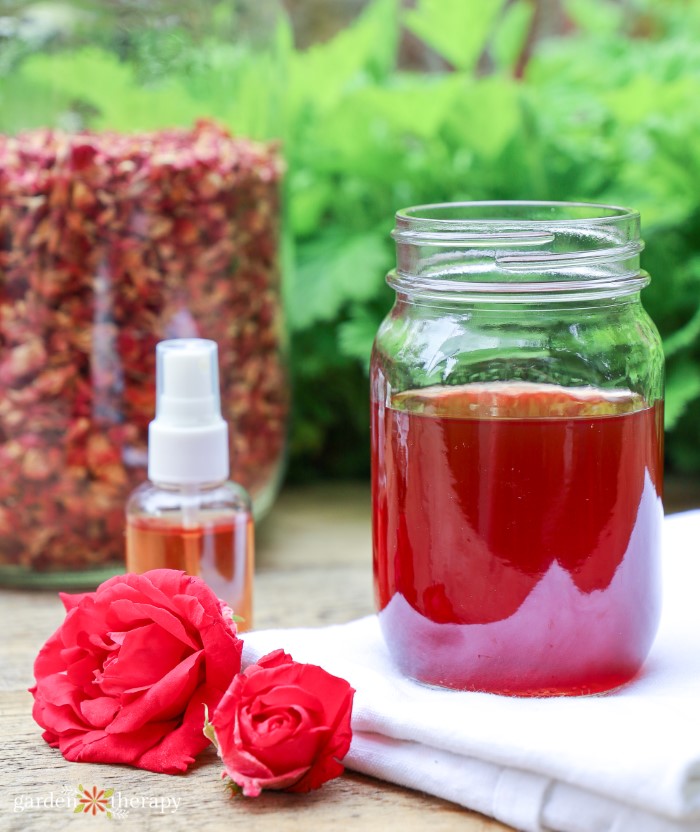 How to Make Rose Water
I love all the various ideas for making rose water, but the easiest DIY rose water recipe involves steeping rose petals on the stovetop. Here's how you do it.
Ingredients
Makes approximately 2 cups of rose water
Two cups fresh rose petals OR o

ne cup of dried rose petals

Two cups of distilled water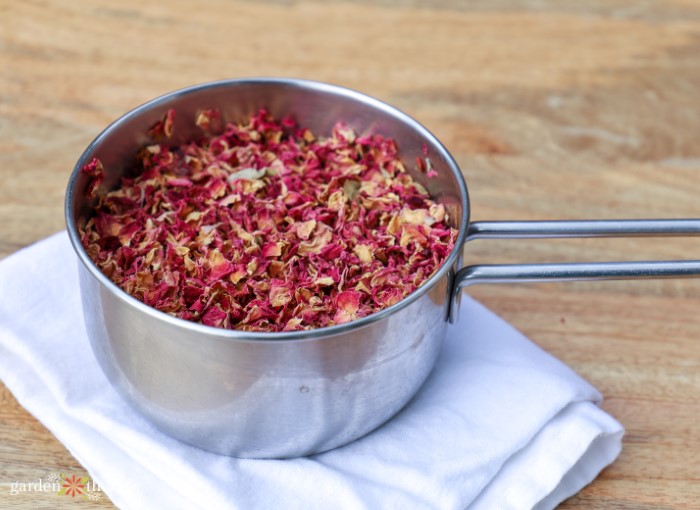 Step by Step Instructions
Add the rose petals to a small saucepan with water

Stir them together well to saturate the petals as they will tend to float to the top.

Put the pot on the stove, on low heat.

Continue to stir. I mix in the petals so that they are completely covered in the water.

When the liquid starts to steam, cover with the top of the lid, and set a timer for 20 minutes. The lid is crucial because you don't want the essential volatile oils to escape with the mist and steam.

After 20 minutes, strain the mixture through a fine sieve lined with cheesecloth or through a nut milk bag.

Add a lid to the rosewater and allow it to cool to room temperature.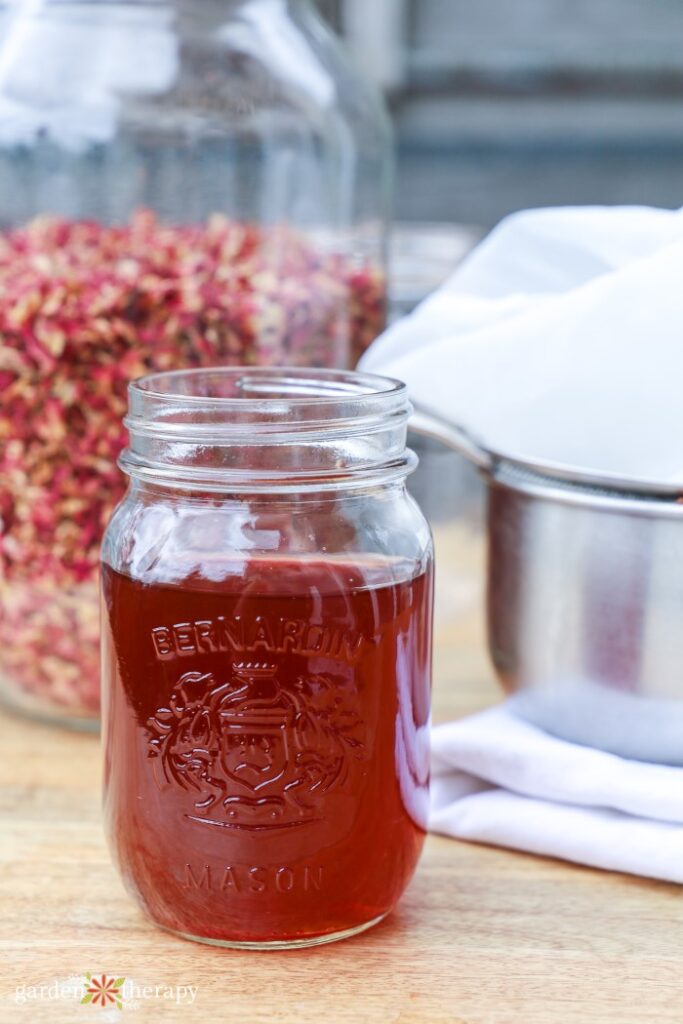 Other Methods for Making Rose Water
While I shared my personal favourite (the distill method) above, I realize there is no one-size-fits-all solution. Here are a few alternative methods to consider:
Rose Water From Perfume
For example, in Janice Cox's iconic book Natural Beauty from the Garden, she shares a recipe for Attar of Roses that can be used to make rose water.
In this recipe, both rose petals and leaves are layered in a ceramic crock, with each layer sprinkled with a thin covering of salt. Leave the crock in a cool, dry place for 3 to 6 weeks.
At this point, you can use a strainer to separate the extracts from the petals and leaves from the bottom of the jar and filter it for a highly fragrant perfume.
This perfume can then be added to distilled water to make rose water!
Hydrosol
Homemade rose water can also be made as a hydrosol. Essential oils and hydrosols are both made through the process of distillation.
The difference between the two is that essential oils contain the fat-soluble parts of the flower while the "flower waters" (a.k.a., hydrosols) are made up of the water-soluble parts of the flower.
To make hydrosols, the petals and leaves of the flower are distilled. Although similar to essential oils, hydrosols still smell nice but are less potent.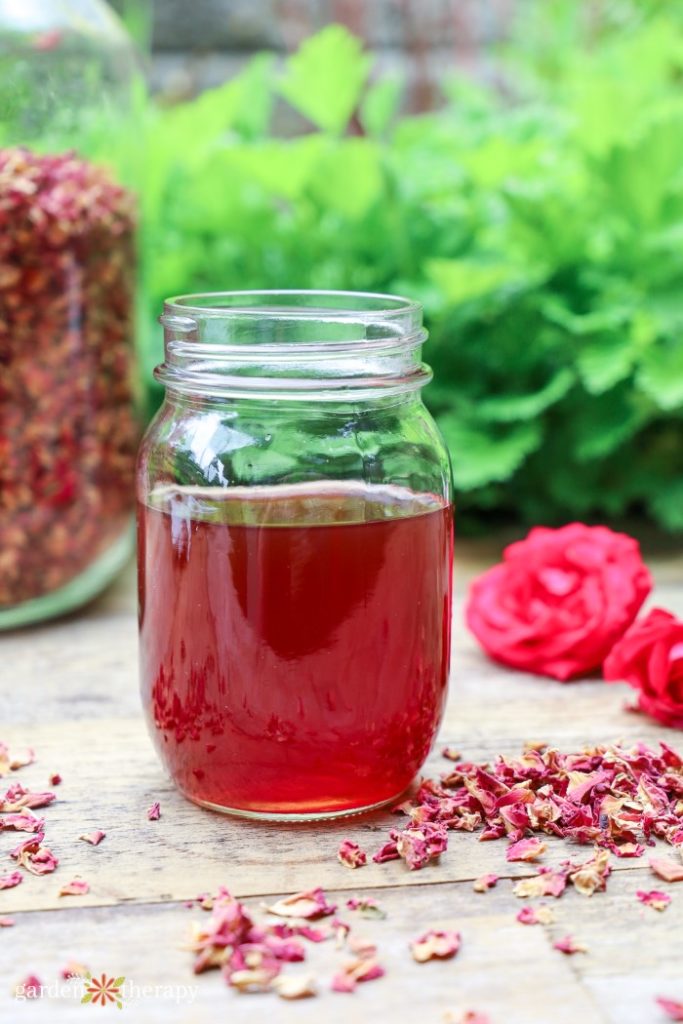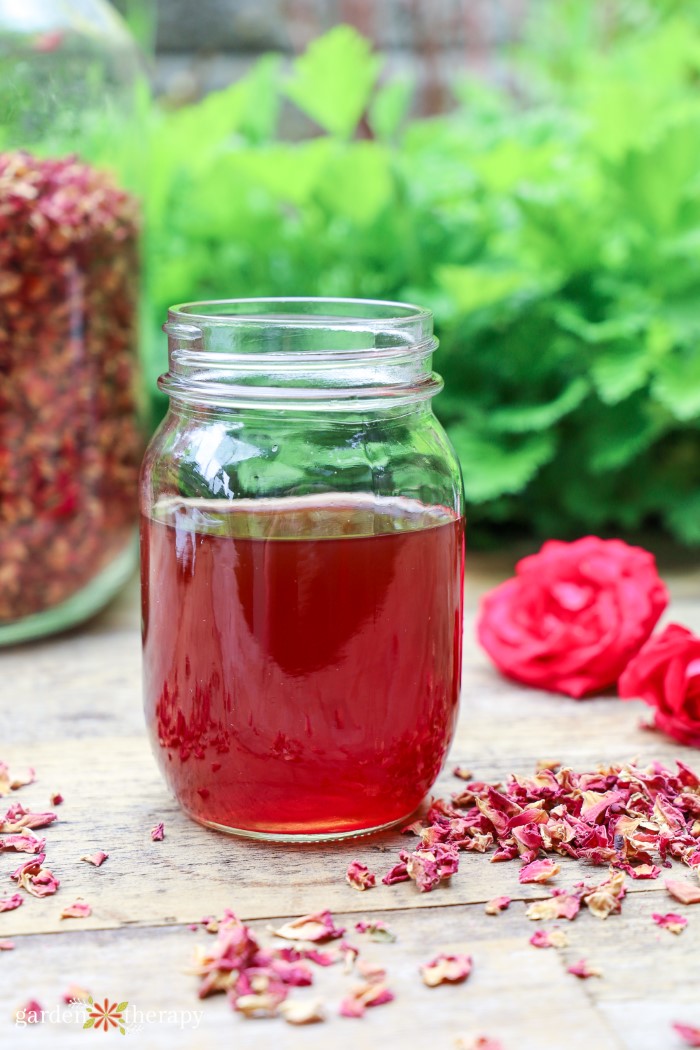 Shelf Life and Storage
Store your rose water in a glass jar or a spray bottle depending on how you plan to use it. The rose water should be kept in the refrigerator, not at room temperature.
Since rose water does not have any preservatives added, it only lasts for three to seven days after making it. This is why I want to make sure that it's easy to do in small batches so that I'm not wasting my efforts of making larger batches and having them go bad (or worse, having to add preservatives to them).
Use Your Rose Water in These Recipes
That's it! Easy, right? Just a few steps will yield beneficial rose water that you can use in many different ways and recipes.
FAQs About Making Rose Water
Can I use fresh or dried rose petals for making rose water?
You can use fresh or dried rose petals, as long as they are grown pesticide-free without herbicides in a nice and healthy organic garden.
Is rose water good to drink?
Yes – rose water is excellent to drink. It can help rehydrate your body, while also assisting with digestive issues. In fact, you can even buy bottled rose water to drink online and in stores!

If you haven't tried rose water before, you are likely to be pleasantly surprised at the floral taste. It feels just like drinking up a rose bush! Finding it a bit too strong for your liking? Try diluting it with a bit of filtered water. A little can go a long way!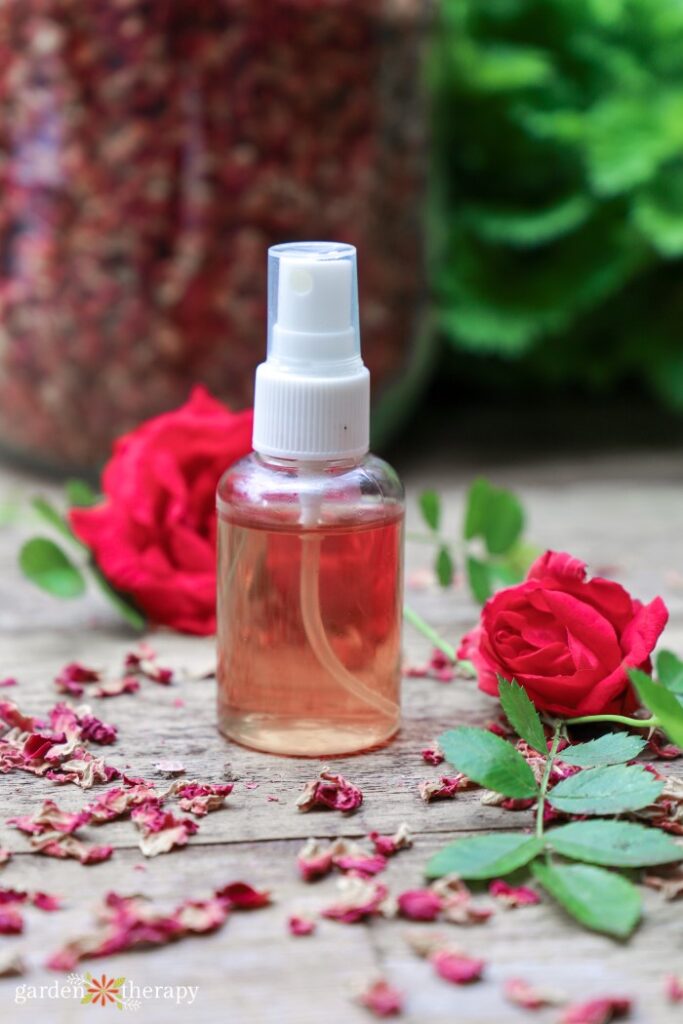 More Posts About Roses
Homemade Rose Water
Using a rose toner will keep your skin's pH balance at the perfect level while also providing healing benefits to the skin. Here's how to make a DIY rose water toner.
Equipment
1 Lidded pot

1 Sieve lined with cheesecloth

1 Airtight jar
Instructions
Add the rose petals to a small pot along with some water.

The petals will tend to float to the top. To make sure the water is saturated with the rose properties, make sure to stir continually.

Place the pot on the stove over low heat.

Continue to stir. I mix in the petals so that they are completely covered in the water.

When the water starts to create steam, cover the pot with a tight lid to prevent the oils from escaping.

After 20 minutes, strain the mixture through a fine sieve lined with cheesecloth or through a nut milk bag.

Add a lid to the rosewater and allow it to cool to room temperature.

Store the jar of rose water in the refrigerator, and use within 7 days.