Please welcome back organic gardenista Carolyn Herriot to share with us a tantalizing recipe straight from her garden: Fennel, Chard and Goat Cheese Pie. This is just one of the many garden-fresh recipes you will find in her book, The Zero-Mile Diet Cookbook: Seasonal Recipes for Delicious Homegrown Food (Harbour Publishing).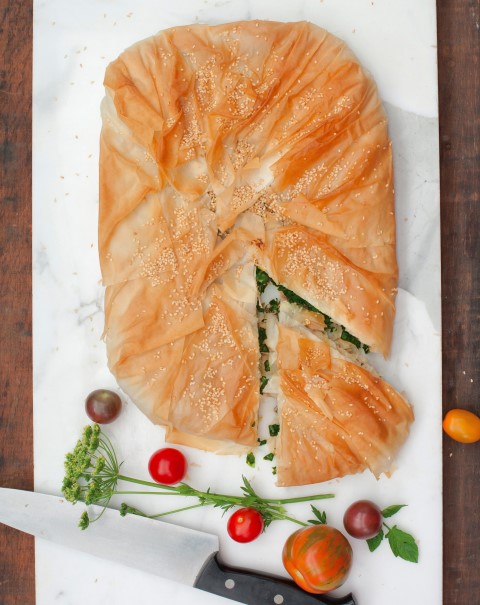 The result is worth the effort when making this recipe. Brushing oil between layers of filo pastry makes it crisp and flaky, and the filling makes it extremely tasty. If your fennel and chard harvest is abundant, feel free to double the quantity of filling and make a thicker pie.
Ingredients
 2 Tbsp (30 mL) extra virgin olive oil, best quality for best results
1 onion, chopped
3 garlic cloves, minced
1 bulb fennel
1½ tsp (7 mL) sea salt
1 tsp (5 mL) fresh-ground pepper
½ tsp (2.5 mL) chili pepper flakes
1 bunch Swiss chard, leaves shredded and stalks chopped into 1-inch (2.5-cm) pieces
2 tsp (10 mL) Bragg Liquid Aminos
2 large tomatoes, cored and diced
1 bunch fresh parsley, washed and finely chopped
6 oz (170 gr) soft goat cheese
2 eggs, well beaten
1 packet of frozen filo pastry (1 lb/454 gr), thawed
¼ cup (60 mL) extra virgin olive oil for brushing the filo
1 tsp (5 mL) black or white sesame seeds
Make it!
Preheat oven to 350F (175C).
In a frying pan, heat the olive oil and sauté the onion and garlic for 5 minutes or until soft. Using a mandoline or sharp knife, shave the fennel bulb into thin slices, and add these to the pan together with the salt, pepper and chili pepper flakes. Toss together and sauté for 5 minutes.
Add Bragg's, Swiss chard, tomatoes and parsley. Sauté for another 5 minutes. Using a colander, drain off any liquid or you'll have a soggy pie! Add the crumbled goat cheese and beaten eggs to the drained mixture and blend all the filling ingredients together well.
Handling carefully so as not to tear, lay 3 sheets of filo pastry over a 9 × 13-inch (23 × 33-cm) oiled baking pan, with the edges of the filo placed over the sides of the pan. Using a pastry brush, brush the filo lightly with olive oil. Place another filo sheet on top, and lightly brush with olive oil. Repeat these layers 5 more times, brushing oil lightly between each layer.
Spread half the filling over the filo, and cover with 6 more filo sheets, brushing olive oil between each layer, edges placed over the sides of the pan. Spread the remaining half of the filling over the filo, and cover with 6 more filo sheets, brushing oil lightly between each layer.
Fold the pastry edges into the baking pan so that they overlap neatly. Brush olive oil over the very top layer and sprinkle with sesame seeds. Bake in the preheated oven for 30 minutes, or until the pie is golden brown. Allow to sit for 10 minutes before serving.
Makes 8 servings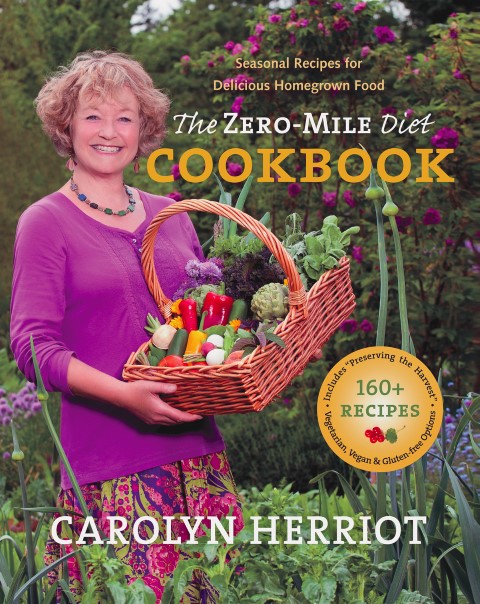 In her bestselling book The Zero-Mile Diet (Harbour Publishing), Carolyn inspired readers to put organic homegrown fruits and vegetables on the table, using time-saving, economical, and sustainable methods. Now she is back with even more ideas to cook up fresh food from the garden throughout the year. The Zero-Mile Diet Cookbook is filled with meatless dishes that are neither complicated nor time consuming.