Making your own foaming soap is easier than you may think! Avoid spending money and artificial fragrances by using a few simple ingredients and a soap pump. Try making this foaming zesty lime and fragrant rosemary soap for your kitchen or bathroom.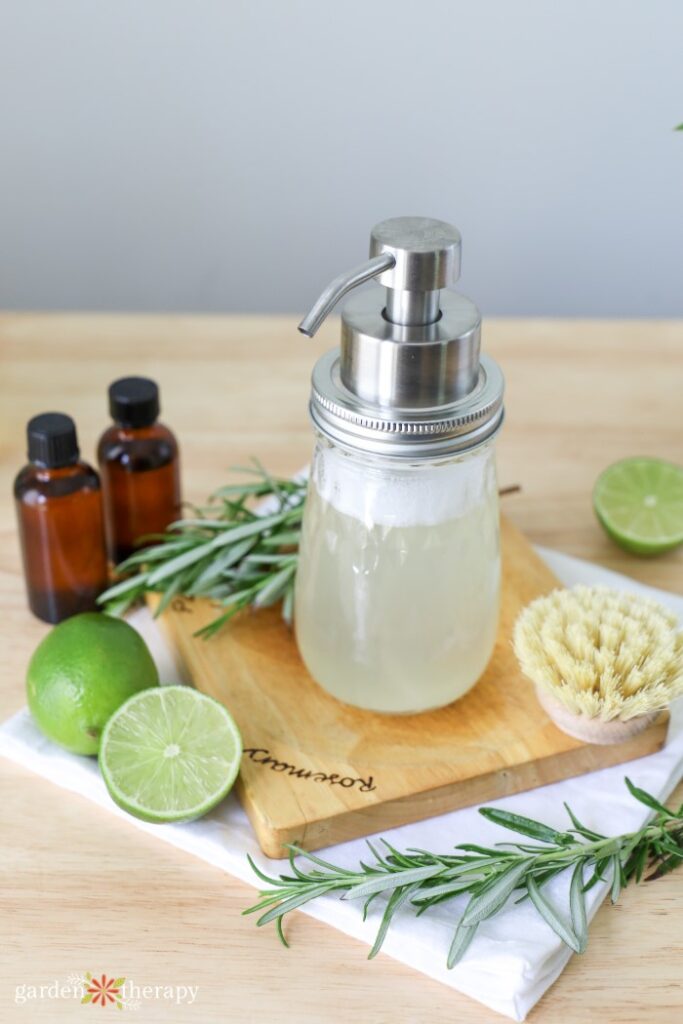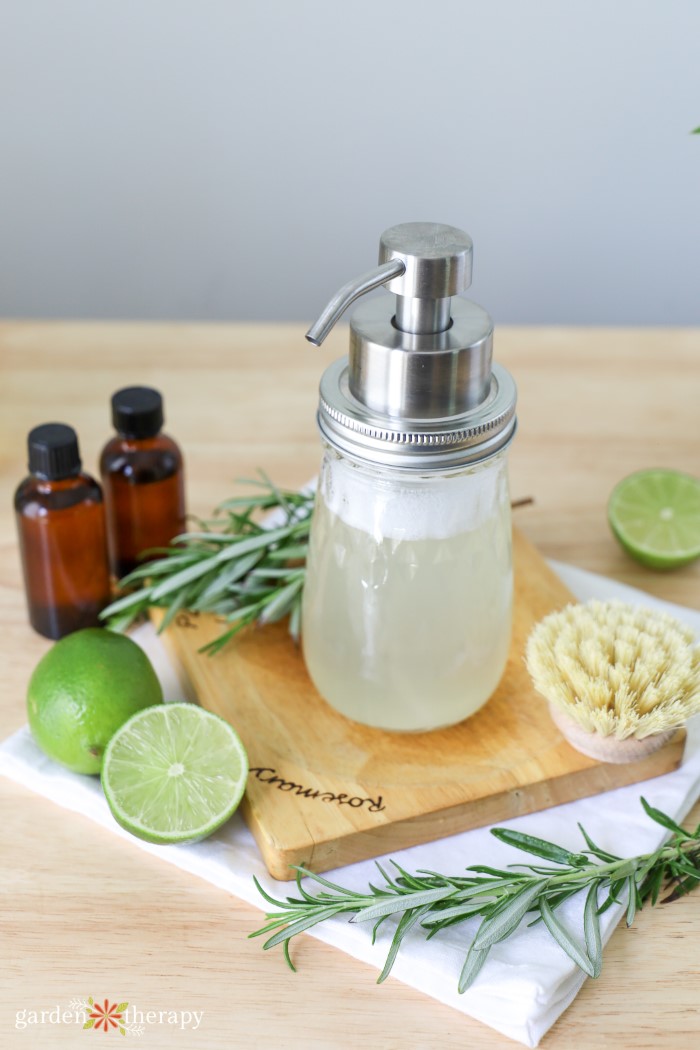 Foaming hand soap feels like pure luxury on your skin. It comes out of the pump all lathered up already, so it's silky and smooth. I love using this soap in my bathroom and I always get compliments from my guests who visit. I owe a big part of the foaming soap love due to its fabulous bright lime and rosemary scent.
While I love foaming hand soap, especially for use with children, one thing to keep in mind is that the act of building a lather typically helps to collect dirt from your skin into the bubbles.
Simply rubbing foam soap on your hands and then rinsing immediately is not going to get them as clean as if you were to lather the soap from a liquid. The lather should be applied all over your hands as you would other soaps.
This post will cover…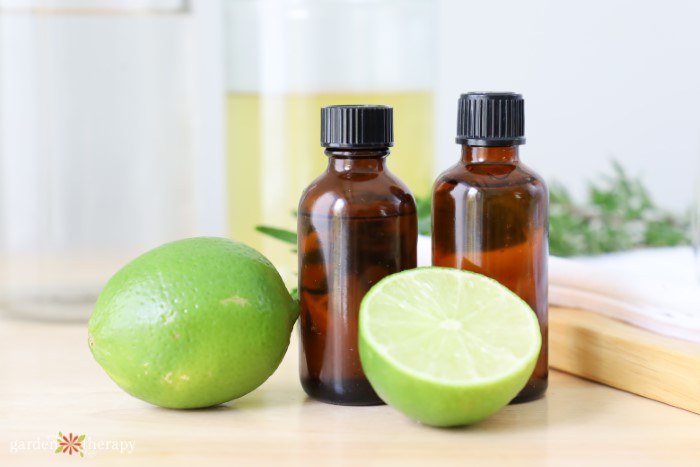 Why I Love This Foaming Soap Recipe
Rosemary is one of my favourite herbs. You'll find plenty of it in my herb garden. I use it often in my hair products for its antibacterial and antifungal properties. It also helps to control oil production. All of this makes it great for the skin and washing your hands as well!
The other major player in this recipe is lime, which is a natural antioxidant. It helps to remove free radicals that damage cells, causing wrinkles, sunspots, and other and signs of aging.
I'm not expecting this soap to act as a miracle hand elixir, but I love using natural properties that I know are doing more than just helping to wash my hands.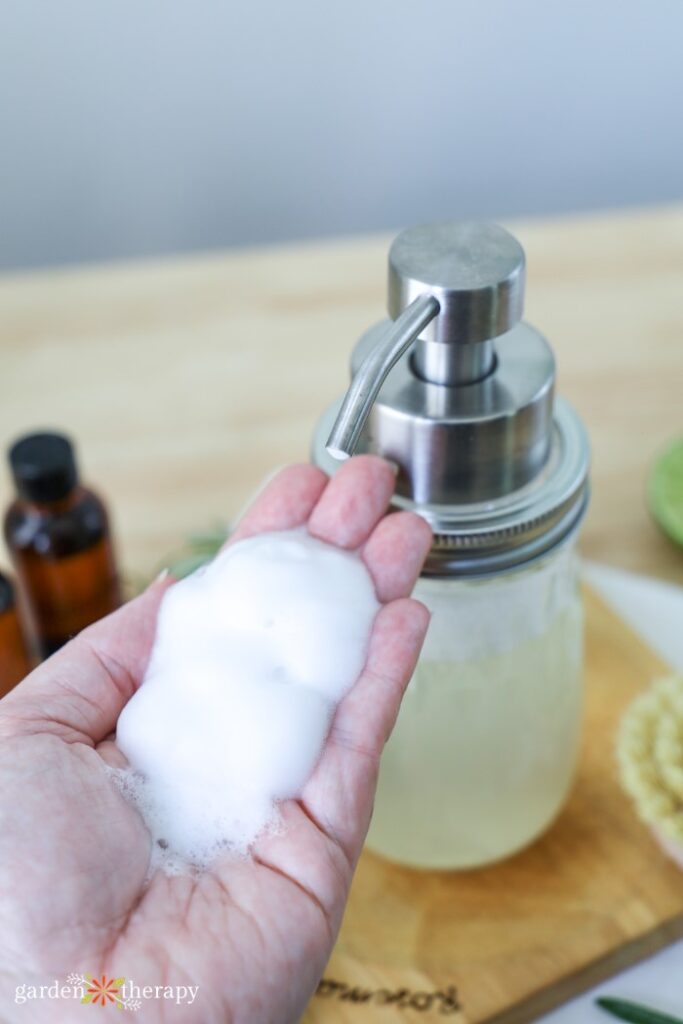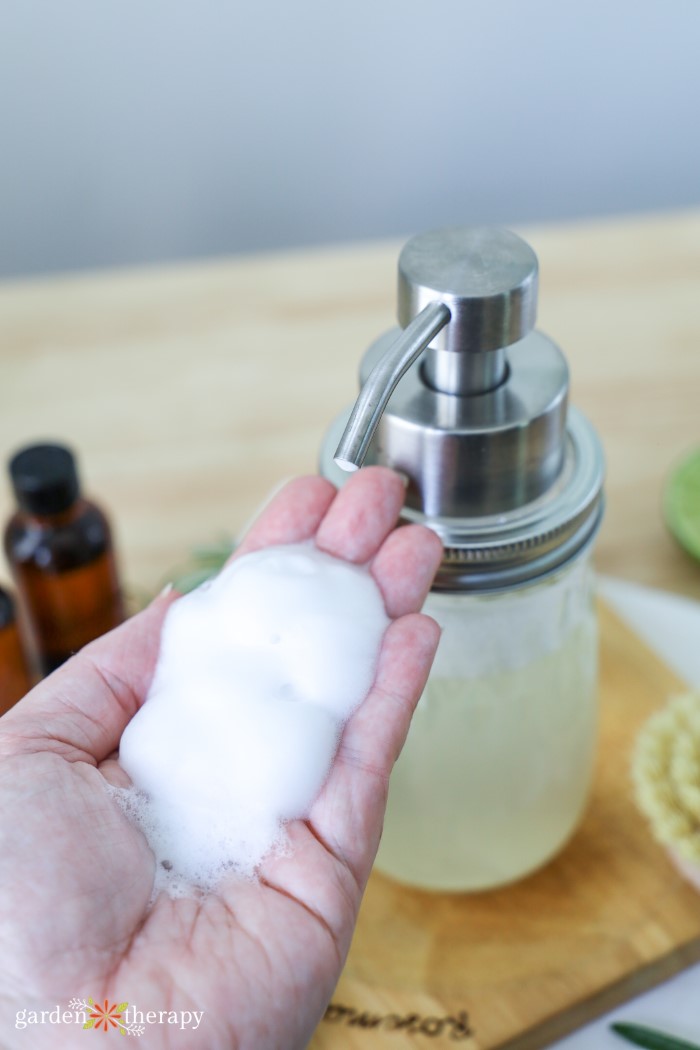 How to Make Soap That Foams
The air is the key part of making foaming soap. You can't use a standard soap pump that you might use with liquid soap. Pumps for foam soap have an air chamber inside that will add air to the soap with every pump. You can see how I make a Mason Jar foaming dispenser here.
Foam soap is made using these percentages:
60% water
20% prepared liquid soap
20% air
Once you have those percentages down, you can have a little fun. For this foaming lime and rosemary soap, I use diluted castile soap and essential oils for fragrance. The result is a bright soap to wake up the senses while you scrub.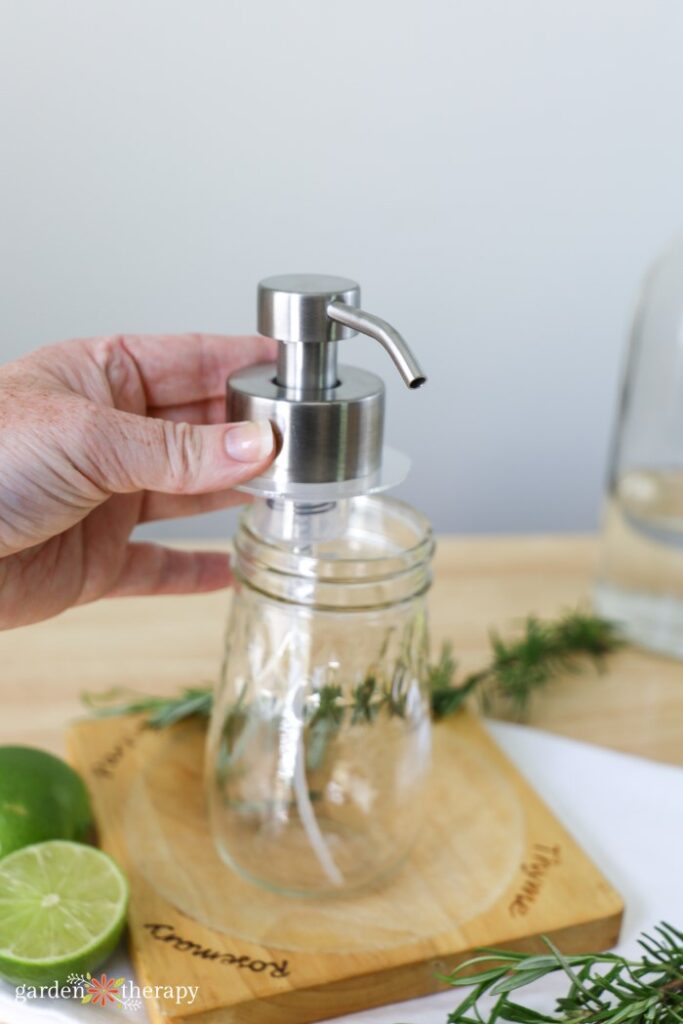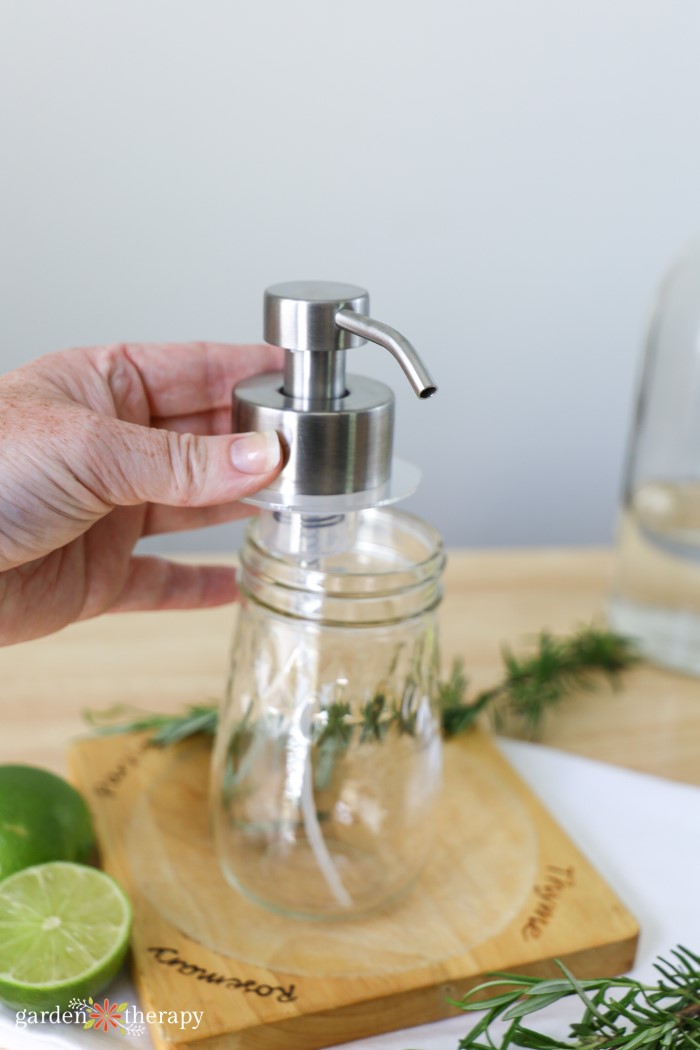 Foaming Lime and Rosemary Soap Recipe
Materials & Ingredients:
See the recipe card below for exact measurements.
Jump to Recipe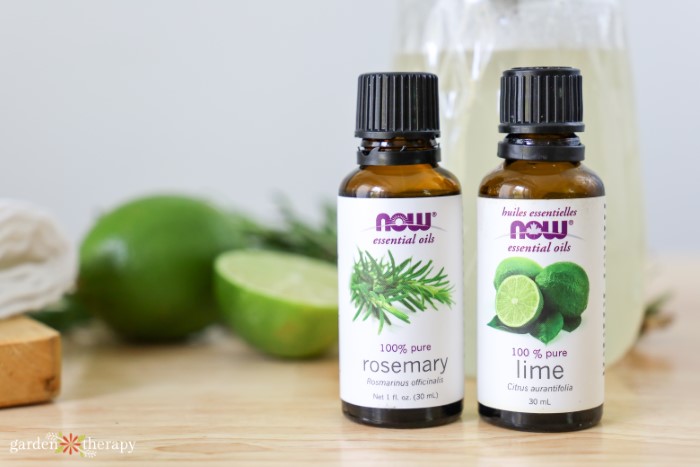 Make it!
Fill a 500 ml jar with distilled water—it's important that the water is distilled to prevent bacteria from growing.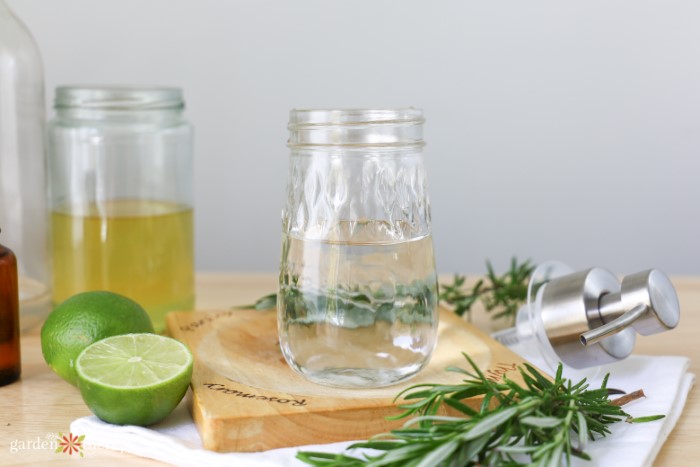 Next, add the concentrated castile soap.
Add in essential oils.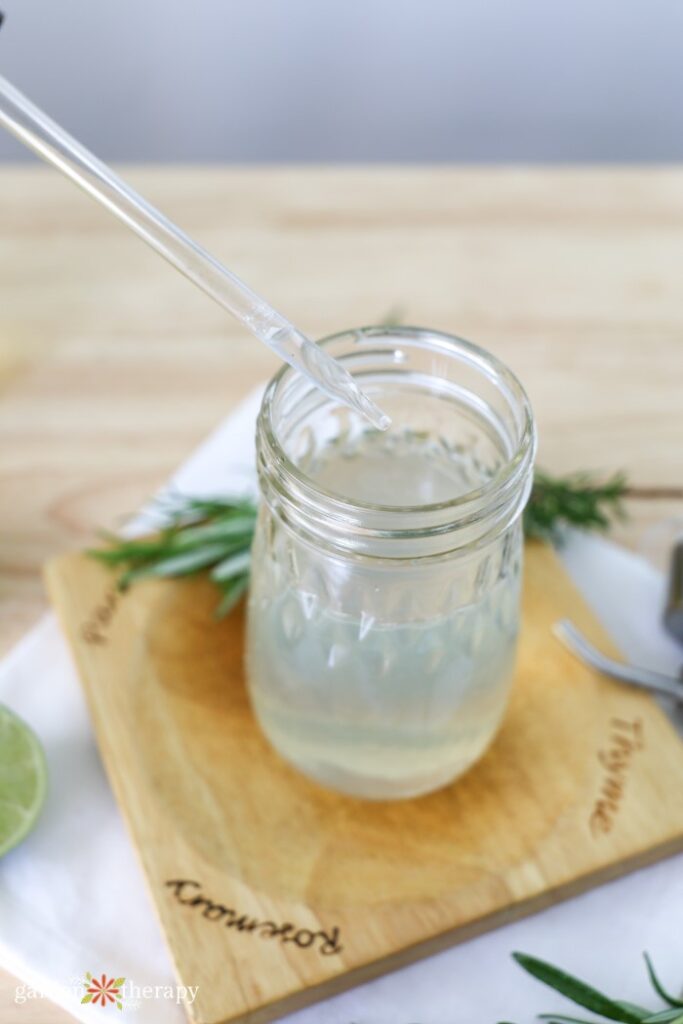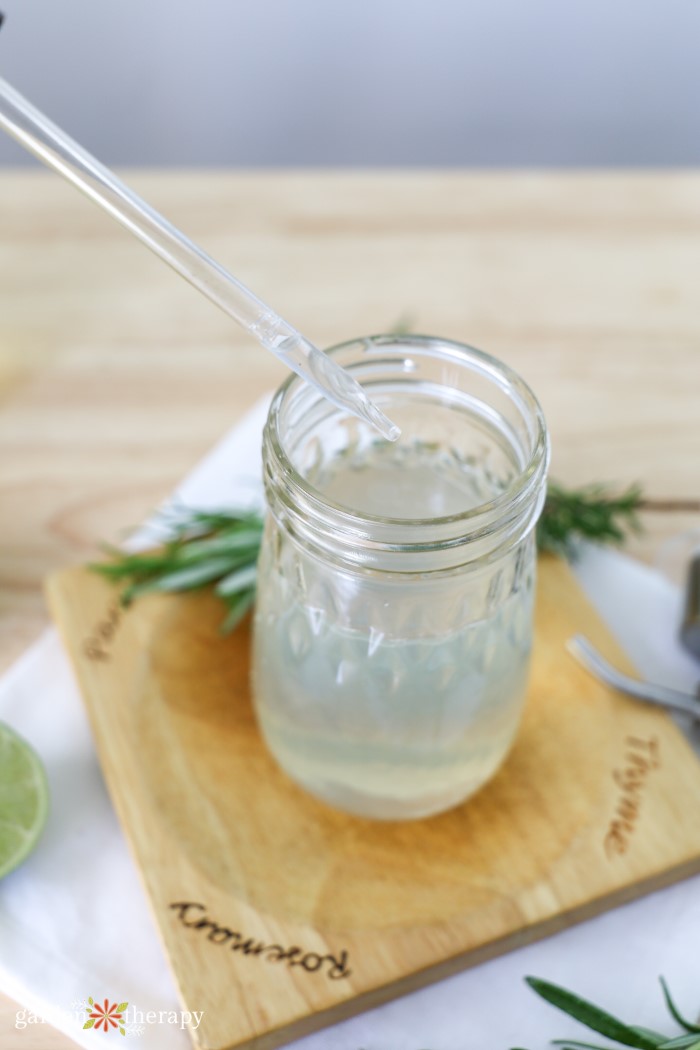 Shake well to combine.
Add a foaming soap lid to the jar and shake well before using. You will only need to shake the ingredients for a few days before they combine and after that shaking will no longer be needed.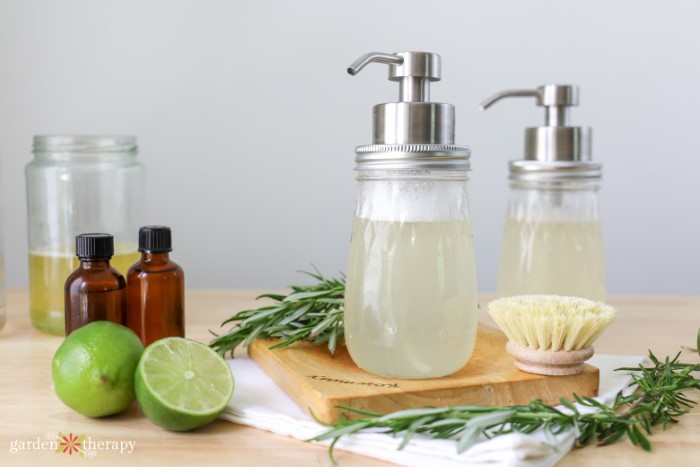 How to Use
Wash hands for 20 seconds by lathering wet hands with soap and getting in all the crevices between fingers and front and back of hands. By washing this way, foaming soap is just as effective as a liquid or bar soap.
As a bonus, it feels soft and silky, with lots more lather, even though it is a similar recipe to the liquid soap. Castile doesn't foam as much as commercial liquid soaps that have surfactant added to them. If you like a good bubbly lather, this foaming soap recipe is for you.
Shelf Life
This soap will last for up to three months. Discard if it becomes discolored or smells unpleasant.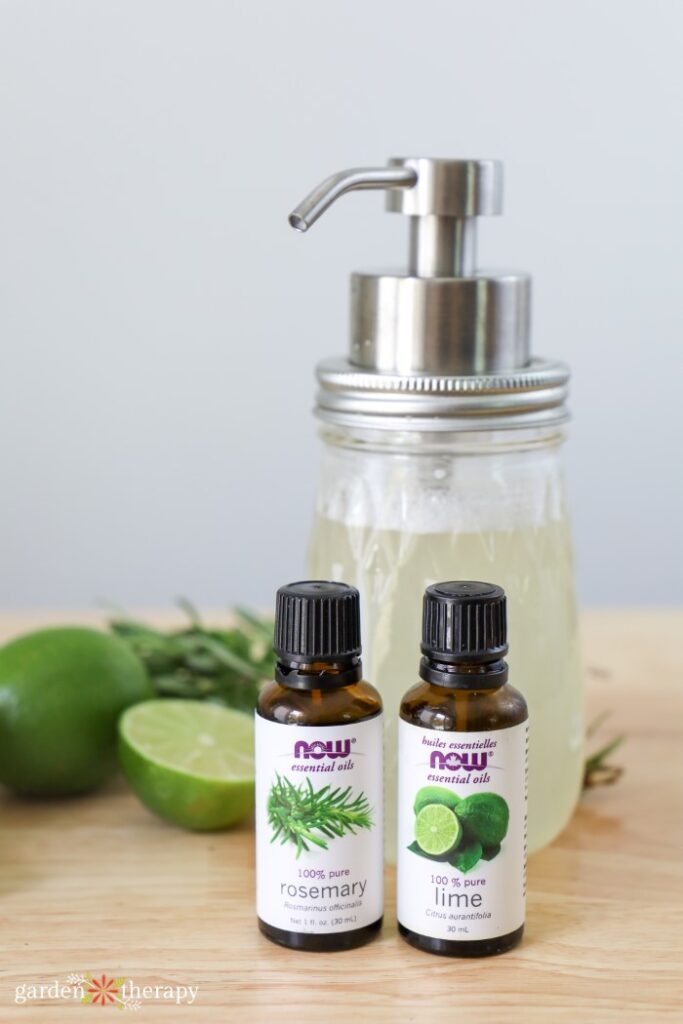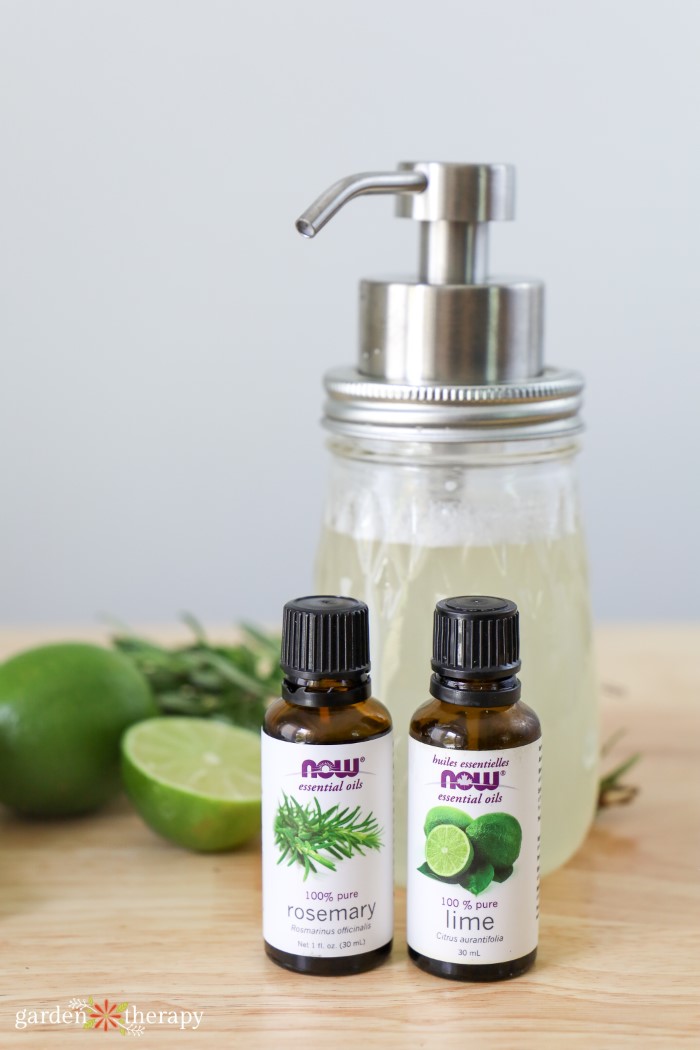 Frequently Asked Questions About Foaming Soap
Is Foaming Soap Less Effective?
Some research suggests that foaming soap is not effective as its liquid counterpart. Foam soap already comes out in a lather while liquid soap lathers as you wash your hands. You also don't get as much soap in foaming soap compared to liquid soap.

But I love foam soap and am careful to wash my hands for 20 seconds before rinsing. The key isn't really the type of soap you use but how well you wash your hands. Take your time and scrub, scrub, scrub.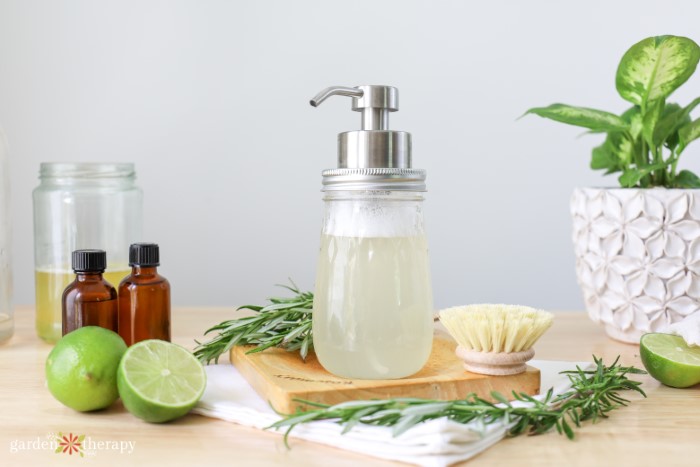 What is the Point of Foaming Soap?
When washing your hands with foam soap, it requires less water and uses less soap per pump. This means it lasts much longer than traditional liquid soap.

Without a doubt, foaming soap feels better on the hands. Since it's already lathered, it's easier to spread and rub. You can also rinse it off quickly and don't have to worry about any residue.
Let me know if you give this soap a try. I love hearing how it turns out!
Foaming Lime and Rosemary Soap
Scrub your hands in luxury with this lime and rosemary-scented foaming soap. This recipe makes 400 ml of soap.
Instructions
Add 375 ml of distilled water to your Mason jar.

Add 25 ml of castile soap.

Add the foaming soap lid to your Mason jar. Shake liquids to combine.

Before using soap, shake well. You will need to do this for the first couple of days before the liquids will combine and you won't need to shake it anymore.
More Soap Recipes to Try