Handmade soap is not only therapeutic and fun to make, but it's a great way to infuse the healing properties of plants into something that touches our skin daily. Take a look at these beautiful homemade soap recipes, and make a batch of your own!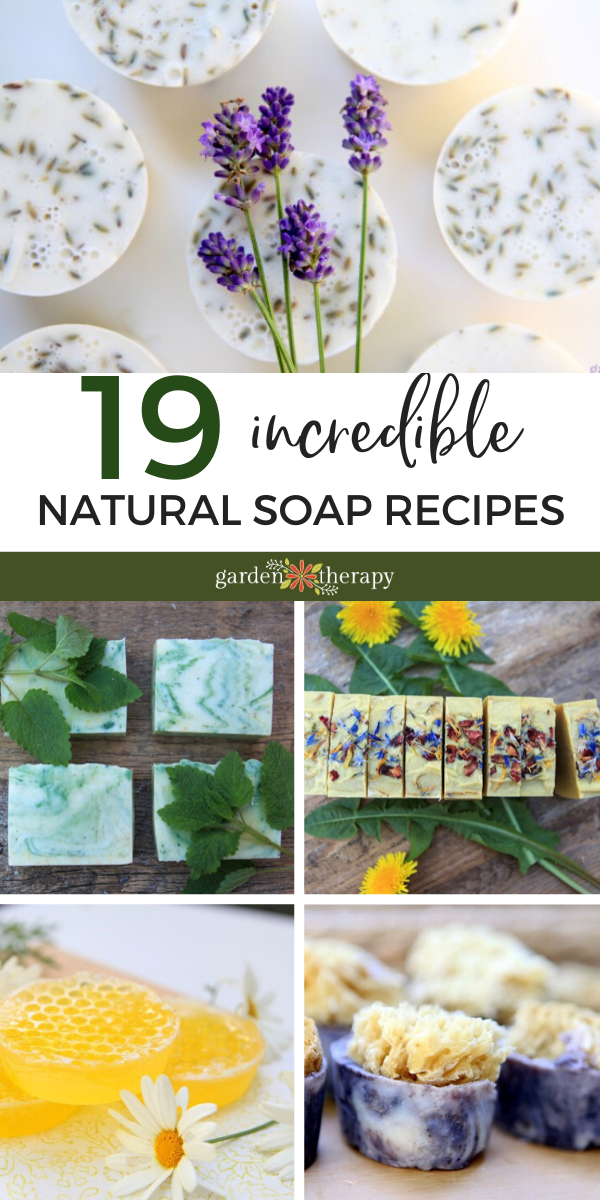 I have been making my own soap for quite a while now. At this point, I have enough soap recipes published on Garden Therapy that I thought it was time to give you a post where you can find them all listed in one handy place.
I make all of my own soap because it is fun, is great for my skin, and makes beautiful gifts. I absolutely love playing with all the fun add-ins like natural colors and botanicals. In fact, I like it so much that I made an entire book all about melt and pour soap-making, called Good Clean Fun.
If you're interested in soap making, I highly encourage you to give it a try. I had no idea back when I got started how much I'd love making natural soap. Looking for a place to start? Here are all of the soap recipes that are currently published on Garden Therapy – I even divided them up based on the method I used to make them.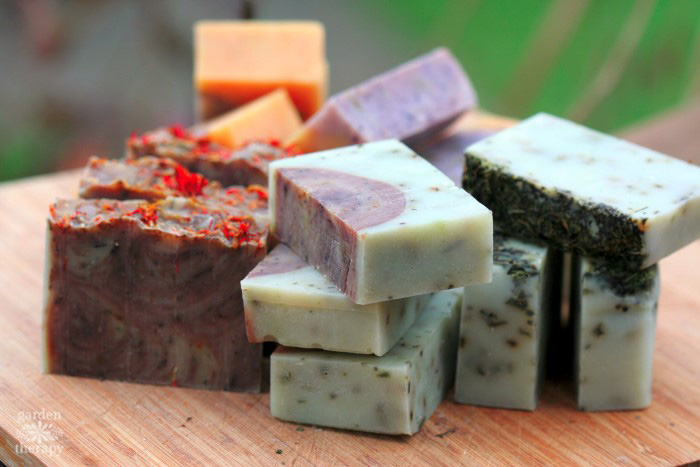 What Are The Benefits of Handmade Soap?
Handmade soaps are made using a variety of natural sources, such as plant-based oils and butters that are rich in nutrients, vitamins, and antioxidants. These are the types of ingredients that your skin, hair, and body and will love.  
Enhance natural soaps with many other incredibly good ingredients that come straight from the earth, such as botanical extracts and essential oils. With so many different options and combinations, there is truly a perfect natural soap for everyone.
You've probably heard of glycerin – ever wonder what it is? Handmade soap contains glycerin which is a natural byproduct of the soap making process. Glycerin is an excellent moisturizer that coats the skin and gives it a silky soft feeling.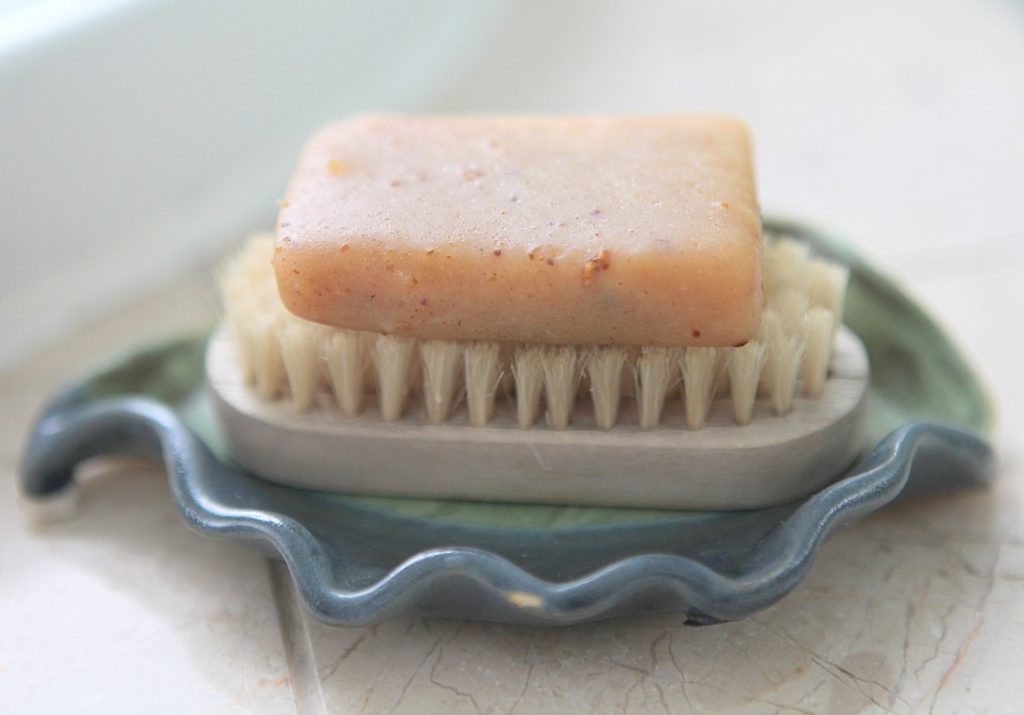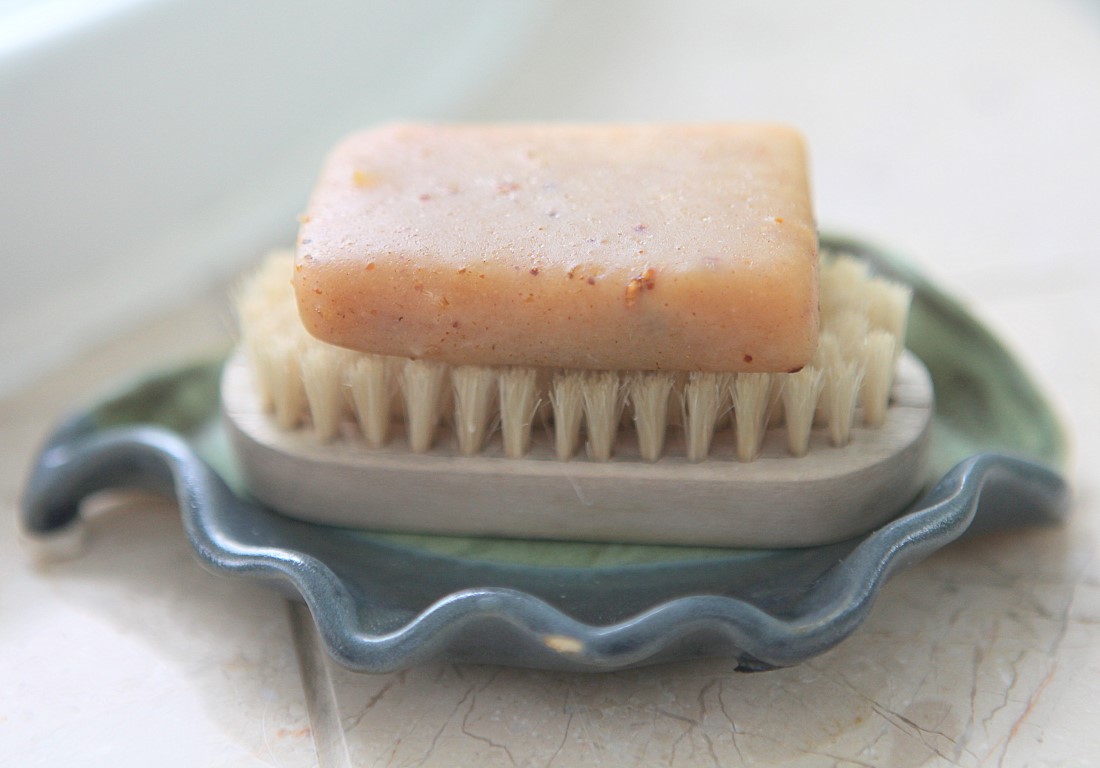 How Do I Make Handmade Soap?
Soap can only be called soap if it goes through the saponification process of turning fats and oils in water and sodium hydroxide into soap. This process makes the most nourishing, gentlest, and healthiest cleanser for your skin.
There are many methods of making handmade soap, including cold process, hot process, milk soap, and rebatching. You can also make melt and pour soap at home very easily and skip the lye, as well as the weighing and mixing of the ingredients.
The main two ways I have made soap are cold process and melt and pour. Each produces a very different type of soap, but both are equally useful.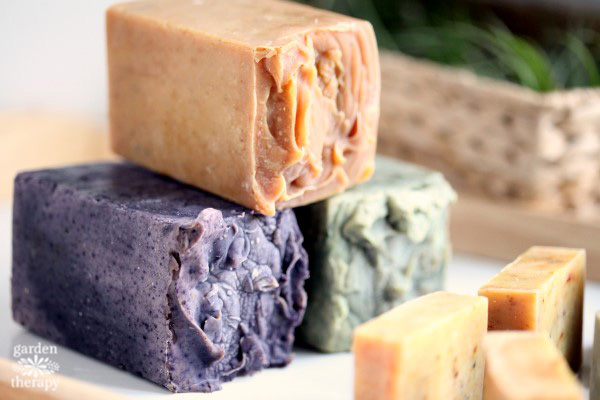 Cold Process Homemade Soap Recipes
I like cold-process soap most as my everyday soap. However, there's quite a bit of work involved in making a cold process soap—there's quite a bit of chemistry and science involved, as well as some challenging, potentially dangerous ingredients.
If you've never made cold process soap, it's doable, but it will take time and patience. It's well worth the effort as you can completely customize your soap with natural additives and colours. See how to make cold-process soap here.
Plant-Based Natural Unscented Soap – 3 Recipes!
This unscented soap  has three vegan recipe variations so you can choose which is the right one for you. It's a return to basics and a great way to use the soothing ingredients in soap without any additives. I love how these bars come out looking like scrumptious truffles…they honestly look good enough to eat!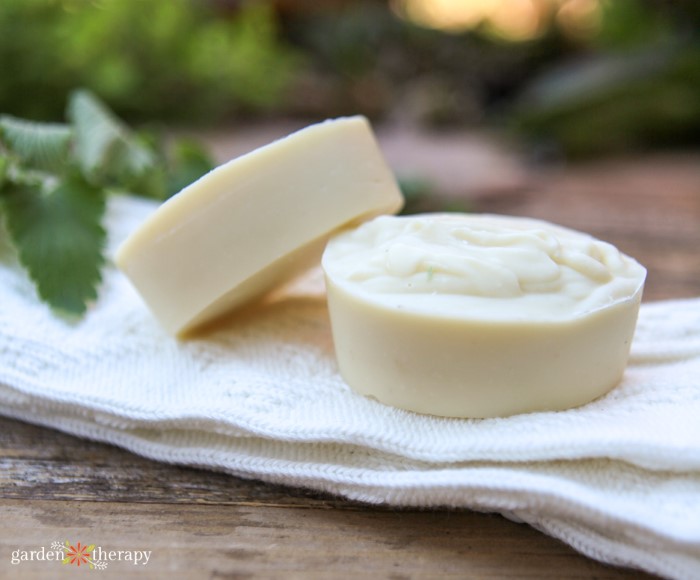 Wildflower Soap
This wildflower soap is natural, vibrant, and gorgeous while being nourishing and good for the environment. It reminds me of walking through meadow flowers. This is a soap that you spend the time to create and enjoy, not one that you rush through.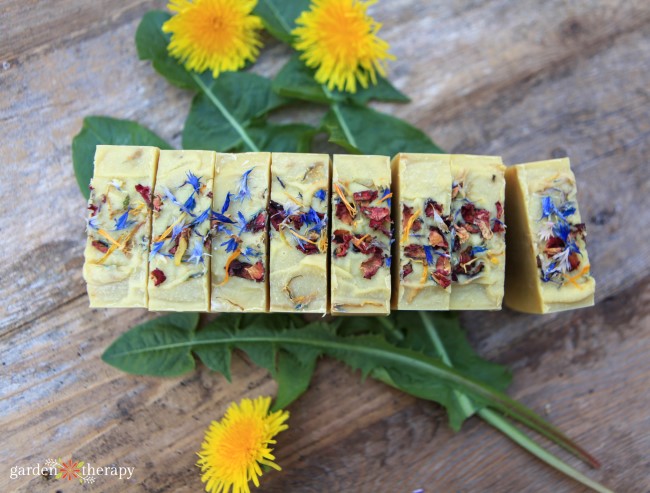 Lemon Balm Soap 
This lemon balm soap recipe is soft and rich from the high percentage of olive oil. Its bright lemon-mint fragrance makes it a refreshing soap with a clean and bright aroma that's perfect for using in the kitchen to cleanse and moisturize hard working hands.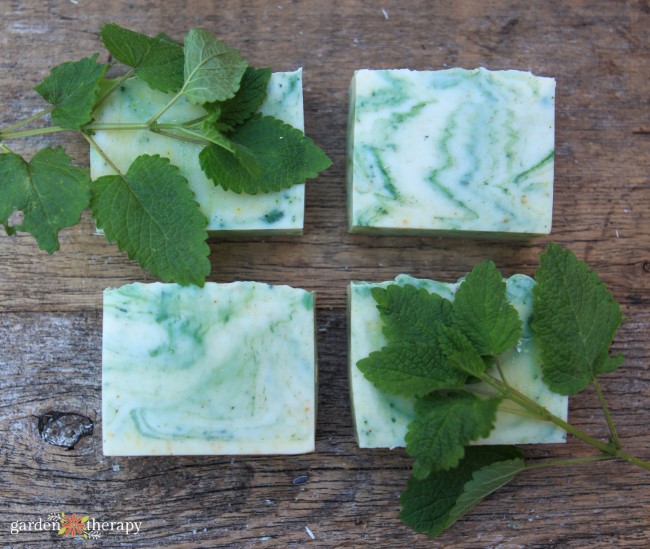 Sea Sponge Soap Bars
These sea sponge soap bars are topped with natural sea sponges to make a very gorgeous, organic-looking handmade soap that lathers up beautifully.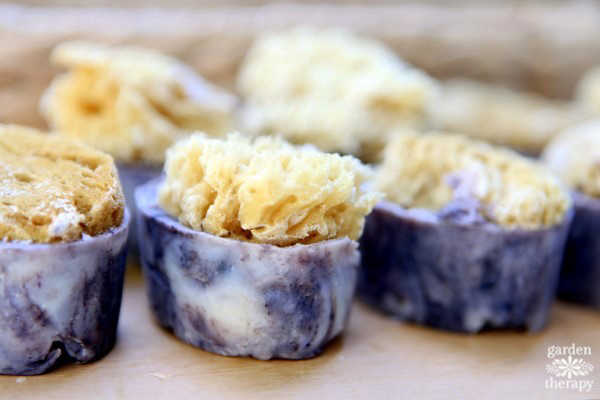 Rosemary and Peppermint Energizing Soap
Rosemary's aromatherapy benefits include promoting focus, memory, and mental clarity. Likewise, peppermint boosts energy and enhances mental focus. And both of them smell amazing, which is why I combined them into this delicious energizing rosemary peppermint morning shower soap.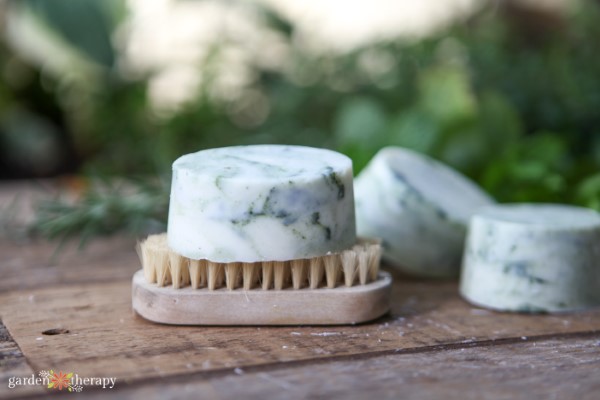 Lemongrass, Ginger, and Coffee Kitchen Soap
One of my very favorite blends in homemade soap is this fresh smelling kitchen soap that I made using this process. The bright citrus scent is energizing and smells incredible. This bar has a great scent to wake you up and get rid of strong cooking smells from chopping onions and garlic!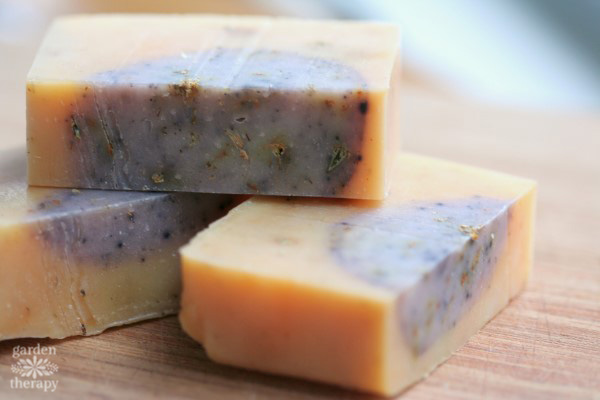 Orange Vanilla Cinnamon Soap
This scrumptious-smelling soap reminds me of the holidays, especially topped with festive saffron. It's like Christmas baking while showering. Just watch out because it might make you hungry! (Be sure to use it in the morning before breakfast.) Get the recipe for Orange Vanilla Cinnamon Soap in my post on cold-process soap making.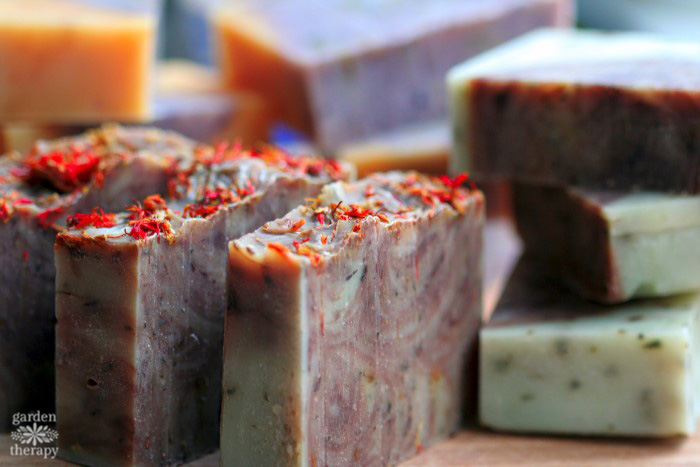 Melt and Pour Homemade Soap Recipes
This is the soap-making method I would recommend to beginners or those looking for a simple project. I enjoy melt and pour for quickly making fun, decorative soaps. You can see some examples of in my melt and pour soap idea book, Good Clean Fun.
Lavender Ombre Melt-and-Pour Soap
This attractive lavender ombre soap is lightly scented with lavender and contains moisturizing rich shea butter. It may look like a high-end decorative soap from a fancy shop, but it's easily homemade.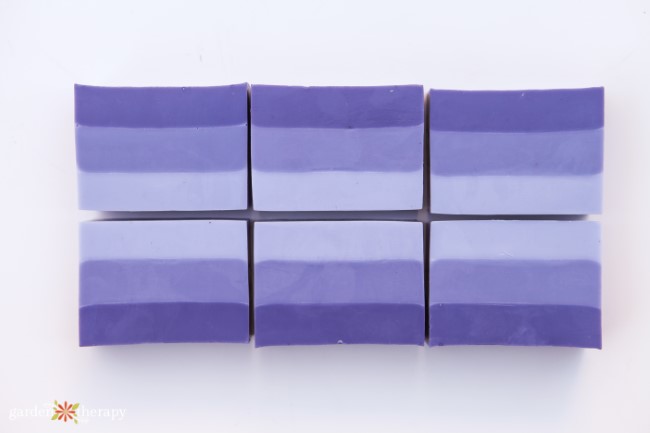 Rosemary Lemon Soap-On-A-Rope
Soap-on-a-rope is more than just fun to say. It's really an artistic way to display soap that also effectively keeps it from sitting in a little puddle in your shower. This project comes straight from the garden and is a fun way to combine the stars and bars.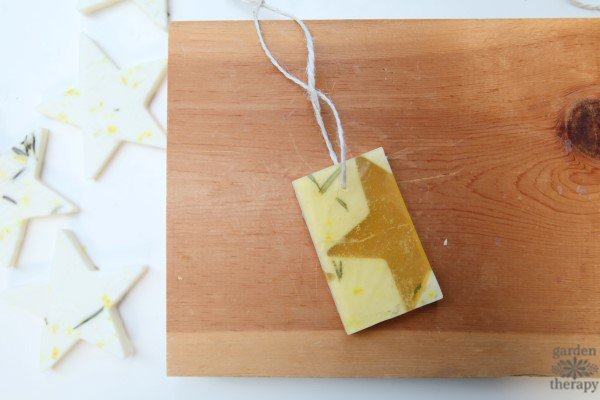 Exquisite Botanical Soap
These botanical soap bars use flowers, herbs, and leaves found in the garden to look almost too pretty to use. This simple project brings the delight of your backyard into your bath or shower. These soaps look much more difficult to make than they actually are.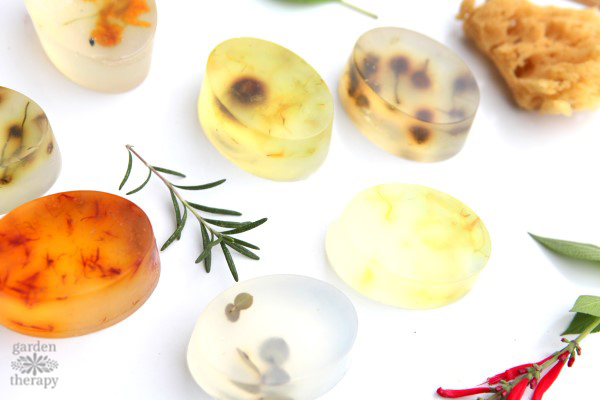 Lavender Oatmeal Soap Cupcakes
This lavender oatmeal soap is soothing and calming for your skin. And any recipe that uses my garden-grown lavender is a favorite of mine due to the amazing scent and natural beauty that it lends to any recipe!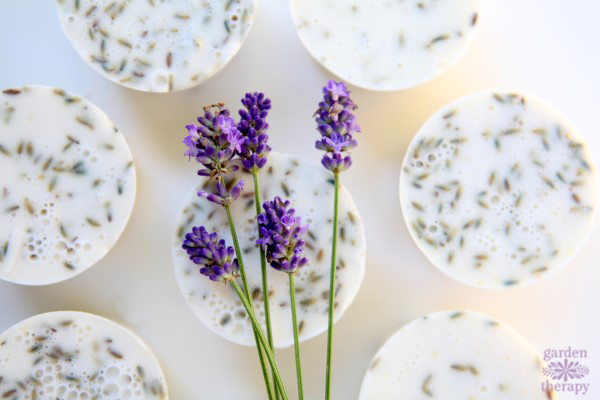 Homemade Honeycomb Soap
This honey soap is not only gorgeous, but it's also fun and easy to make too! I love that this soap looks like it comes straight from the honeycomb. It's really an aloe, cucumber, and carrot soap mixed with manuka honey and scented with citrus. Find out the trick to making the attractive honeycomb texture without buying an expensive mold.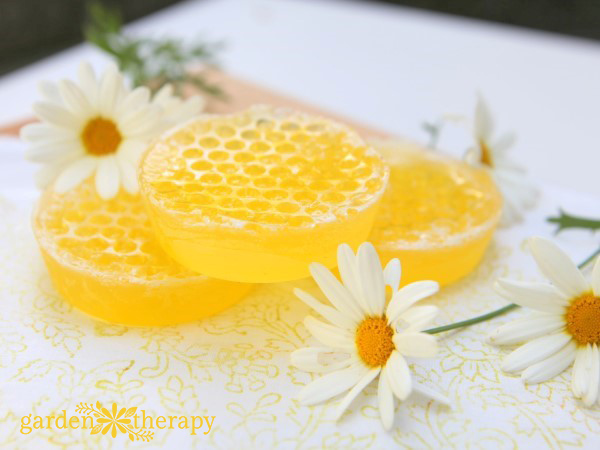 Sakura Cherry Blossom Soap
Similar to how cherry blossoms only bloom for a short time each year, these cherry blossom soaps are not meant to last long. These small 'blooms', or personal-sized soaps, will only last for a few uses.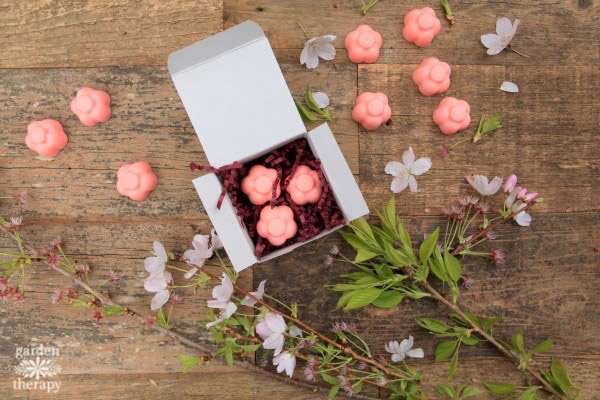 Amber Fossilized Bug Soap
These ultra-fun amber fossilized bug soaps are inspired by the fascinating look of fossilized insects in amber. What a way to make bathtime feel more like an adventure than a chore for little ones.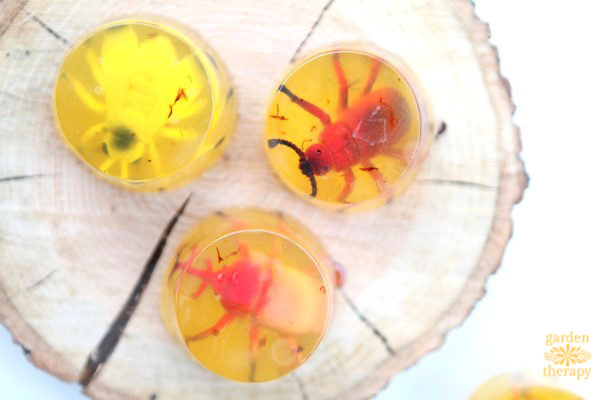 Winter Forest Soap
This winter forest soap recipe smells like a walk through the forest in the brisk winter air. Scented with essential oils from forest trees that make it both fresh and woodsy, this soap will perk you up and combat the dreariness that comes with the long, cold winter nights.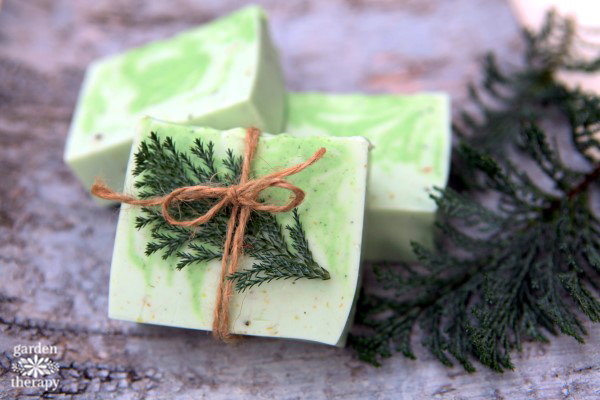 Foaming Hand Soap
I love the silky luxury of foaming hand soap, but I don't love using chemicals and substances I can't even pronounce in my products. Since ingredients like that are often listed on the bottles of store-bought foaming soap, I set out to make a fantastic basic foaming hand soap recipe.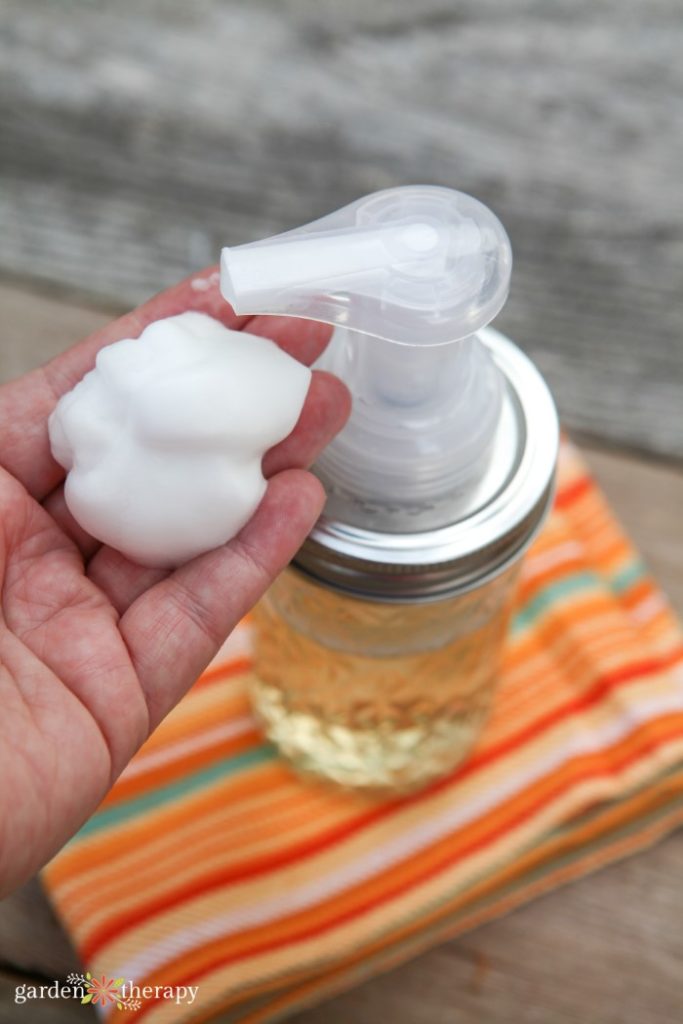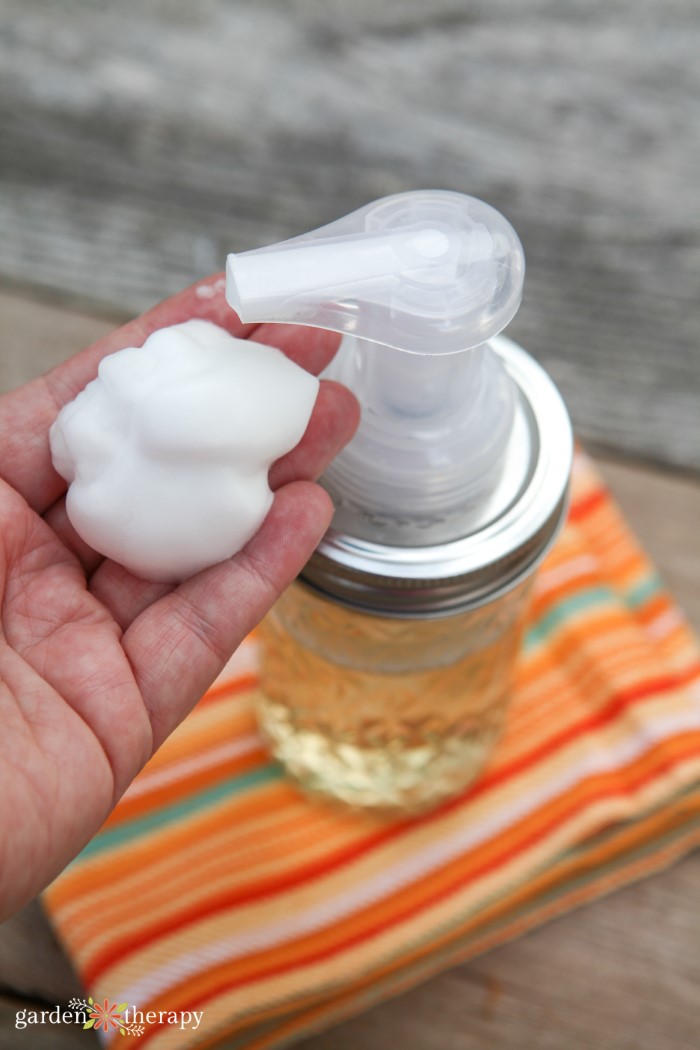 The basic version is amazing, and what's even better is that you can easily customize it to suit your tastes. Try my herbal tea foaming hand soap version, which combines all the foamy fun of store-bought soap with the benefits of herbs and the comfort of knowing that you are using a very safe product.
Want To Learn How To Make Handmade Soap?
If you're interested in learning how to become a soap artisan yourself, grab my ebook Good Clean Fun: THE Idea Book for Creative Melt and Pour Soap Projects.
More Natural Beauty Posts: