Whether it's the dead of winter or a crisp fall day, you can have a little piece of sunshine with you with this orange slice soap! Infused with the bright scent of tangerine and grapefruit and dried orange slices, this orange soap will quickly become one of your favourite soap recipes for gifting.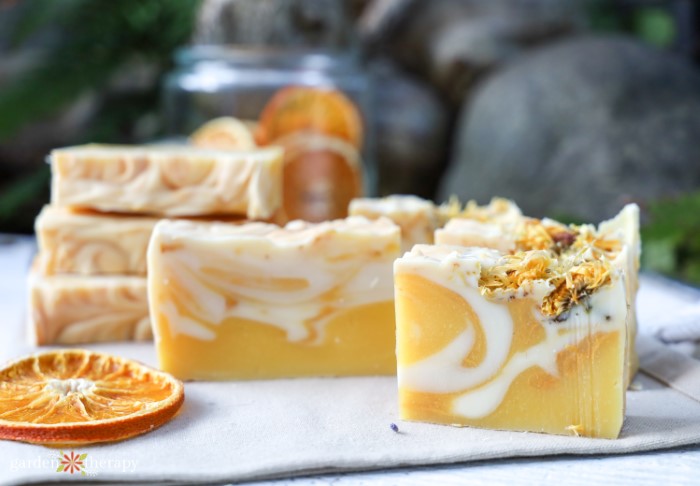 Did you know that the smell of orange is scientifically proven to boost your mood? Just by smelling the deliciousness of this orange soap, you're already reaping the benefits. Every time you lather up in the shower, you'll notice a smile creeping on your face. Just like sunshine, this citrus soap lifts your spirits no matter the forecast outside.
I'm not usually one to toot my own horn, but gosh darn this soap is a beauty! I used a combination of soap-making techniques (which I have shared down below), essential oils and mica for color, and topped them off with dried calendula. For the wrapping, I added in a dried orange slice to make this the ultimate soap for gifting. The beauty combined with the smell will have everyone you gift this orange bar soap to smile.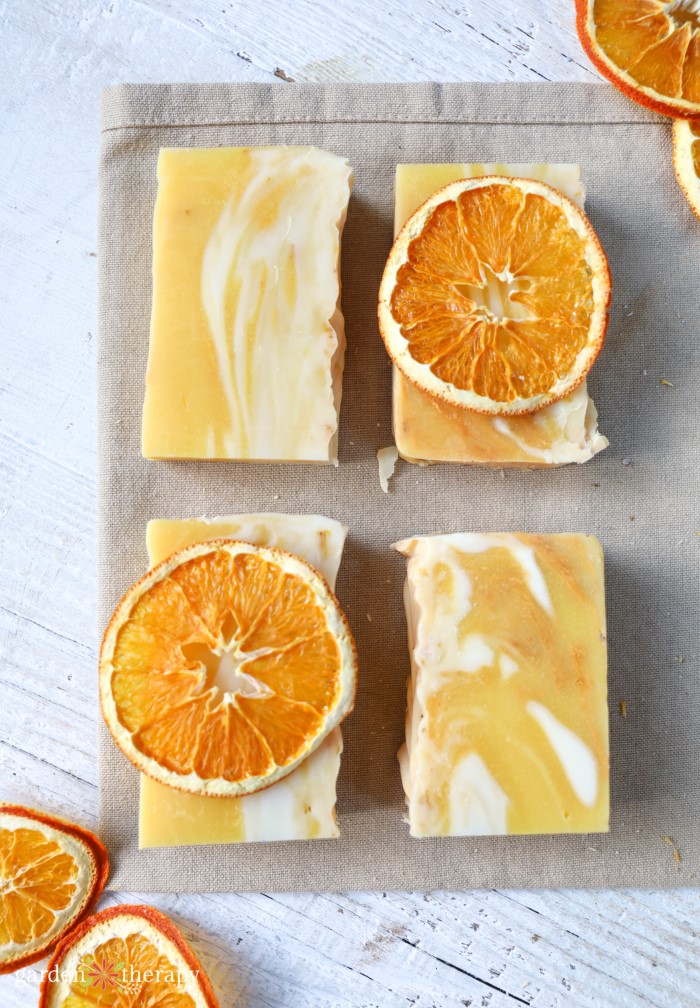 How to Cut Orange Slices for Soap
These are not the typical cut oranges you would find at a children's soccer game. When it comes to dried orange slices, you need to cut them a specific way. But before you get chopping away, give your oranges a good wash. Scrub them to ensure that any pesticides, wax, and dirt are gone with a natural fruit wash. After all, this will be a beauty product that goes on the skin!
When cutting, first remove the two ends of the orange. Slice it so that the center of the orange is in the middle of the slice. You will want to keep the slices as thin as you can manage with your knife or use a mandolin slicer to get thin and even slices.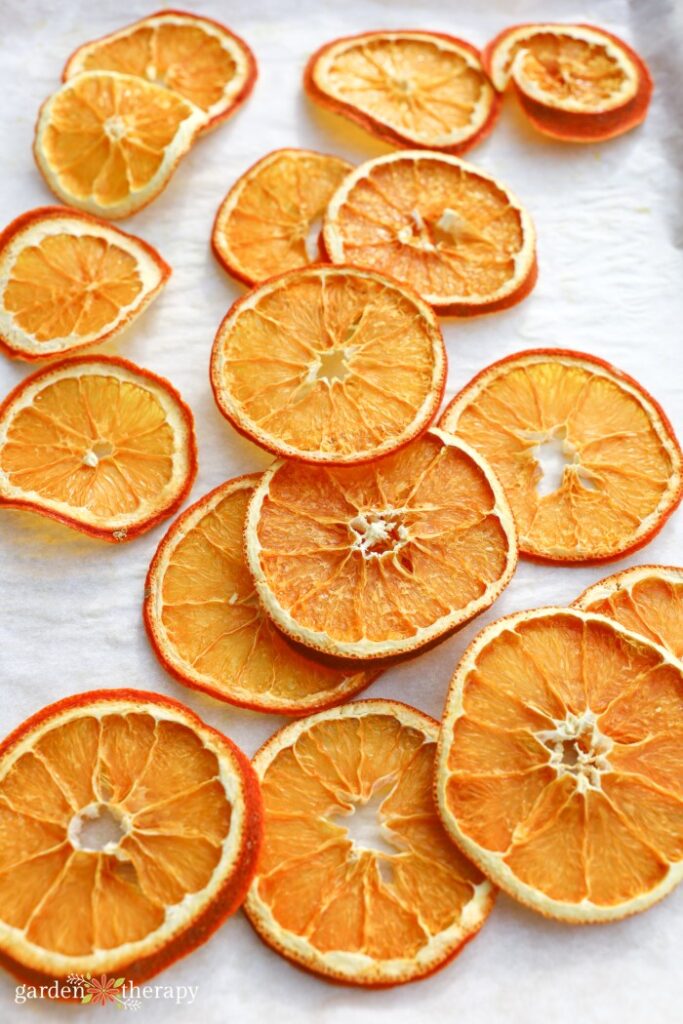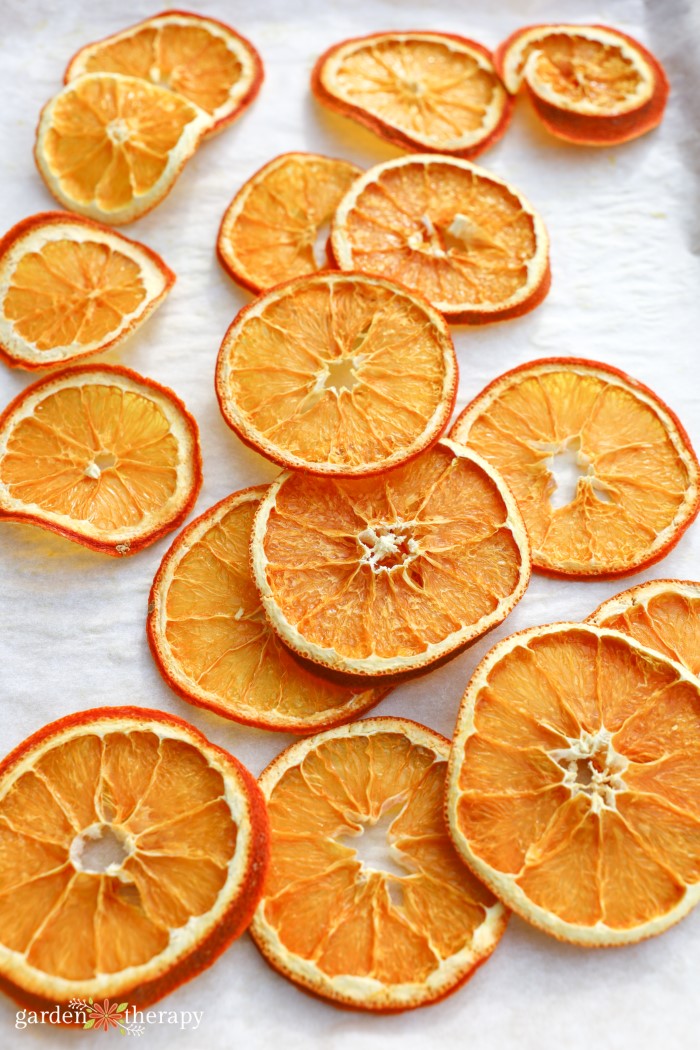 How to Dry Orange Slices
Once they're nice and even, set the orange slices on a rack or piece of parchment paper. Set your oven to 200°F and place your oranges inside. Depending on how thick the slices are, leave them in there for 4-6 hours. Slow and steady wins the orange race!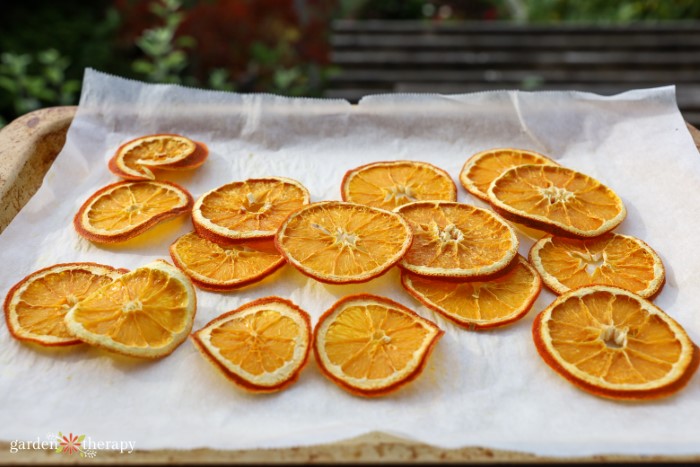 Set the timer to remind yourself to turn the oranges every hour. This helps them to dry evenly. Once they're completely dry, you can store them in a jar or use them right away for your citrus soap.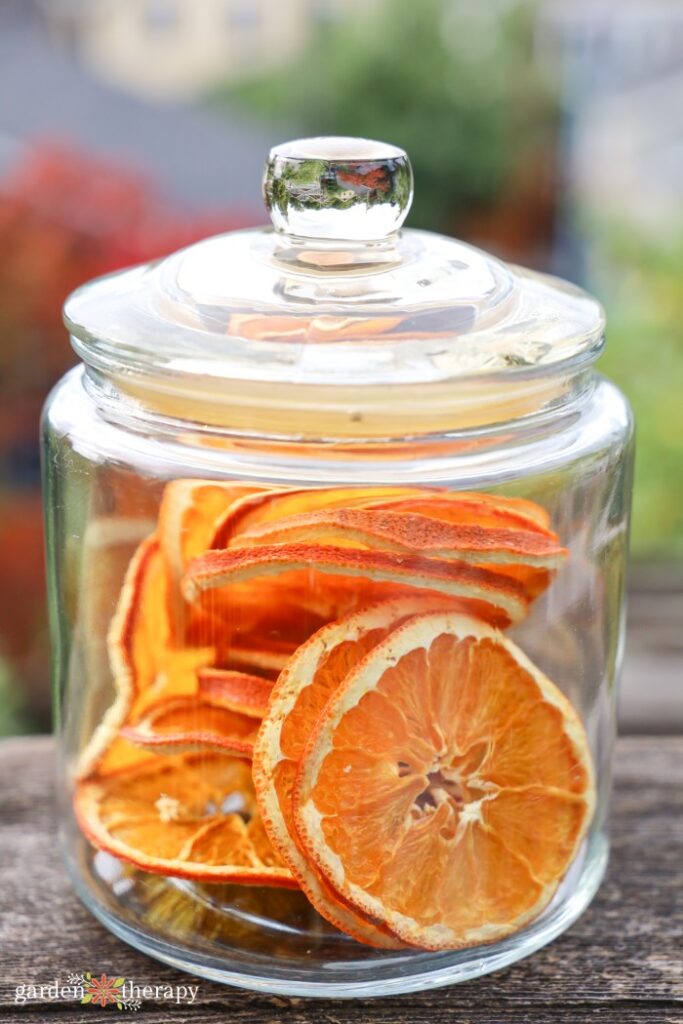 How to Use Orange Slices in Orange Soap
Use as Packaging
When I use dried orange slices, I use them primarily to wrap my soap with. This makes this orange soap bar ideal for gifting, adding such a visual pop that looks straight off the artisanal shelf.
Add Directly into Soap
However, some people like to add dried orange slices directly into the bars of soap. This step would take place at trace. In this case, you add the dried orange slices right into the soap batter before it quantifies. This is usually halfway into the soap in the middle of where it would be sliced so that half of the orange is sticking over the top of each bar.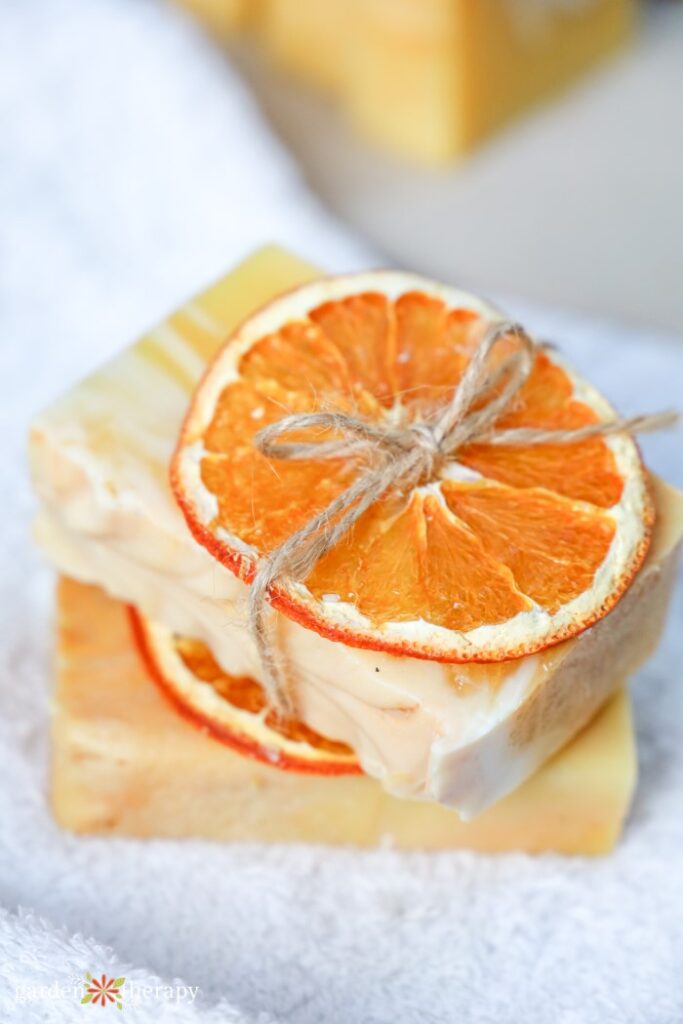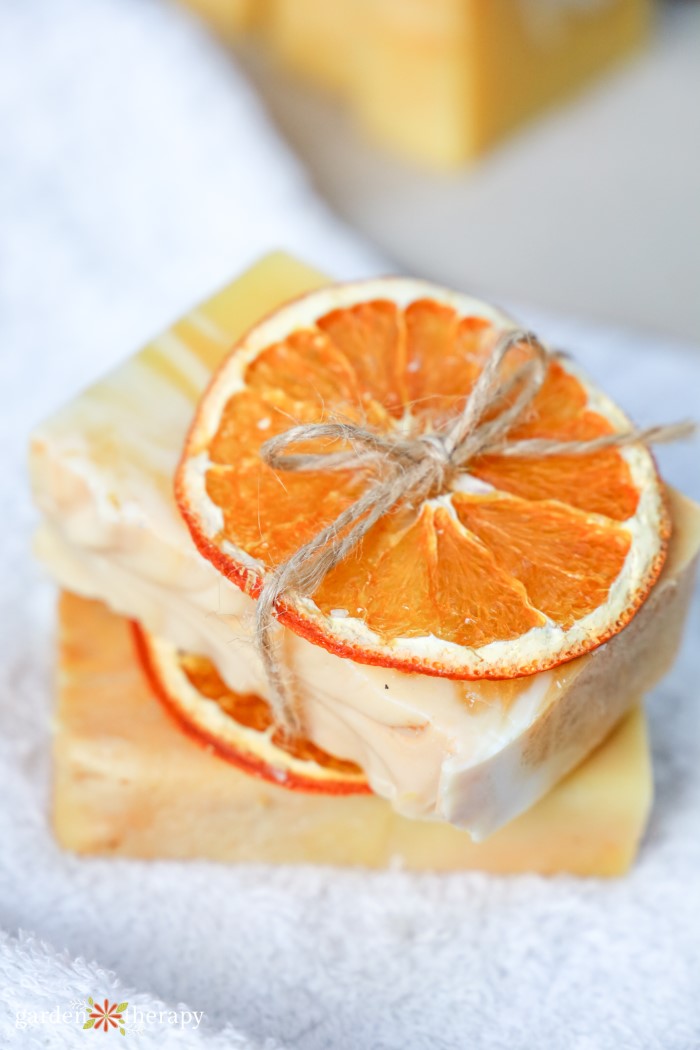 It's important to note that the slices are an organic material that will get wet, grow bacteria, and rot as the bar of soap is used. If you decide to put the orange directly in the soap, instruct whoever you give the bar of soap to that they will need to remove that orange from the soap bar or use the bar quickly.
All in all, I don't find it that nice of an experience to use a dried orange in the soap, so I like to use it as wrapping instead. This makes a really beautiful way to present the orange soap as a gift and it smells fantastic. Simply wrap a dried slice around the orange soap bar with a piece of garden twine. You can then add a tag with a gift message or with the variety of soap.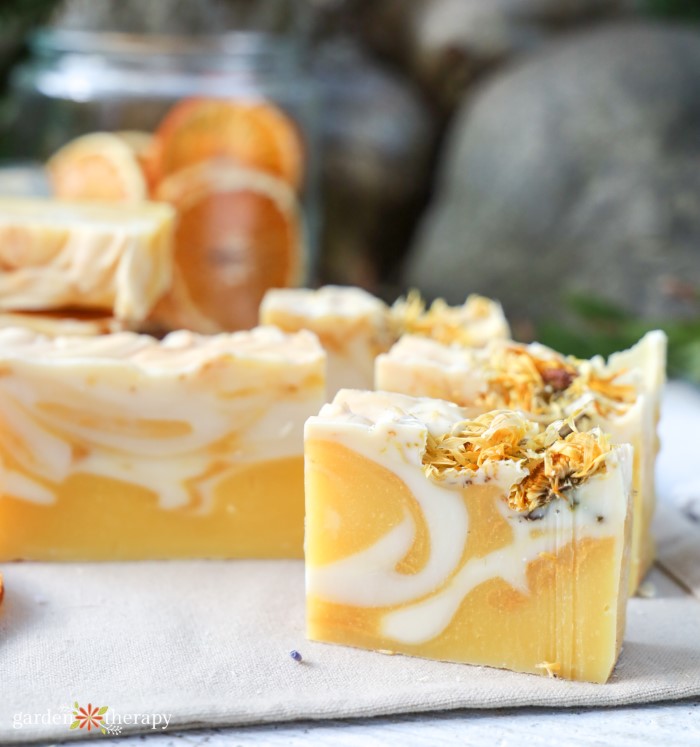 How to Make Orange Bar Soap
This orange slice soap recipe makes 2 lbs of soap. Made with a mixture of moisturizing oils, you'll be surprised how much it lathers while keeping the skin soft and subtle.
INGREDIENTS:
For exact measurements, please see the recipe card at the end of this post.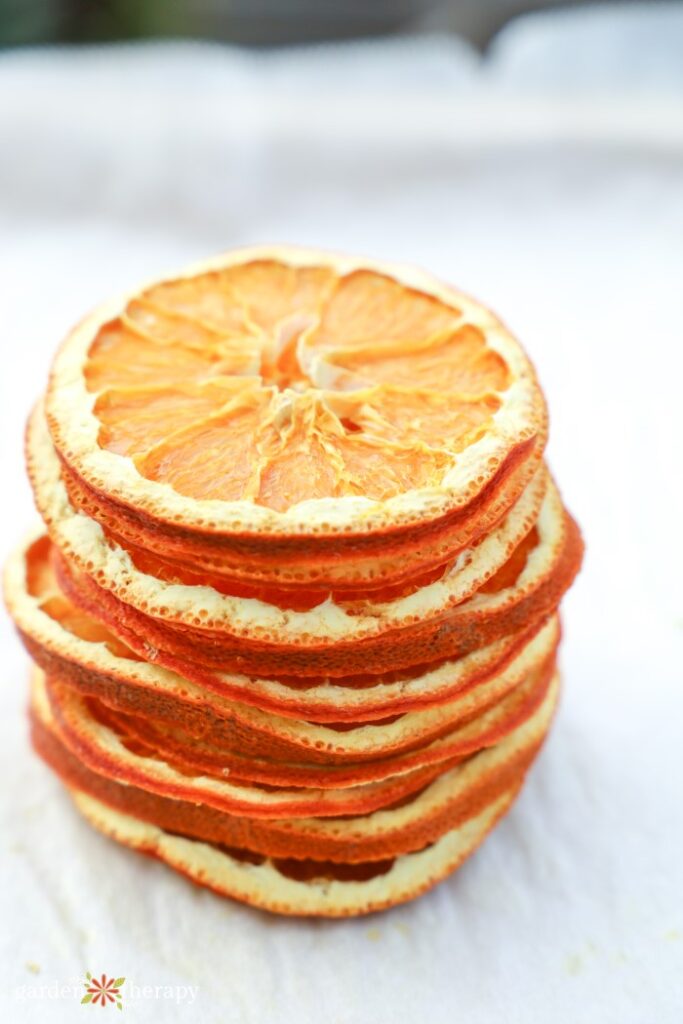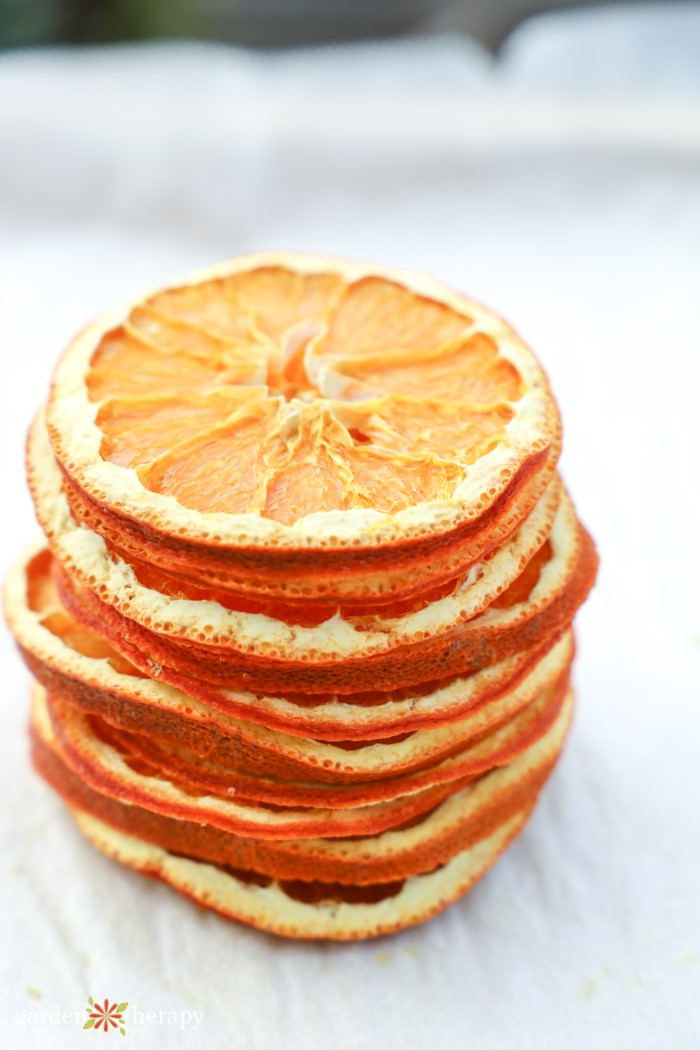 MATERIALS:
Pot of water
Safety gear including gloves, apron, eye protection, etc.
Spatula
Chopstick
MAKE IT!
The instructions down below are intended for those who have made soap before. If this is your first time making soap, you can find more detailed instructions here. Check that post out first then come back here for the specifics all about this orange bar soap!
Once your soap batter has reached trace, split your soap batter so that 2/3 are in one bowl and the other 1/3 is in another. Also, scoop up a little bit of the soap and put it to the side. Add the essential oils to the 2/3 of soap and blend again with your immersion blender. The essential oils will not only provide the citrusy scent but will colour the soap a light orange.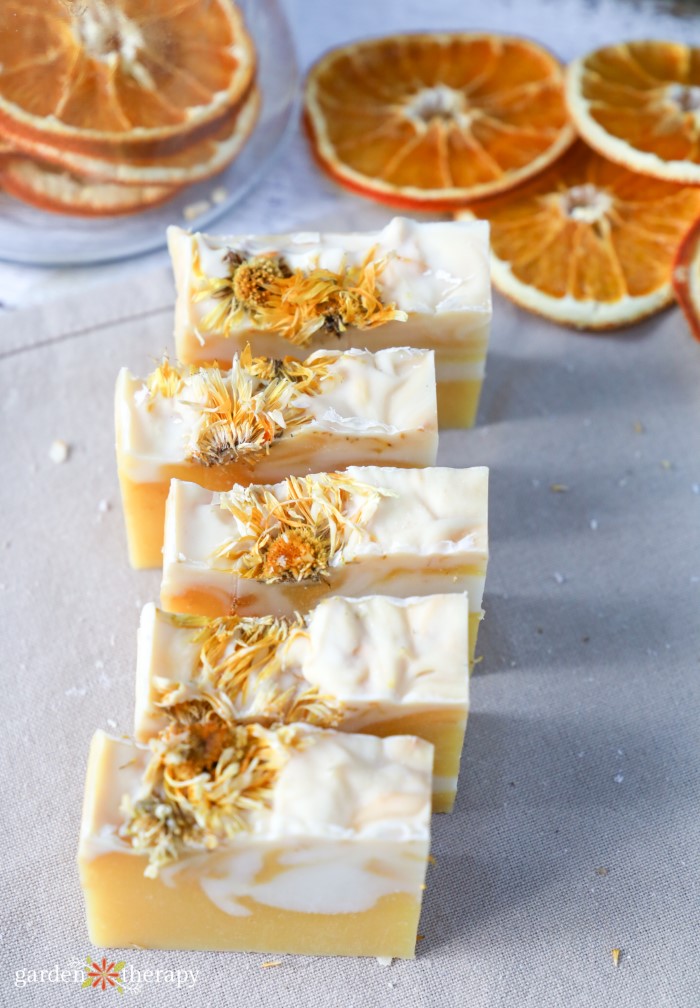 Pour the scented soap into the bottom of the soap batter. Next, pour the unscented soap on top.
With the little bit of soap you put to the side, add in some gold mica powder and mix well. Pour this gold soap across the top of the soap.
Using the chopstick, make swirls with the soap by pulling through the soap.
On one side of the soap, I also used whole heads of dried calendula flowers for decoration. Combined with the dried orange slices, it's just stunning!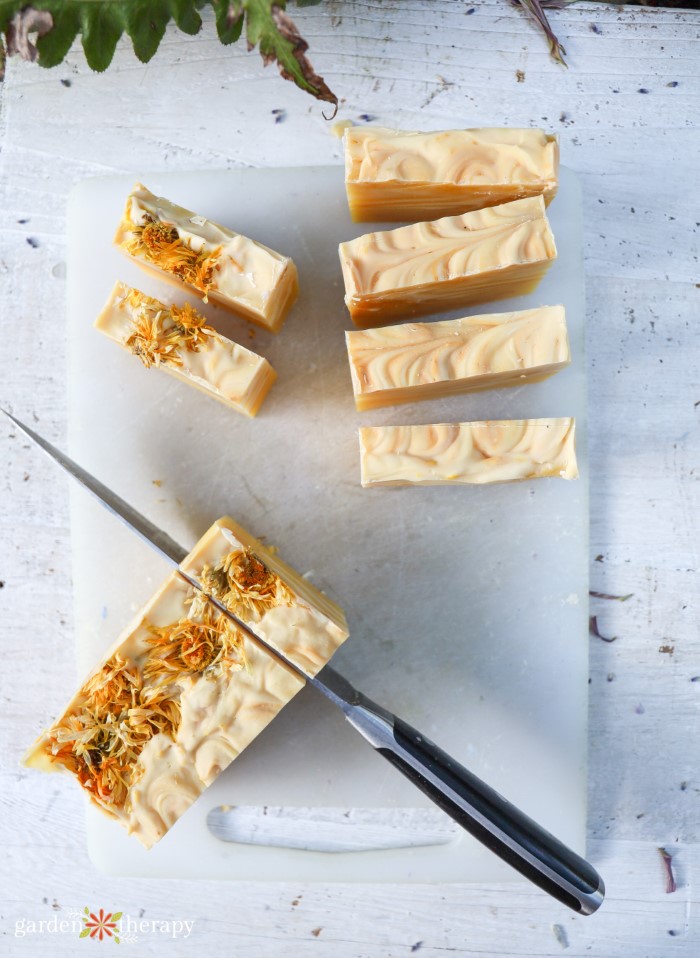 Your orange soap bar can be cut after 48 hours. Once cut, it will need to cure for 6 weeks before use. After the 3 weeks, you can go ahead and dry your orange slices and start packaging up your citrus soap for gifting.
If you have any questions about this soap, drop them in the comments down below and I'd be happy to answer them. Happy soap-making!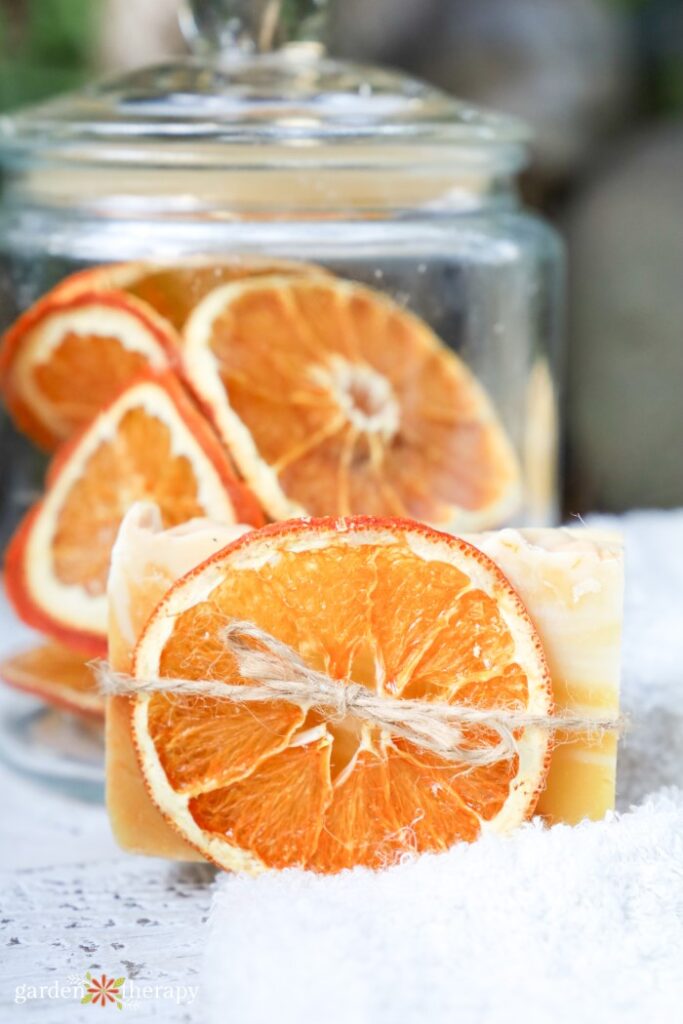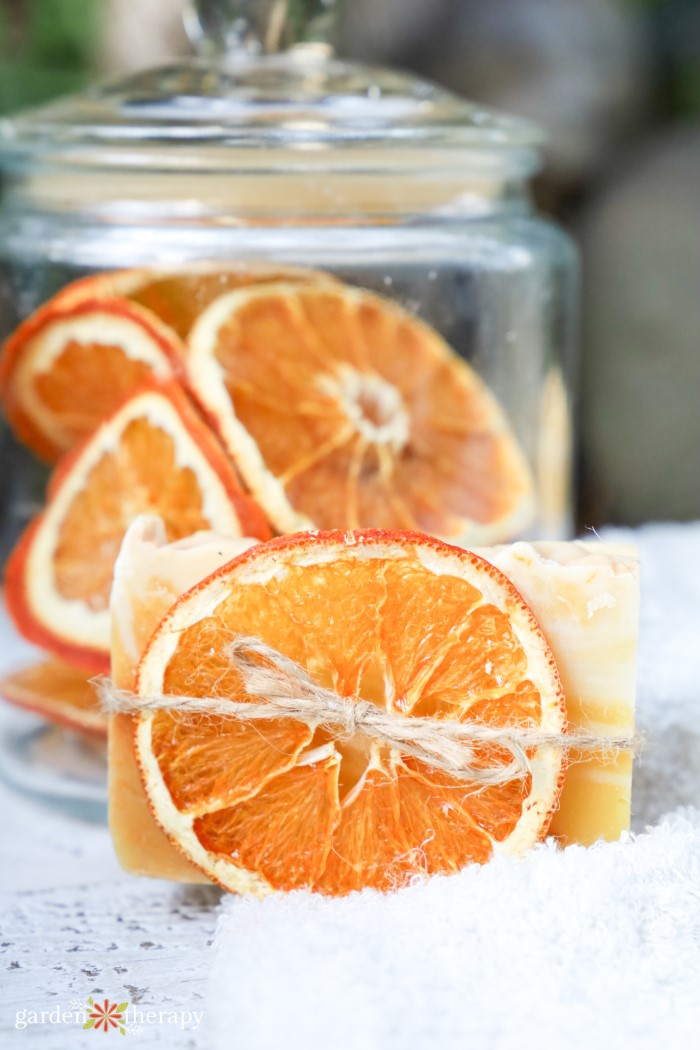 More Soap-Making Recipes:
Liquid Sunshine Orange Soap With Dried Orange Slices
This orange soap recipe makes 2 lbs of soap. A beautiful swirled orange colour, add dried orange slices before gifting them to friends and family.
Equipment
Safety gear (rubber gloves, face mask, apron, eye protection, etc.)

Chopstick
Instructions
Use your kitchen scale to measure out all your ingredients.

Melt your oils together in the double boiler until they reach 115°F.

Meanwhile, combine your water and lye together in a Pyrex cup. Stir until fully dissolved and then cool in an ice bath until 115°F.

Using the immersion blender, combine your lye water and oils until it reaches trace.

Separate your soap batter into 3 bowls. One bowl should hold 2/3, another 1/3, and the third a scoop.

Add the essential oils to 2/3 of the soap batter. Mix with the immersion blender. Pour into the soap mold.

Top off with the 1/3 unscented soap.

Mix your gold mica with the remaining scoop of soap. Pour over the top of the soap mold. Use a chopstick to pull through the soap and create swirls.

Decorate one side of the soap with whole dried calendula flowers.

Let the soap sit somewhere warm for 48 hours.

Cut soap into equal sections. Let sit in a cool, dark place for 6 weeks in order to cure.

Decorate by wrapping a dried orange slice around the bar of soap with garden twine. Add a gift tag with the variety of soap.