In this post, please welcome garden designer Rachel Mathews from Successful Garden Design, who is going to share with us her top tips for transforming your garden in a weekend.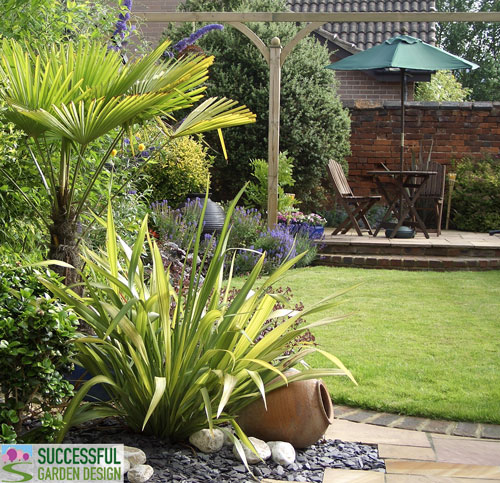 Garden design books often make the process of designing a garden much more complicated than it needs to be. I'm going to show you a very simple technique that you can use to transform any backyard, regardless of its size, shape or what is there now.
If you regularly frequent garden centres or read lots of gardening magazines, they are always encouraging you to buy lots of lovely plants and features. Whilst this may be a lot of fun, it never produces the results you want it to. This is because you're just filling your garden with things, albeit very pretty things, they are things nonetheless.
In order to create a truly stunning garden, you have to think about design first, before you add things. Now, please don't worry if you have lots of plants and features in your garden already, the method I'm going to show you will help you to harmonize everything you've already purchased.
The most important thing to consider in your garden
In a word, the most important thing you can think about in your garden is shape. Now, I'm not talking about the overall shape of the garden. I'm talking about the shapes you create within it. Specifically the shapes of the empty space, the areas you walk on, like the lawn, patio or deck areas.
The reason these areas of 'empty' space are so important is because they link the whole garden together. So if you get these right first, then everything else just falls into place.
Let me now demonstrate what I mean. If you look at the before picture featured on the left below, you will see that the owners had just filled the garden with plants. Now look at the difference a properly shaped lawn and patio area makes to the garden. If they had just laid a new patio and not shaped it and the lawn, it wouldn't have looked a great deal better. The interesting thing though is it would have cost more or less same to build.

So how do you go about getting the right shape in your backyard?
It will all depend upon the overall shape of the yard that you have now. If your backyard is long and narrow, you need to use shapes that draw the eye from one side to the other; this will make it look wider and more interesting. If you have a wide yard, then you need to use shapes that divide the space and help draw the eye down the length of it.
Where to start with designing your garden
The first thing you need to do is get your overall garden shape down on paper. The best way to do this is to measure it and draw a plan to scale. That is actually much easier than you probably imagine it's going to be, but if you're really adverse to getting a tape measure out, then there is a cheat you can use. You can Google Earth your home and print off an aerial photograph of it. Then enlarge the photograph, preferably to a known scale, and then trace over the outline of your garden.
The next thing you need to do is to play with different shapes and see the effect they have on your garden. I recommend you use simple geometric shapes like circles, ovals and rectangles.
The main thing you need to do is have your areas of lawn, patio or deck in coherent shapes. So, if your lawn is all wiggly and a bit of an odd shape, try drawing in a large oval or circular shape.
Getting a coherent shape to your lawn and patio etc will make an absolute world of difference to how your whole garden looks. Reshaping your lawn can be done in a day (depending on size of your lawn, of course) and costs virtually nothing to do. Then incorporating some gravel, perhaps a little additional paving and a few more plants and you've completely transformed your outside space for very little cost.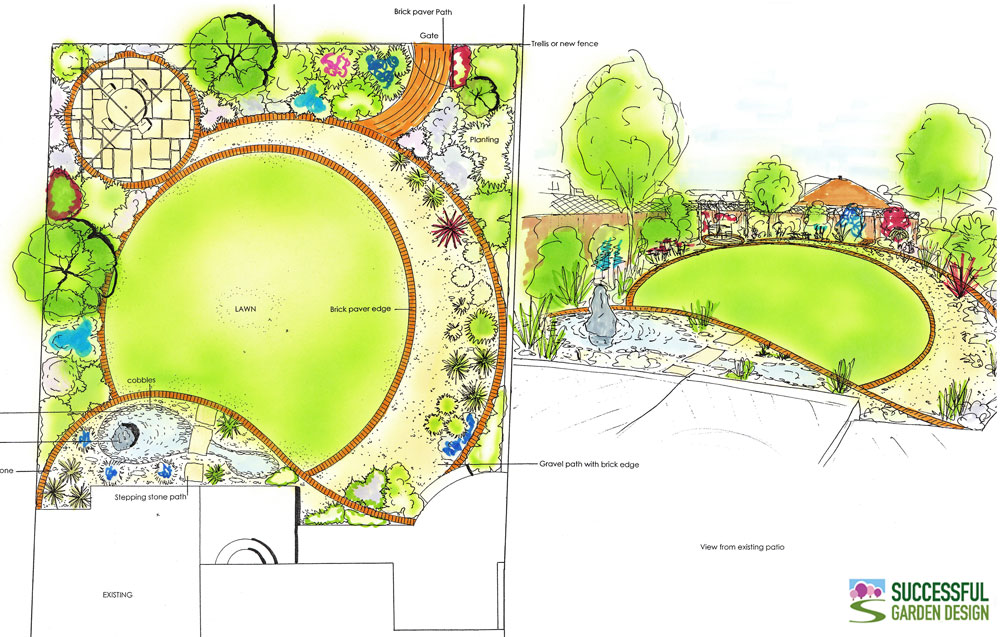 How to tackle an established garden
The principles are exactly the same; you just need to have one or two coherent shapes that are linked together. Yes, you may well have to move a few shrubs around, but the difference it makes will be well worth it. See the example plan below.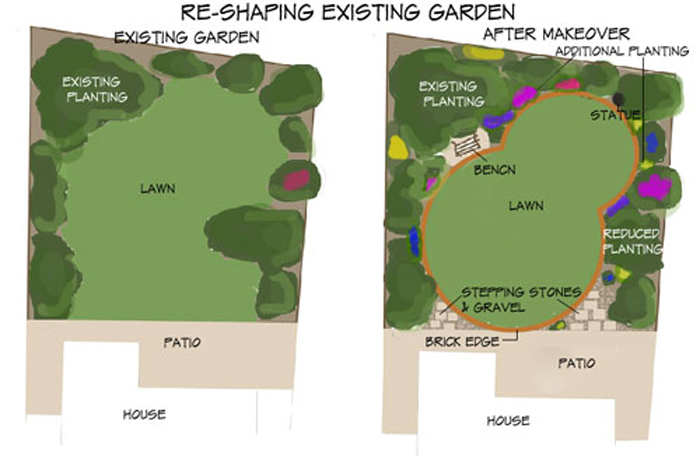 The reason most garden design books don't tell you this very simple trick is probably because reshaping your lawn sounds the most unglamorous and boring thing you could do at a weekend! I absolutely promise you though, time spent designing and reshaping your lawn will be the best investment you could ever make of a weekend.