Technically the ingredients for these muffins didn't come from my garden. There is so much good stuff in them that "Garden o Plenty" seemed to fit. Plus, Zucchini Apple Cranberry Walnut Almond Oatmeal Muffins sounded a bit long-winded. To me, "garden" means fresh / colourful / healthy so there you have it, Garden o Plenty Muffins. Yum.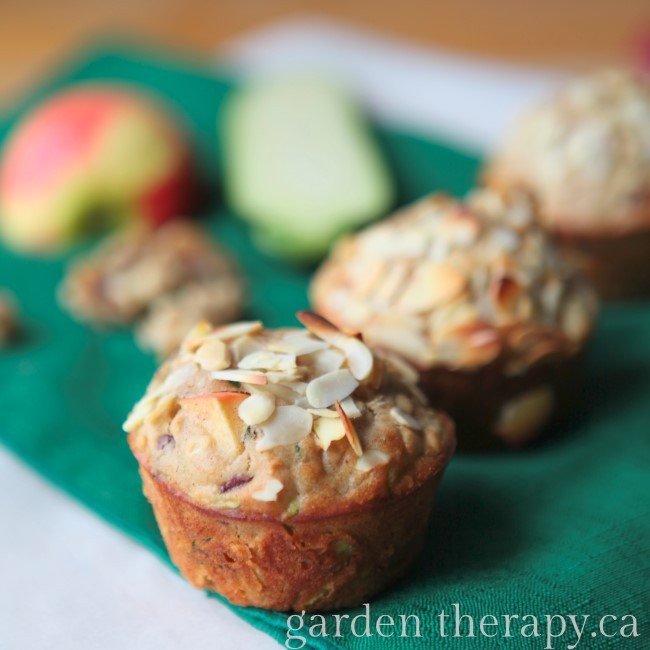 Makes 2 dozen muffins (one to eat and one to give away! Or you can half it if you must.)
Ingredients:
2 1/2 cups all-purpose flour
2 cups rolled oats (not instant)
1/3 cup brown sugar
2 tablespoons baking powder
1 teaspoon salt
2 teaspoons ground cinnamon
1/2 teaspoon Chinese Five Spice
4 eggs
1 1/2 cups milk
1 cup light olive oil
1 tablespoon vanilla
1/3 cup honey
1 medium zucchini (grated)
2 tart apples (cored and diced)
1/2 cup dried cranberries
1 cup chopped walnuts
1/3 cup slivered almonds
Directions:
Preheat oven to 400 degrees F. Grease or line two 12-cup muffin tins. In a mixing bowl combine flour, oats, sugar, baking powder, salt and spices. In a separate bowl beat the eggs then add milk, oil, honey, and vanilla and add to the dry mixture. Stir just to combine. Add the remaining ingredients and fold in gently, careful not to over mix. Spoon batter into the muffin tins, top with the slivered almonds, and bake for 20 minutes or until cooked through.