Who says cocktails are always frou frou, pink, super sweet concoctions? Not Greg Henry, the author of Savory Cocktails, a recipe book that shakes, stirs, and strains 100 hard-hitting distilled delights for your drinking pleasure. As we always like to take our recipes from the garden, Greg has joined us today as honorary Gardtender, mixing up this cool and spicy Green Gargolye.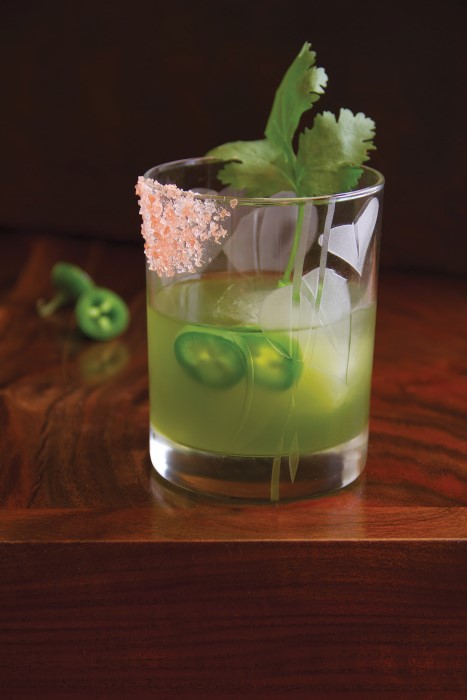 The spice in this cocktail proves that you needn't be afraid of a little fire when it comes to liquid refreshment. I was given this recipe by my friend Linda Miller Nicholson, the woman behind the blog Salty Seattle. She also leads a series of intimate culinary retreats east of Seattle, where it may get chilly but she sure loves the heat.
 1 tbsp salt, preferably Hawaiian alaea pink salt
1 lime wedge
1 (1-inch) piece unpeeled English cucumber, quartered
2 or 3 thin rounds fresh jalapeño, to taste, plus more as garnish
3 or 4 fresh cilantro sprigs (leaves only), plus more as garnish
2 tbsp / 1 fl oz freshly squeezed lime juice
1 tbsp / ½ fl oz agave syrup*
2 pony shots / 60 ml / 2 fl oz tequila blanco
* Mix agave nectar and water in a 1:1 ratio.
Using a mortar and pestle, crush the salt until it is the texture of coarse sand. Press the lime wedge onto a section of the glass rim to create a half-moon impression. Tip the mortar gathering the salt on one side and roll the moist section of the glass in the salt so the salt adheres. Place 1 large or 3 medium ice cubes in the glass; set aside.
In a sturdy, thick-bottomed pint glass from a Boston shaker, use a bar muddler to crush the cucumber, jalapeño, cilantro, lime juice, and agave syrup into a fragrant, pulpy mush. Add the tequila and swirl to combine.
Fill the metal part of the Boston shaker 2/3 full with ice. Pour the muddled tequila mixture (including pulp) over the ice, then cap the shaker with the pint glass. Shake vigorously until well chilled. Uncap and use a Hawthorn strainer to double-strain the cocktail through a wire-mesh sieve into the prepared glass. Float additional jalapeño slices on top, to taste. Garnish with more cilantro sprigs.
Makes 1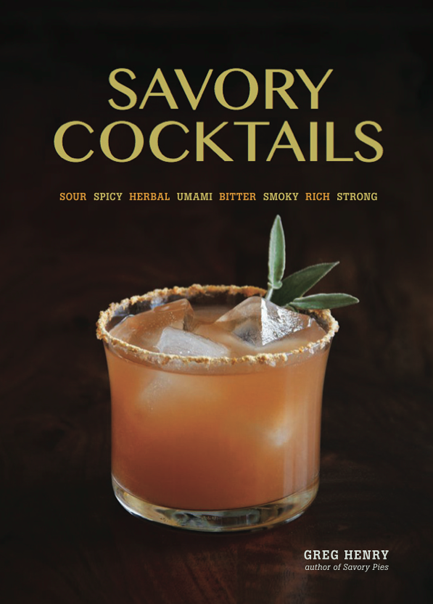 For more cocktails that are sour, spicy, herbal, umami, bitter, smoky, rich, and strong, be sure to check out Savory Cocktails!
Reprinted with permission from Savory Cocktails by Greg Henry © 2013. Published by Ulysses Press. Photography courtesy of Ulysses Press.