When the garden is going to sleep, it doesn't mean that you can't find ways to do a little indoor gardening. Growing Amaryllis is very popular at this time of year because of their showy blooms that last about 2 months. My window that looks out at the garden is seeming a little drab now, so adding a bright red bloom or two in a Mason jar is just the lift to get me into the holiday spirit…and get my garden therapy on!

You can pick up Amaryllis bulbs in kits at most nurseries and garden centers. You may also see them in grocery aisles and hardware stores, so keep you eyes peeled for pretty new varieties. Also keep in mind that there is a chance the bloom will look nothing like the photo on the box, as it was in my case.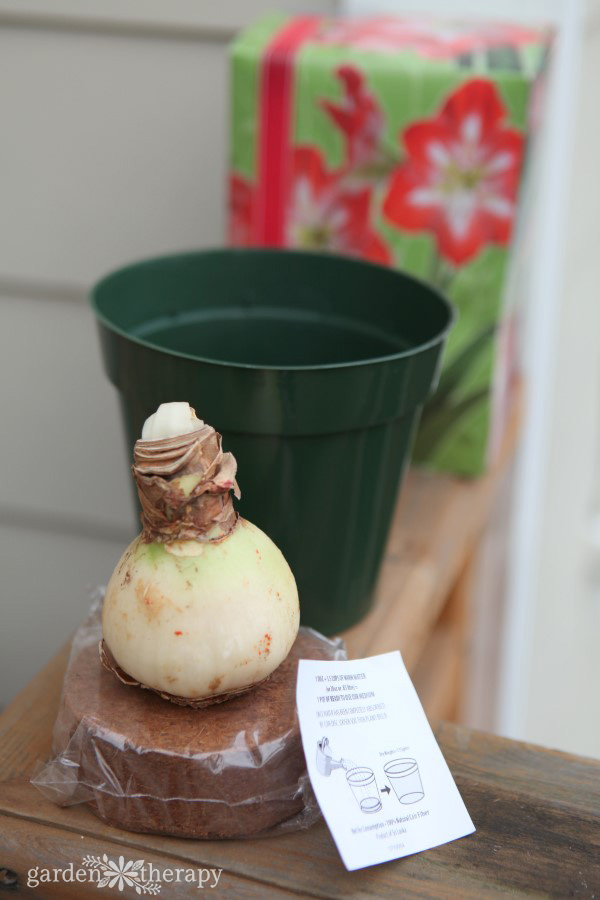 I don't mind using a large glass jar to grow my forced bulbs. I think that even without the drainage, I have a pretty clear view to the health of the soil and roots.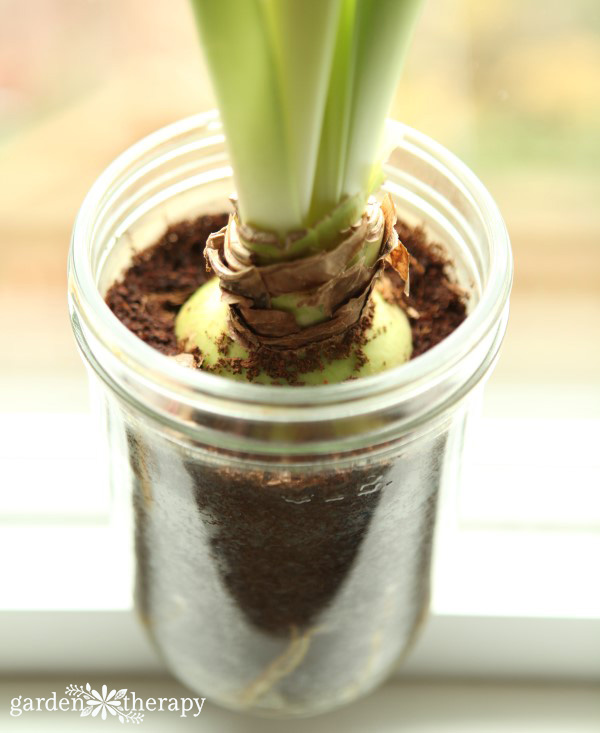 And my love of all things Mason jar makes them the logical choice as a display vessel. In this case, the kit came with a puck of coconut fiber that I soaked in water before planting.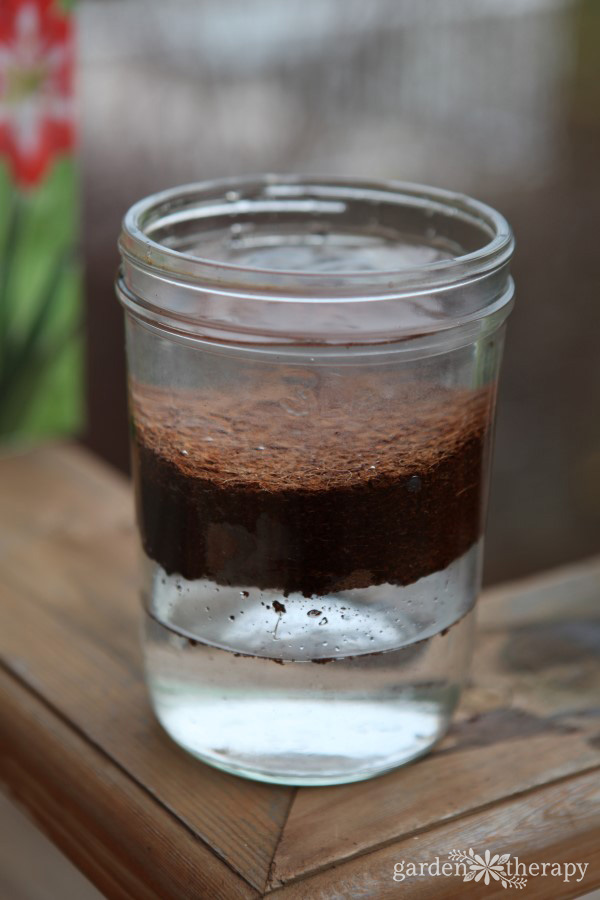 There is much to know about how to grow Amaryllis and no one says it better than the Amaryllis Bulb Company who graciously shared all we need to know about growing these beauties and how to care for them.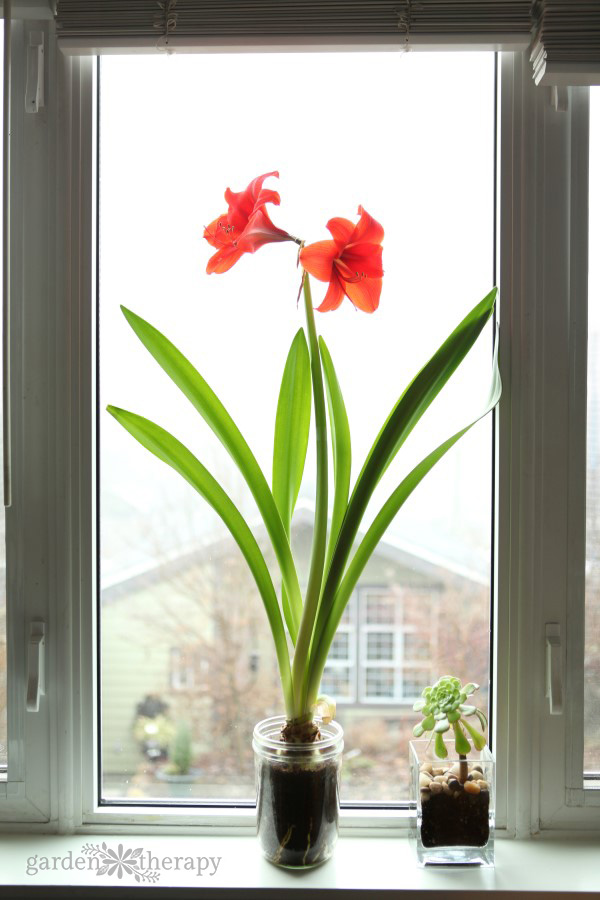 Quick Tips:
Planting Period: October until the end of April.

Flowering Period: Late December until the end of June.

Flowering time is 7-10 weeks.

Larger bulbs produce more flowers.

Always store un-planted bulbs in a cool place between 40-50 degrees F. 
Preparation for Planting
The base and roots of the bulb should be placed in lukewarm water for a few hours. Remember, if you cannot plant the bulbs immediately after receiving them, store them at a cool temperature between 40-50 degrees F.
Planting
Plant bulbs in a nutritious potting compost. Many of these are available pre-mixed. Plant the bulb up to its neck in the potting compost, being careful not to damage the roots. Press the soil down firmly to set the bulb securely in place after planting.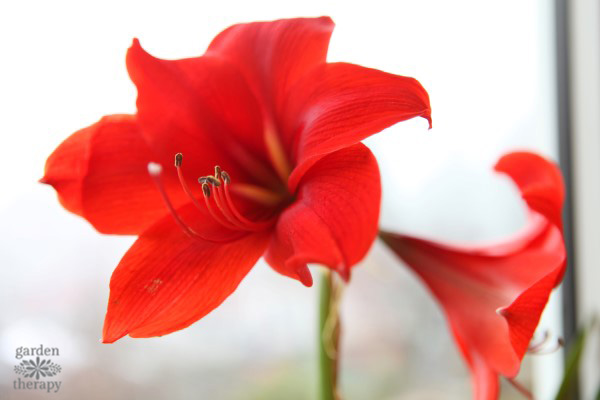 Placement and Watering
Plant the bulb, or place the potted bulb in a warm place with direct light since heat is necessary for the development of the stems. The ideal temperature is 68 to 70 degrees F. Water sparingly until the stem appears, then, as the bud and leaves appear, gradually water more. At this point, the stem will grow rapidly and flowers will develop after it has reached full growth.
Flowering Period
Bulbs will flower in seven to ten weeks as a general rule. In winter the flowering time will be longer than in spring. Set up your planting schedule between October and April with this in mind. To achieve continuous bloom, plant at intervals of two weeks for stunning color in your home or garden.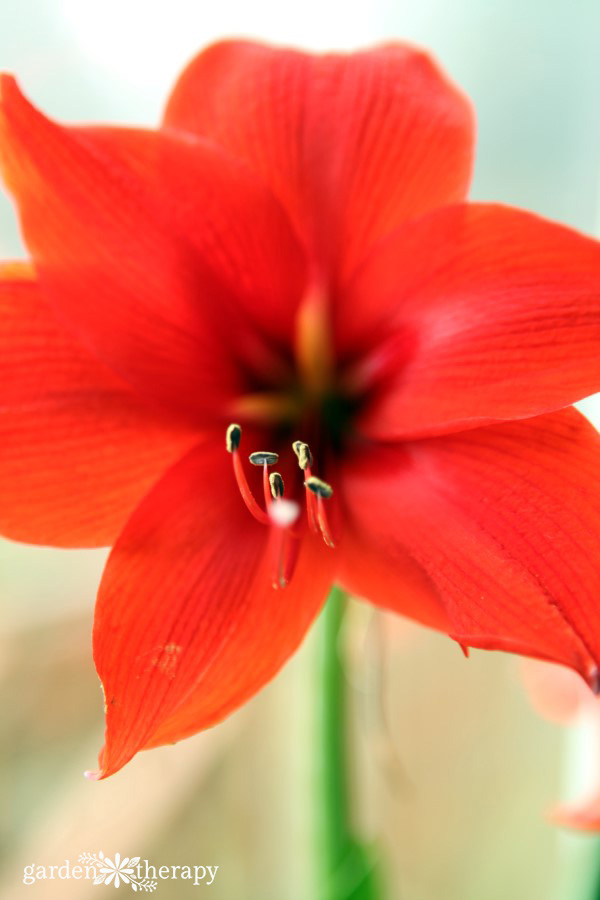 After-Bloom Care
After Flowering: after the Amaryllis has stopped flowering, it can be made to flower again. Cut the old flowers from the stem after flowering, and when the stem starts to sag, cut it back to the top of the bulb.
Leaf Growth and Development: continue to water and fertilize as normal all summer, or for at least five to six months, allowing the leaves to fully develop and grow. When the leaves begin to yellow, which normally occurs in the early fall, cut the leaves back to about two inches from the top of the bulb and remove the bulb from the soil.
Bulb Storage: clean the bulb and place it in a cool (40-50 degrees F), dark place such as the crisper of your refrigerator for a minimum of 6 weeks. Caution: Do not store Amaryllis bulbs in a refrigerator that contains apples; this will sterilize the bulbs. Store the bulbs for a minimum of six weeks.
Plant Again: after six weeks you may remove bulbs whenever you would like to plant them. Plant bulbs eight weeks before you would like them to bloom.
Amaryllis planting and care instructions are property of  Amaryllis Bulb Company and republished with permission.