Crystals are as enchanting as they are radiant, making a wonderful addition to any candle. Every time you light them, you can watch them sparkle and shine in the moody lighting. This 3-wick crystal candle promotes ultra relaxation and makes for the most dazzling gift.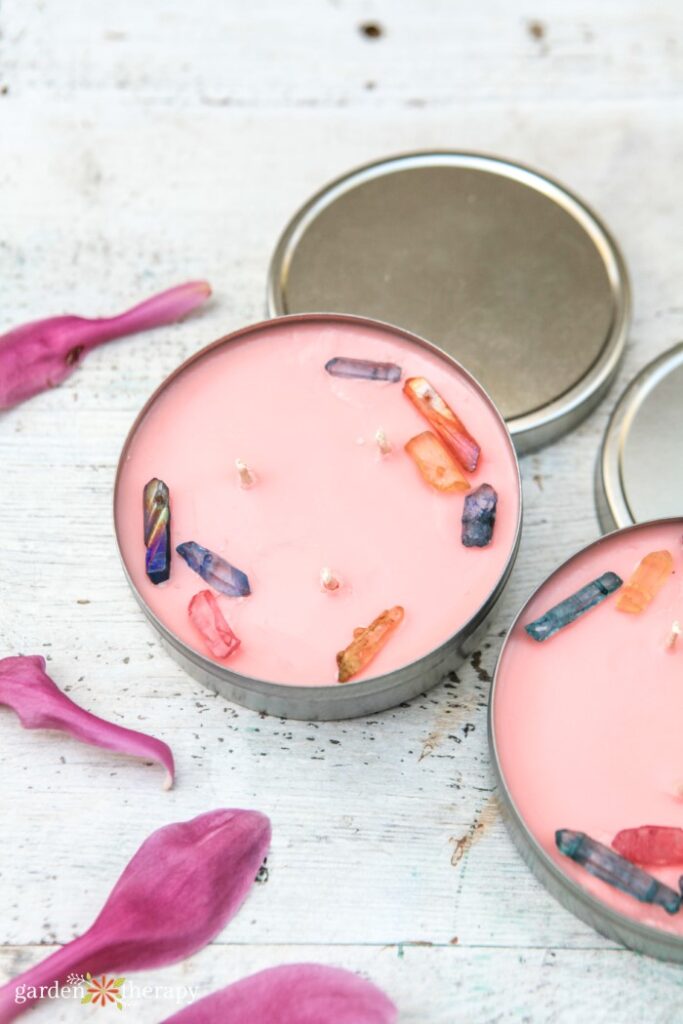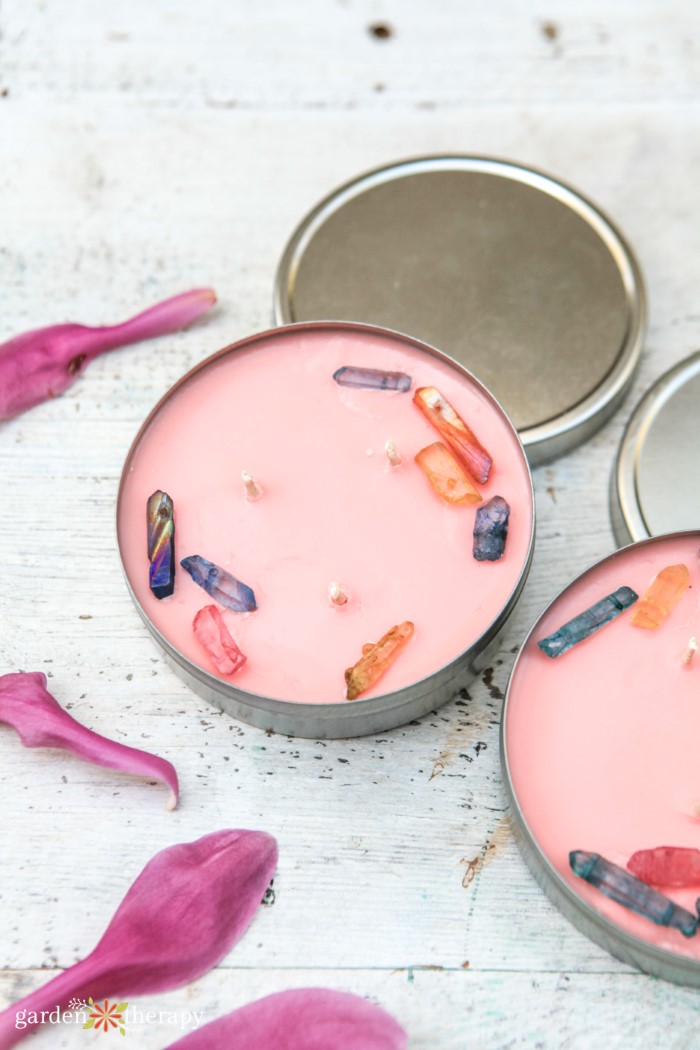 Let me introduce to you my most recent crafting obsession: candles with crystals inside. Most of the time, I leave my wax alone and instead get experimental with containers and colours. But this time around, I wanted to add something a little special to my candle.
And it looks Ahh-mazing!
This crystal candle is both mystical and pretty. People use crystals for healing both physically and mentally. They're said to react with the body and promote general well-being. So, whether you believe in the power of healing crystals or just want to enjoy their beauty, you're going to love these candles.
This post covers…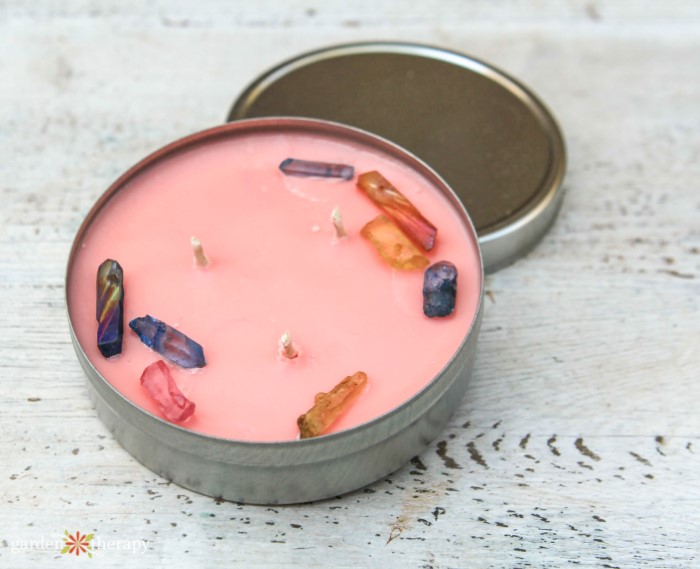 How to Add Colour to Candles
Colouring your candle can be done with liquid wax dye, solid wax dye, or crayons.
Wax due specifically formulated for candle making will give you the most even colour and burn performance. Liquid wax dye is the easiest dye to use because it doesn't need to be dissolved like solid dye does. Solid wax dye comes in blocks or chips which can dissolve into melted wax to obtain the desired colour. I used a solid wax dye chip for my ombre evergreen candles.
Crayons are inexpensive, readily available, and come in every colour of the rainbow (and then some!). Full of dye and made from wax, crayons are often used to add colour to candle projects.
However, crayons could add some undesirable characteristics to your candles as well, like a clogged wick or a crayon smell when burned.
To avoid this, only use crayons in a very small amount to give a hint of colour to a project; test one candle before making a large number of them.
For this candle with crystals inside, I used a pink crayon and it gives it such a gorgeous, relaxing colour.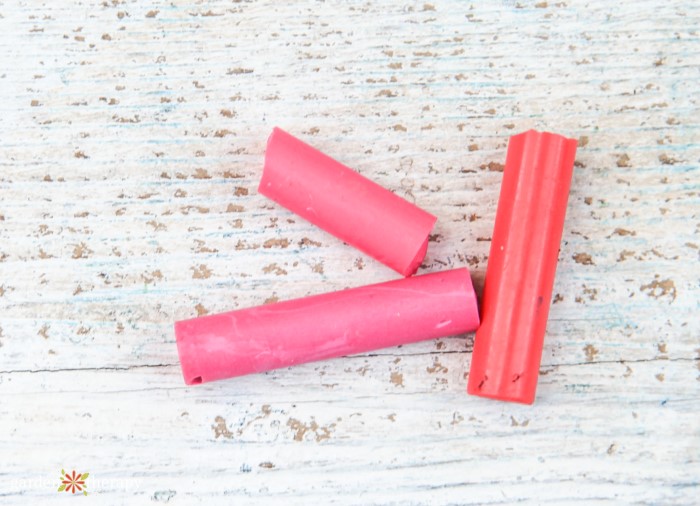 Healing Crystals for Your Candle
The crystals used in the project are decorative but if you want to add a special element to this candle, visit a crystal shop and find some healing crystals. Here are some ideas of potential crystals to add to your candle:
Amethyst: promotes deep relaxation. Use it to help you sleep and purify.
Clear Quartz: a major healing crystal that absorbs, releases, and regulates energy. Use it to find harmony and balance.
Jade: represents wisdom, kindness to oneself, luck, and keeps the user from harm.
Citrine: the crystal that will energize you. Use it to find success, happiness, and abundance.
Tigers Eye: a grounding and protective stone. Use it to lift the mood and find stress release.
Aventurine: originally used to ward off evil and curses. Find harmony and courage with this crystal.
Selenite: will bring you deep peace and clarity. Use it to promote mental well-being.
Rose Quartz: the crystal of love. Use it for emotional and relationship healing.
When it comes to choosing crystals, you can include ones that might have a special meaning to you or simply because you think they're pretty!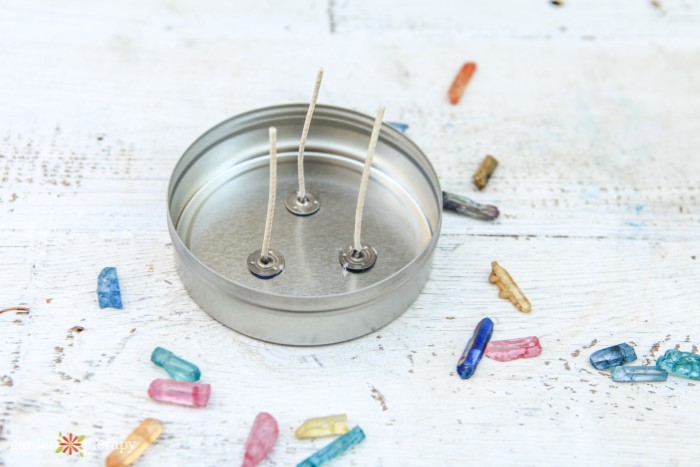 DIY Healing Crystal Candle
This healing crystal candle is like a secret treasure. The silver tin is what you would expect to hold a candle, but once you open the tin you're greeted with a pretty pink, fragrant candle topped with glittering crystals. There are 3 wicks in this candle which allows the wide surface to burn evenly.
Makes one 4" tin candle
Materials
See the recipe card for exact measurements
Jump to Recipe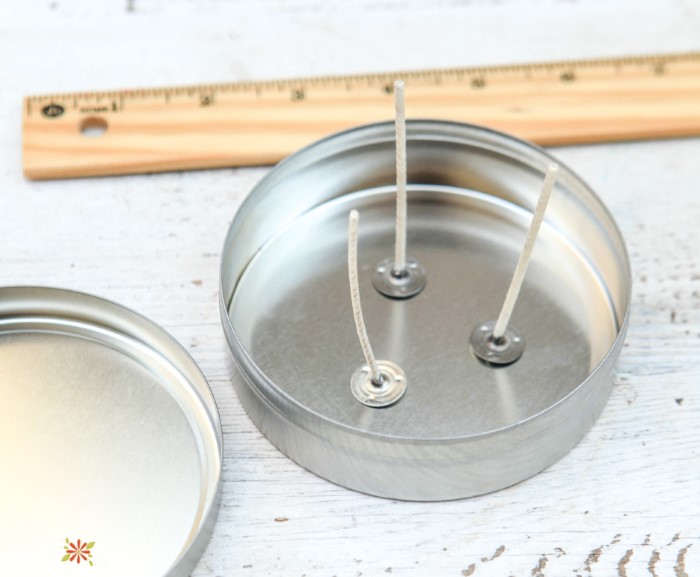 Equipment
Make It!
Measure and melt the soy wax in a double boiler with a thermometer. While the wax is melting, measure the essential oil into a paper cup.
Place the wicks at half the radius of the container, evenly spaced at 3 points around the base of the candle as if there were 3 candles set together inside the tin. Attach each of the wicks with wax adhesive or hot glue.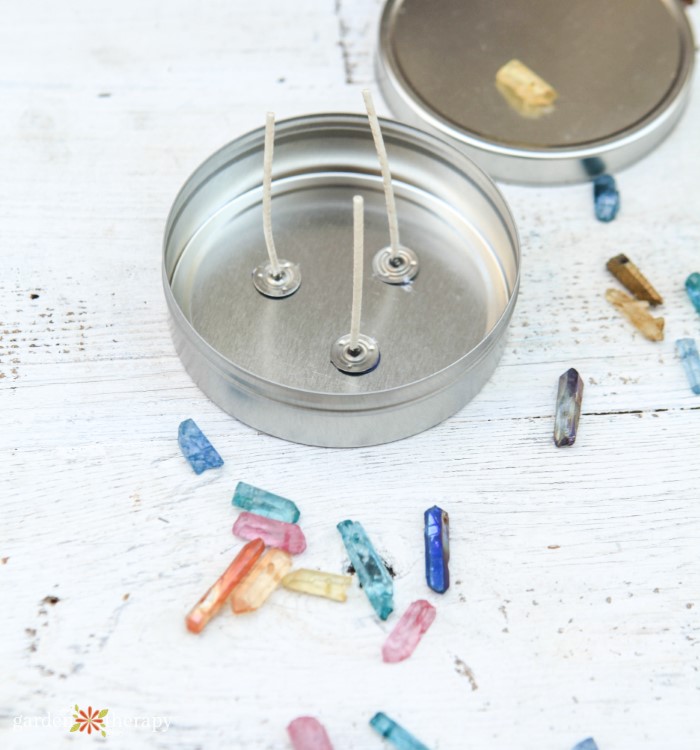 When the melted wax has reached the specified temperature for adding dye or scent oil (e.g. 160°F, see the instructions that came with your wax), add pink crayon pieces in the appropriate measurement. Stir well until the colour has completely dissolved in the wax.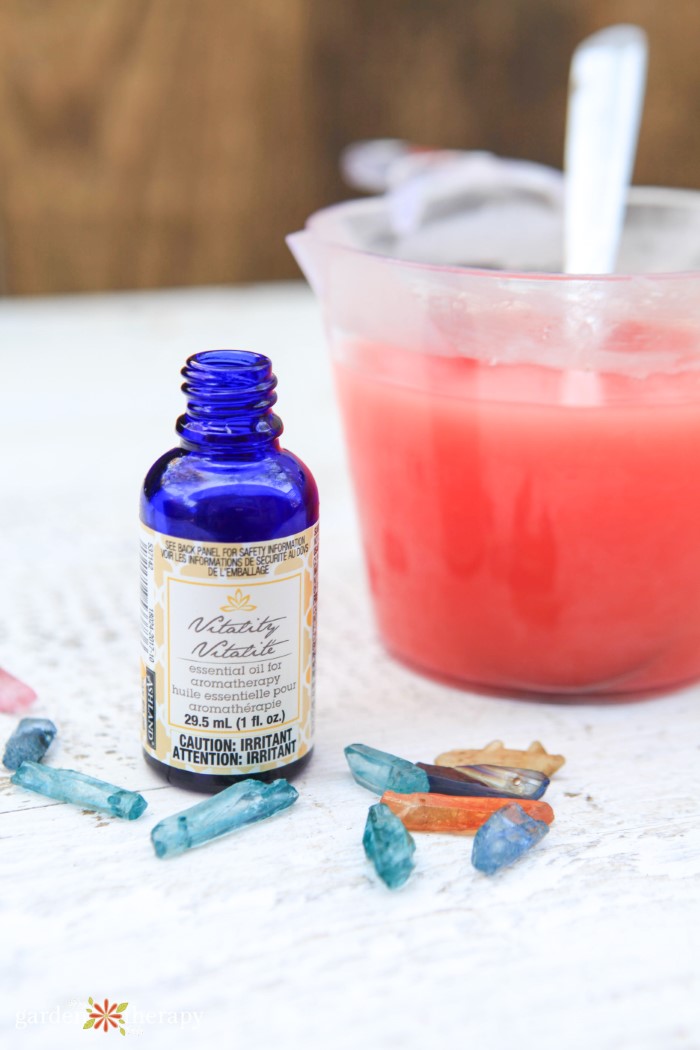 If the wax has cooled, put it back on the heat to bring it up to temperature and add the essential oil. Stir well to ensure the oil completely mixes into the wax.
Cool the wax to 140°F and pour it into the tin around the wicks leaving ¼" of headspace. The headspace allows the tin to close even with the crystals in place.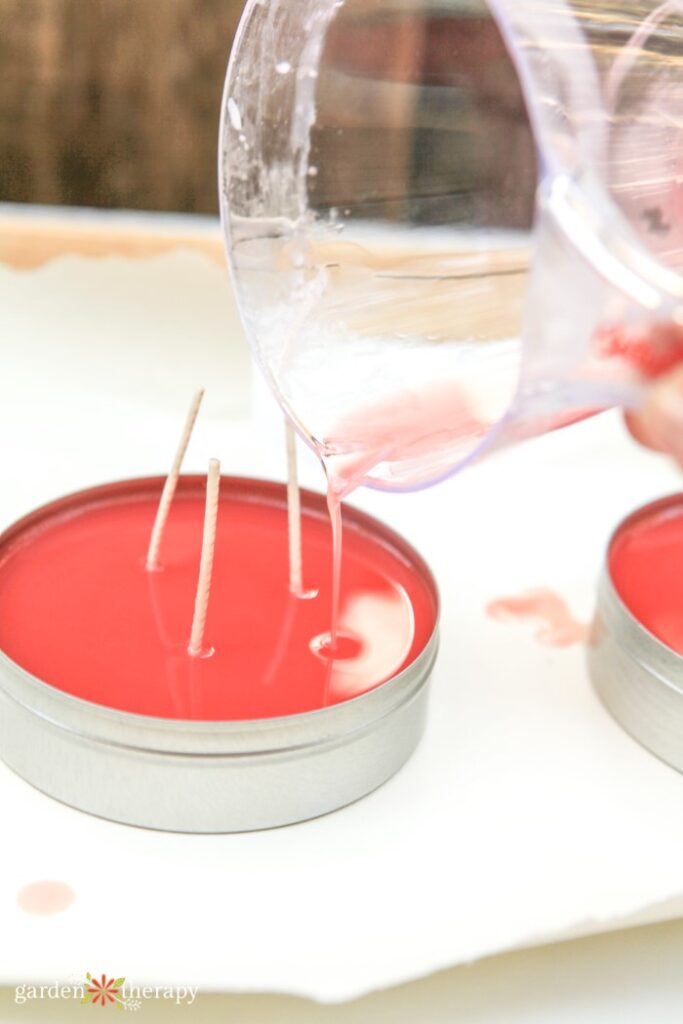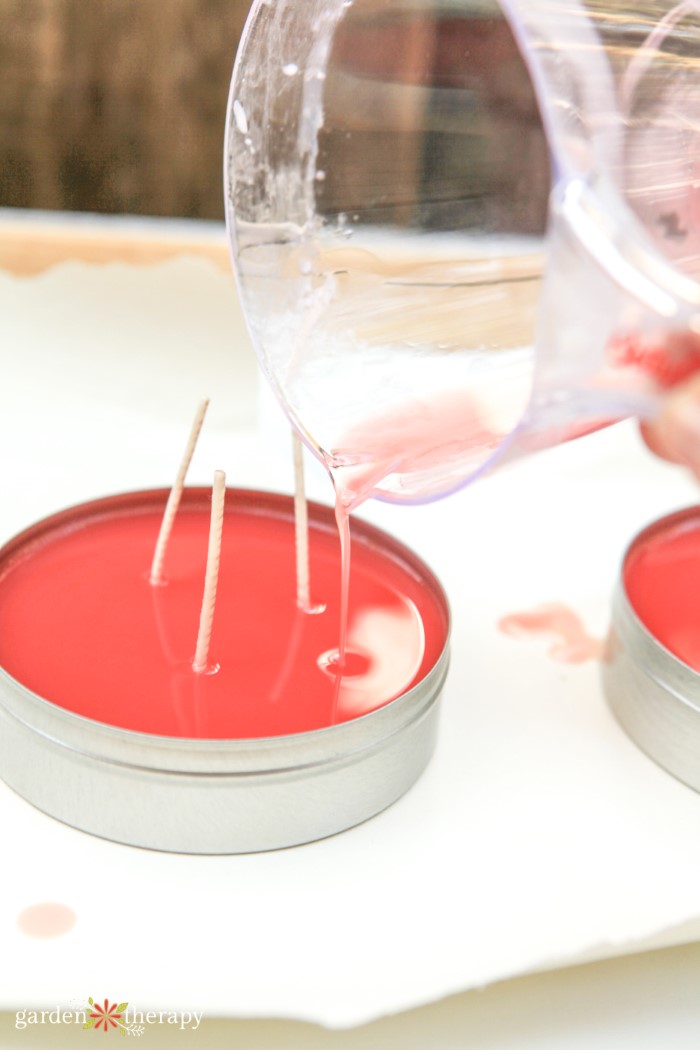 Leave the candle untouched to set just enough so that the crystals will not slip down into the wax. The wax should still be slightly warm to the touch; gently press each crystal on the wax surface so that it attaches to the wax.
Be careful not to press the crystals too hard, as this can create cracks in the wax surface. Trim wicks to ¼".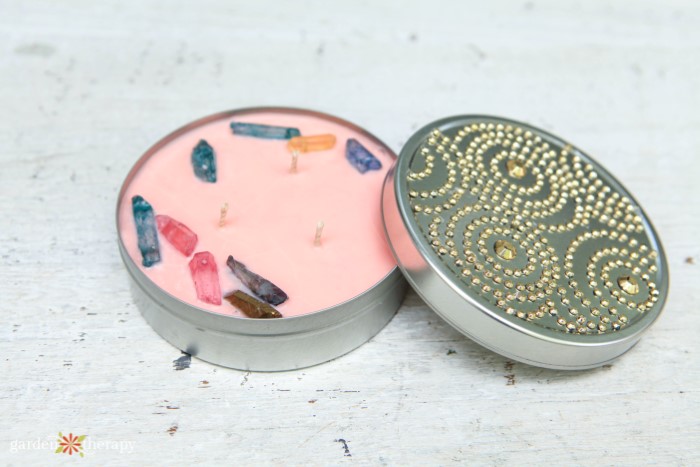 Gift It!
The fun of this candle is the secret treasure that is hidden within a silver tin embellished with gold gem stickers. Buy sheets of stickers and customize the pattern for a one-of-a-kind treasure. Gorgeous in its own right, just wait until the lucky recipient opens the tin and the pops of colour and glittering crystals are unveiled!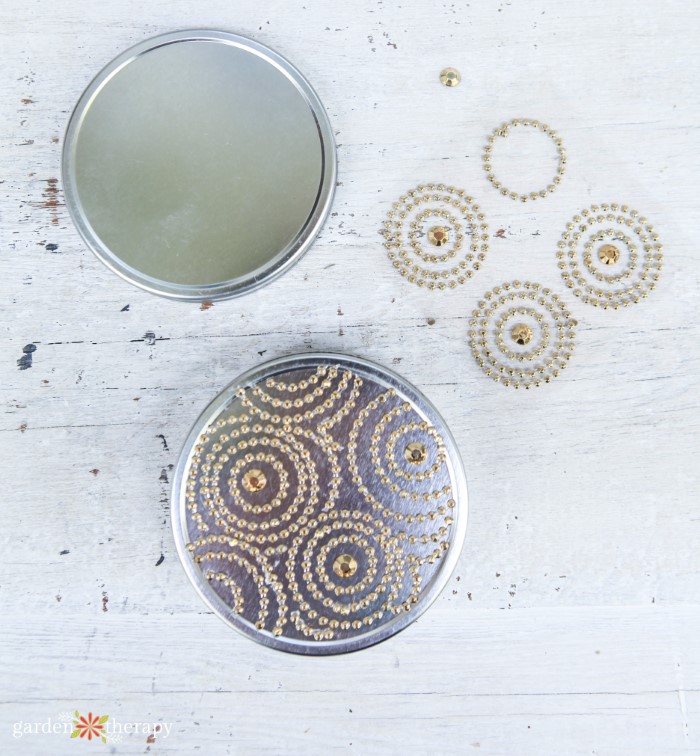 Frequently Asked Questions About Crystal Candles
What are Crystal Candles?
These DIY crystal candles are soy waxed-based. Topped with decorative crystals, you can also include healing crystals with different benefits to aid in things such as relaxation, sleep, luck, and more.
What Do Crystals Do?
Some people believe that candles hold and release energy, interacting with our own energy field. They can absorb negative energy as well as release all kinds of positive energy, providing different benefits. Overall, people use crystals to uplift their moods and overall well-being.
How Do You Use Crystal Candles?
All you have to do to use your crystal candles are light them up and enjoy their energy. You can give them attention by reciting affirmations to them or by creating rituals with your candles. Use them as part of your nighttime routine, while you read a book, in the bath, etc. All crystals are unique and there are no specific rules on how to enjoy them.

Crystal healing isn't for everyone. You can also simply enjoy this candle like you would any other candle. Light it up and enjoy their ambiance and fragrance.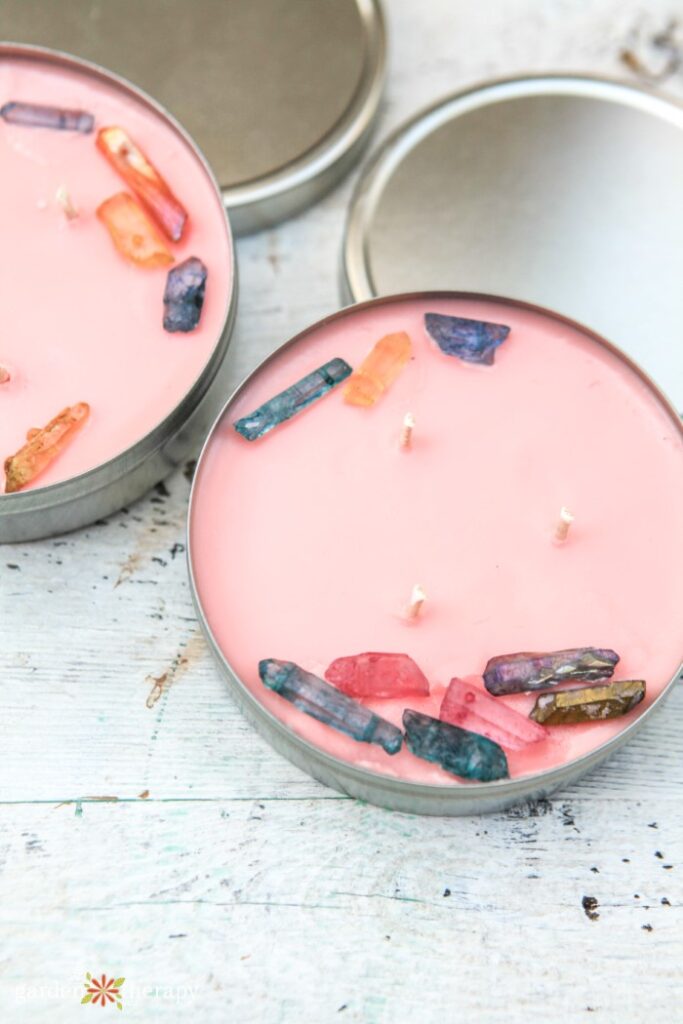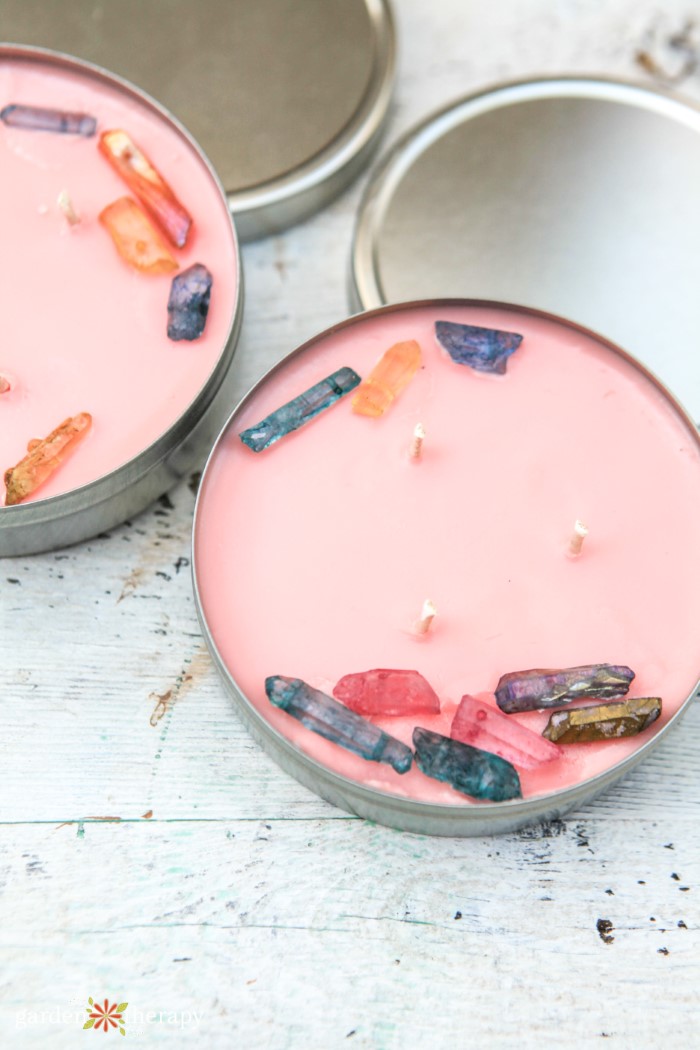 Healing Crystal Candle
This pretty pink candle is topped with sparking healing crystals. Makes one 4" tin candle.
Instructions
Measure your ingredients.

Melt wax in a double boiler using a thermometer. Once it has reached the right temperature for adding dye and scent (refer to your wax instructions), add in the pink crayon and stir until completely dissolved.

Add in the essential oil blend. Stir well to combine.

Place the 3 wicks around the base of the candle. Secure each wick to the base with wax adhesive or hot glue.

Cool the wax to 140°F and pour into the tin. Leave 1/4" of headspace to leave enough room for the tin to close with the crystals.

Let the candle sit untouched and set so that the crystals don't slip into the wax. It should be slightly warm to the touch. Gently press each crystal into the wax but don't push too hard or you risk cracking.

Allow the candle to harden, then trim wicks to 1/4". Light and enjoy!
Have any more questions about crystal candles? Leave them in the comments down below!