This DIY dry creek bed is a brilliant landscaping idea. This dry river stream can help catch runoff and prevent drainage problems, while also helping direct the eye throughout your garden. Plus, this dry creek bed landscaping has absolutely no maintenance. Here's how to build one of your own.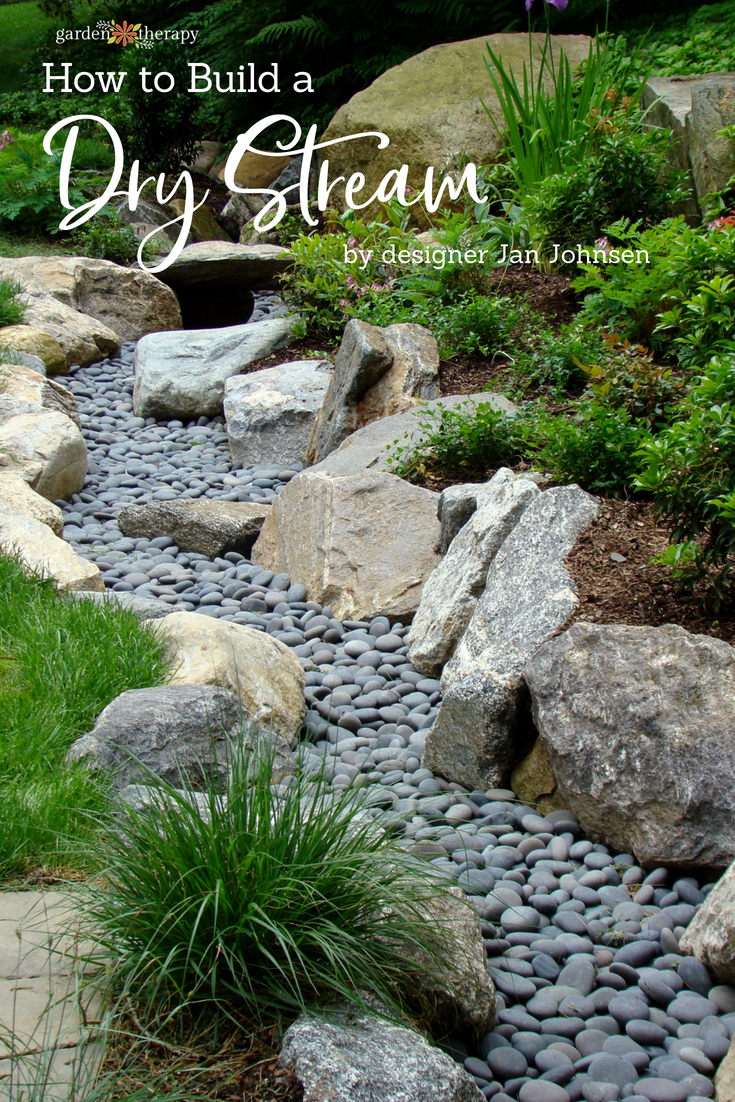 There are plenty of great ways to incorporate water into the garden, whether with natural streams and brooks or (wo)man-made ponds and fountains. But what about a design that implies the idea of water, but doesn't require any maintenance? A dry stream is a landscaping design that looks like a decorative garden feature, even though it is also a practical solution to garden runoff.
Author and award-winning landscape designer Jan Johnsen joins us to explain what a dry stream is, why it's a good addition to the garden, and how to build one of your own from her new book The Spirit of Stone: 101 Practical & Creative Stonescaping Ideas for Your Garden.
A Beautiful Way to Catch Runoff: How to Build a Dry Stream
By Jan Johnsen
Dry streams are a unique, sustainable way to incorporate natural rock in a garden and address poor drainage issues. Made to look like a babbling brook, they do not normally contain water, but instead channel and collect rainwater, allowing it to percolate into the ground slowly. They are essentially shallow depressions in the earth designed to slow and capture runoff.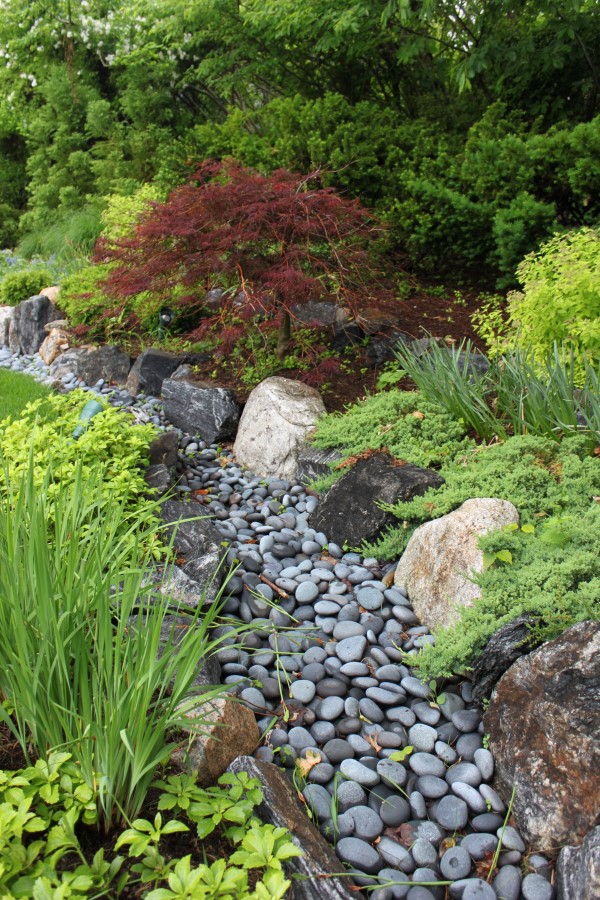 I first saw dry streams in Japan decades ago and fell in love with them. They follow the model of a watercourse filled with gravel and stones, and may have plants along the banks.
How Dry Creek Beds Can Help with Drainage Issues
Dry streams are a great solution wherever there is a need for on-site rainwater drainage. They can be placed at the base of a slope, in a low spot that puddles occasionally, or up a small rise to intercept rainwater as it flows downhill.
Since dry streams are a small-scale version of a real-life landscape feature, they look wonderful in naturalistic gardens. Yet, they also fit in with a variety of landscapes, rural or urban, dry or wet.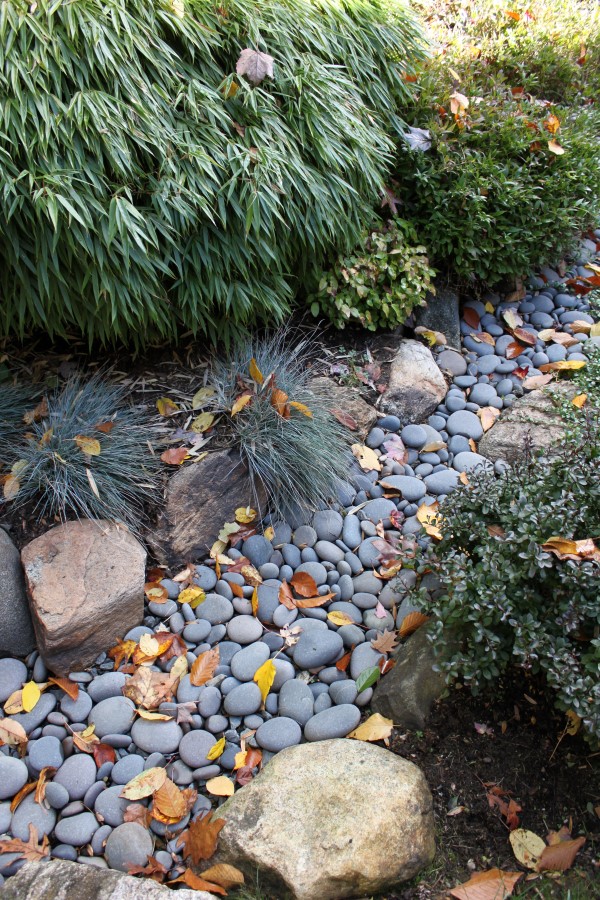 Supplies Needed for a Dry Stream
I have created several dry streams. Each one is slightly different, depending on the area, the rocks used, and the conditions. But the common element in all of them is that they are filled with an 8-12" base layer of coarse gravel wrapped in filter fabric. The gravel absorbs excess rainwater.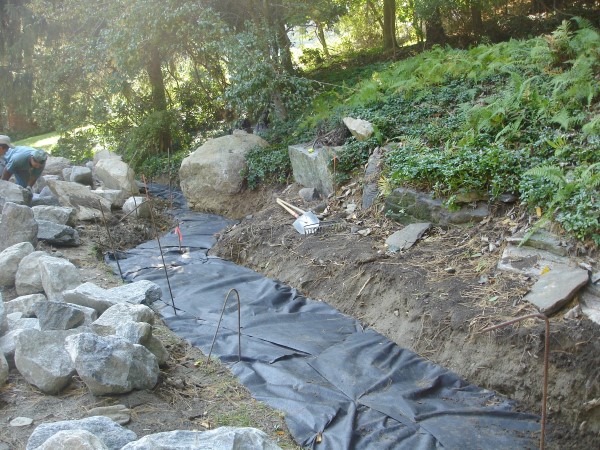 Atop the gravel, I place a thin layer of decorative rounded river stone to create a more finished look.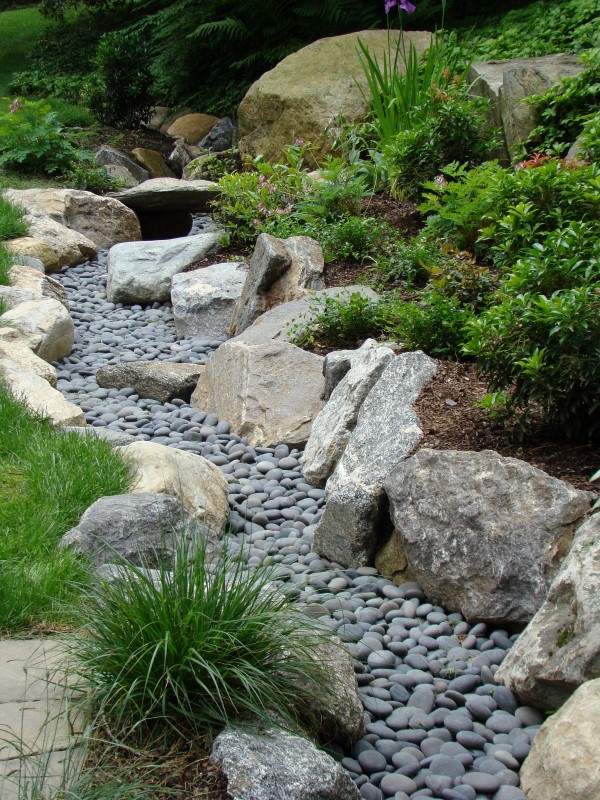 How to Make a Dry Creek Bed
It is not too difficult to create a dry stream. You need a sufficient number of fairly large-sized rocks (about 12-18" long), a roll of filter fabric, and gravel to fill in the stream.
Follow a Curve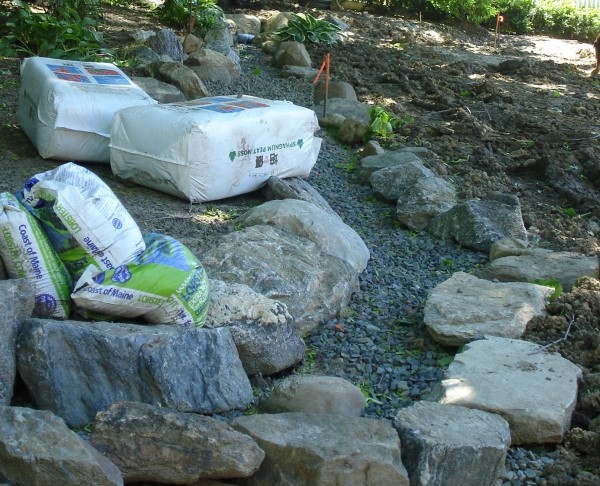 First, lay out a slightly curving trench and widen it at certain sections. The shape and alignment of a dry stream is important in making it look natural.
Think of how water moves through a landscape. Streams in nature are not straight channels, they meander back and forth. Make your stream a curving line.
Add Water Pools into the Dry Creek Bed
Also, be sure to include a wider section where the invisible water "pools." This pool provides a place where you can set larger rocks and maybe an eye-catching plant. The width of the trench should vary. You can make part of it as narrow as 16" wide (before placing rocks) and other sections as wide as you want. Excavate the trench at least 10-14" deep (or more, if it is meant to act as a deep catch basin).
Place the soil from the excavated area on the sides of the stream. I place more soil on the far side of the stream to create a higher plant bed there. This creates interest and works especially well with plants that drape over rocks because they will not grow into the stream bed.
Line the Dry River with Filter Fabric
Line the entire trench with filter fabric (not plastic!) and extend it beyond the sides. Set large-sized rocks along the stream bank atop the filter fabric. The rocks will be partially covered by the gravel and stone, so there is no need to worry about how their bases look. You can have the stones protrude higher than the outside ground level or plant bed. It depends on the look you want to create.
Jutting rocks have a rugged appearance and create a dynamic look, especially in modern settings. Feel free to experiment with the border stones for the dry creek bed as you place them. There is no incorrect way of doing it!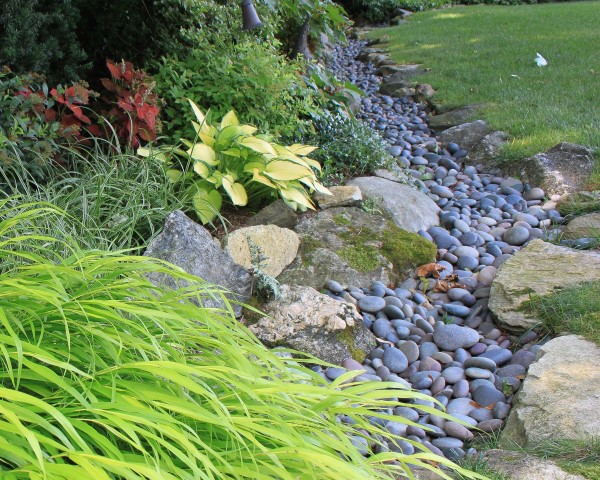 Backfill the Dry Stream with Soil
After they are placed, backfill behind the rocks with good quality soil. The soil may be brought up close to the top of the rocks that border the dry stream, if you want. The soil should not be too clayey and be able to sustain healthy plants or lawn.
Add Gravel to the Dry Creek Bed
Fill the trench with 1/4-1/2" gravel. In very wet situations, add a few inches of gravel, install a 4"-diameter subsurface pipe atop this layer of gravel and connect to an underground catch basin. Then fill the trench almost to the top of the stream. Atop the gravel, carefully install a single layer of rounded pebbles of your choice. The stones contrast beautifully with the rocks on both sides of the stream. You can use rocks of various sizes as a topper as well.
About the Author
Jan Johnsen is a highly regarded landscape designer, author, and teacher with a passion for plants and beautiful gardens. In her first book, Heaven is a Garden: Designing Serene Outdoor Spaces for Inspiration and Reflection, she draws on ancient traditions and modern trends to show how to make a 'feel good' garden. An advocate of the transformational power of Nature upon our well-being, Jan is an award-winning instructor at the New York Botanical Garden and writes the popular blog Serenity in the Garden. She is a co-principal of the design/build firm Johnsen Landscapes & Pools in Westchester County, New York.
Trained in landscape architecture, planning, and professional horticulture, Jan has worked in the landscape profession in Japan, Hawaii, and Kenya, among other places. For seven years she taught in the landscape design program at Columbia University and now speaks around the country. Her firm received a merit award in 2014 from the Association of Professional Landscape Designers (APLD). Her landscapes have appeared in Garden Design, This Old House, Landscape Architecture, East Coast Home and Design and many books.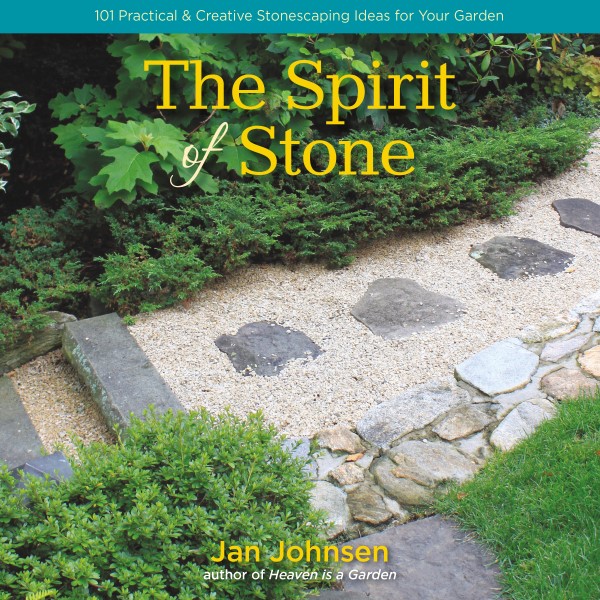 Read More About the Dry Creek Bed + Other Stone Projects
In The Spirit of Stone, Jan presents a richly photographed guide to the many creative ways that durable stone and gravel can be used in a garden. The chapters address rock gardens, walls, stone accents, walks, and more. There is a chapter on sustainable stone that shows how to capitalize on stone's functional qualities in a beautiful way. The final chapter highlights plants and stones together, natural companions in a garden.
More Posts You Might Like: