Heat-loving vegetables need warm soil in order to germinate, which means starting them indoors with a heat mat and monitoring soil temperature. Follow these tips and you'll be growing mighty peppers, tomatoes, and eggplants in no time!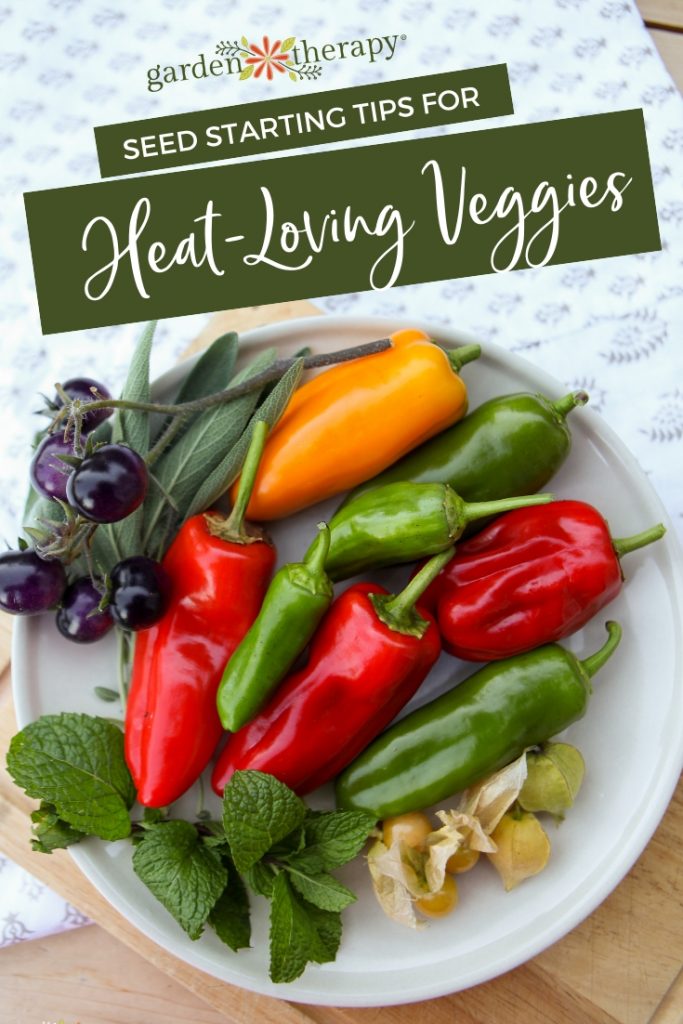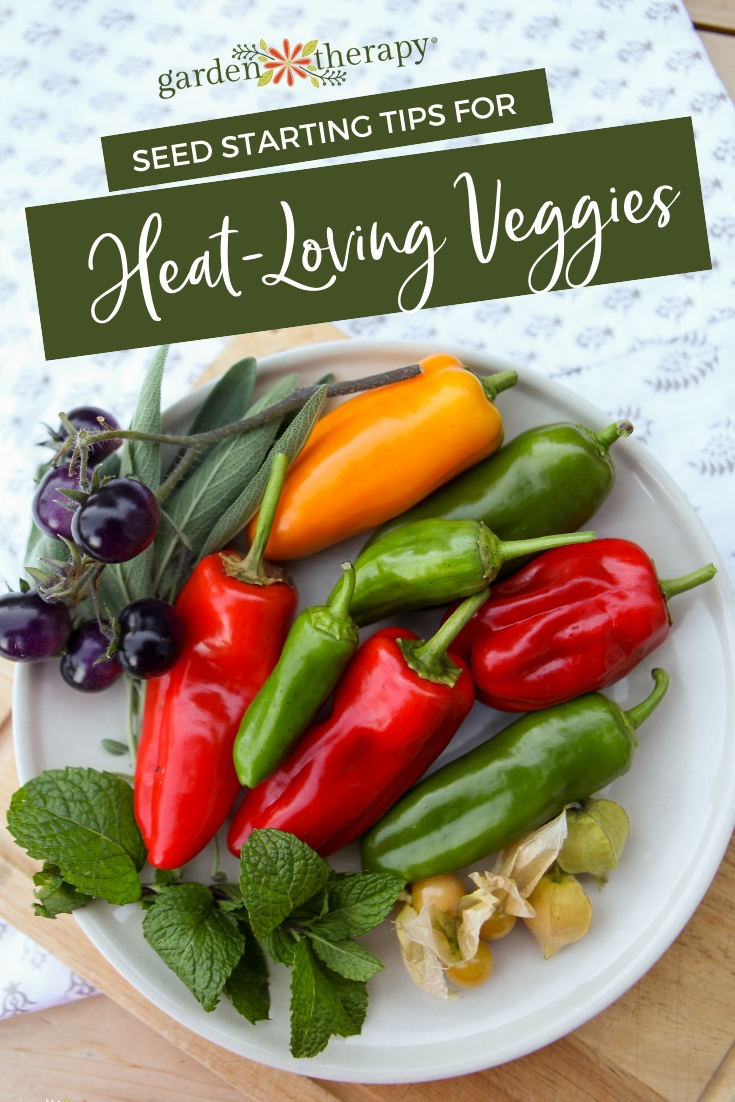 Tips for Starting Seeds for Heat-Loving Vegetables like Tomatoes, Peppers, and Eggplants

Heat lovers like tomatoes, peppers, and eggplants like to be started indoors between four to six weeks before the last date of frost. Starting seeds indoors gives them a jump-start on the growing season and ensures that your plants will have lots of time to produce fruit before it gets chilly outside again.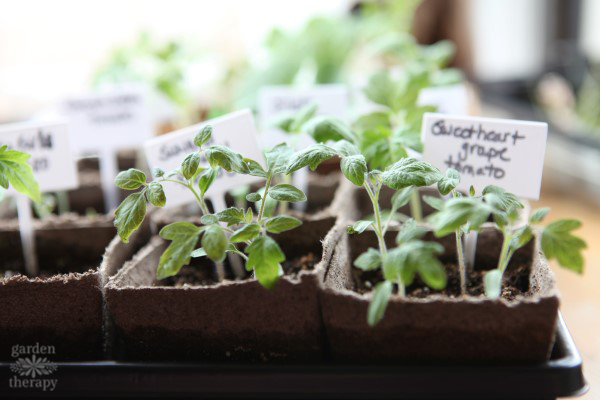 Soil temperature for Solanaceous vegetables (peppers, tomatoes, and eggplant) is critical for seed germination. Solanaceous crops need warmer soil to germinate, so give them a heat mat to keep them cozy. For example, I grow many of my tomato seedlings on heat mats  at 75°F with plenty of light for 4 – 5 weeks.  In last week before I move them outdoors, I reduce the temperature to 60 – 65°F to toughen plants for transplanting.
I use this DIY set up for starting my seeds (and it's been going strong now for many years!)
Temperatures vary by seed type and variety, so be sure to check the packaging for specific instructions and use a soil thermometer to monitor soil temperature if you are experiencing difficulty in germination.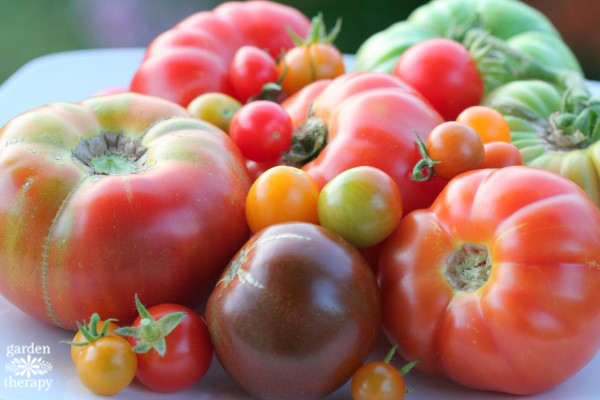 Start seeds in homemade newspaper pots set in a plastic nursery tray or even a plastic salad box. Newspaper pots can be made by wrapping 5" strips of newspaper around a wooden pot maker or a household item like a glass or a can. Wrap the paper strip around the form, leaving 1" of paper overhanging the bottom. Crimp and fold the overhanging paper so that it tucks into itself and makes a pot that holds its shape when you remove the form. Use a bit of tape to hold it if necessary.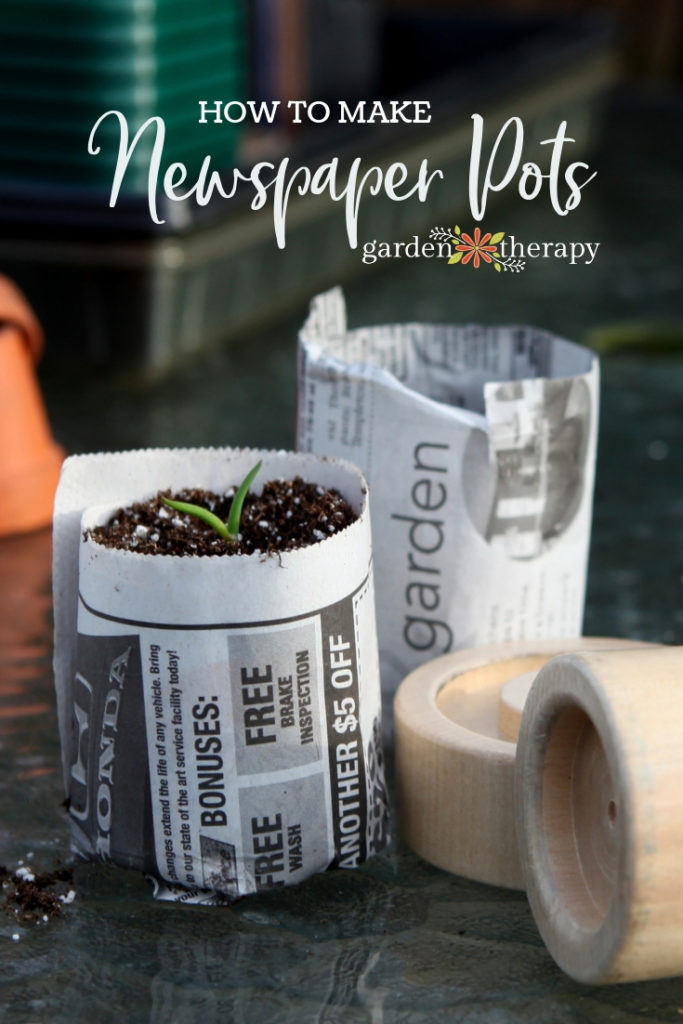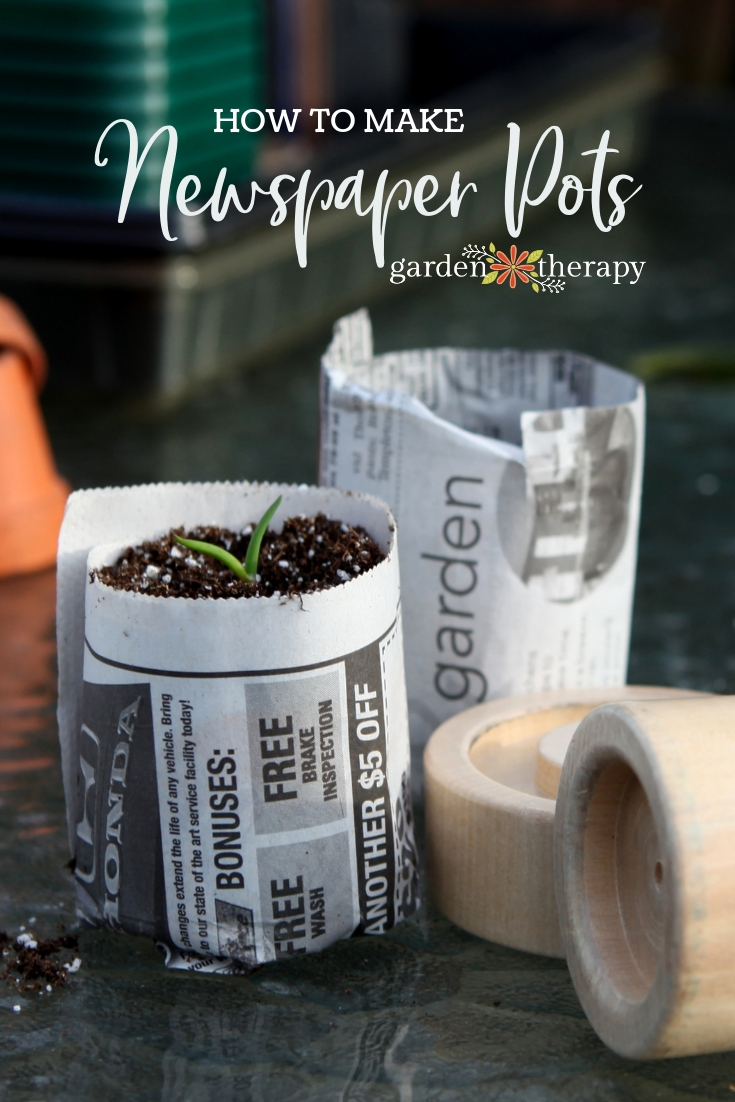 Fill each of the paper pots with seed-starting mix, a light, disease-free soil mix made specifically for seed starting. Don't use garden soil that can have many fungi, bacteria and critters that can attack little seedlings.
Plant each pot with 3 seeds, cover with soil, and water well. Keep pots moist until seeds germinate and the little green sprouts come up. Sadly, you will have to choose only one strong seedling per pot to keep by cutting (not pulling) the others with clean scissors.
Keep your seedling in bright sunlight until it gets two to three true leaves (the plant will initially have two "seed" leaves which are rounded, then grow the "true" leaves which look quite different), then transplant the whole pot, newspaper and all, into a larger plastic nursery pot filled with a container mix soil.
Grow your plant into a teenager in this pot and when it's warm enough (as determined on your seed packet) you can move it outside.
Planting Heat-Lovers in the Garden
When the seedlings are ready to be planted in the garden, harden them off by taking them outside in the shade and gradually getting them used to the outdoors for longer each day. On the last few days, set the pots in the garden where they will be growing, and then plant them in the soil after a week.
Get Growing! Expert Seed-Starting for the DIY Gardener contains everything you need to know about starting seeds both indoors and outdoors, with helpful advice every step of the way, from buying your seeds to germination to caring for your plants as they reach full maturity. You'll see how to grow all sorts of different plants from seed, including vegetables, both annual and perennial flowers, and even lawn. Plus, there are a ton of DIY projects that make it easy to start a garden from seed anywhere. Get the book instantly here.