This perfectly portable caprese salad recipe comes to us from the author of Mason Jar Salads and More: 50 Layered Lunches to Grab and Go, Julia Mirabella. You may remember that Julia has dropped by before to share her recipe for Spinach, Blueberry, and Blue Cheese Salad in a Mason Jar! Check out that post for instructions on layering a mason jar salad.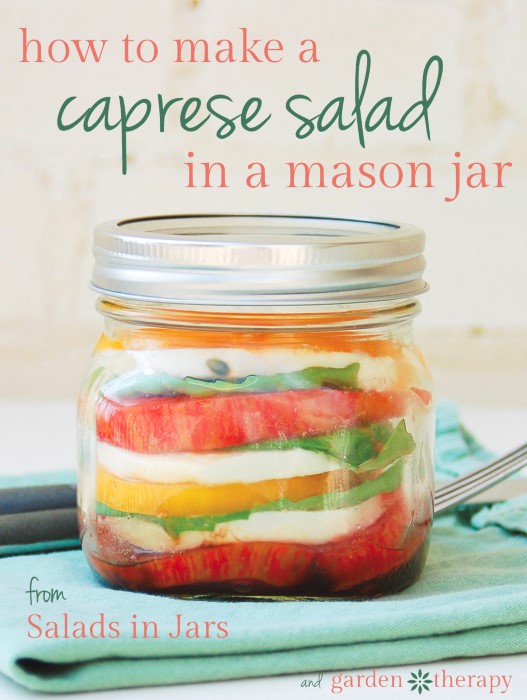 Caprese Salad
Caprese salads always remind me of Italy, where you can order caprese throughout the summer and feel as satisfied as if you'd just eaten an intricate and complicated meal. The key to making this salad as flavorful as possible is to choose quality mozzarella and the freshest tomatoes.
Makes 2 servings
You Will Need:
2 heirloom tomatoes (I like them to be different colors)
8 ounces fresh mozzarella cheese
4 tablespoons Balsamic Vinaigrette
6 to 8 fresh basil leaves
2 pint-size Mason jars
Make it!
Slice the tomatoes and the mozzarella cheese horizontally into 1⁄4-inch rounds.
Place 2 tablespoons of vinaigrette in the bottom of each Mason jar. Starting with the tomatoes, layer the salad — tomatoes, mozzarella, and basil leaves — repeating the layers until the jar is full. Seal and refrigerate until ready to use.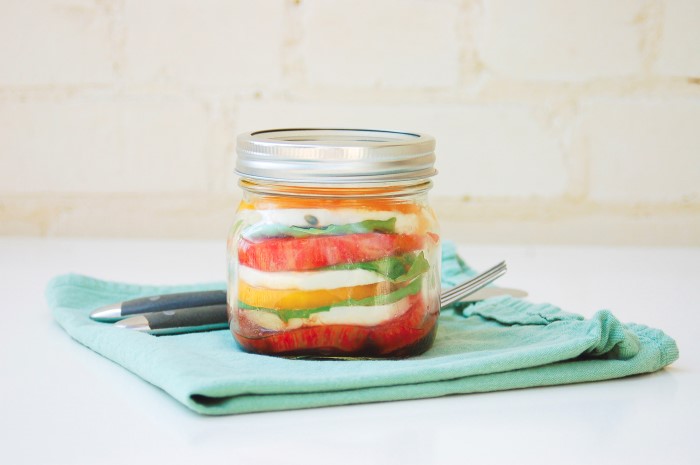 Balsamic Vinaigrette
1 tablespoon balsamic vinegar
1 teaspoon honey
Pinch of salt
Freshly ground black pepper, to taste
3 tablespoons olive oil
Whisk together the vinegar, honey, salt, and pepper. Slowly add the olive oil, whisking, until the dressing thickens.
Reprinted with permission from Mason Jar Salads and More by Julia Mirabella © 2014. Published by Ulysses Press. Photography courtesy of Ulysses Press.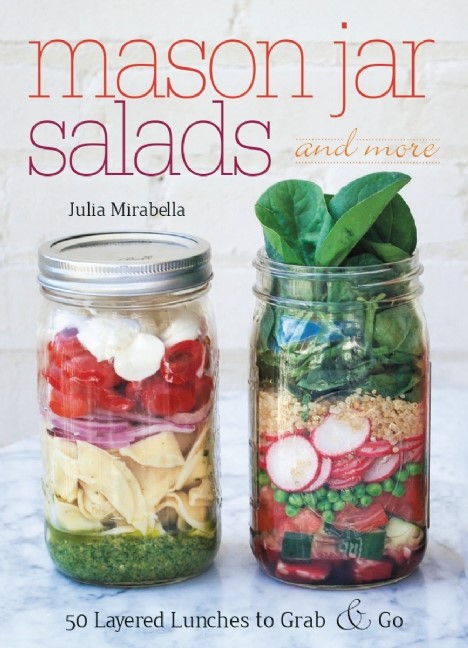 Thanks to Julie for sharing this beautiful and tasty caprese salad. There are 48 more layered lunches for you to grab and go…so go and grab her book Mason Jar Salads and More: 50 Layered Lunches to Grab and Go.