Unless you have spent all of your free time out in the garden instead of browsing Pinterest trends, then you have probably seen someone using nail polish to marble something. The craze started from nail artists adding a few colors of polish to water, then dipping fingers in there. The finger comes out a mess of polish but some quick work of the remover leaves behind a marbled nail polish manicure that looks fantastic. Fantastic enough for crafters everywhere to start marbling anything that isn't nailed down. I've created a variation of this concept for the garden with these nail polish marbled pots.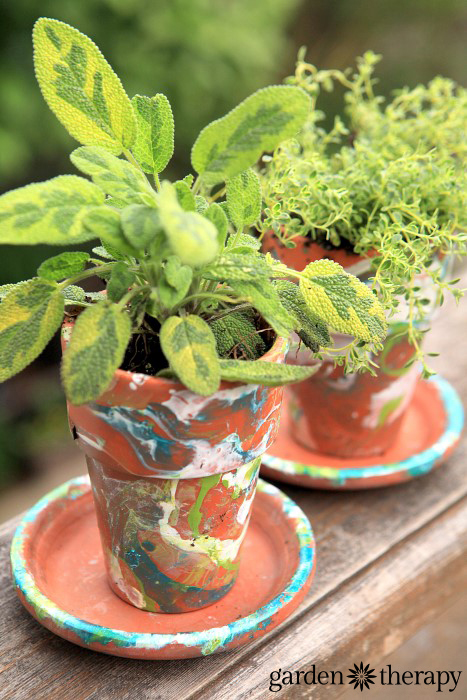 There is a reason why crazes like this become so popular. It's easy. It's fun. And it's inexpensive. In fact, you probably have everything you need at home right now to whip up a few painted pots.
Wouldn't these make great gifts? Add some fresh herbs to the pot and a message like,
Thank you for your sage advice and thyme.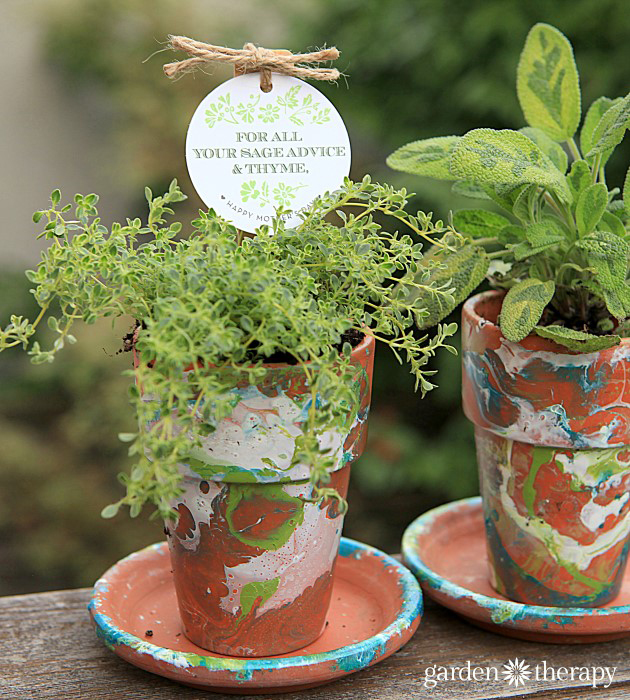 Now you have a pretty great Mother's Day/Thank you/Teacher Appreciation gift at the tip of your fingers (see what I did there?).
If you want to make some of these gorgeous marbled pots in just 30 minutes (yeah, that's including set up and clean up), then go grab your box of old polish and meet me back here for the step-by-step.
Oh, and if you are that person gardening outdoors rather than dreaming of gardens indoors, then good for you! Your garden must look fabulous enough to put on Pinterest.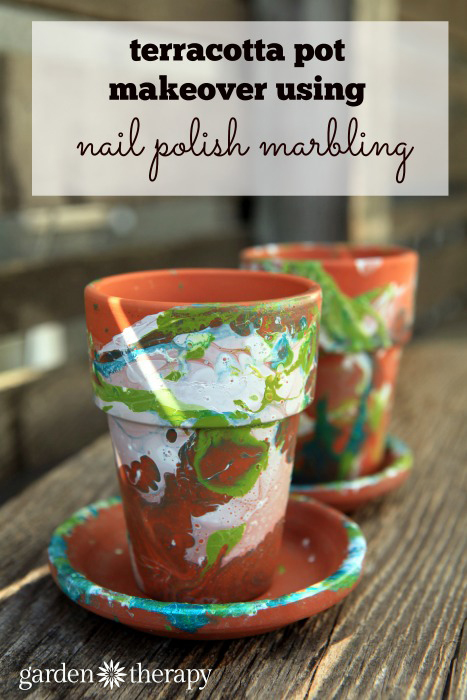 Materials
Clay plant pot
Plastic tub large enough for the pot to fit in lengthwise
Nail polish in 3 complementary colors
BBQ skewer
Tongs or rubber gloves
Parchment paper
Small potted sage and thyme or other herbs, flowers, or plants
Potting soil
To Make the Pot: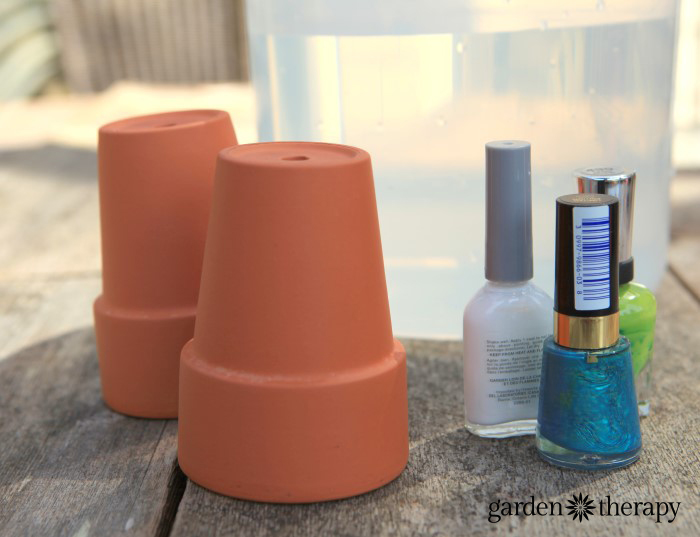 Fill a large plastic tub with warm water. Working quickly, add in a few drops of nail polish in at least three colors and stir them up a bit with the skewer. Start with just a few drops of nail polish; you can always add more when you get the hang of it. Too much nail polish can result in a gloppy texture and muddled colors.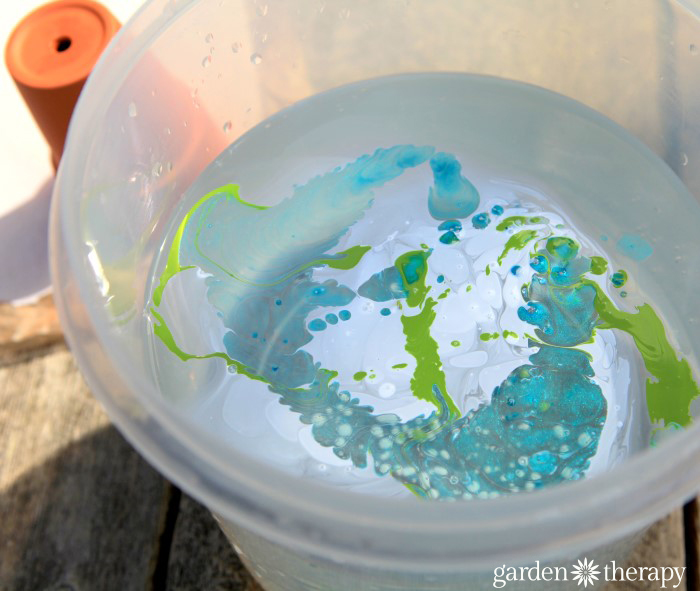 Dip the plant pot into the water using the tongs and turn it to cover all sides. The nail polish should adhere to the pot easily.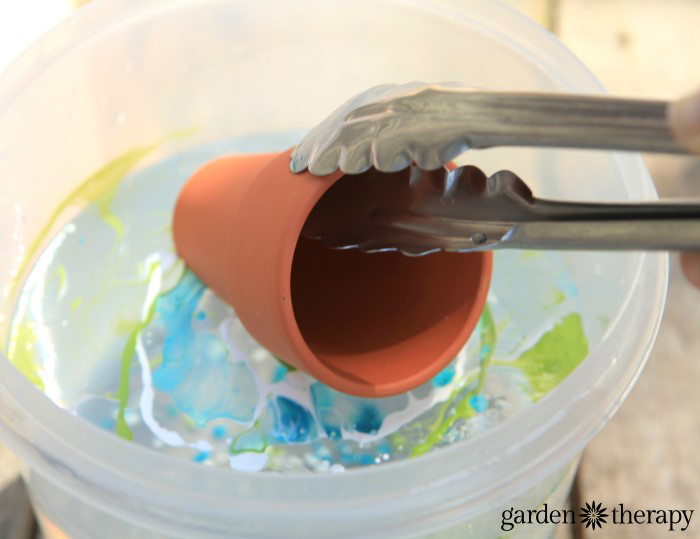 Set the pot to dry on a sheet of parchment paper and repeat the process again if you want more paint coverage.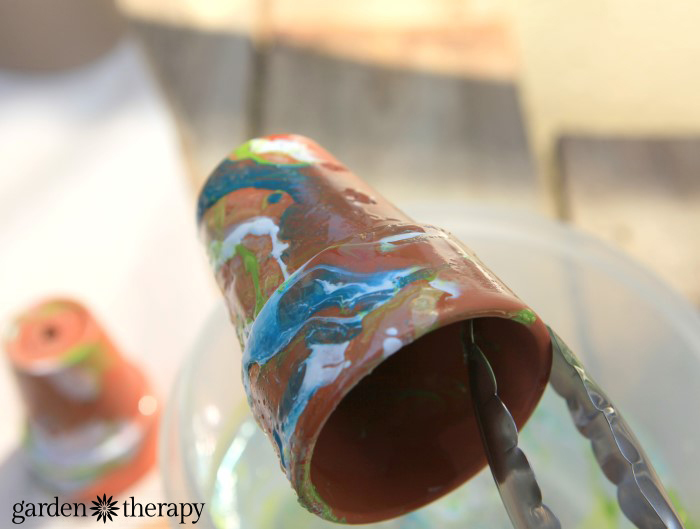 Didn't they turn out wonderfully?!