Here is a recipe for peach preserves that gets better with age. While peaches may be in their full glory in the late summer, the warming brandy and cinnamon flavours will take peaches all the way through the holidays. There's one more secret ingredient that will have this preserve gobbled up faster than a Thanksgiving turkey. Can you guess what it is? Here's a hint, it's not the gorgeous labels from MyOwnLabels.com that I will also be reviewing in this post.
Lucky me. I'm still dousing my morning breakfast in this delicious peach brandy jam, and I have these snazzy labels to make the jars great gifts. Now let the holiday party invites start rolling in!
When one of Garden Therapy's wonderful sponsors,  MyOwnLabels.com, offered to send me some labels to review, I knew just the recipe I wanted to dress up for the holidays. I have made my own labels for quite a long time and know that it unquestionably makes jam taste better. But it takes a whole bunch of time to design, print, and cut out the labels. And you will need a colour laser printer to print your own labels as an ink jet will cause the label to bleed more when wet. With all of these elements considered, I think the price for My Own Labels is a steal at around $0.58/label.
I went through lots of the beautiful designs online before I decided on "Morrocco" in orange. There are all sorts of ways to search for label designs, by shape, colour, or use. The Morocco design wasn't in the canning category but I found it through a search by shape (2″ circle), then colour (orange). In just a few more minutes I customized the text and added it to my cart where it was suggested that I add matching tag. This is not something that I have ever added to my jams but I really liked the handcrafted look of it so I added a matching diamond-shaped tag that reads, "Made with Love". I think it adds a nice touch and I can use it with other jams that I plan to give away as well.
There are minimum orders on labels and tags, in my case 24 labels and 36 tags, which is more than what I usually will need for a small batch. I do make many of my recipes over and over again so I can hang on to the extras and use them next time. Plus, I can use the tags for a multitude of gift wrapping.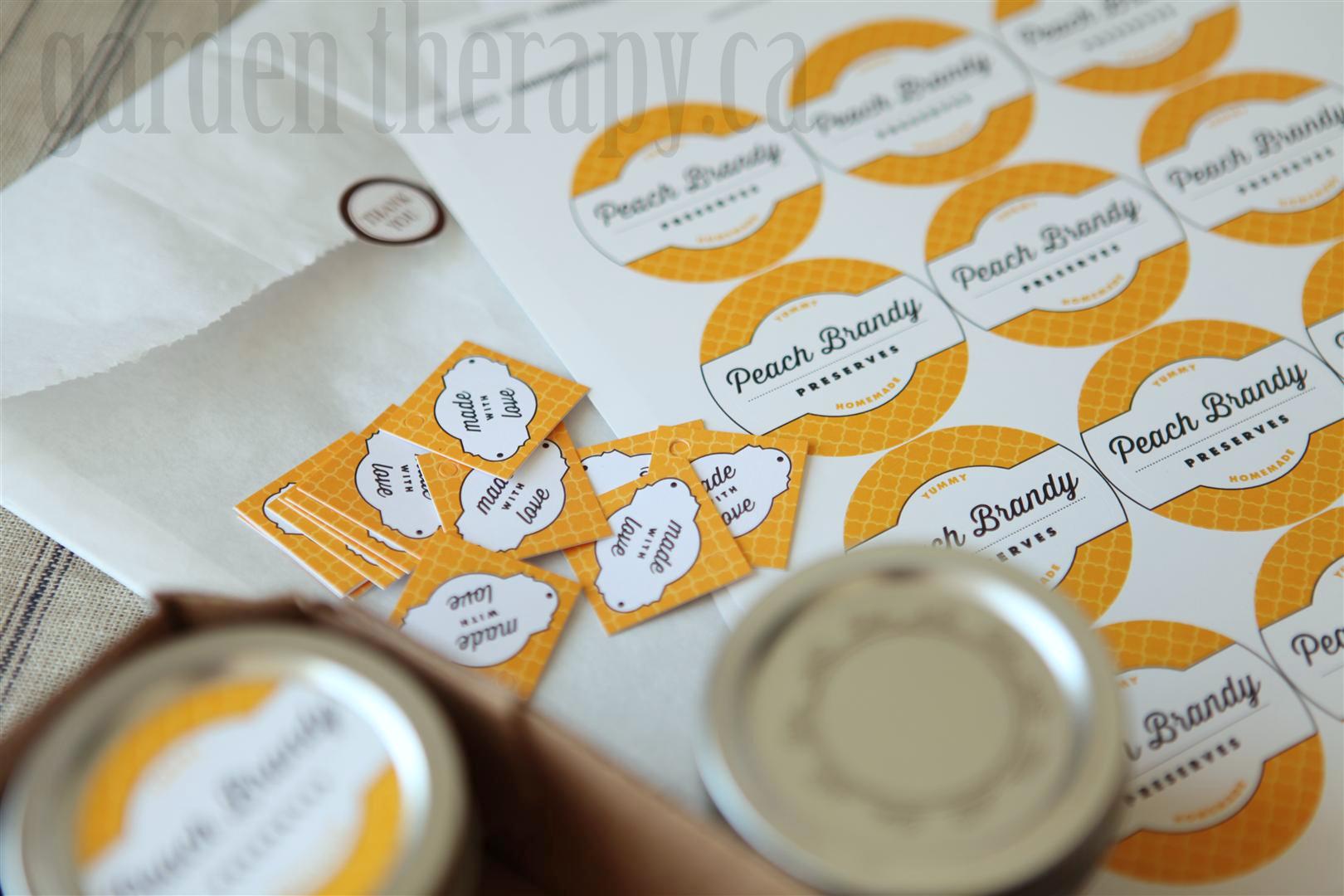 The labels seemed to ship right away, although they did get held up in customs for a little while. It took 3 weeks for my order to arrive which I was well aware of from the shipping instructions. They came packaged up in a nice white envelope with a thank you label (nice touch) and some cardboard to keep them from bending. The tags also came with little pre-cut cotton strings.
The labels are excellent quality with sharp images and a clean look. They have stood up well to being refrigerated and used as jam is typically used. The tags are pre-cut and just fall out of the paper, which means no fussing or ripping to get them out. They have a little hole punched in the top that pops out really easily. All in all, these are perfect quality and I was pleased. Even more pleased when I dressed up my jam. It looks wonderful, doesn't it?
If you would like to make your yummy preserves to go with some snazzy labels, here is the recipe that is every bit inside as good as the jars look outside.