UPDATE: We've added 6 new printable canning label templates! Enjoy!
After spending hours making the perfectly crafted homemade jam, jelly, chutney or pickle, I get on to making the perfect label to gussy up my jars. Like wrapping a present or dressing for dinner, accessorizing with labels can really add to the finished product. What's inside the jar is art: beautiful flavours and colours and freshness packed lovingly into a tiny glass container. Why not accessorize? It will make a perfect holiday gift.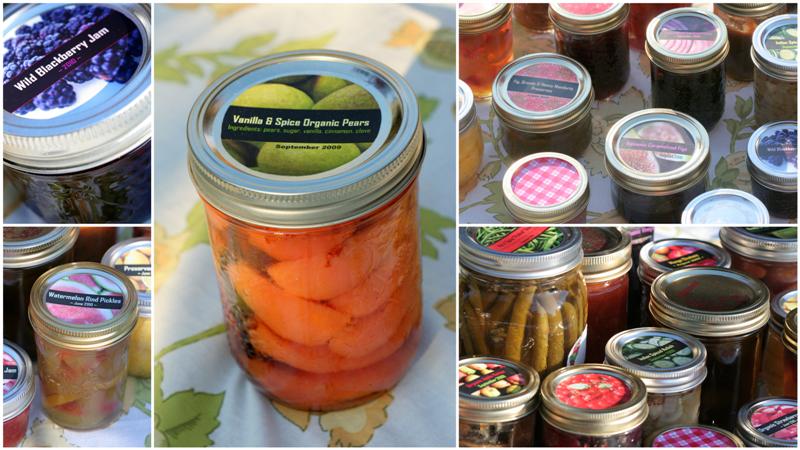 Supplies:
Full page shipping labels
Computer with graphics program (or even MS Word will work)
Colour laser printer
2″ and/or 2.5″ round hole punch or scissors
Steps:
1. First, draw a circle in your graphics program on the computer to be the size of the label you want to put on the top of the jar. For instance, I made a 2″ circle for a regular mouth (78mm) lid and a 2.5″ circle for wide mouth (80mm) lid. Then add photos, graphics, and text to design your label. I like to use photos I've taken of the ingrredients when they are growing in the garden or freshly harvested but you could use any graphic that appeals to you, the preserve or the season. For those who prefer the kitchen to the computer, I've created some simple templates:
2. When you are happy with your design, print the labels on a full sheet shipping label that can be purchased from any office supply store. Buy the best quality shipping label you can find. I like glossy paper for these. Printing can be done on your colour laser printer at home (do not use an ink jet printer as that will smudge when wet) or by taking the file to a printing house.
3. Use a 2″ or a 2.5″ hole punch (available at craft stores) to cut out each label or if you don't want to invest in one of those fancy tools, cut by hand with sharp scissors. Thanks to Andrew for the fabulous hole punch idea as it made it sooooo much easier.
4. Apply the labels to your homemade creations and revel in the beauty you have brought to the world.
Looking for more inspiration? Check out the Canning Label Inspiration page and contest. Enter your finished project by December 15th to participate in the contest.