Kale-evangelist, Sharon Hanna, is back again today to share a recipe from her book, The Book of Kale: The Easy-to-Grow Superfood 80+ Recipes (Harbour Publishing). You may never look at scones the same way again after trying these ones made with kale, pumpkin, and cheese!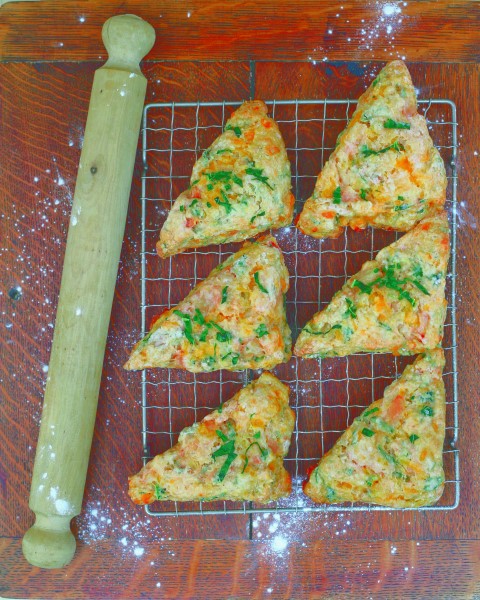 Whether you pronounce them "skawns" or "skownes" these are great in the morning, and leftovers are yummy with homemade soup. Or make tiny scones, cut-out with a fancy cookie cutter, for hors d'oeuvres.
Ingredients
2 cups (475 ml) kale leaves, loosely packed
2 cups (475 ml) unbleached flour
½ tsp (2.5 ml) salt
1 tsp (5 ml) baking soda
½ tsp (2.5 ml) baking powder
1 tbsp (15 ml) sugar
⅓ cup (80 ml) cold butter
1 egg
¾ cup (180 ml) buttermilk
½ cup (125 ml) cooked squash or pumpkin in small dice
¾ cup (180 ml) cheddar cheese, grated
Make it!
These are dropped by the spoonful, but if you'd rather use a cookie cutter or knife to make triangles or other shapes, knead in about ¼ cup (60 mL) of extra flour at the end to make the dough easier to handle.
Preheat oven to 375F (190C). Set oven rack in the middle.
Steam kale for a minute or two, just to blanch. Chop kale evenly, squeezing out as much liquid as you can. You should have less than 1 cup (250 mL) of chopped kale. If you have more, save it for soup or eat it. (Too much will make the scones sticky.)
Blend or sift the flour, salt, soda, baking powder and sugar together. Cut in the butter with a pastry blender or your fingers.
In a small bowl, beat the egg, then add the buttermilk, continuing to beat until well combined. Add egg/buttermilk mixture, along with squash, kale and cheese to dry ingredients, mixing with a fork just enough to combine.
Drop by spoonfuls onto a parchment-paper-covered cookie sheet. Bake about 20 minutes until lightly browned.
Makes eight to ten large Scones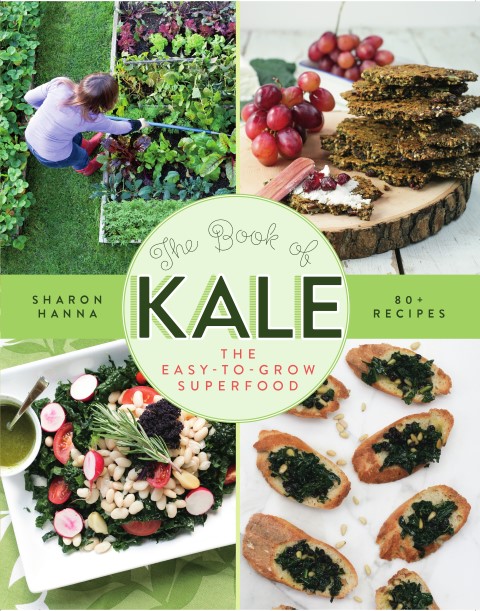 For more of Sharon's recipes and information on the almighty kale, check out The Book of Kale: The Easy-to-Grow Superfood 80+ Recipes (Harbour Publishing). This garden-to-kitchen guide gives readers all they need to know to grow this super-sustainable crop organically as edible landscaping, on balconies and boulevards, and even indoors.