Now here is a gift that sprouts up beautiful flowers or yummy veggies when planted: homemade seed-paper Valentine's Day cards! This DIY project requires no special equipment and recycles paper into something much more attractive—pressed handmade paper with embedded seeds. The paper can be cut out in any shape you want, but for this project, I've turned seed paper into woodland critters that can be planted right in the ground!
How to Make Seed-Paper Valentine's Day Cards
Materials:
Make it!
1. Shred or tear up a bunch of paper. Scrap paper, old craft paper, or anything without a glossy finish will work best. To get colored paper like the pink shown in this project, add one sheet of shredded red paper to the mix. Place paper in a big bowl or the sink and soak in warm water for 45 minutes to an hour. The paper should be soft and break apart easily at the end of the hour.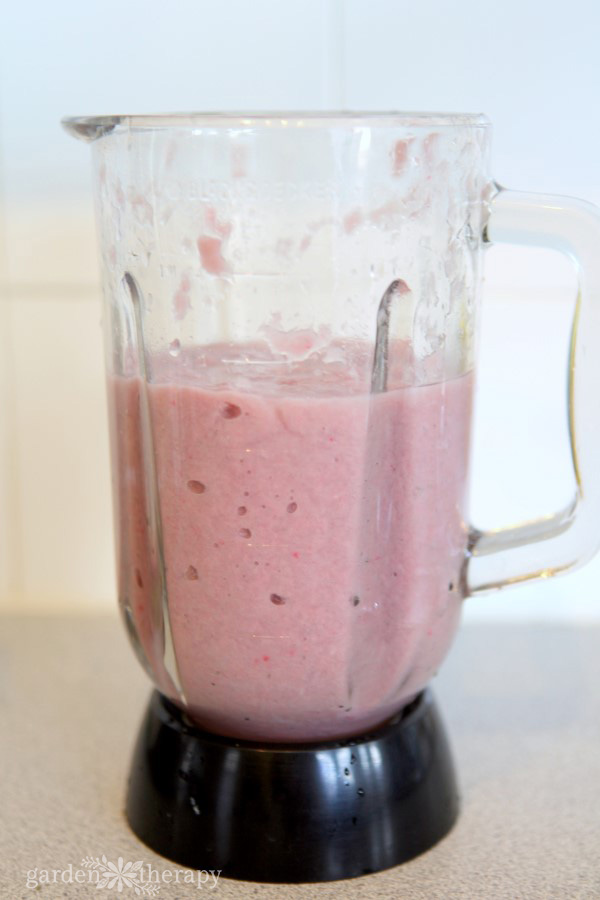 2. Scoop paper into a blender until it is filled about halfway full and scoop a cup or so of the water it was soaking in into the blender. Pulse a few times until you get a mushy pulp like that shown here. Add more water as needed to get this consistency.
3. Pour pulp through a strainer to remove some of the moisture. Don't squeeze it all out or your paper will not form together very well.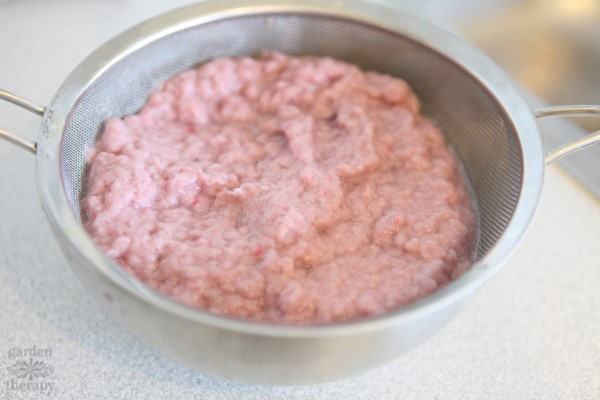 4. Add the seeds and dried flowers and gently mix. Shown here are lavender buds, bergamot petals, and dried mint leaves for flecks of interest in the paper. Radicchio, Rhubarb chard, and Alta Globe radishes are the seeds that I have chosen, as each will produce an edible red plant and they can be planted at the same time (if started inside, they can be moved to the garden once they have true leaves). Other good choices are flower mixes like butterfly or bee blends that attract pollinators to the garden and produce a variety of flowers.
5. Set up a few towels on a flat surface where you can leave the paper for a day or more to dry. Dump the pulp out onto the towel and spread out, gently patting it down. You can use a rolling pin to flatten the paper out a bit, but be gentle so as not to crush the seeds or break the pulp. Leave undisturbed to dry.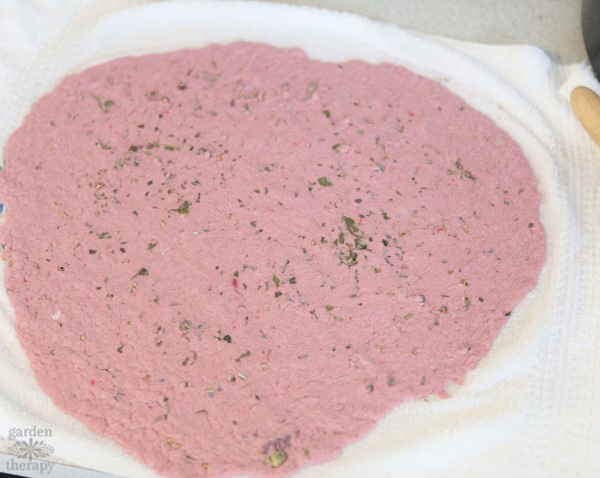 6. Trace and cut out woodland creatures out of the dry seed paper. Decorate cards with cute messages and affix your seed paper critter with a few little glue dots. Include instructions on how to plant the seed paper by copy /pasting or writing the following on the card back: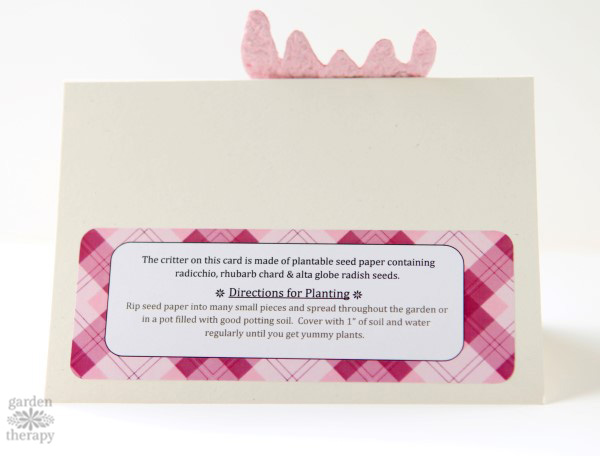 The critter on this card is made of plantable seed paper containing radicchio, rhubarb chard, and Alta Globe radish seeds.
Plant it!
Rip seed paper into many small pieces and spread throughout the garden or in a pot filled with good potting soil. Cover with 1" of soil and water regularly until you get yummy veggies.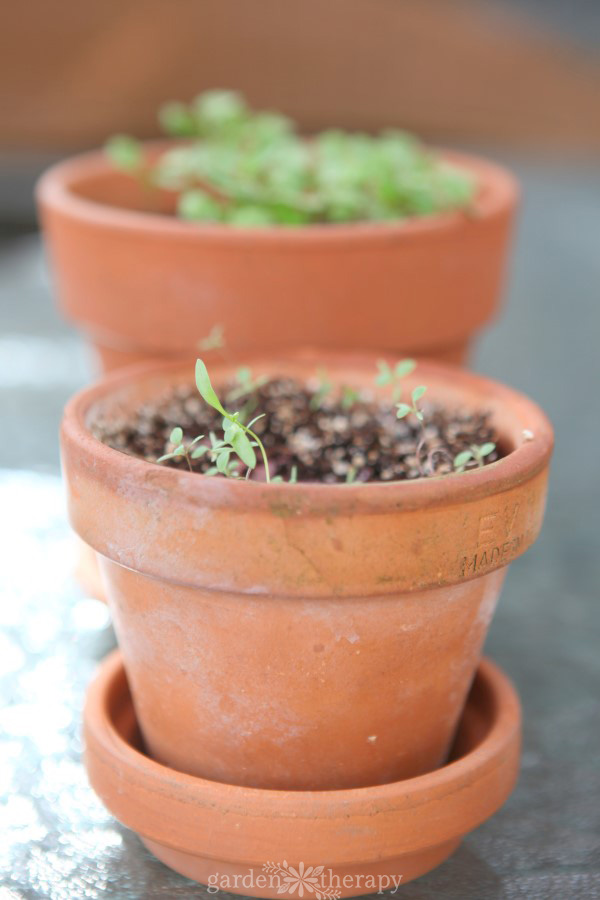 The finished product turned out really well, I thought. I used different sayings that corresponded to the critter for each one.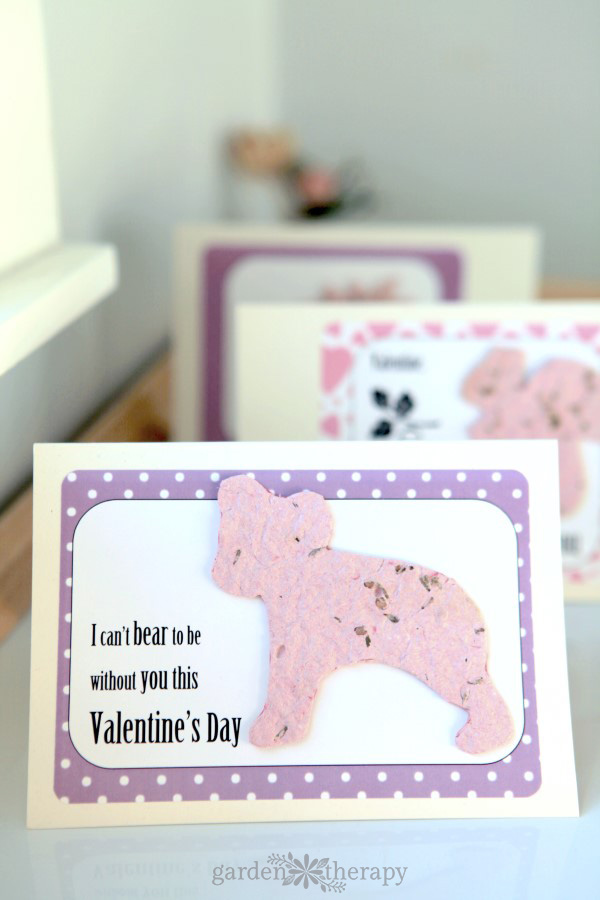 If you liked this project, make sure you sign up for our FREE herb crafting guide here.