There are some foods that you can only really enjoy in season, like sour cherries. This recipe for sour cherry lemonade concentrate can take that summertime flavor and preserve it for the year. After you make this recipe, you just need to duck into the pantry and grab a jar to make a refreshingly sweet and sour lemonade like no other!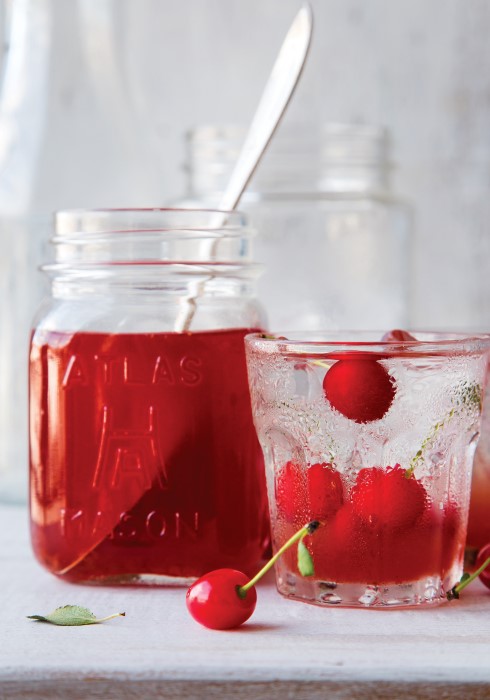 This recipe comes to us from the book, Preservation Society Home Preserves: 100 Modern Recipes by Camilla Wynne. Camilla joins us today to share how to make the concentrate and the many ways you can use it!
Sour Cherry Lemonade Concentrate
This syrup is a boon to have on hand in the pantry on a hot summer's day. If you're on your own, add a few tablespoons to a glass of ice water, then refrigerate the rest for the next time you get thirsty. If you're serving a crowd, pour the whole jar into a big pitcher and dilute to taste. For a grownups-only party, add gin or vodka for a very easy, very drinkable cocktail.
Ingredients
1 lb pitted sour cherries 450 g
3 cups granulated sugar 600 g
Pinch salt
Grated zest of 5 lemons, divided
2 cups water 500 mL
11⁄2 cups freshly-squeezed lemon juice 375 mL
Make it!
Prepare the jars and lids.
In a large pot, combine the cherries, sugar, salt, zest of 3 lemons, and water. Bring to a boil over medium-high heat, stirring to dissolve the sugar.
Reduce the heat and simmer gently, stirring occasionally, for about 15 minutes to coerce the cherries into letting all their juice flow.
Pour the cherry mixture into a fine-mesh sieve set over a deep container. Push down against the cherries to extract as much liquid as possible. Stir the remaining lemon zest and the lemon juice into the syrup.
Pour syrup into the hot jars to within 1⁄2 inch (1 cm) of the rim. Wipe rims. Place the lids on the jars and screw the bands on until fingertip-tight.
Process in a boiling-water canner for 15 minutes.
Makes about 3 jars (1 pint/500 mL each)
Tips
If you don't have a kitchen scale, you'll need 3 cups (750 mL) pitted sour cherries for this recipe.
For 11⁄2 cups (375 mL) lemon juice, you'll need 8 or 9 lemons.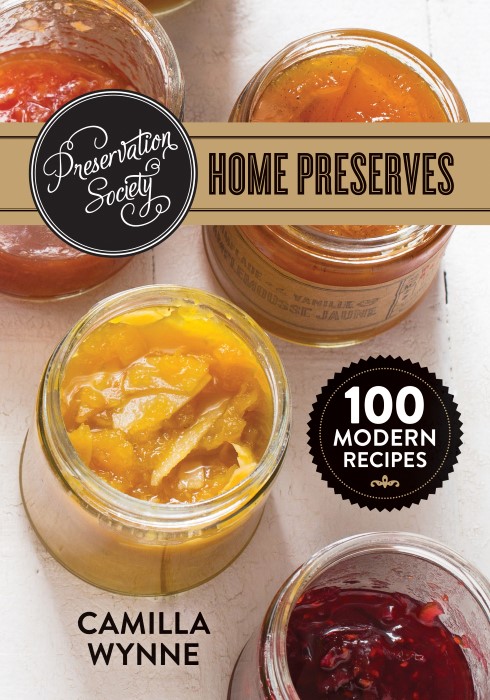 Pick up a copy of Preservation Society Home Preserves: 100 Modern Recipes for more delectable preservation ideas.
Preservation Society is a very personal, very particular preserves company. Its founder, Camilla Wynne, creates recipes filled with imagination and heart. Besides the sumptuous jam, jelly and marmalade recipes, there are recipes for syrups, marinades, chutneys, and conserves, as well as a dozen recipes that use the original preserve recipe.
Courtesy of Preservation Society Home Preserves by Camilla Wynne, 2015 © www.robertrose.ca Reprinted with permission. Available where books are sold.