This lighter version of a hearty winter stew uses a few things that are in high supply in the summer: tender, young root vegetables; flowering herbs; and beer!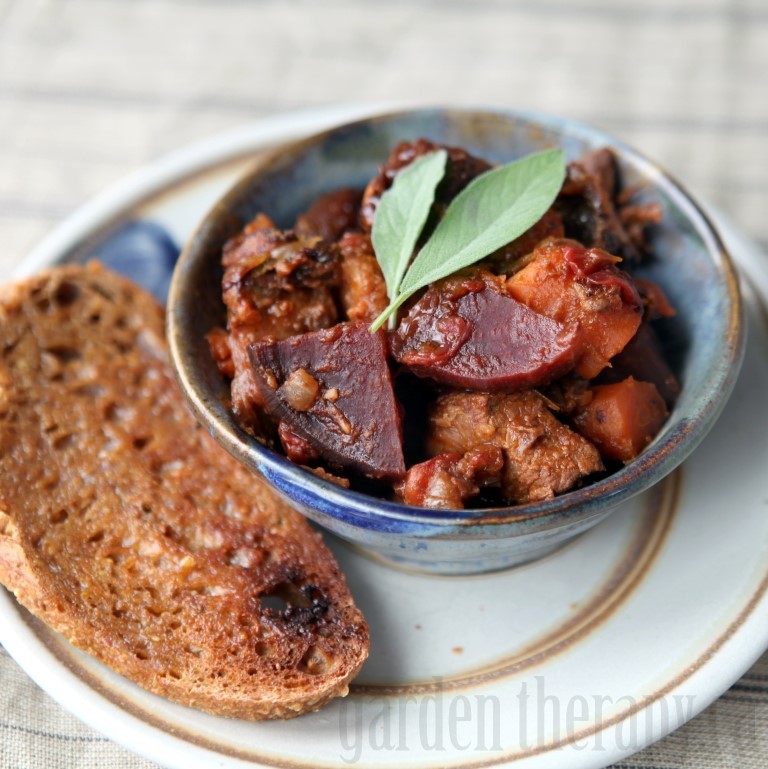 Ingredients
2 small onions, chopped
5 stems of fresh sage, leaves and flowers
1 ½ lbs of cubed stew beef
2 tbsp flour
1 leek
5 baby beets
10 small new carrots
2 cups of new potatoes
1 bottle of beer
½ cup of tomato sauce
½ cup balsamic vinegar
1 ½ cups beef stock
Olive oil
Butter
Salt & pepper
Directions
Preheat oven to 325 degrees.
In a  large Dutch oven, sauté onions and sage in olive oil and a knob of butter for 3-4 minutes over medium-high heat on the stove top. 
Add cubed beef and flour, and season with salt and pepper. Stir to coat beef then brown for a few minutes.
Add rough chopped veggies (leek, beets, carrots, potatoes) and stir to combine.
Add beer, tomato sauce, balsamic vinegar, and beef stock then bring to a boil on the stove.
Transfer to oven for 2 ½ -3 hours or until meat breaks apart with a fork.