Growing anything yourself is always a healthier option than buying produce from the store, but why not step up the nutrition level of your veggie bed this year by growing a superfoods garden?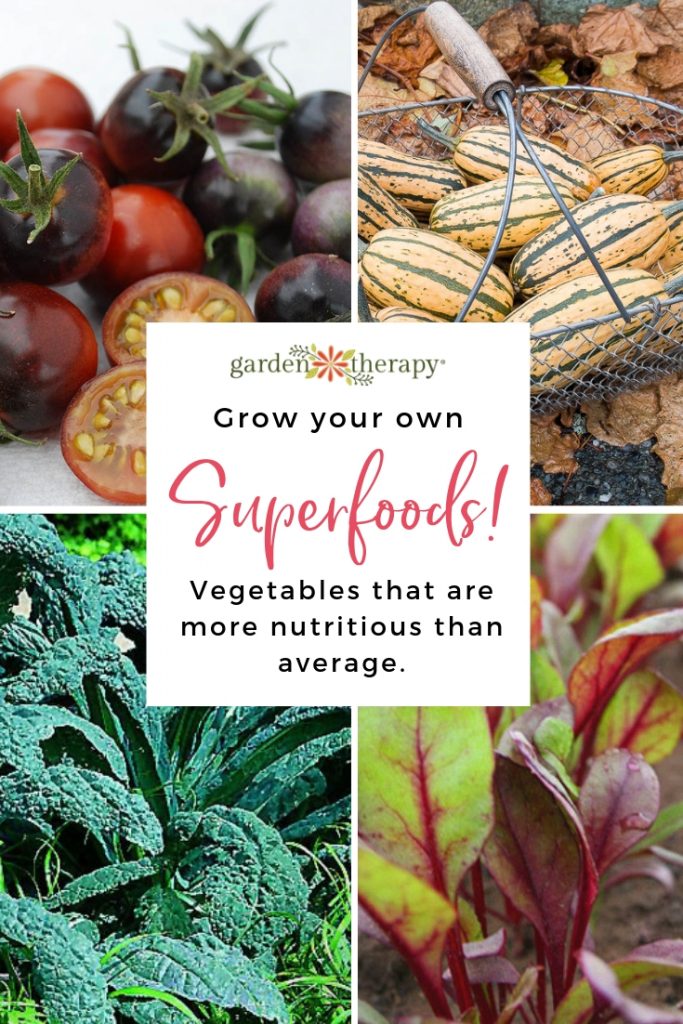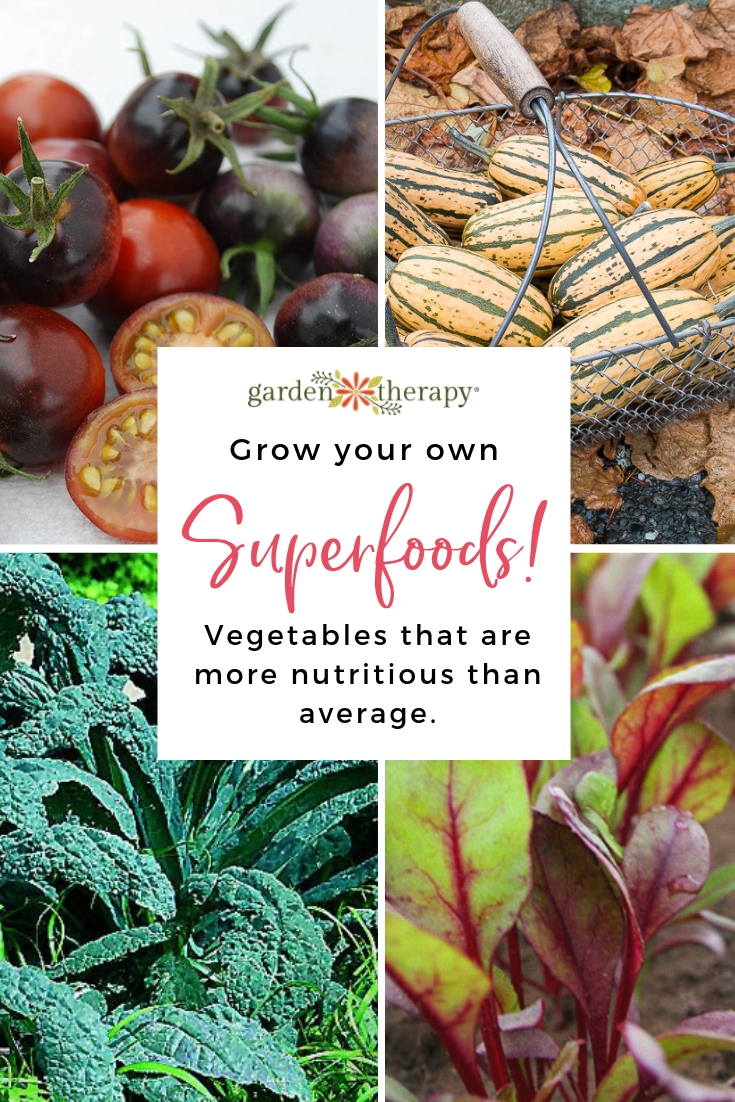 Superfoods are vegetables you can grow in your garden that pack an added punch. They are full of extra nutrients or have special minerals that make them even more nutritious than usual. The newest Garden Therapy Seed Collection Limited Edition Kit is devoted to delicious superfoods that are easy to grow in your own backyard.
Note: This seed starting kit is no longer for sale.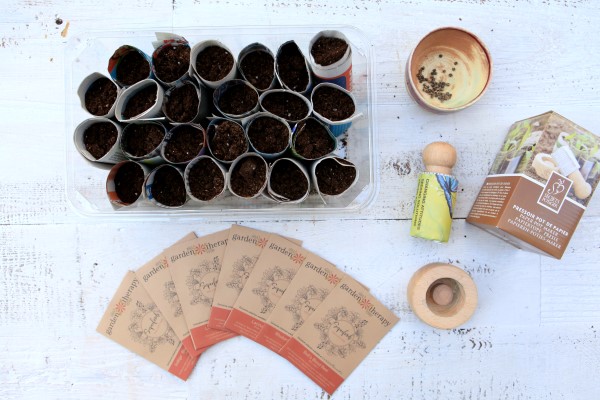 The kit comes with seven different types of seeds that you can grow into your very own health-wise superfoods garden. You also get an Esschert Paper Pot Maker. This nifty wooden tool makes it easy to create your own DIY seedling pots out of newspaper. It's really easy to use, which means you can make all of the pots you'll need (and more!) in hardly any time.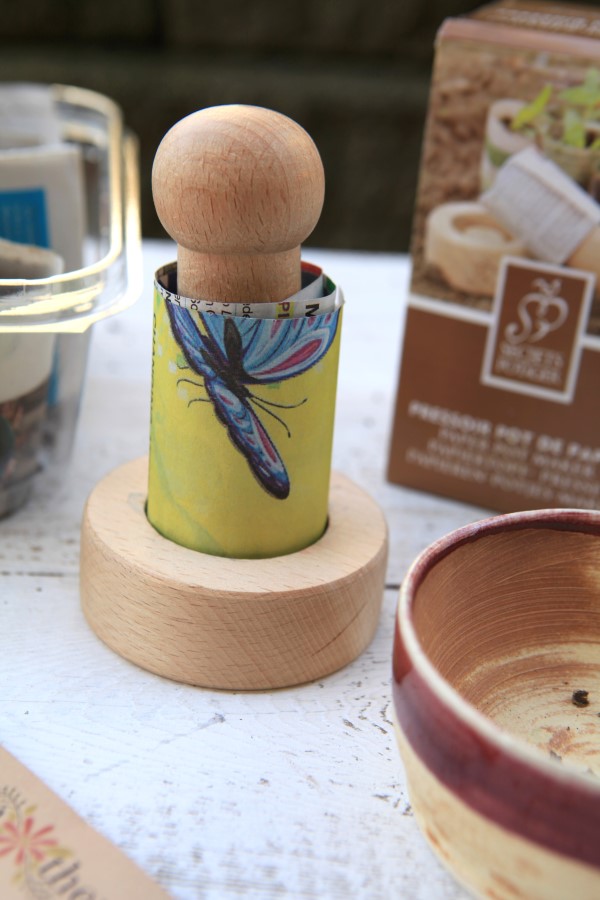 Paper seedling pots are a great way to reduce the amount of plastic you use in the garden, plus when you are ready to transplant your seedlings, you can simply plant them right in the garden, pot and all! The paper pot will decompose while in the soil. Easy, huh?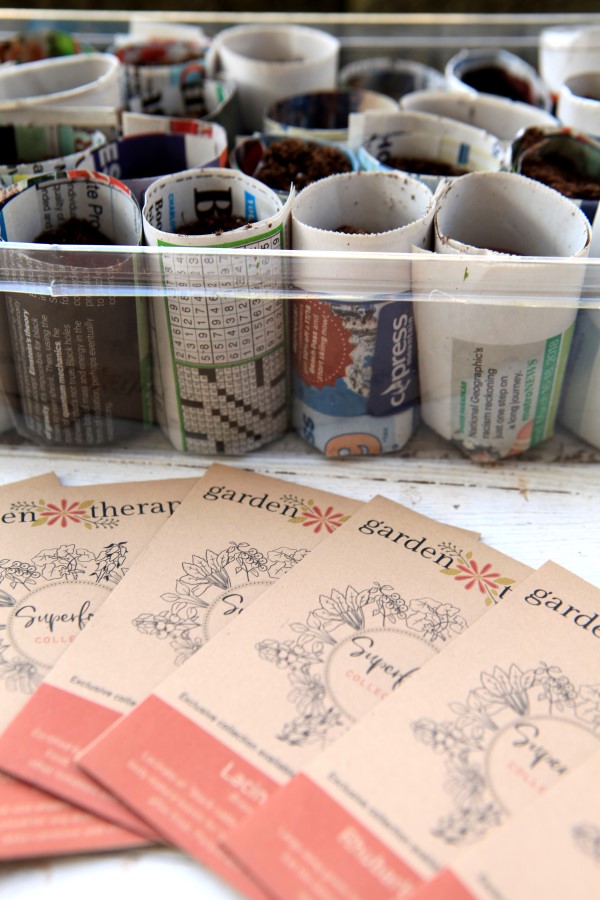 The seeds included in this collection were carefully chosen to help you grow a Super Garden this year and get the most nutritional benefit in every bite! Here are the seeds that you get in the kit and why I picked each one.
Indigo™ Blue Berries Tomato (Solanum lycopersicum)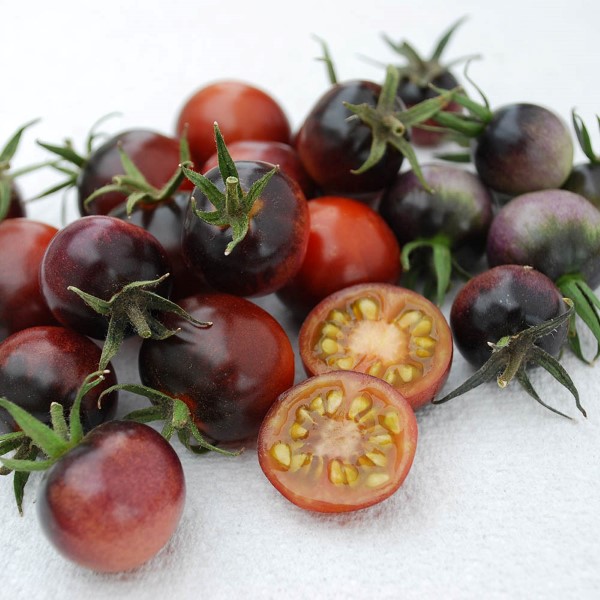 The stunning color, great flavor, and health benefits of these tomatoes make them an all-around crowd-pleaser. This is a gorgeous cherry tomato with healthy expressions of anthocyanin. The unripened fruits are amethyst purple that ripen to black with a brick-red bottom.
Tasti-Lee® Tomato (Lycopersicon lycopersicum)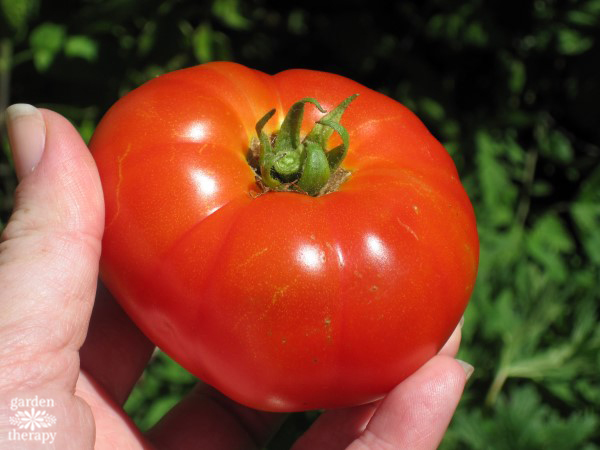 The name says it all—Tasti! Tasti-Lees have a beautiful crimson red meaty interior and produce a high yield of delicious fruit. These tomatoes are high in lycopene, which benefits heart health and also helps to protect your skin from sun damage. Certified by the American Heart Association as a Heart-Check Mark food, Tasti-Lee is 50% higher in lycopene than most tomatoes.
Bull's Blood Beet (Beta vulgaris)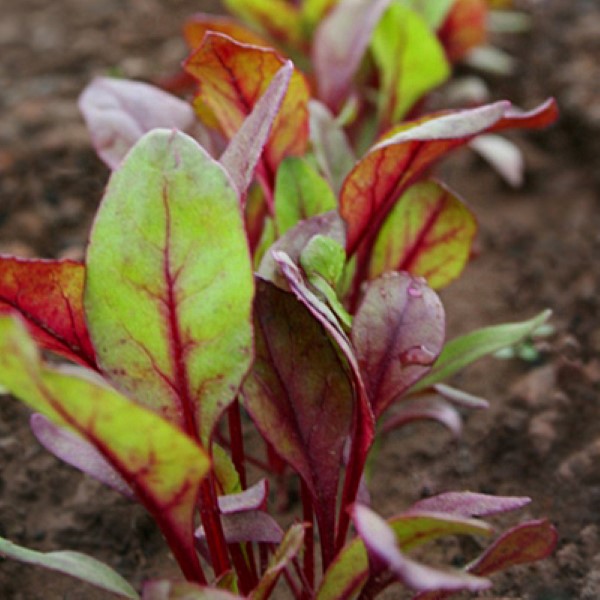 Both the greens and the root are delicious and full of nutrition, so Bull's Blood Beet is sort of two superfoods in one! Deep cabernet leaves even at the seedling stage make Bull's Blood a striking, easy-to-grow addition to spring and fall salad mixes. Plant extra for round, red beets that develop a beautiful pink and red striped interior.
Lacinato Kale (Brassica oleracea)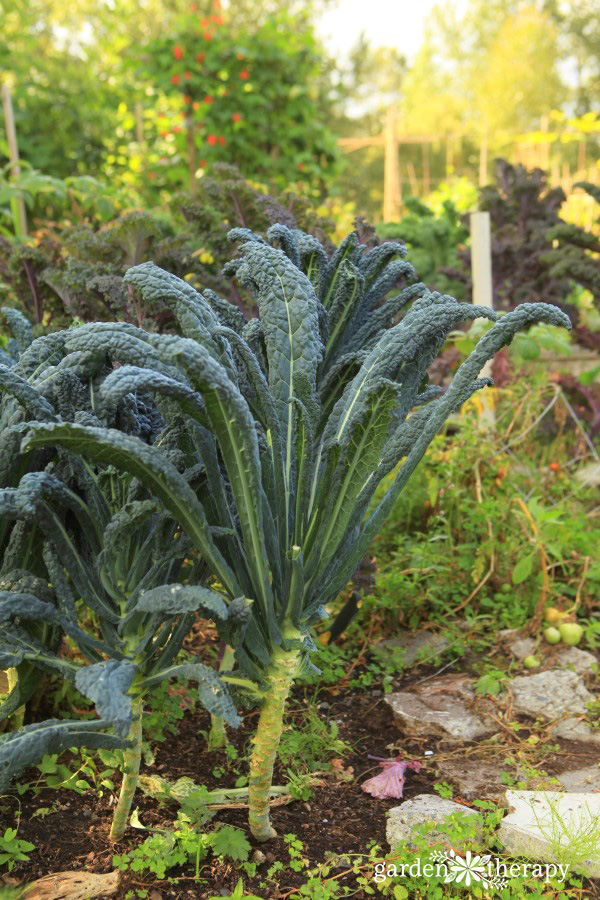 I chose to include this yummy leafy green as one of my superfoods because it is packed with vitamins A, C, and K. It's basically a multivitamin in a leaf! Lacinato kale or "black cabbage" has tender baby leaves and tasty mature leaves that get sweeter after frost. Add to salads and soups for a tasty nutrition boost.
Rhubarb Swiss Chard (Beta vulgaris)
Eat the stems and leaves, they're both delicious! The red stems are not only beautiful, they are chock-full of vitamins and minerals too! Often with vegetables, more color equals more nutrients, and Rhubarb Swiss Chard is no exception. This hardy organic chard adds color to your garden and your kitchen. The large leaves are deep green with red veins while stems and midribs are bright red.
Lunchbox Pepper Mix (Capsicum annuum)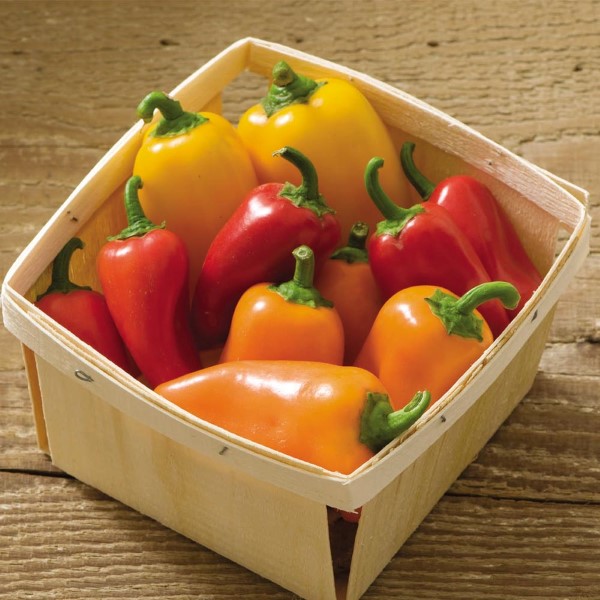 A tasty way to eat beta-carotene and vitamin C! Their conical shape and miniature size have great eye appeal, and the small, snackable size makes these an easy and yummy replacement for unhealthy snacks. Eat them on their own when you need a little something in your tummy, include the peppers fresh in salads, or add sautéed to any dish for that deliciously sweet crunch. These snack-size peppers are perfect in a mixed basket or as individual colors.
Honeyboat Delicata Squash (Cucurbita pepo)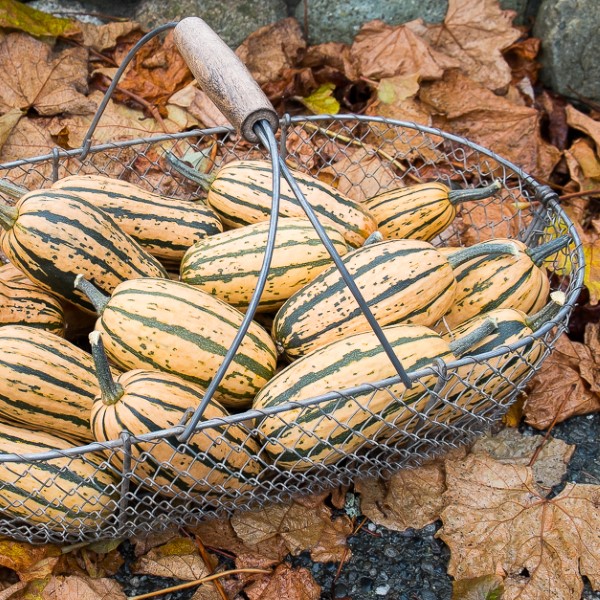 These coppery tan fruits with green stripes are very sweet and just the right size for roasting and eating as single servings. They are reliable winter squash that store better than the standard Delicata, and the high vitamin and mineral content brings some much-needed nutrients to your diet at a time of year when it can be hard to get much fresh garden produce. The flesh of this unusually colored Delicata is high in calcium, potassium, folate, and vitamins A and C. The fruits average about 1lb. each and are sweet straight from the field.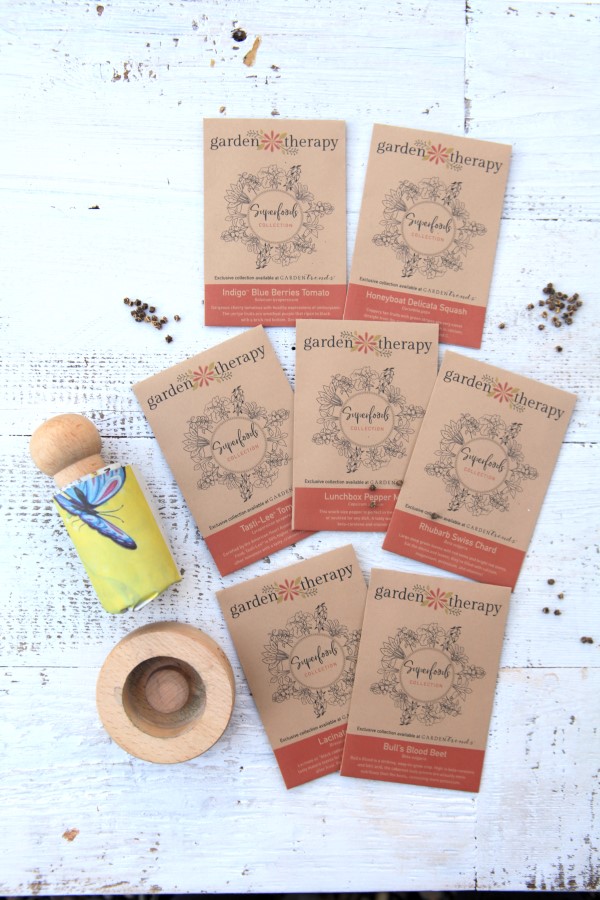 For even more details on the Garden Therapy Seed Collection Superfoods Kit, see the full instructions: