Gluten-Free Almond Flour Waffles
Please welcome guest blogger and author, Erica Kerwien, to share with us a recipe from her book, Cooking for the Specific Carbohydrate Diet: Over 100 Easy, Healthy, and Delicious Recipes that are Sugar-Free, Gluten-Free, and Grain-Free. Her book is said to be the most comprehensive and delicious cookbook on the topic. This full-color book has over 100 recipes that will satisfy an entire family–not just those members who follow the Specific Carbohydrate Diet. 
Several years ago my oldest son was diagnosed with Crohn's, which is an auto-immune disease that affects all or part of the digestive system. At times it can be very challenging to eat and maintain proper nutrition. In my search to help my son, I heard about a special diet (called the Specific Carbohydrate Diet, or SCD) used by people who have Celiac disease, Crohn's and other digestive issues. I started a food blog, Comfy Belly, to share recipes so that others could benefit from my ideas and I would now have a reserve of recipes to use.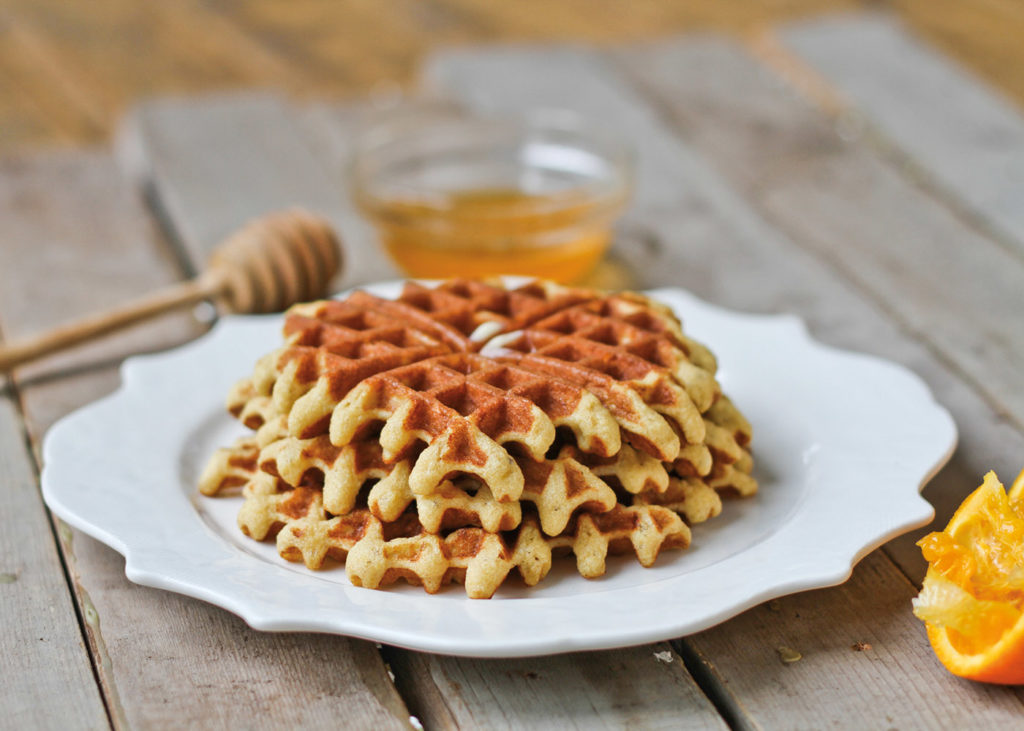 style="display:inline-block;width:300px;height:250px"
data-ad-client="ca-pub-2008610541549994″
data-ad-slot="2861689544″>


I have fond memories of meeting my grandmother on Manhattan's Upper East Side for the best Belgian waffles in town. The narrow, hole-in-the-wall diner had the most enormous waffle makers I had ever seen.
The size of your waffles will depend on your waffle iron, too, and there are many to choose from. My latest model has a nonstick surface, but if you're not into that, there are waffle makers that have cast-iron surfaces. While I don't need to grease mine, I usually give it a quick rub of butter or oil before I begin. It's also a good idea to fully warm up the iron to ensure that the first waffle is just as good as the next. To crisp your cooked waffles, place them in a dehydrator or oven at 150°F/65°C for up to 30 minutes.
Makes 6 to 8 waffles, depending on your waffle maker
1 cup blanched almond flour (or other nut flour)
¼ teaspoon salt
¼ teaspoon baking soda
¼ teaspoon ground cinnamon (optional)
4 eggs
1 teaspoon vanilla extract
2 tablespoons honey
1. Preheat your waffle iron on a medium setting. Grease as needed, or according to the manufacturer's directions.
2. Place the almond flour, salt, baking soda, and cinnamon (if using) in a mixing bowl. Blend together using a whisk.
3. Add the eggs, vanilla, and honey and whisk until well blended.
4. Pour about ¼ cup batter into the heated waffle maker (more or less, depending on your waffle iron) and close the lid.
5. When the waffle is ready, transfer it to a plate and add your favorite topping like seasonal fresh fruit and honey. Seal and store any extra waffles in the refrigerator for a few days, or freeze them for up to a month or so.
Please take a moment to check out all the other great recipes from Cooking for the Specific Carbohydrate Diet: Over 100 Easy, Healthy, and Delicious Recipes that are Sugar-Free, Gluten-Free, and Grain-Free.