This hearty mason jar lunch is packed full of nutrition recipe comes to us from the author of Mason Jar Salads and More: 50 Layered Lunches to Grab and Go, Julia Mirabella. You may remember that Julia has dropped by before to share her recipe for a Caprese Salad in a Mason jar and a Spinach, Blueberry, and Blue Cheese Salad in a Mason Jar! Check out this post for instructions on layering a mason jar salad.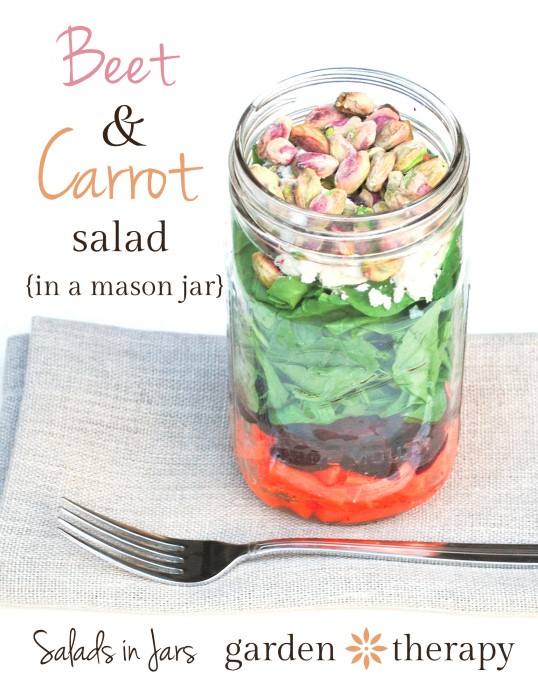 Beet and Carrot Salad
Earthy beets, crunchy carrots, salty pistachios, and soft goat cheese? Bring it on! As summer gives way to fall, it's good to know there are still Mason jar salads to be made and tasty ingredients to go into them (even if they are mostly root vegetables). Yes, when you buy beets they're covered in dirt and have to be cooked, but it doesn't take much to get them ready — and the payoff is well worth the work. If you don't have time to cook the beets yourself, keep an eye out for precooked ones at your local grocery store.
Makes 1 serving
Ingredients
1⁄2 cup julienne-cut carrots, about 1 medium carrot (directions below)
3 tablespoons Red Wine Vinaigrette
1⁄2 to 3⁄4 cup cubed or quartered cooked beets
2 cups spinach leaves
2 ounces crumbled goat cheese
1⁄4 cup shelled pistachios
1 pint-size Mason jar
To roast beets, start by preheating your oven to 425°F. While the oven is heating, trim the tops off the beets, leaving about half an inch of stems at the top. Scrub the beets under cold water to remove any dirt. Place in a baking dish, add about half an inch of water, and put in the oven. Roast 30 to 40 minutes for small beets, 40 to 45 minutes for medium beets, or 50 to 60 minutes for large beets.
The beets are done when you can easily pierce them with a knife. Remove the cooked beets from the oven and let cool. Then — wearing rubber gloves to keep your hands from being dyed beet red — cut off the tops and bottoms and slip off the beet skins.
To cut matchstick-size carrot pieces, cut a carrot in half crosswise and then cut each piece in half lengthwise. Place each section cut-side down on your cutting surface and slice lengthwise into about 4 pieces. Repeat as needed until the pieces are the right size.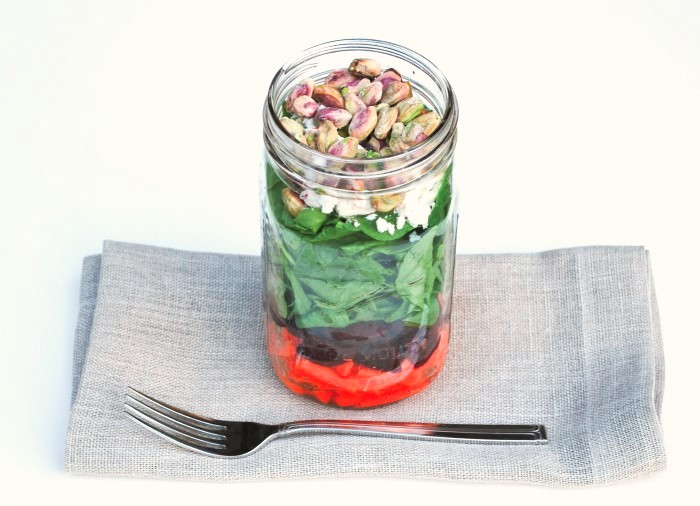 Pour the vinaigrette dressing into the bottom of the Mason jar. Add the carrots and then layer on the beets, spinach, and goat cheese. Top with 1⁄4 cup pistachios. Seal the jar and refrigerate until ready to eat.
Red Wine Vinaigrette
Ingredients:
 2 tablespoons red wine vinegar
1⁄2 tablespoon minced shallot
Pinch of salt
Freshly ground black pepper, to taste
3 tablespoons olive oil
Whisk together the vinegar, shallot, salt, and pepper. Slowly add the olive oil, whisking, until the dressing thickens.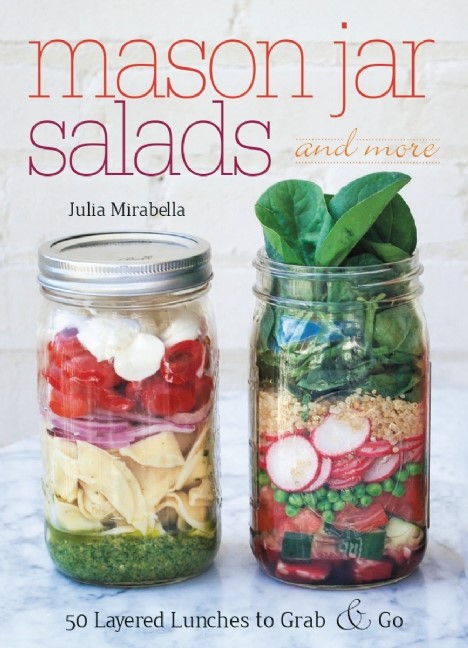 If you love the recipes you've seen here from Salads in Jars, then what are you waiting for? Go grab a copy here!
Reprinted with permission from Mason Jar Salads and More: 50 Layered Lunches to Grab and Go by Julia Mirabella © 2014. Published by Ulysses Press. Photography courtesy of Ulysses Press.