Take some inspiration from the outdoors by making a leather and birch bark picture frame that can be used in so many different ways around the house. Using a die cutting machine is a quick and fast way to cut a variety of materials. The die cutter brings a professional look to this project with the unique organic shades of leaves and flowers cut out of birch and faux leather. Of course you could just use one of the materials to decorate this project if you prefer. I originally started with just birch bark but felt that the layers of bark stood out more with a bit of chocolate brown faux leather in the background.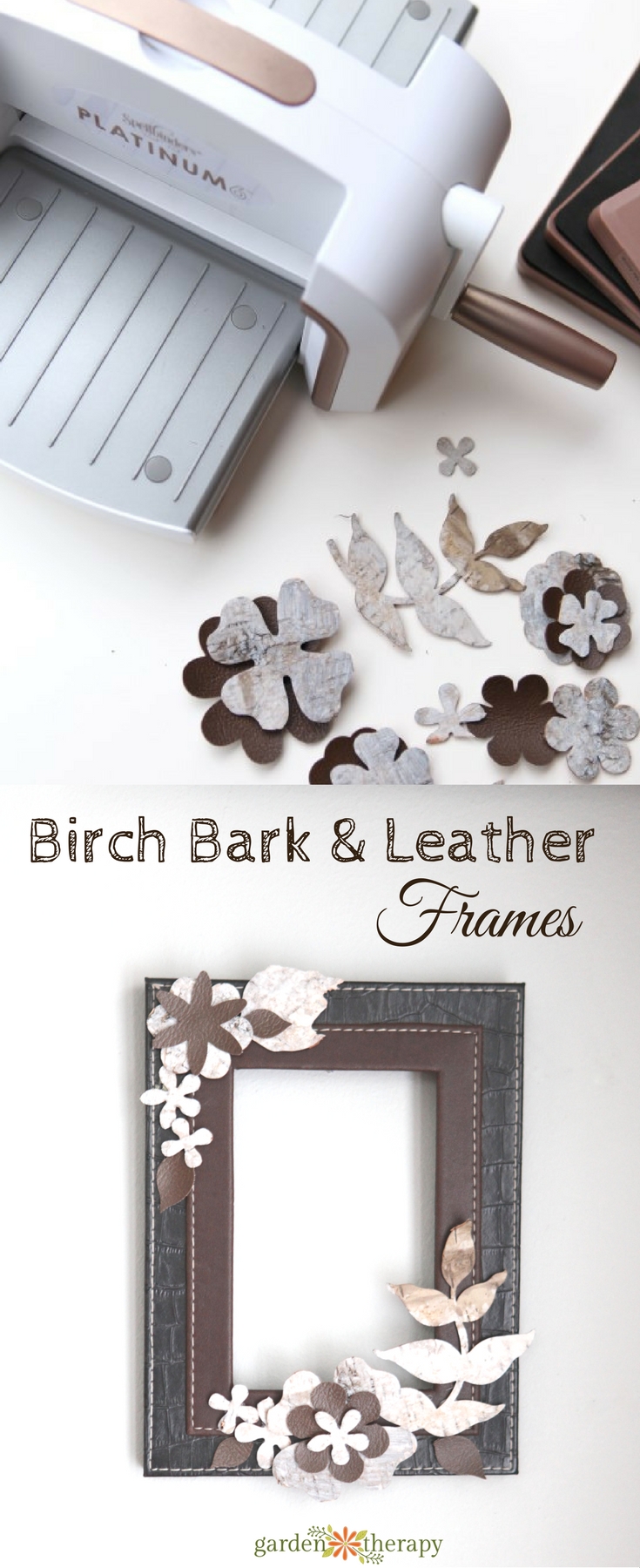 Disclosure: this project is sponsored by Spellbinders, who also provided me with a Platinum 6 and die cutting plates to play with. The design of the project and opinions are mine.
I have been playing with the Platinum 6 now for a few months and I've come up with some creative and interesting projects. I've tested just about any material that I can feed through it with some successes and some failures. You can see my favorite projects so far in these posts:
DIY Leather and Birch Bark Picture Frame
This project will take you through how to create a birch bark picture frame and once it is completed you can decide whether you want to use it to display photos, hang it on wall as a wreath, or use it as a dry erase board.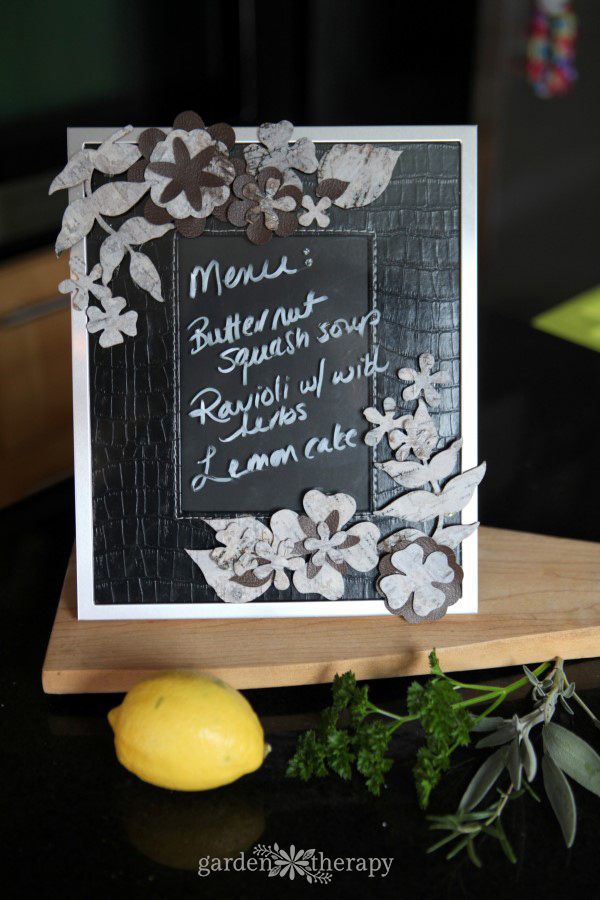 Materials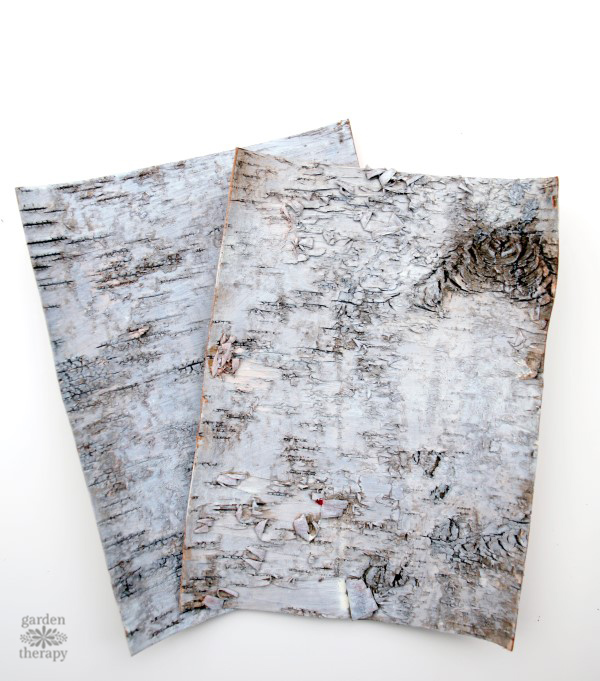 Make it!
Cutting birch bark into clean-edged shapes is not an easy thing to do with a pair of scissors. Using the Platinum 6's very powerful die cutting mechanism I was able to get through fairly thick pieces of bark. That being said, not all pieces went through the machine well and I definitely had to work at it a bit.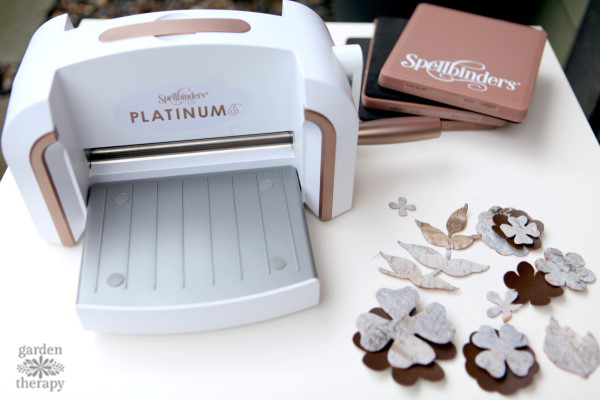 Here are my tips for cutting birch bark in the Platinum 6:
First, cut any large knots or thicker parts of the bark away. You'll just be using the thinner parts of the park for this project.
Now, cut the bark so that it fits onto the die cutting plate.
Create a die cut sandwich (as described with the machine instructions) and try to set the bark as far back on the die as possible. It can be hard to get the machine to catch the die when you're using a thicker material so I found that if you set the bark back a bit on the die, the machine would catch the die before the thicker material. Then you could use the handle (and a bit of elbow grease) to roll it through.
With thicker materials, the cut pieces might get stuck inside the die. I used a thin picking tool to help pop the shapes out of the die.
I found these great frames with leather details on sale at a craft store. You can use frames that you have around the house, ones that you find in a second hand store, or new ones. This design project will give them a new-look that you'll be proud to show off anywhere in your home.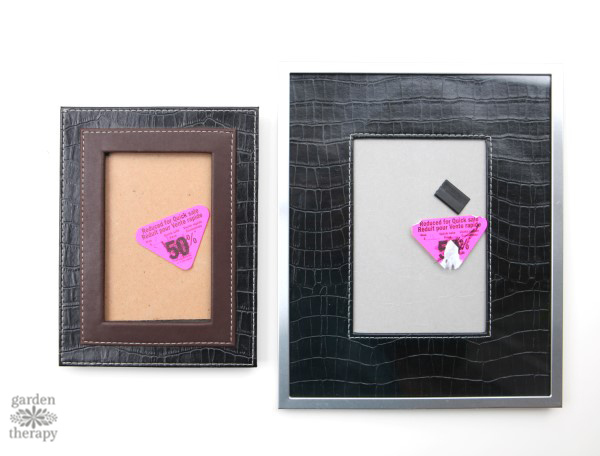 Once you have your shapes cut out, lay them on the frames in a pattern that you like.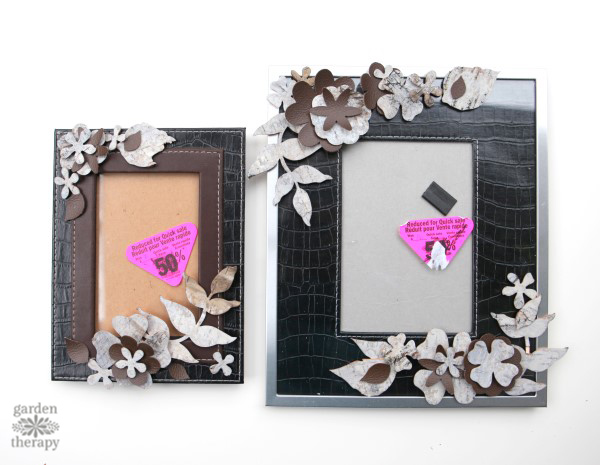 Next, warm up the hot glue and glue down each of the pieces. I've learned that a good glue gun and the proper glue sticks go a long way. A simple discount store glue gun and glue sticks may not be the right material to stick wood and leather to glass. If you find that your hot glue isn't sticking then maybe it's time to upgrade to a new glue gun or a different kind of glue.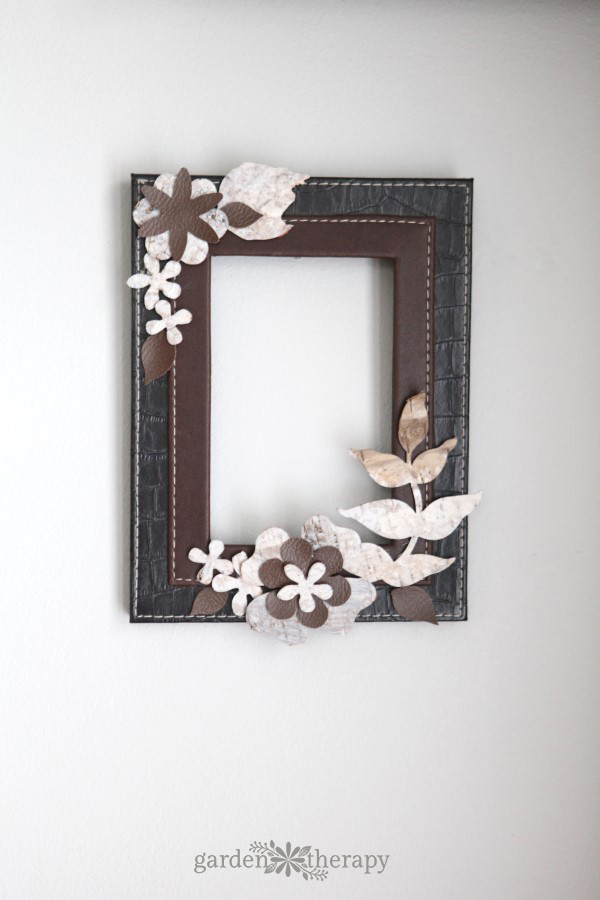 Once your materials are all glued on, your frame is ready to use. To use it as a picture frame, add a picture and hang it on your wall or desk. To use it as wall art, remove the glass and the backing and hang it on the wall like a wreath. To use it as a dry erase board, put black or white paper where the picture would go and use a dry erase marker or chalk writer to write on the glass.