Some of us can garden all year outdoors, yet others who have cold winter weather may want to look for ways to bring the garden inside. While there are plenty of creative ideas for indoor edible gardening, I love the idea of creating a garden plot inside such as an indoor garden shelf filled with a variety of edible sprouts, microgreens, and salad greens right inside your home.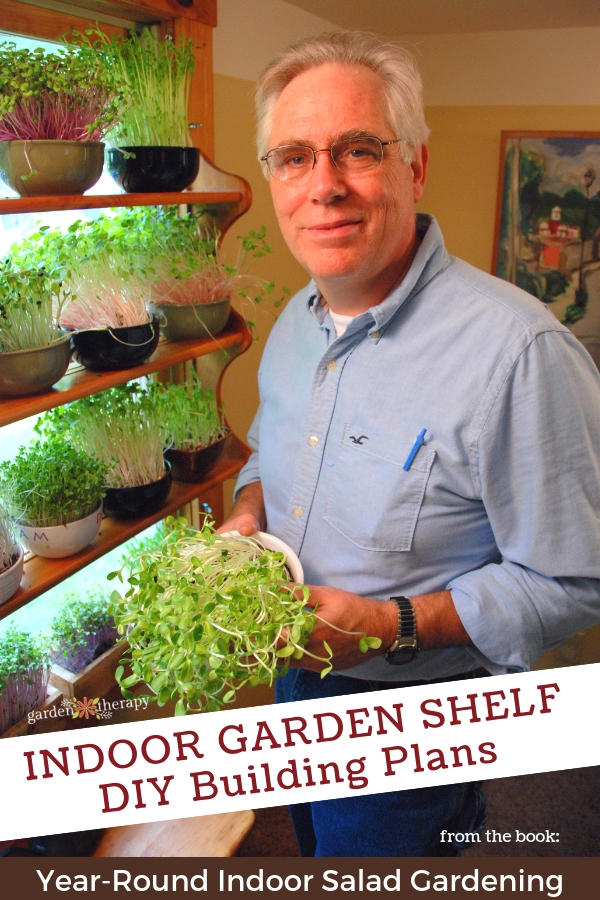 Today, we will show you how to build an indoor garden shelf as created by Peter Burke, author of the book, Year-Round Indoor Salad Gardening (Chelsea Green, August 2015).
How to Build an Indoor Garden Shelf
Around this time of year, when the outside garden is put to bed, it's time to start my indoor salad garden. You can read all about my simple method for growing healthy greens indoors in my book, but the basic routine is: plant the seeds, leave the trays in a dark cupboard for 4 days, then put the trays on a windowsill to grow until harvest. From start to finish you'll be able to produce a significant amount of delicious salad greens in less than 10 days at a fraction of the cost of buying them at market.
Related: Grow Sunflower Sprouts Indoors
A few years ago, I designed a cabinet and shelf combination to use as an all-in-one unit for my indoor salad garden. The unit provides room for fifty 3" x 6" trays (the size of a half-loaf bread pan)—25 trays in the cabinet and 25 trays on the shelf above. I like variety in my salads, so I tend to plant five trays of five different seeds: sunflower, radish, peas, buckwheat and broccoli. The combination makes a great tossed salad.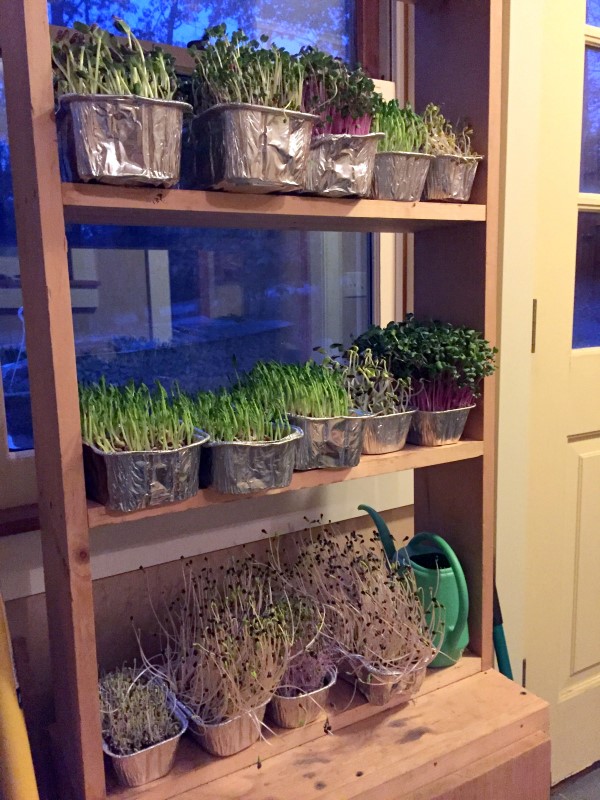 Building your own indoor garden shelf is a perfect project for a weekend. With this one cabinet and shelf combination, you can produce enough greens to make a salad every day for your family throughout the winter. It is a 'small is beautiful' kind of garden: the idea is to plant just enough to harvest what you need for a day so the greens are as fresh and as nutritious as possible.
Here is what you will need to build your own shelf.
Materials List:
1 box of 1.5" sheetrock screws
4 kitchen cupboard-type hinges
2 ¼" x 2 ½" carriage bolts with wing nuts (to bolt the shelf to the base cabinet)
(3) 1" x 6" pine boards, 8' long
(2) 1" x 12" pine boards, 8' long
One 20" x 24" piece Luan plywood, for the back of the cabinet to enclose it
These materials are for a 20-inch-wide by 6-foot-high (50.8 × 182.9 cm) shelf. The cabinet at the bottom has three shelves about 6 inches (15.2 cm) apart, plenty of room for the first 4 days. There are four shelves for greening; I made them 6 inches (15.2 cm) wide to hold the large trays. This piece will hold about forty small trays at one time. There is space to plant five trays a day and extra space to leave five trays for an extra day if you don't harvest one day.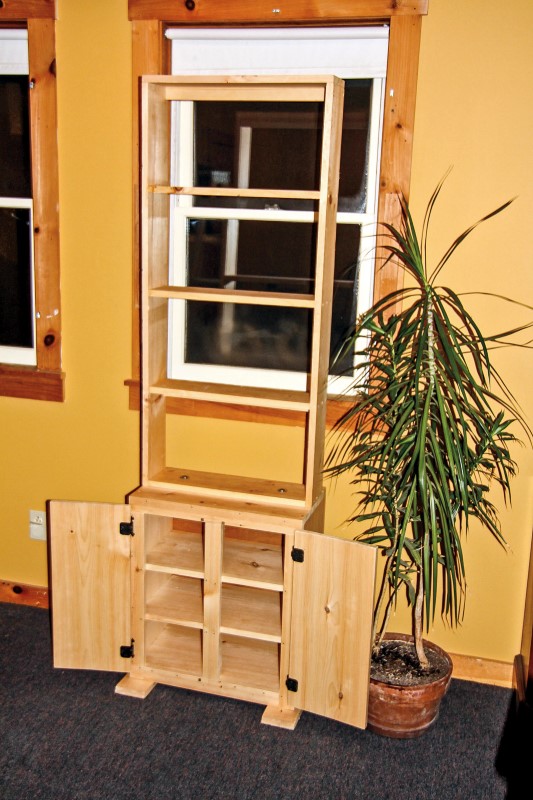 The building plans as shown in the line drawing below are a starting place and should be adjusted to fit your needs. For instance, measure the window you plan to use and make the shelves the same width. Then measure the distance from the floor to the windowsill and make the base cabinet that height. Custom fit for your indoor garden.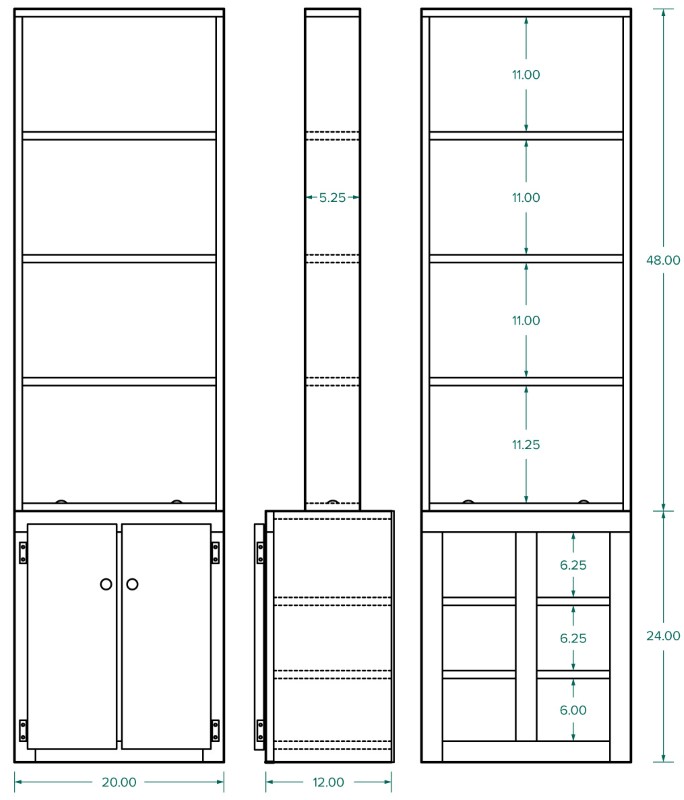 See the photograph and the line drawing above to create a cut list of the wood pieces, then cut and assemble.
For more information on planting, harvesting, and sprout recipes check out Year-Round Indoor Salad Gardening. Happy indoor gardening!