If you aren't one of the lucky few that can garden outdoors all year long, today's project will help you expand your growing season into the cold winter months. I'm going to show you how to bring your garden inside and build your very own indoor plant shelf for year-round gardening.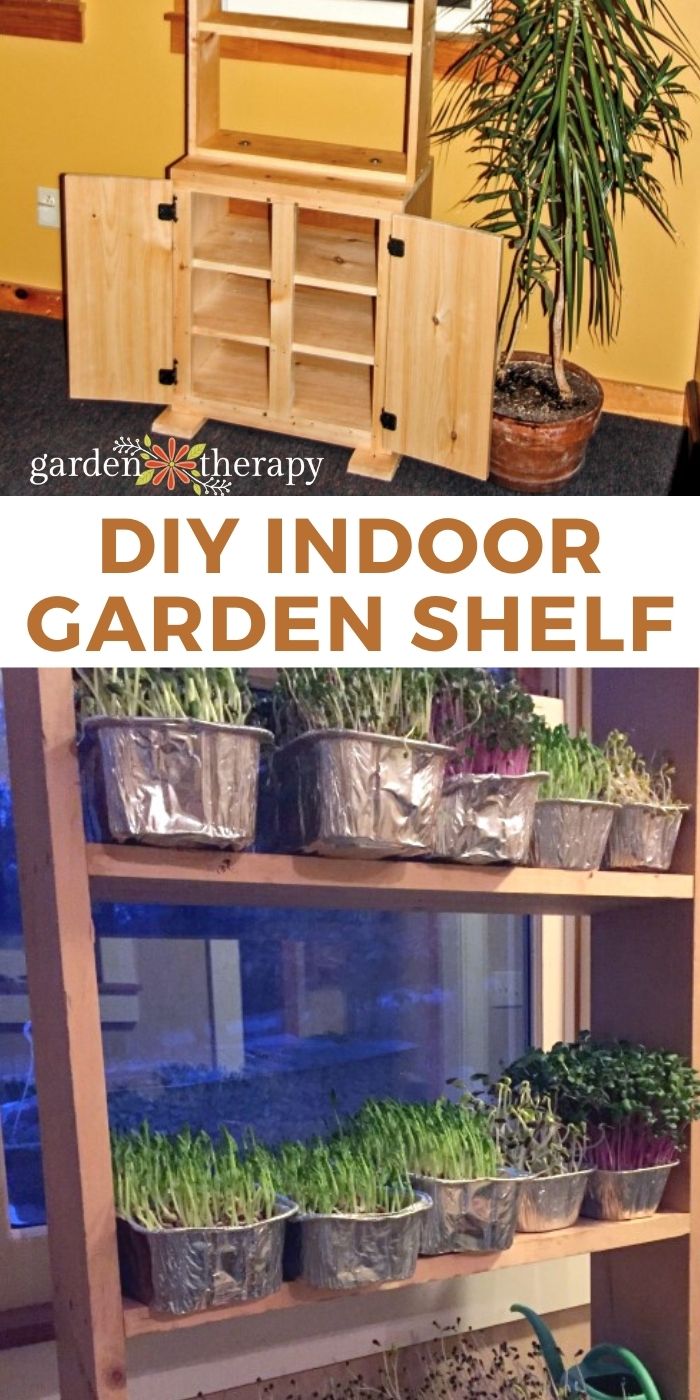 At some point in every indoor gardener's life, you will need a shelf dedicated entirely to your plant babies. After all, there is never enough room on bookshelves, windowsills, or credenzas to fit all your indoor plants!
This shelf is a lifesaver to help make your dream, DIY indoor garden. It is designed to be placed in front of a lonely window so your plants can have optimal lighting.
Plus, the design is brilliant – it is built with a cupboard at the bottom to use for storage or to house trays for seed starting. On top, are four shelves to give you plenty of room to grow plants indoors.
While there are many creative ideas for indoor edible gardening, I love the idea of creating a garden plot inside such as an indoor garden shelf filled with a variety of edible sprouts, microgreens, and salad greens right inside your home.
Today's Read: Year-Round Indoor Salad Gardening
This post was originally written a few years ago, but I wanted to go ahead and give it a little bit of refresh and be sure to include a wonderful resource for indoor edible gardening, Year-Round Indoor Salad Gardening (Chelsea Green, August 2015). Written by indoor gardening pro, Peter Burke, he explores how to grow greens throughout the winter using nothing but a windowsill and the occasional cupboard.
If you can't imagine a world without fresh green leaves at the ready, then you'll love this book. Grab a copy of Year-Round Indoor Salad Gardening to dive deep into the topic. I'll be quoting Peter and using his construction plans in this post on how to build an indoor plant shelf.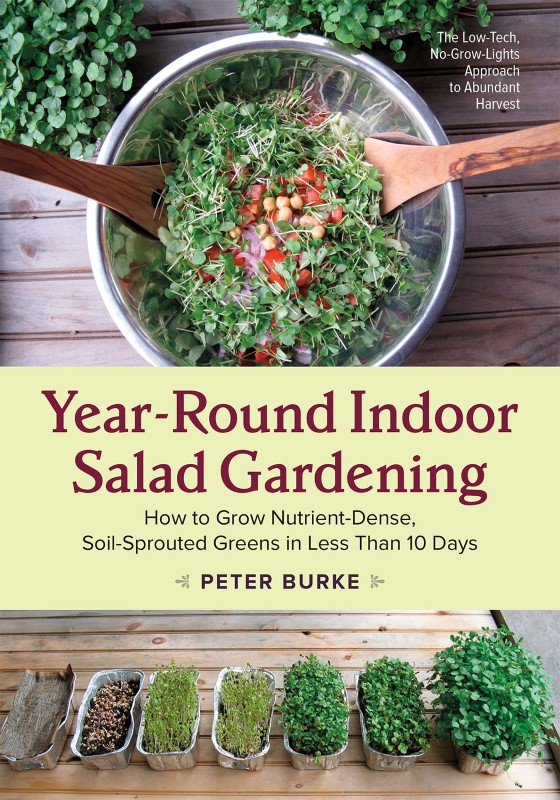 What Greens Should I Grow?
While you can use this shelf to house any type of plant your heart desires, Peter designed it with indoor salad gardening in mind. Having fresh greens on hand is a nutritious way to enhance meals year-round. After all, who said salad greens were only possible during the summer?
However, having a complete salad garden does require a fair amount of space. This is where the indoor plant shelf comes in handy. Peter has a routine down pat to ensure an endless cycle of salad greens:
"Plant the seeds, leave the trays in a dark cupboard for 4 days, then put the trays on a windowsill to grow until harvest. From start to finish you'll be able to produce a significant amount of delicious salad greens in less than 10 days at a fraction of the cost of buying them at market. I like variety in my salads, so I tend to plant five trays of five different seeds: sunflower, radish, peas, buckwheat and broccoli. The combination makes a great tossed salad."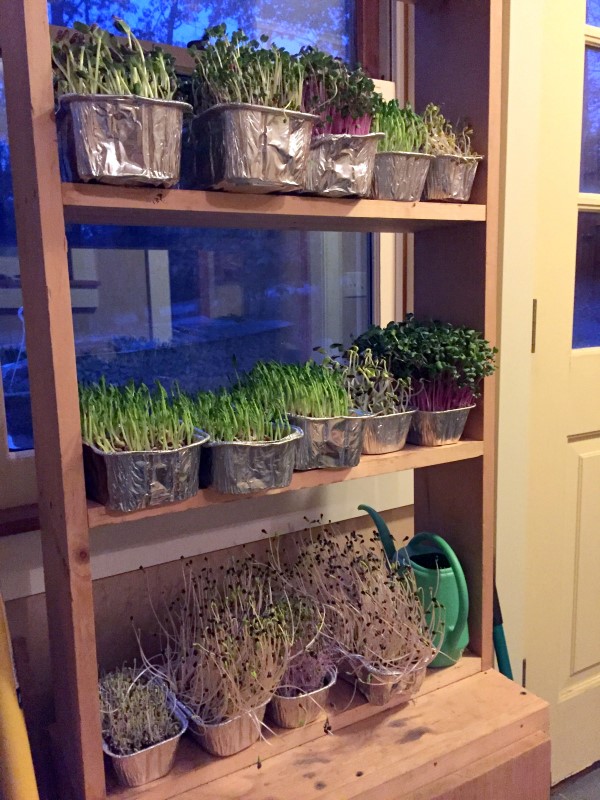 How to Build an Indoor Garden Shelf
This indoor garden shelf is a perfect weekend project, giving you plenty of time to design and measure, shop for materials, and of course, build the shelf. With careful planning, this shelf is the ideal size for an indoor salad garden. It's small enough to fit indoors comfortably but gives you enough space to harvest salad greens every day throughout the winter.
The following material list is for a 20-inch-wide by 6-foot-high (50.8 × 182.9 cm) shelf with four shelves. The base cabinet holds three shelves, each 6 inches (15.2 cm) apart.
Materials List:
1 box of 5" sheetrock screws
4 kitchen cupboard-type hinges
2 ¼" x 2 ½" carriage bolts with wing nuts (to bolt the shelf to the base cabinet)
(3) 1" x 6" pine boards, 8' long
(2) 1" x 12" pine boards, 8' long
One 20" x 24" piece Luan plywood, for the back of the cabinet to enclose it
Plan the Design
What do you intend to use your indoor plant shelf for? This is an important question as the answer will be different for each user. You may want it as a place to show off your indoor houseplants or as your very own DIY indoor garden.
As the expert salad gardener, Peter uses his as an indoor edible garden shelf. The top part of the shelf would be for growing greens while the cupboard would be used to sprout seeds. His plan was as follows:
"The unit provides room for fifty 3" x 6" trays (the size of a half-loaf bread pan)—25 trays in the cabinet and 25 trays on the shelf above. There are four shelves for greening; I made them 6 inches (15.2 cm) wide to hold the large trays. This piece will hold about forty small trays at one time. There is space to plant five trays a day and extra space to leave five trays for an extra day if you don't harvest one day."
What you intend to put on the shelf and in the cupboards may affect how big you decide to make them.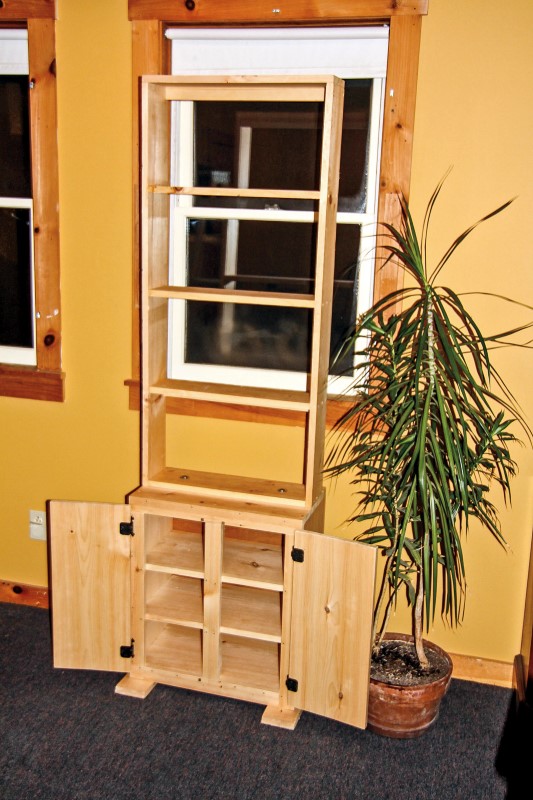 Measure
First things first, take a look at where you intend to put your indoor plant shelf. For example, if you are putting it in front of your window, consider making your shelf the same width to match the space. Then, measure the distance of the floor to the bottom of the window to determine the size of the base cabinet.
Peter's design is illustrated down below, but be sure to customize the size of your shelf to match your space. After all, the point of making things yourself is to personalize it to meet your needs!
Remember to always measure twice. Measure your space twice so you have the exact measurements. This will help you to create a cut list for all the wood pieces you will need. Then, measure your wood twice so everything goes smoothly the first time around.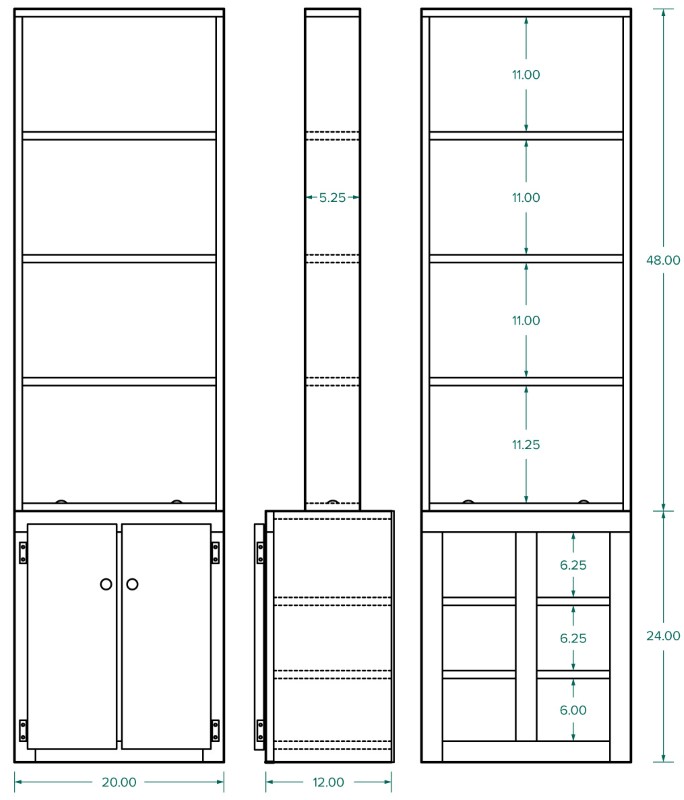 Build
Once you have everything measured, cut, and ready to go, it's time to build! Feel free to reference the pictures and materials list in this article to replicate Peter's design or customize it to your needs.
After you have finished your build, you can leave it as is or paint or stain the indoor plant shelf to match your space. Personal touches will really make this design standout!
For more information on planting, harvesting, and sprout recipes check out Year-Round Indoor Salad Gardening. Happy indoor gardening!
More Posts About Indoor Gardening
If the idea of growing your own food indoors intrigues you, here are some articles to help get you started:
How to Build an Indoor Plant Shelf
Extend your growing season into the cold winter months with this DIY indoor plant shelf.
Equipment
A cordless circular saw

A drill

Measuring tape

A square
Supplies
1

box

5" sheetrock screws

2

doorknobs

or cabinet pulls, any style

2 ¼" x 2 ½" carriage bolts with wing nuts

to bolt the shelf to the base cabinet

3

1" x 6" pine boards, 8' long

2

1" x 12" pine boards, 8' long

1

20" x 24" piece Luan plywood

to enclose the back of the cabinet
Instructions
Measure the space where you would like to keep your cabinet to ensure it will fit. It should be built around a window or have plenty of natural light. Customize the sizing below as needed to fit the space.

Attach the pieces of wood using sheetrock screws. Then use the kitchen hinges to attach the cabinet doors. Add your cabinet pulls.

You can stain your shelf if desired. I suggest adding a coat of poly to protect the wood from any water spills.

Fill your shelves and watch them bloom!