When it's cold outside, it feels wonderful to wrap yourself up in a warm sweater. The wooly hug that protects you from the cold helps you get through the days of limited sunlight and long nights. Shouldn't you give your plants the same care? Cacti are warm-weather plants who do not appreciate cold winter temperatures or the lack of light. While they may not fuss too much, wouldn't they be much happier with a  sweater? This DIY project is a great way to dress up your plants for winter and the cooler months of spring.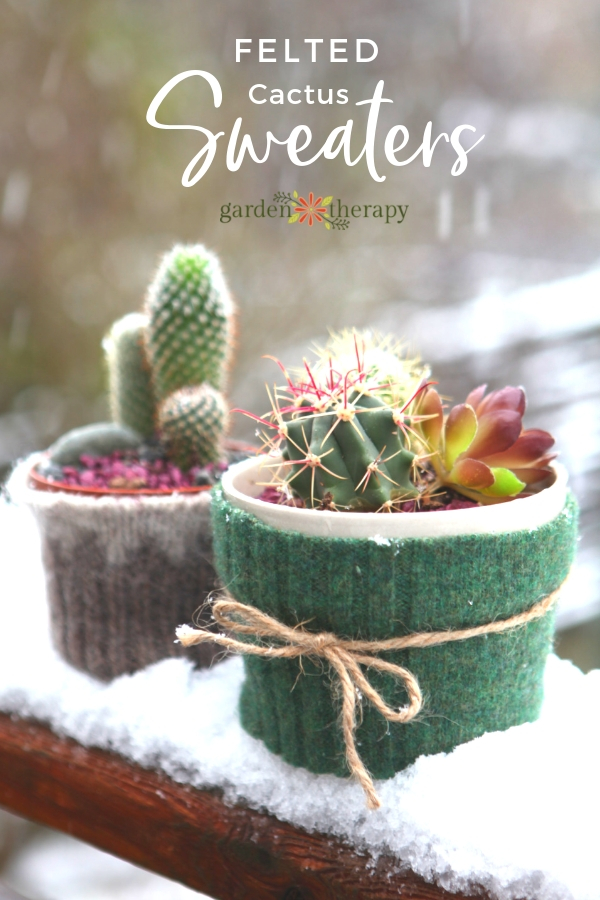 Now, of course, I'm kidding about how the plants will feel in a sweater. It might marginally insulate the soil but the true purpose of this project is style. We don't wear our clothes solely for function, do we? Well, neither should our plants! You can easily make these cactus sweaters for your plants to dress up pots for winter-friendly decor, or to cover up a less-than-attractive plastic pot. Add a few cacti in the same pot, top the soil off with decorative pebbles, and your plants will be ready for the runway in no time!
Materials
Three cacti in 1-2″ pots
Flower pot with maximum diameter of 5″
Felted sweater cozy from this tutorial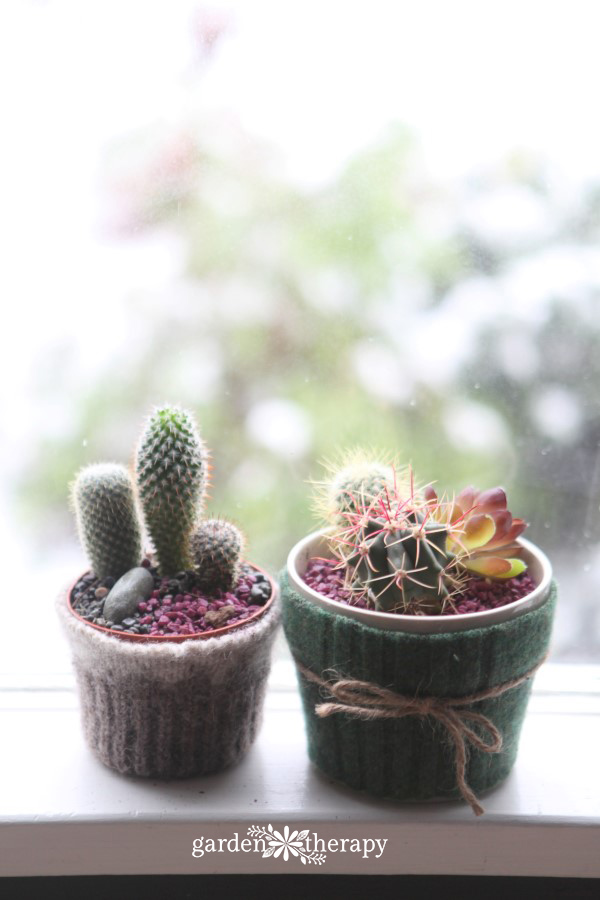 Make it!
Choose a few different cacti in small 1-2″ pots that you think go well together. Look for different heights and shapes, as well as varying texture, color, and even needle size. Then look for a pot to plant them in. You can use a standard plastic nursery pot or any pot that you have lying around as long as it is no wider than 4-5″. You can stretch the felted cozy to fit that diameter without much of an issue.
If the pot has drainage holes, then be sure to set it on a plant saucer. If it does not have drainage holes, then add a few pebbles to the bottom of the planter before adding soil to create a drainage area. Keep in mind that without drainage holes, you can easily overwater the soil and cause root rot. Be sure to let the soil completely dry out between watering. Cacti famously don't need a lot of water, so give them enough water to wet the soil once every one or two weeks.
Fill the plant pot with cactus and succulent soil, leaving about 1″ of headroom. Make some holes in the soil with your fingers for the root balls.
Now comes the fun part: planting a cactus without bleeding profusely. Some people use gloves when planting cacti but I haven't found any that give me the dexterity and protection that I want. Instead, use a pair of tongs to gently remove the cactus from the smaller pot, and add it into the space you created in the larger pot. The tongs will help you add all of the plants and backfill in with soil. Use a paintbrush to remove any flecks of soil from the cacti.
Top the soil with decorative pebbles to finish the design. I like the purple-ish tone of the rocks I chose because it coordinates with the purple in the spikes of the cacti. You could also add some larger stones or other decorative elements (like a faux succulent).
Now, head over to the tutorial on how to make a felted sweater cozy (for mugs and mason jars) and use those to keep the cacti toasty. Feel free to accessorize them with garden twine or ribbon if you think there needs to be some more pizzazz.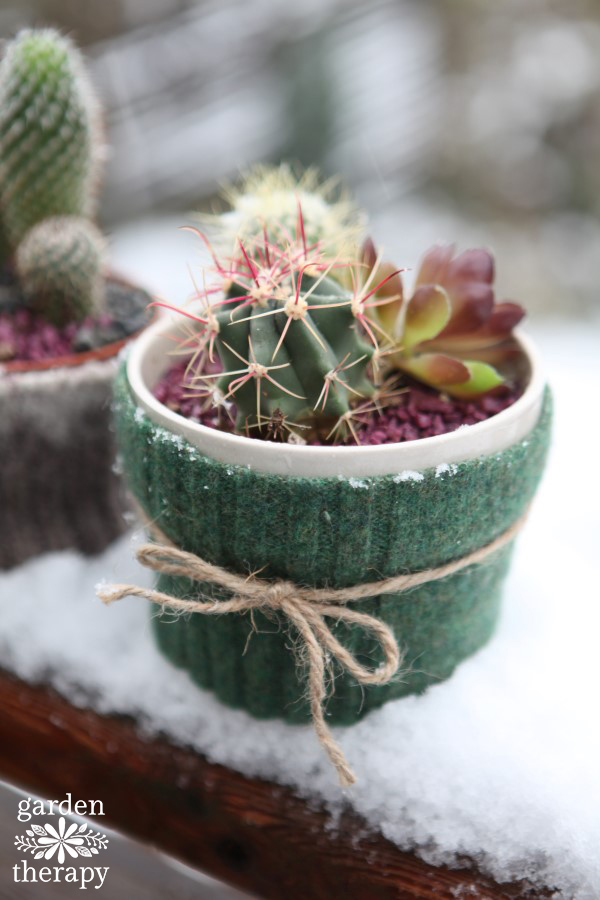 Plants are fun to decorate with! See:
These Aren't Your Grandma's Houseplants! Indoor Plant Projects for Modern Day Decor