I like to include a small handmade ornament as embellishment to holiday gifts. I believe that packaging is important to the overall gift-giving experience. Wrapping is where the magic begins. The anticipation of what lies beneath sparkly wrap and ribbon adds to the overall joy of receiving the gift. It increases the fun in giving the gift too, for those of us who love to decorate.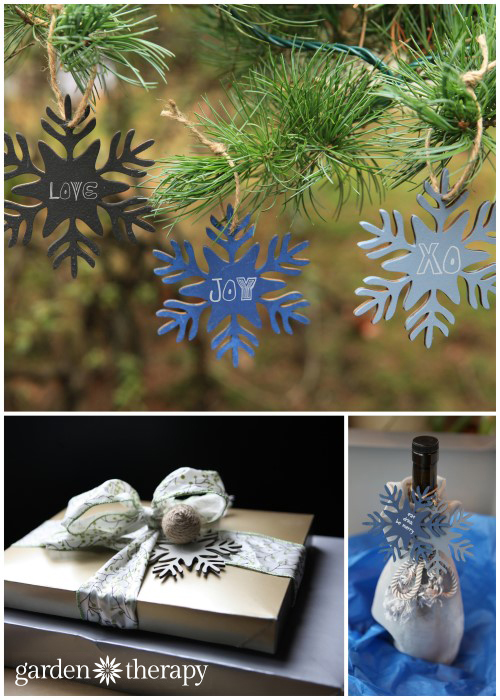 A tree filled up with pretty presents with stamped paper, handmade ribbons, and the little je ne sais quoi of a kitschy ornament blows away dollar-store gift bags. Plus, when the gift is unpacked, the wrap can be recycled, the ribbons added to your crafting collecting and the ornaments will be hung on the tree for years to come.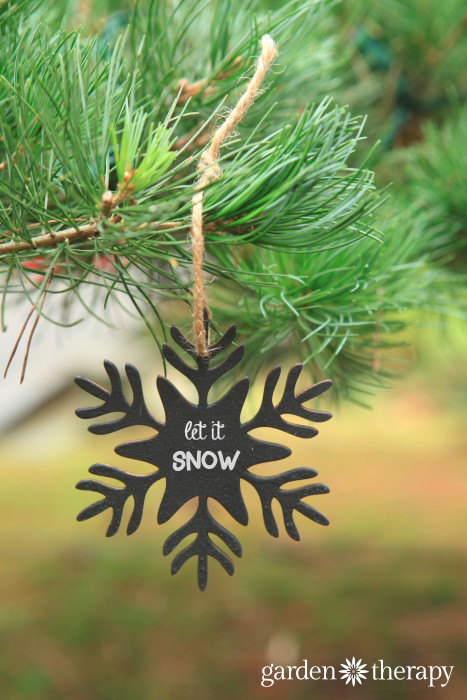 It almost seems there is no need for a gift inside! No wait, I see I have gone too far! Let's just say that the packaging becomes part of the gift and adds to the experience.
For this year's gift tags I painted wood snowflake ornaments with chalkboard paint. Here is how to make your own.
Materials
Plastic lid
Small roller brush
Small foam paint brush
Make it!
Lay the ornaments out on a protected surface such as a flattened cardboard box. I prefer cardboard over a drop cloth because if the light, little ornaments stick to the drop cloth, they will pull it up when you try to lift them, and this will shuffle around the other ornaments.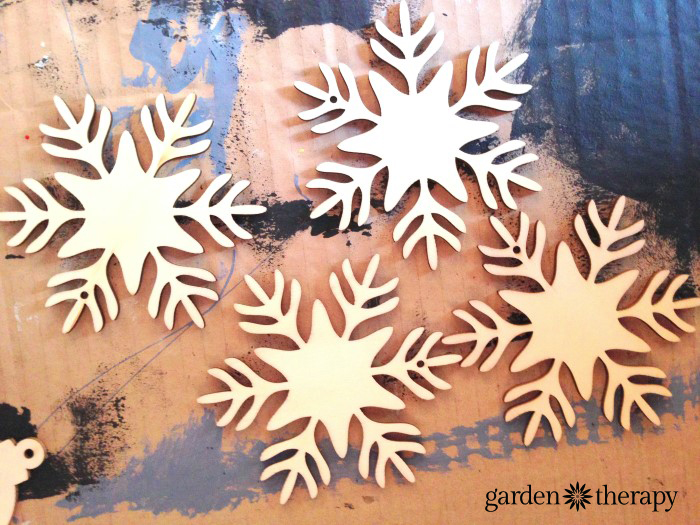 Stir/mix chalkboard paint according to directions and pour some onto a plastic lid. Roll the roller brush through to apply it and roll paint onto one side of the ornament. Use the small foam brush to smooth out the surface and set to dry.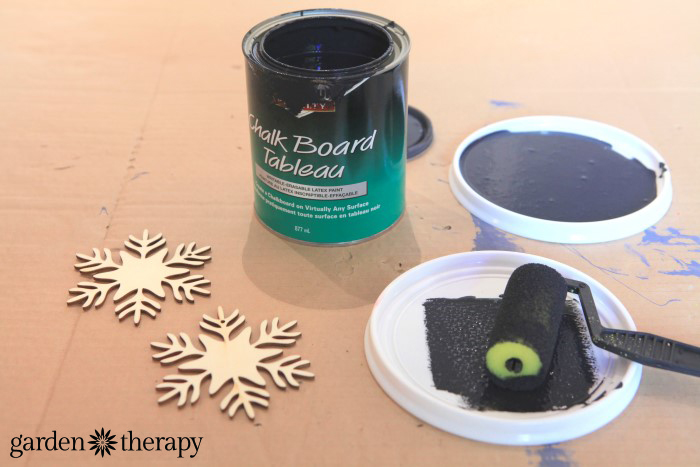 Paint two-three coats on each side of the ornament, allowing it to completely dry between coats.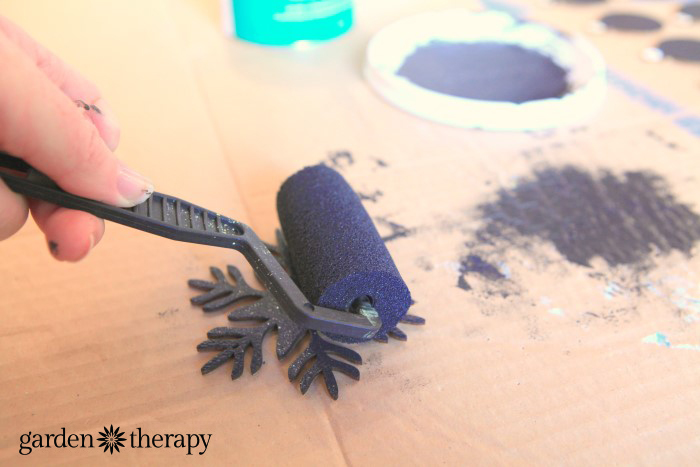 I used regular chalkboard paint as well as chalk paint for furniture. For the chalk paint, you will need to give the ornament a quick buff with very fine (0000) steel wool before using.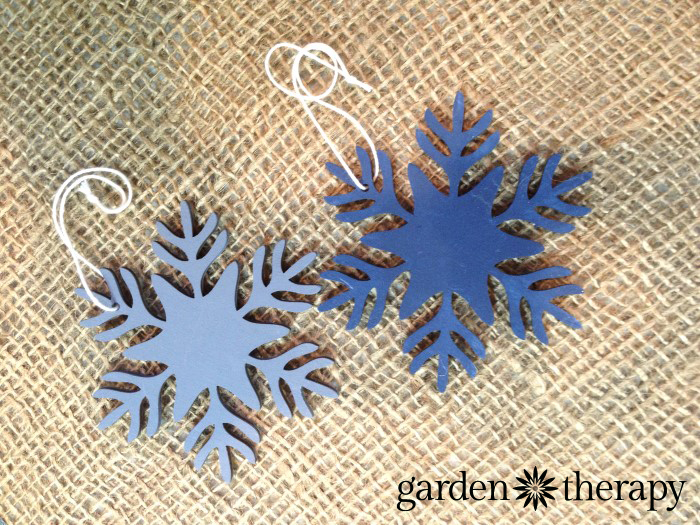 Draw on the ornament with chalk as you would a chalkboard, and erase with a dry cloth. If you prefer no chalk residue on the ornament after erasing, just wipe with a damp cloth and it will be back to the original color.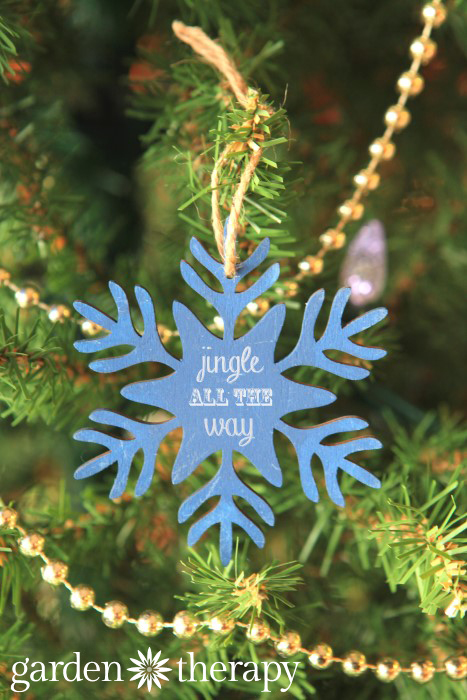 Here are some of the ways I have used the ornaments so far. I'm certain that there will be many more as they are just so versatile!
Wrapping gifts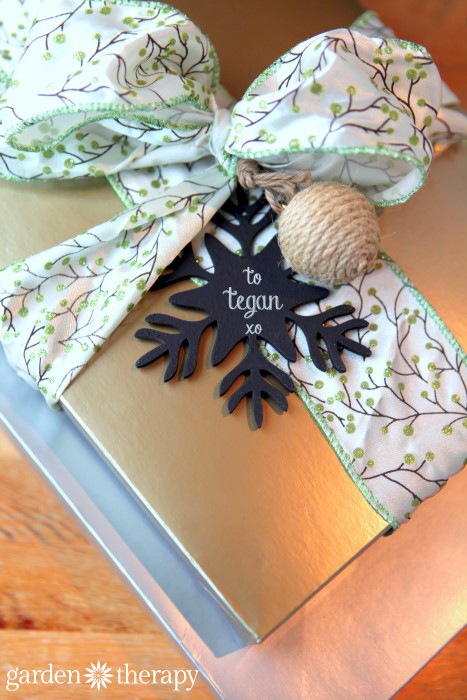 Bringing wine to a party
Hanging on the tree
Let's not forget this other idea for gift tags, made from recycled Christmas cards!