As climate change continues to be a hot topic for discussion, it's more important than ever for us to impress upon our children how to be good stewards of this Earth. What better way to do so than reading a good book (or two!)? These environmental books for kids strike the perfect balance of important truth and kid-friendly stories.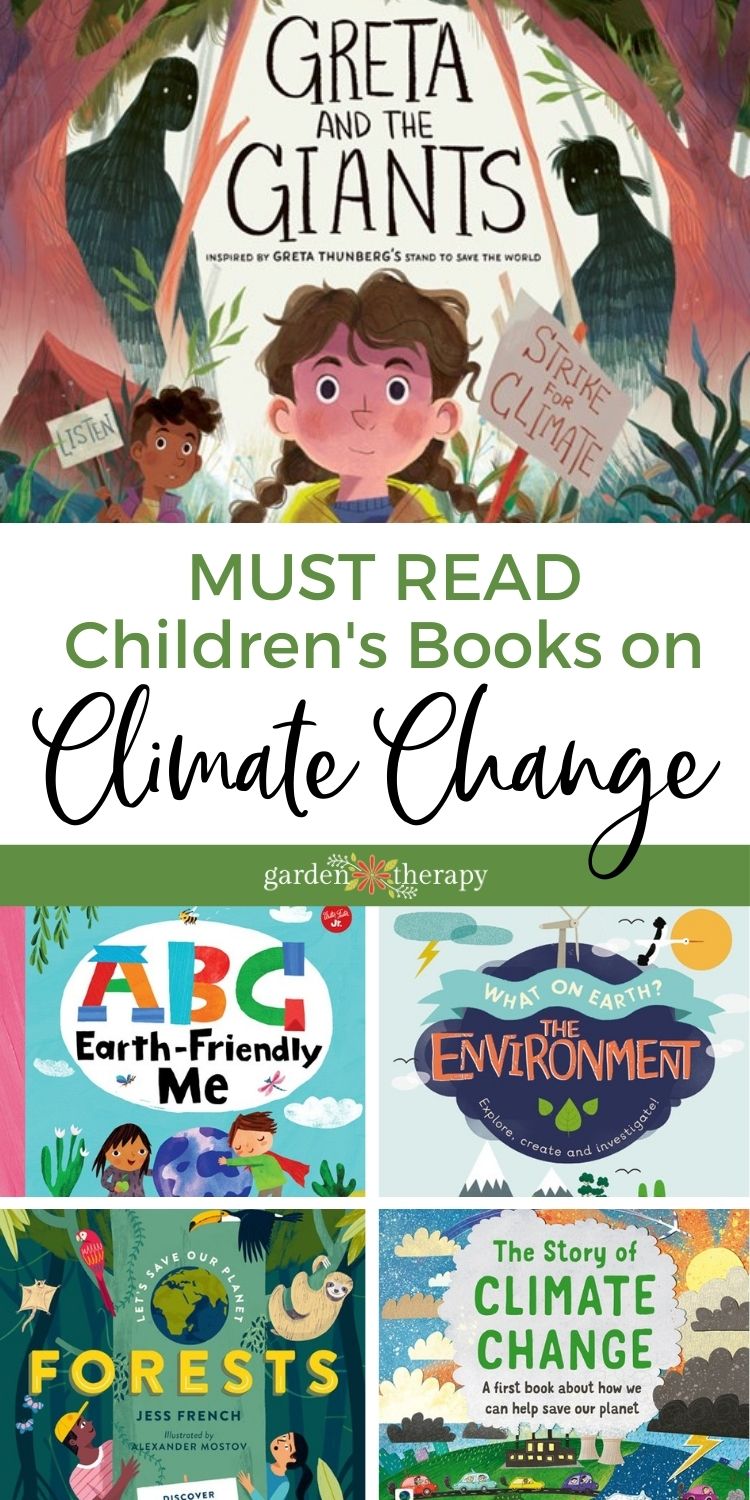 I've been reading to my son since the day he was born. It's always been a really good bonding experience for us, but also a way to start conversations on topics that can seem somewhat overwhelming. Even though he was very young, we read books about feelings, religion, science, politics, culture, and nature. I'm appreciative of the authors who take the time to tackle these big subjects in ways that are engaging and interesting for young minds.
Now that he's learning to read, I often have to drag him to school in the morning or pull them away from his books. It's a funny thing to say, "Okay, it's time to stop reading now!"
My kiddo also knows that I'm an author. He's looked through my books and likes the pictures but he doesn't find the content all that interesting. Yet, I know he's interested in the environment because he asked me A LOT of questions and he spends a great deal of time with me out in nature. We garden together, he helps me tend the worms in the vermicompost bin, and we visit with the insects, birds, and wildlife that appear in our garden.
Just a few days ago he came running to me saying, "Mom! Mom! There's a wasp in the bathtub!" I went running into the bathroom to capture and release the wasp, but I saw that it was already dead. Then, I looked at my son's face and saw how sad he was. This awesome kid didn't come running out of fear, he came running to tell me that one of our outdoor friends had passed away. We've kept the wasp with our collection of insects so we can continue to enjoy and learn about them.
A few years ago we attended the climate march here in Vancouver. I tried to explain to him at the time why we were doing it but it was a large concept for his age. Even still, the act of marching with signs made an impact on him. A few years later, we were walking and talking about the plight of bees. He suggested we make signs so the people know to protect the bees and we march with those signs around our neighborhood.
Environmental Books for Kids: 8 Great Reads
I'm going to keep the conversation going with him through colorful books with beautiful artwork and strong messages presented in engaging ways. In honour of Earth Day, I'd like to share some of these amazing environmental books for children with you! Here is a list of 8 great books for young readers about the earth that you can share with your littles.
Oh, and I'll be giving away a set of four books, so head to the end of this post to see how to enter!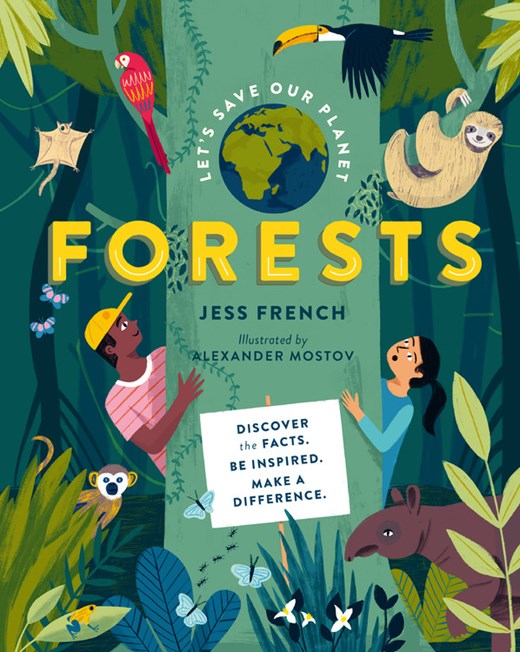 By Jess French and illustrated by Alexander Mostov
Readers can begin by exploring different forest types around the world, discovering what makes each of them precious and unique, before taking a look at the causes, effects, and solutions to deforestation. The final section explores what readers can do to help. Filled with guides, tips, and lessons in how to use your voice and change your habits, this is one f the most inspiring environmental books that help readers learn how they can make a difference.

By Catherine Barr and Steve Williams, illustrated by Amy Husband and Mike Love
Combining history with science, this book charts the changes in our Earth's climate, from the beginnings of the planet and its atmosphere to the Industrial Revolution and the dawn of machinery. You'll learn all about the causes of climate change, such as factory farming and pollution. Plus, the effects climate change has on humans and animals across the world.
As well as discovering the effects of global warming, this is also one of the most practical environmental books. Your child will discover practical ways we can work together to solve it. This ranges from using renewable energy to swapping meat for vegetables in our diet.

By Jonathan Litton, and illustrated by Paulina Morgan
What on Earth? The Environment is a simple first introduction to the environment—the air, soil, water, plants, and animals. How do we as humans slot into the natural world around us and how do our actions affect the environment? What on Earth can we do about it?
The book contains three different types of pages: Explore, Investigate, and Create. This structure provides a child-led and hands-on way for children to learn about the world around them.  These pages consist of fun crafts and activities to give children a chance to play and have fun while learning.

By Zoë Tucker and illustrated by Zoe Persico
This inspiring picture book retells the story of Nobel Peace Prize nominee Greta Thunberg—the Swedish teenager who has led a global movement to raise awareness about the world's climate crisis—using allegory to make this important topic accessible to young children.
Greta is a little girl who lives in a beautiful forest threatened by Giants. When the Giants first came to the forest, they chopped down trees to make houses. Then they chopped down more trees and made even bigger homes. The houses grew into towns and the towns grew into cities, until now there is hardly any forest left. Greta knows she has to help the animals who live in the forest, but how? Luckily, Greta has an idea…

By Maria Isabel Sanchez Vegara and illustrated by Anke Weckmann
When young Greta learned of the climate crisis, she stopped talking. She couldn't understand why people in power were not doing anything to save our Earth. One day she started protesting outside the Swedish Parliament, creating the "School Strike for Climate." Soon, lots more young people joined her in a global movement that shook adults and politicians alike.
She had found her voice and uses it to inspire humans to action with her powerful message: "No one is too small to make a difference."
Little People, BIG DREAMS is a best-selling series of books and educational games that explore the lives of outstanding people, from designers and artists to scientists and activists. All of them achieved incredible things, yet each began life as a child with a dream. Here is another one I love….

By Maria Isabel Sanchez Vegara and illustrated by Beatrice Cerocchi
When Jane was little, her father gave her a toy chimpanzee named Jubilee. This inspired her lifelong love of animals, and she went to study them in the wild as soon as she could. Jane lived with chimpanzees in their natural habitat and became famous for her pioneering approach to research. She now educates the public on animal rights.
This moving book features stylish illustrations and extra facts at the back, including a biographical timeline with historical photos and a detailed profile of the primatologist's life.

By Jennifer Eckford and illustrated by Teresa Bellon
This is an environmental book perfect for even young babies! E is for Elephant, T is for Tree, W is for Warming, and X is for eXtinct in this beautiful ABC book designed to teach very young children about the earth and how it is changing. Baby Loves is a new range of preschool ABC books that taps into the trends that matter. Stunningly illustrated with a cut-to-white aesthetic, each pocket-sized book is a perfect introduction to a key topic for babies

By Christiane Engel
The content empowers young children, showing them that even their small choices make a big difference. The engaging illustrations, fun rhyming text, and simple concepts introduce children to an eco-friendly lifestyle. To help, kids can plant flowers for pollinating bees, eat more fruits and vegetables, share or swap old toys, help their parents air-dry laundry, and learn about animals and their habitats.
Environmental terms throughout, such as "pollination," "biodegradable," "pollution," and "preservation," have easy-to-understand, kid-friendly definitions in the back of the book. A spread elaborating on additional things kids can do, such as riding a bike, creating a new toy from old stuff, and hunting for a unique pre-owned item at the thrift store, shows easy and fun ways to help out!

Earth Day Giveaway – Win a Set of 4 Kids' Environmental Books
To celebrate Earth Day, I will be giving away a set of these 4 books:
Let's Save Our Planet: Forests: Discover the Facts. Be Inspired. Make A Difference.
The Story of Climate Change: A first book about how we can help save our planet
The Environment: Explore, create and investigate!
Greta and the Giants: inspired by Greta Thunberg's stand to save the world
To enter, leave a comment on this post. I will choose a winner using a random number generator on May 1, 2021. To qualify, you must live in Canada (excluding Quebec) or the US where contests are allowed. This contest is now closed. The winner is Erica Van Guilder – congratulations, Erica!
More Book Recommendations: