Do you have a go-to baked treat that you can whip up in a flash for guests or gifts? I'm going to let you in on my little secret weapon for the holidays: palmiers. Palmiers are made from layers of pastry rolled into butterfly or heart shapes. They look elegant and sound fancy, but they couldn't be easier to make.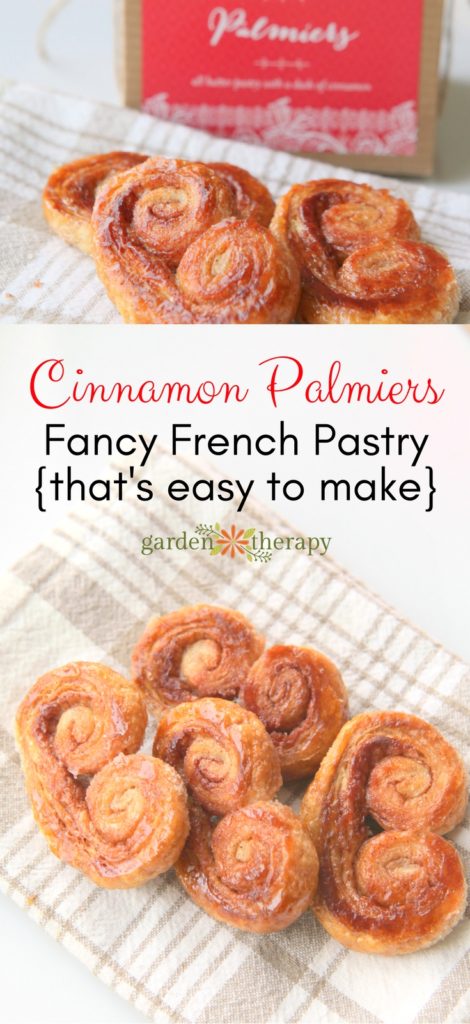 Palmiers can be made sweet or savory by switching out the cinnamon and sugar for any number of ingredients. I have often made them with my homemade jam. These pumpkin spice palmiers, made with pumpkin butter, taste like pumpkin pie in a cookie. Savory cookies can be made with pesto, herbs, tomato sauce, cheese, olive tapenade, and pretty much anything else you can imagine.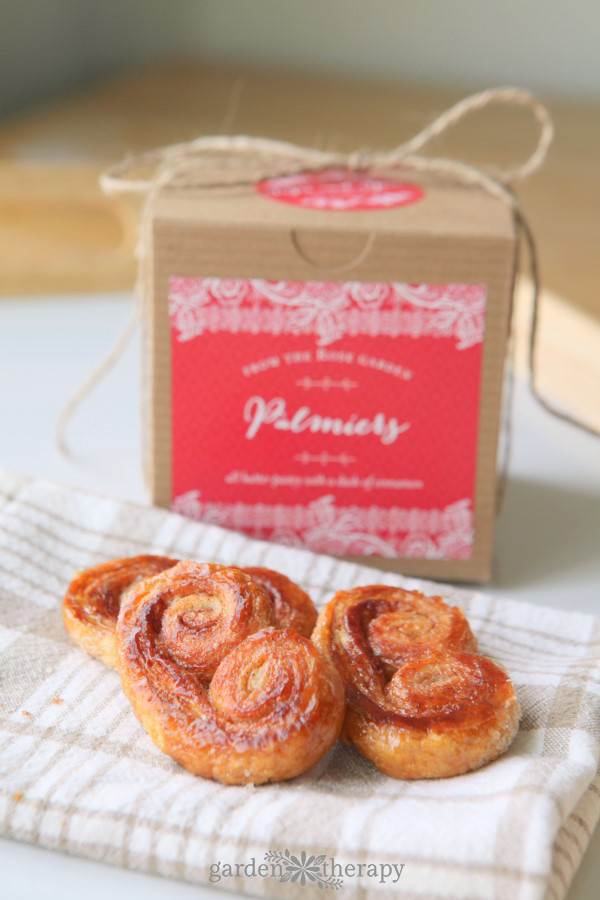 This recipe is one of my very favorites for holiday gift giving, which is why you can see it graces the cover of my holiday gift eBook, Sugar & Spice: Handmade Gifts from the Kitchen. This book is absolutely packed with ideas for holiday baking, herb gifts, and other ideas for gifts you can create in your kitchen.
Get Sugar & Spice: Handmade Gifts from the Kitchen here. 
Sugar & Spice: Handmade Gifts from the Kitchen is a comprehensive idea book that includes over 40 simple handmade gifts to cook up and give away. There are five chapters: Herbs & Spices, Love in a Mason Jar, Sips, Oven-Baked Goodness, and 'Tis the Season with full-color photos of each project to inspire you. The recipes are simple and can be done by the most novice chef, with classic and creative packaging. Each and every project has unique and decorative examples of wrapping or presenting the gifts included.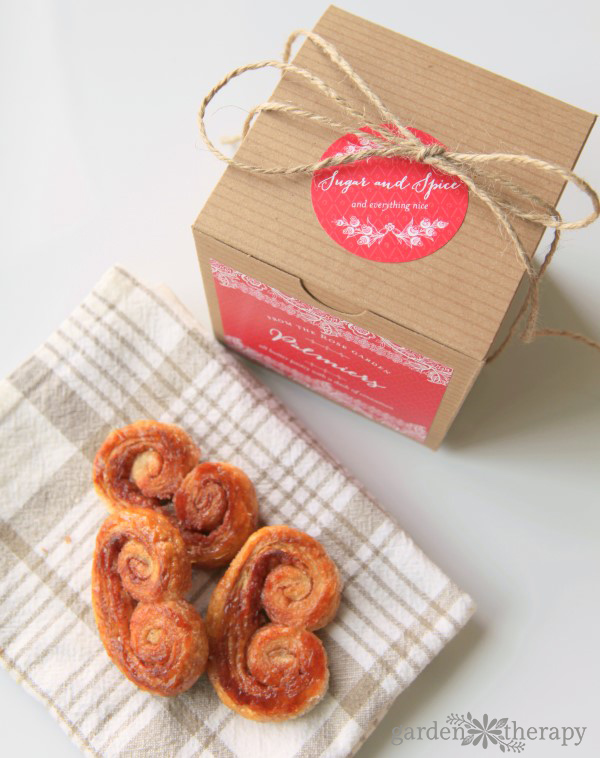 Cinnamon Palmiers
These flaky and sweet cinnamon palmiers fill the house with a warm butter-and-spice aroma that is heavenly all in itself. They also are quick to make when unexpected guests arrive or you need a hostess gift, pronto! If you can find a good-quality frozen all-butter puff pastry, then keep it on hand and you will always be stocked up.
Ingredients
All-butter puff pastry
Sugar
Cinnamon
Make it!
Thaw frozen puff pastry in the fridge overnight.
Preheat the oven to 425 degrees F. Yes, it's a hot oven that crisps these pastries up and candies the sugar.
Pour 1 cup of sugar in the center of a non-stick pastry mat and spread it around. Roll out a square of puff pastry on the sugar.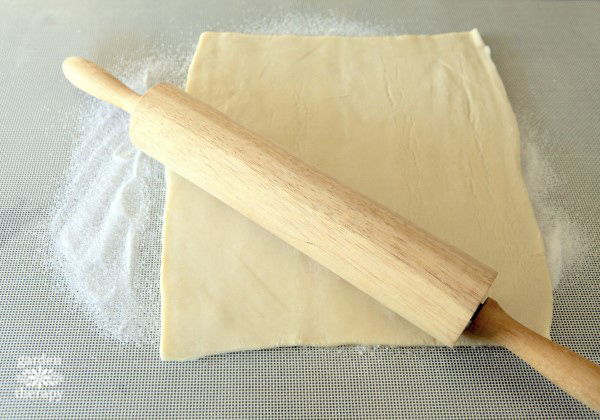 Sprinkle sugar evenly on the top to cover the pastry and then sprinkle cinnamon.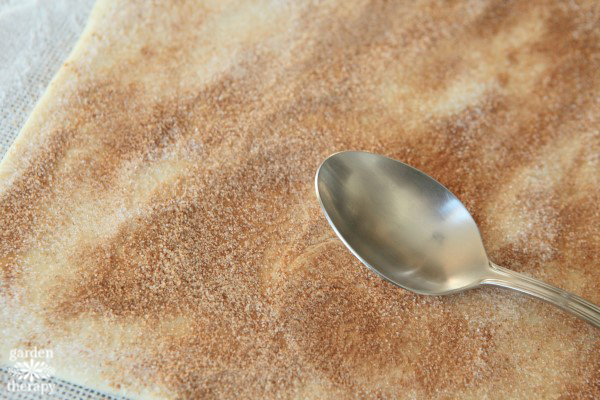 Form the palmiers' heart shape by rolling the two sides towards the center. You'll end up with two long rolls that meet in the middle. Wrap the rolls in plastic wrap or parchment and put it in the freezer to firm up for 15 minutes.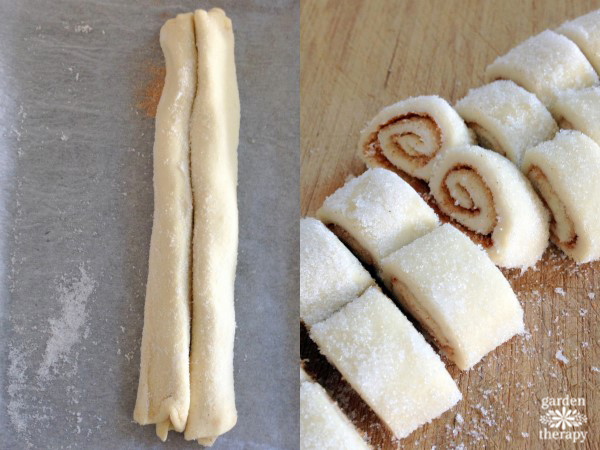 Remove the rolls from the freezer and cut them into 3/4″ slices.
Lay out the slices on a parchment-covered baking sheet. Press the palmiers down a bit to flatten them and sprinkle with sugar.
Bake the palmiers for about 6 minutes, or until the pastry has browned and the sugar has melted.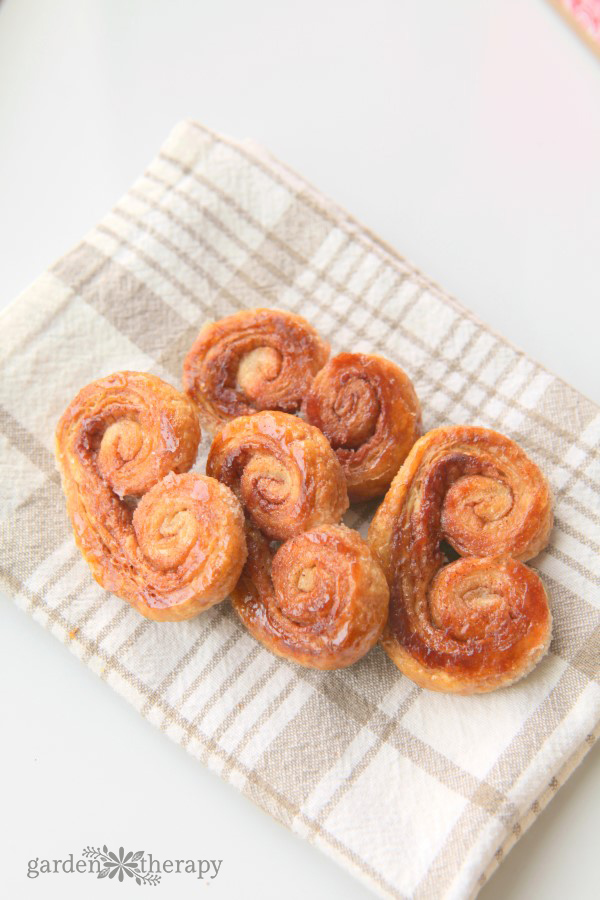 Give palmiers in gift boxes labeled with a personal message and tied with twine for a heartfelt thank-you or hostess gift.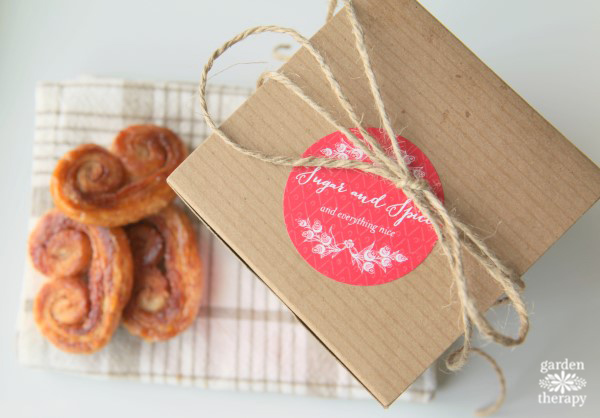 There are many great ideas for holiday food and this recipe is just one of the many that are in this year's Handmade Holidays BlogHop. If you want to start drooling, have a look through some of these other amazing recipes for ideas and inspiration to get you in the festive mood.