Looking for a treat to crunch while you sip an eggnog latte? These pumpkin spice palmiers are like a little pumpkin pie in a cookie. They look beautiful and would make a wonderful holiday gift—if you can keep them around long enough! Personally, I love pumpkin pie all year round and can just as easily gobble down these perfect pastries in the summer alongside a cool lemonade as much as serving them with Christmas Eve tea.

Now make sure you are sitting down for this next part. No really, are you sitting down? Good. Because these only have three ingredients and they take about 5 minutes to make! Well, that's active time, not including chilling and baking time where you can start brewing your latte or check out other great recipes on Pinterest. But chilling and baking doesn't take long either, so don't get too into Pinterest.
I really can't say how good they are, so go grab the ingredients and find out for yourself.
Ingredients
All-butter puff pastry
Sugar
Make it!
Thaw frozen puff pastry in the fridge overnight.
Preheat the oven to 425 degrees F.
On a non-stick pastry mat, pour about 1 cup of sugar in the center. Spread it around with your hands and roll out a square of puff pastry on the sugar.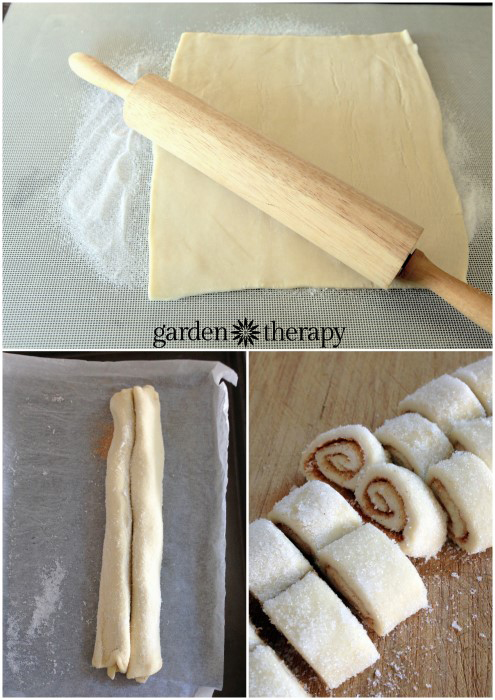 Sprinkle a bit more sugar evenly on the top of the pastry and then spread the pumpkin butter. Form the palmier shape by rolling the two sides towards the center, creating two long rolls that meet in the middle. Put the pastry in the freezer to firm up for 10 minutes.
Remove from the freezer and cut the rolls into 3/4″ slices and lay out on a parchment-covered baking sheet. Press the palmiers down a bit to flatten them and sprinkle with more sugar.
Bake for about 6 minutes, or until the pastry has browned.