The garden is a place where you get your garden therapy in the form of exercise, fresh air, and vitamin D. Once all the hard work is done, it's time to kick your feet up and enjoy it. The cocktail hour garden is a not just a place, but an experience. It's an evening garden created for relaxation and entertaining full of fragrance, lighting, evening-blooming ornamentals, and edible plants that flavor the cocktails you sip while you enjoy it all. C.L. Fornari, the author of The Cocktail Hour Garden, joins us today to share a bit about the "green hour" and some sweet herb must-haves for the cocktail hour garden.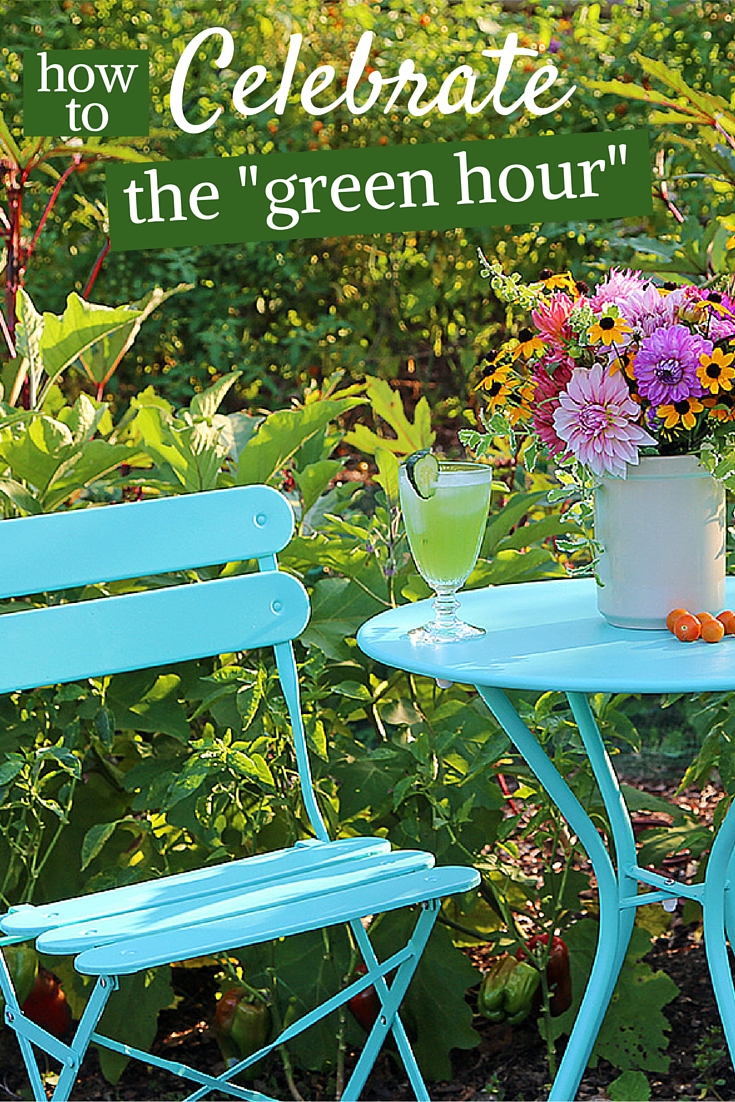 Related: The Dirt on Edible Flowers (and the Top Ten You Must Try!)
Sweet Herbs for The Cocktail Hour Garden
Your week was jam-packed, the drive home slower than usual, and you've still got phone calls and emails to return. Sound familiar? These are just three reasons why it's time to put aside digital devices, mix up the beverage of your choice, and head out to the backyard or deck. And if your glass contains herbs and garnishes from your landscape, you have the start of a relaxing "green hour."
Some say that the cocktail hour began in Paris with the custom of pausing after the workday for a small glass of absinthe. This highly alcoholic, green-hued drink – made from herbs such as wormwood, fennel and green anise – was first sold in the late 18th century as a cure-all. In the early 19th century the potent beverage became popular as a before-dinner aperitif. So many people looked forward to sipping their glass of absinthe at this time of the evening that the period became known as l'heure vert, "the green hour."
Although to this date I haven't tried absinthe, it's not surprising that I'm in favor of the concept of a green hour. For a gardener such as myself, green isn't the color of an intoxicating drink but the color of healthy plants. I'd estimate that the average garden would be over 80% green if we charted its component colors. Yet green also exemplifies other qualities that we hold dear.
Green can mean lush, verdant, luxuriant and fertile. It's a term for a park, playing field or neighborhood common space – or a way to describe something natural, pure, eco-friendly and organic. Green also implies freshness or something that's young and new. Who wouldn't want a little time each day devoted to these qualities?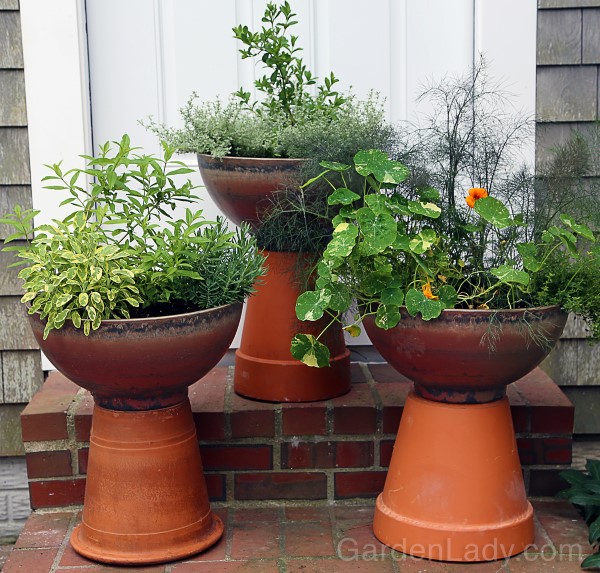 Whether the practice of pausing for a drink between the workday and the evening meal began with absinthe or not, I propose that the best place to celebrate a return of the green hour is among plants in the garden. And there are several plants that will enhance your evening beverages and the spaces where you enjoy them. Here are just a few of the herbs that I knew had to be included when I wrote The Cocktail Hour Garden.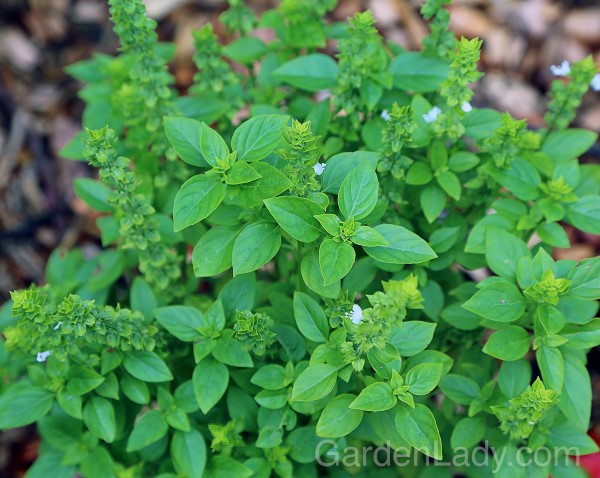 Basil (Ocimum basilicum) Zones 10b-11
I know you've met Basil before, most likely as an annual that's especially important for Italian cooking and seasoning tomato dishes. Basil is often called one of the "sweet herbs" and it's been popular in North America since the 1600's. In case you thought that being pesto and spaghetti's BFF was its only claim to fame, however, know that members of the genus Ocimum have been used worldwide in religious rituals and in many cultures as a symbol of love, attraction and good fortune. According to the Herb Society of America, Basil has also had cameo appearances in the works of Shakespeare, and in poems by Percy B. Shelley, John Keats and Edna St. Vincent Millay.
In your green hour garden you'll probably want to invite the Sweet Italian basil, lemon basil, spicy bush basil, and African blue basil, among others. Each has its own distinctive take on the basil fragrance and taste, but in order to grow, all want warm temperatures and at least six hours of direct sun.
Just between us, I've heard that in Colonial times women would make two bunches of basil as they bustled about the kitchen. One would be for the cooking pot, and the other to tuck between their breasts so the fragrance would waft up as they worked…or otherwise.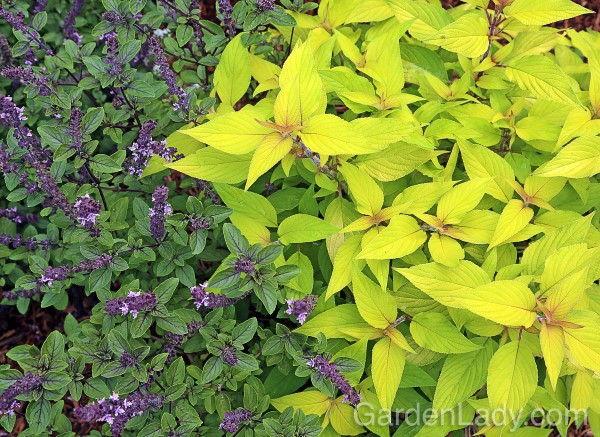 Mint (Menthe spp) Zones 3-8 depending on variety
You know how to use mint in your beverages. What you may not know is that this herb is a classic example of everyone blaming the mistress. You see, in Greek mythology, Menthe (aka Mintha) was a nymph who was having an affair with Hades, the god of the Underworld. Needless to say, when Hades' wife Persephone stumbled upon them one day she wasn't happy. And like many wives before and after her, she blamed the mistress and not her husband. To punish Menthe, she turned her into a plant that would spread into pathways so that people would step on her forever. Hades decided that it might be of some comfort to Menthe to have a pleasing scent, so that everyone would smile when they walked all over her. Or crushed her to make a mojito. Since it didn't seem to occur to Hades that Menthe might have preferred being returned to nymph form, the least we can do is raise our glasses to this herb/sprite. Menthe has found a way to vigorously persist, in gardens, beverages and flavorings around the world, so perhaps she has triumphed in the end.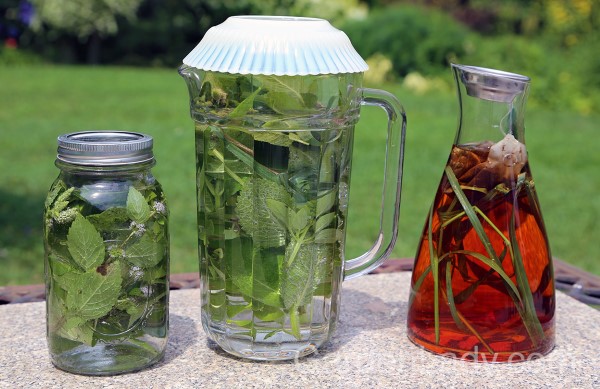 Whether you're muddling these herbs in your shaker and crafting your own organic cocktails, including them in a tall glass of iced tea, or simply picking a sprig for some end-of-the-work-day aromatherapy, your green hour will be instantly enhanced. Cheers!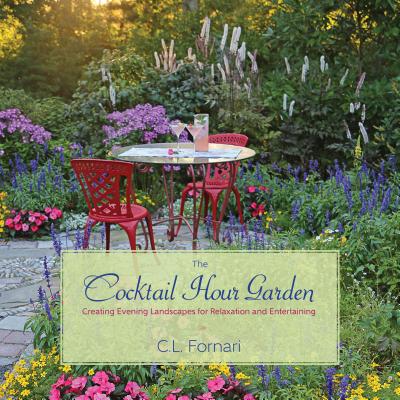 About the Author
C.L. Fornari is the author of several books and the host of two radio programs. Visit her gardens at www.GardenLady.com. Read more about the green hour and cocktail gardens in her book, The Cocktail Hour Garden.