I'm not overly thrilled when the mail gets delivered. It's usually a big pile of bills that I would much rather not get. Then one day, a large envelope arrived that had a bit of weight to it. Even with an impressive talent for guessing the contents of wrapped Christmas presents, I had no idea what could be inside.
I opened the envelope to be greeted with a gold medal.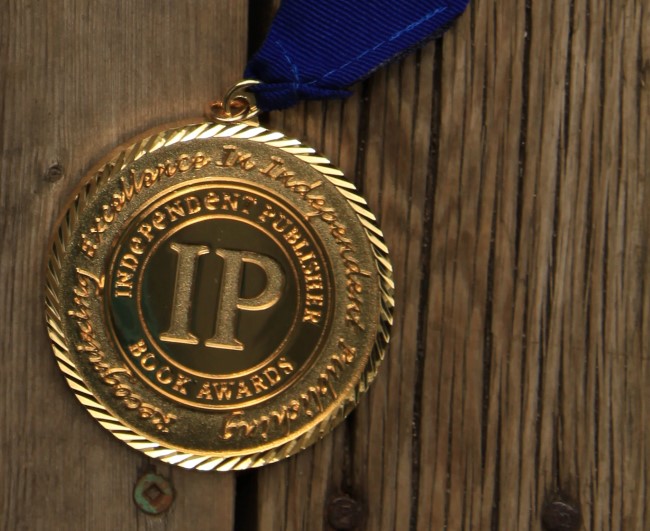 It flopped out onto the table and I sat there for a moment wondering if, somehow, gardening had become an Olympic sport. It quickly dawned on me that even if it had, I had not competed in any events. More importantly, if I did participate, I would certainly be out-gardened by gardeners more talented than me. So much for that theory.
The medal came complete with a certificate which ended the mystery. My published book, Garden Made, won an award at the recent Independent Publisher's Book Awards, also known as the IPPYs.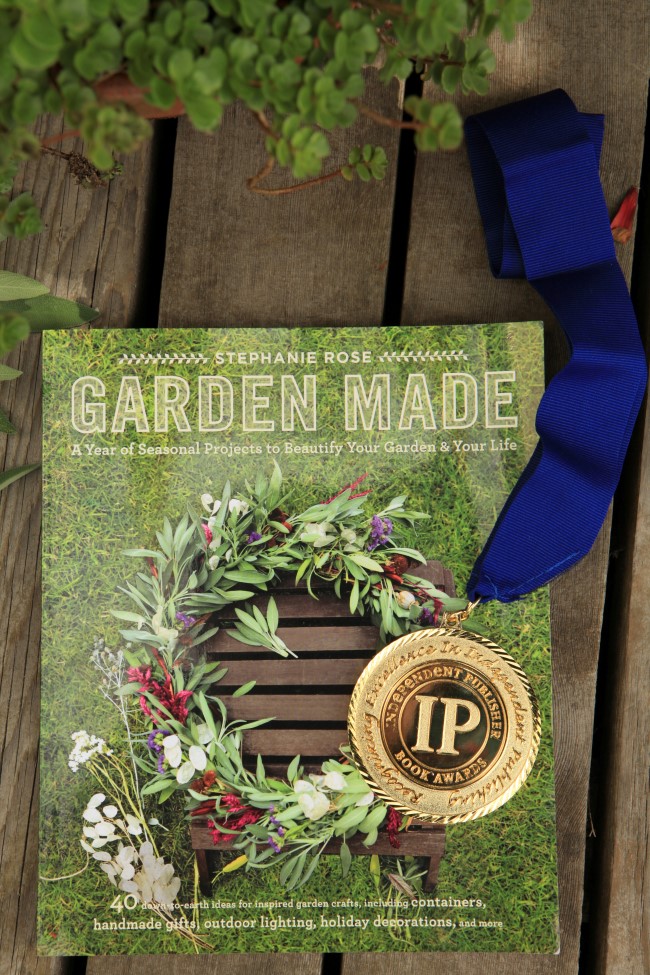 The accompanying letter told me a bit more of the story. Garden Made: a Year of Seasonal Projects to Beautify Your Garden and Your Life won the Gold Medal in the Home and Garden Category for the 2016 Independent Publisher Book Awards.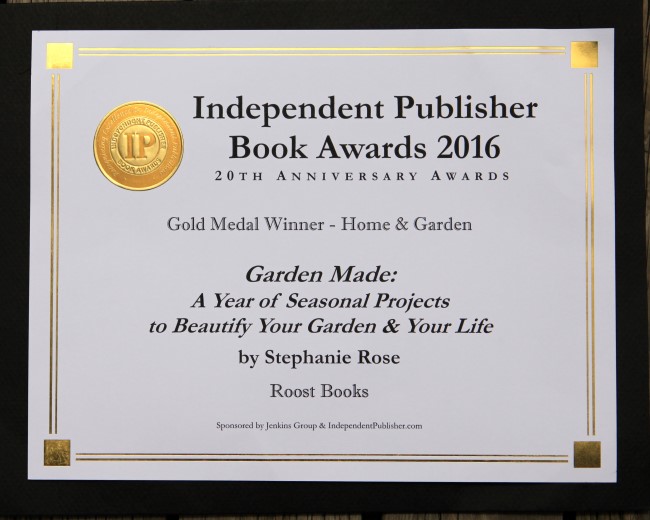 Whoa! I was blown away by this news and overjoyed to have received such an honor. You can see Garden Made on this list at number 58. If you love to read, have a look through all of the winners in the different categories. I have found some new gems that I'm excited to read.
And now I'm faced with an unconventional challenge: what do you so do with a Garden Made gold medal?
It makes for a lovely necklace, but I fear that it doesn't go well my gardening boots.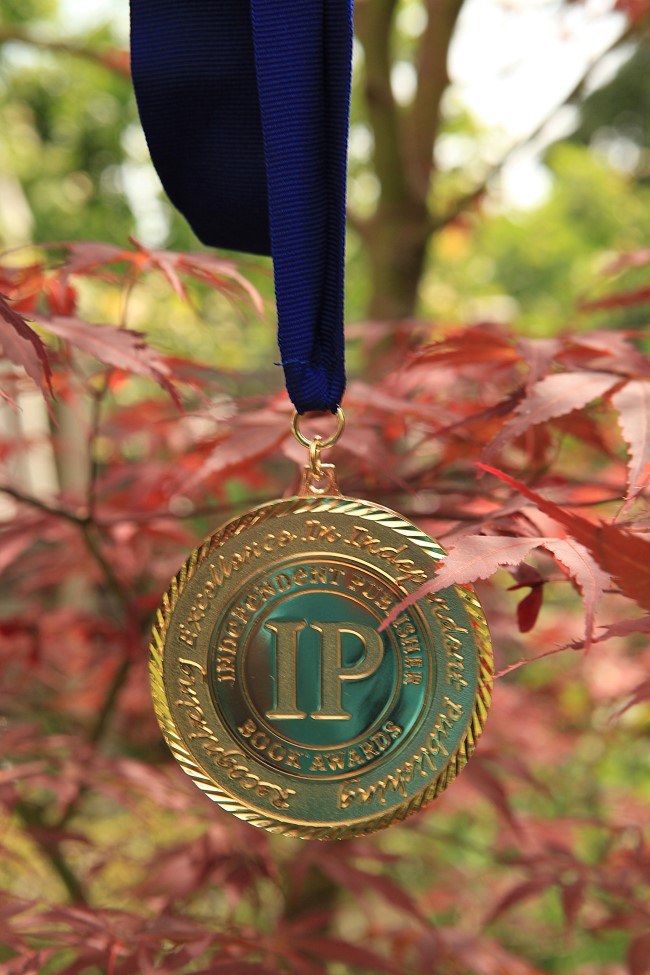 I could hang it in the garden or make some quirky garden art with it. It does seem to belong out there more so than in the house after all. But, I worry that the reflection will scare the birds away!
Maybe Meatball has some ideas.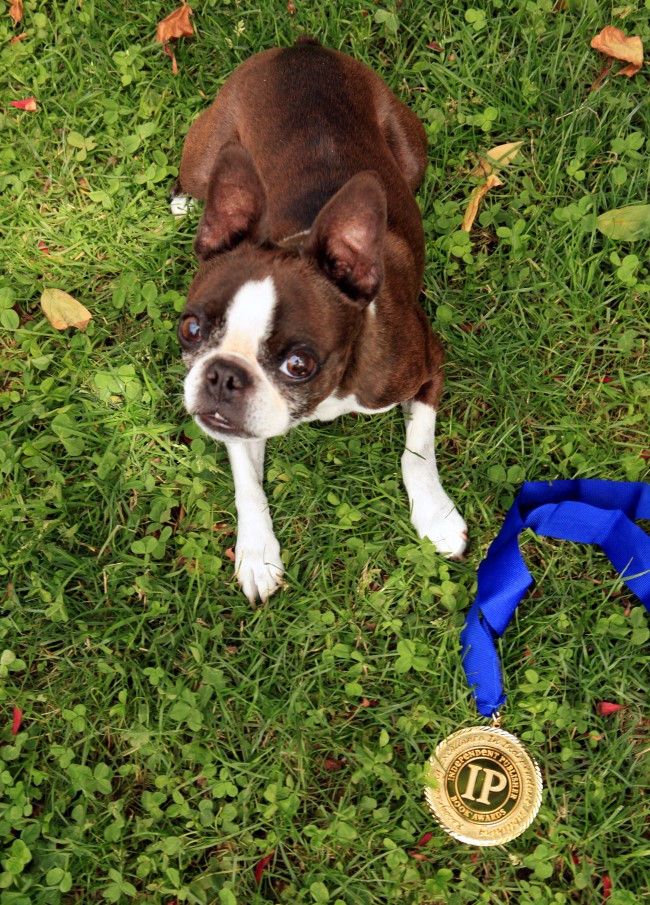 In all seriousness, I'm thrilled to have received this honor. My silliness about it comes from not being completely comfortable writing about it. The awards were last May and I kept putting off blogging about it because it is much harder for me to write about myself than the garden. Even in person, I can talk about gardening for HOURS but I shy away from the personal stuff. I am challenging myself to be more open and share more about the story that brought me here to Garden Therapy.
I worked hard on this book and I wrote it as I was in the final years of rehabilitation. Not long after it was published, I was able to go back to work full time, after almost 10 years struggling with illness. It signifies a new chapter in my life and I think that is worth celebrating.
Even if it's difficult to do.
So, I'm off to get the medal framed and then I'll take Meatball for a walk to enjoy this beautiful fall day. That's a fine way to celebrate, don't you think?
If you want to take a peek into the award-winning Garden Made, you can read the beginning of the book here.
If you want to see the rest of it, grab a copy online, or ask your local library for a copy.
Thank you to all those who have read the book and tried the projects. I wish I could give you all gold medals to thank you for the support.