How to Clean Garden Pots
Growing a garden in containers is an increasingly popular way to adorn your outdoor space. Small space dwellers have the option to create a garden on a patio, deck or even a fire escape. Start the season off right by properly preparing your pots for the growing season whether they are terracotta, resin, glazed ceramic or plastic. 

Here is the #1 tip that you may be overlooking when it comes to garden maintenance.
Wash. Your. Pots.
Don't brush over this advice because you think they are just going to "get dirty" anyway. Here's why: pots that are dirty can contain minerals, pests, bacteria, and fungus that can harm your plants before they even get a good start. Containers offer a unique set of circumstances to keeping plants healthy. They can be more vulnerable if the plants aren't properly cared for because they won't be able to draw off their natural environment for help. In other ways, they have an advantage because they will be planted in a favorable environment, with clean soil and no inherent pests or disease to contend with. That is, unless, you plant them in pots harboring pests or disease.
To clean your pots follow these steps:
They are now ready for planting!
A special thank you to Pfister for providing this new faucet that inspired me to write this post. Frankly, I never really thought about my kitchen faucet but since I was sent this one from the Mystique collection, I now wonder why I didn't upgrade sooner. It was easy to install and the whole kitchen seems to be refreshed with just a small change to the hardware.
Here is what the kitchen looked like before: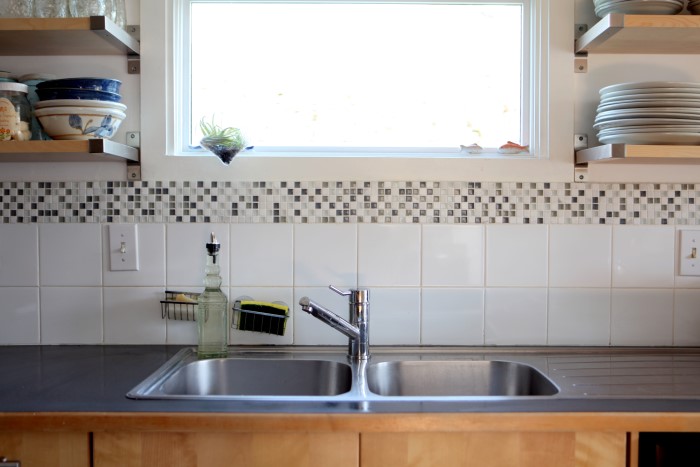 And here it is after: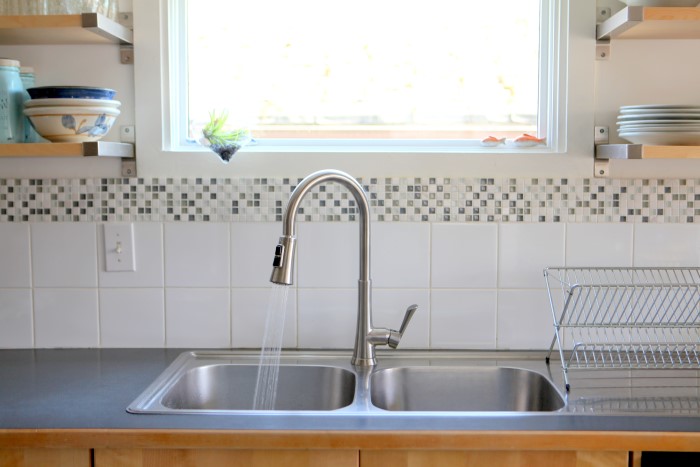 And this is why I needed it (pots, plants, and even an air plant wreath in my garden sink).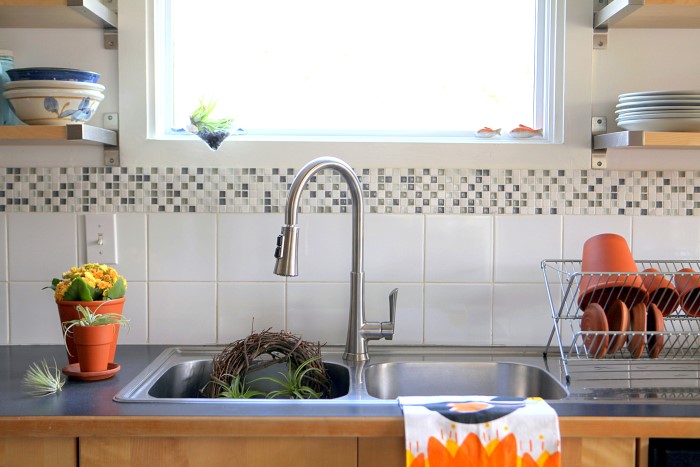 Please note that I make sure to brush off all the debris so that it doesn't go down the drain (I had to write this because of a previous river-stone-in-the-garbage-disposal incident that had Mr. Garden Therapy a wee bit frustrated with having a gardener in the kitchen!).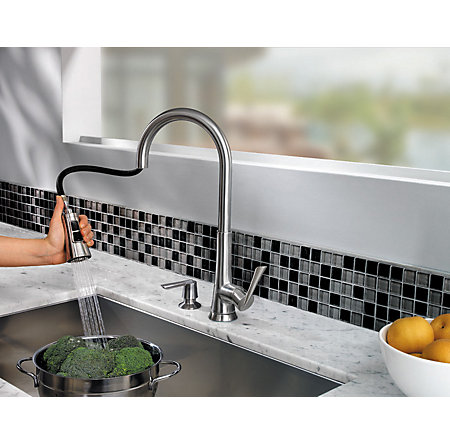 More about the Pfister Mystique Collection
Sleek, sophisticated simplicity reigns with the clean design and versatility of the Mystique Collection. A modern presence that takes minimalist design to the next level, Mystique radiates style along with superb performance to create an exceptional and progressive kitchen setting.
Pforever Seal – advanced ceramic disc valve technology with a never leak guarantee
High arc spout for added clearance and reach
Spout swivels 360 degrees for maximum maneuverability
Installs with or without deckplate
Includes top filling, matching soap dispenser
Pfister Pforever Warranty® covers finish and function for life