Drop everything! This will be your new go-to tool this year. A soil knife is a handy all-in-one tool that landscape professionals use. And if you haven't tried it in the home garden yet, it's going to blow your mind!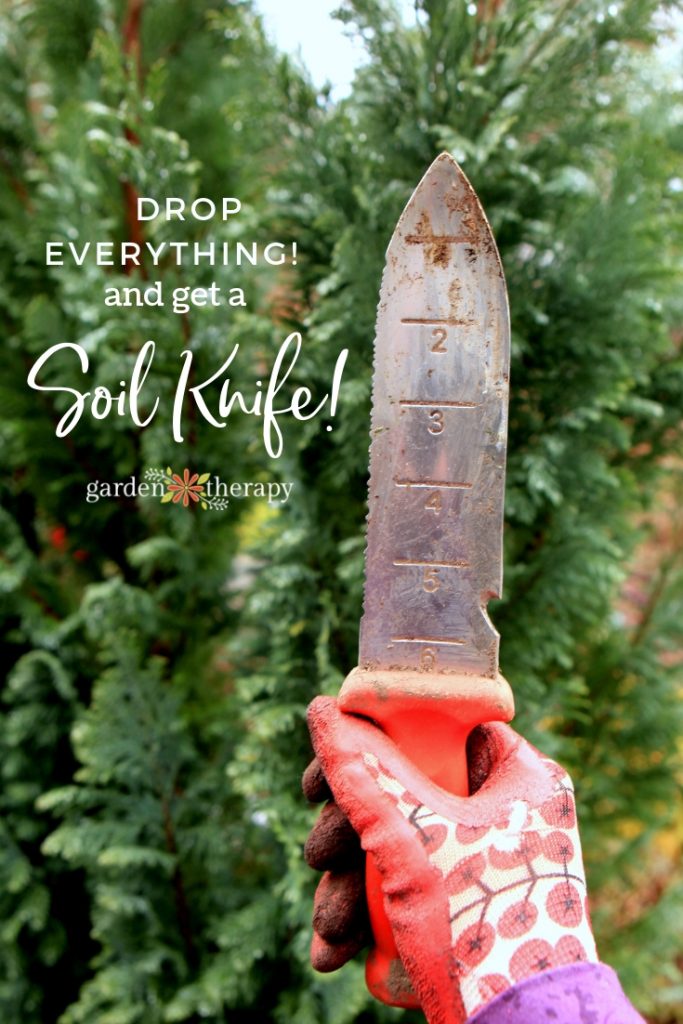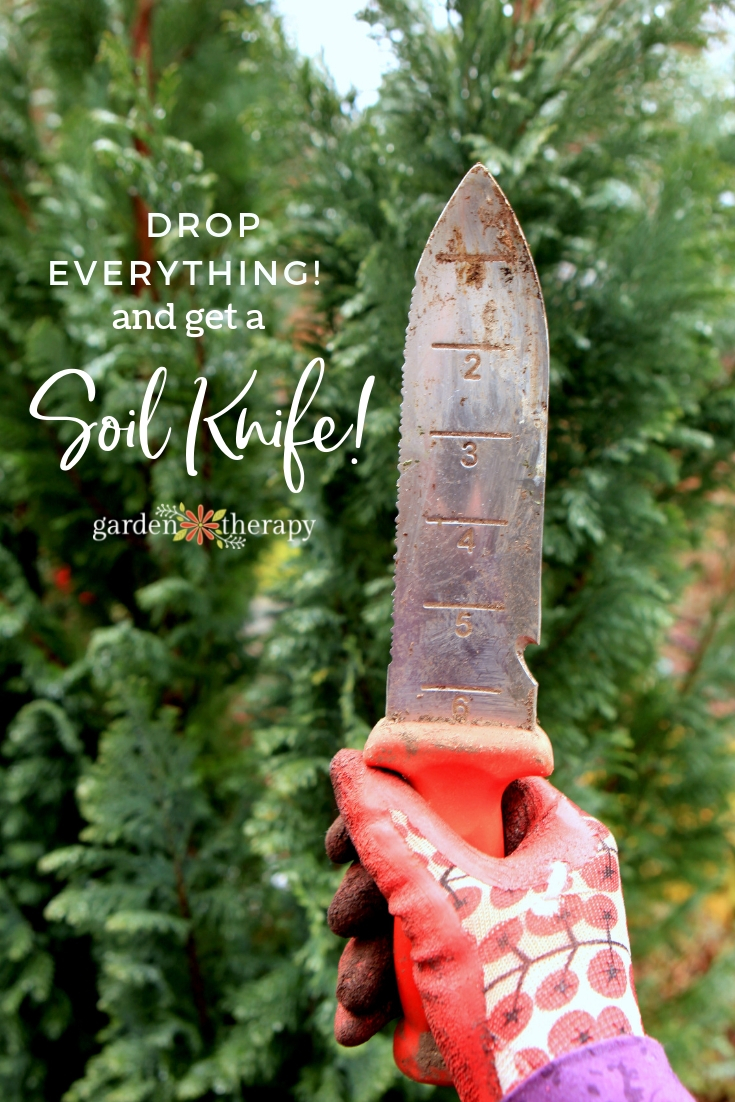 Have you ever used a soil knife? If you have, then you probably have an old bucket of dusty garden tools sitting in your shed because the soil knife replaces so many of them. Goodbye trowel! Goodbye weeder! Goodbye scissors! Goodbye saw! The soil knife replaces them all. You can use it to divide plants, plant bulbs, flowers, and herbs, dig out weeds, remove rocks, cut through roots, plant in pots, clean out cracks, cut twine and ties, and for so much more!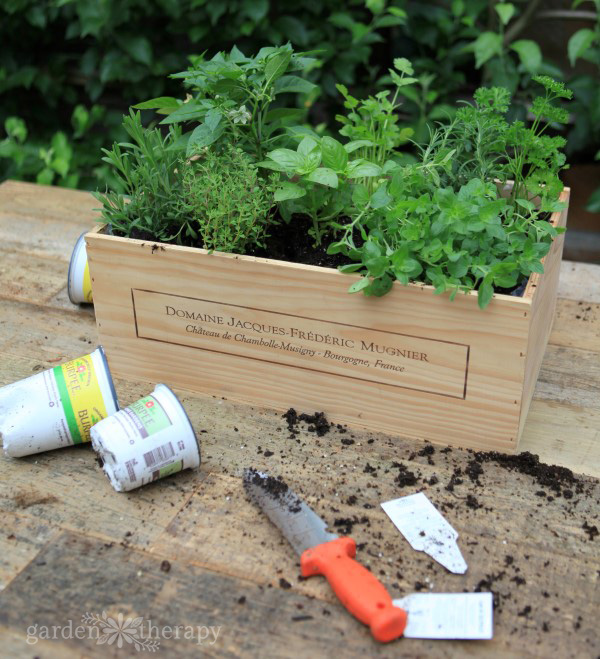 This is definitely not new technology. It has evolved from the traditional hori hori knife used in Japan ("hori" means "to dig" in Japanese). The tool is made of a strong steel blade with a serrated edge on one side. It's useful because the serrated edge acts as a saw, while the sharp side opposite the serrated edge allows for clean cuts. The knife can be used for digging, cutting roots, pruning, aeration, and much more. The modern versions sold today also come with depth markers along the side so you can quickly measure planting depth. With a soil knife by your side you'll be quick to ditch the cumbersome bucket of hand tools that you used to drag around with you in the garden.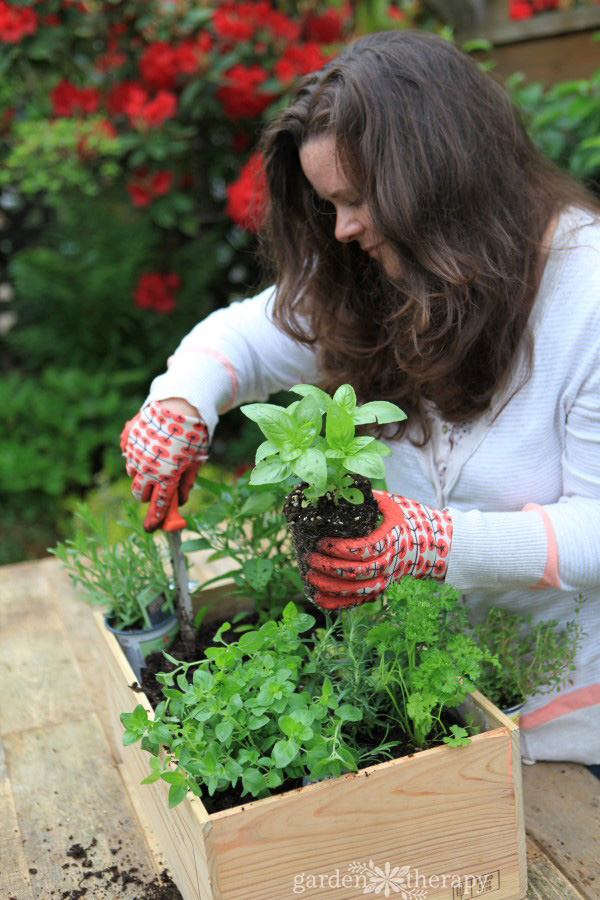 SPONSORED CONTENT: This post was sponsored by A.M. Leonard's Gardener's Edge. All of the opinions that are shared in this post are my own. See the full disclosure policy here.
Be sure not to miss the giveaway at the end of this post as well. A.M. Leonard's Gardener's Edge has also generously agreed to give away three deluxe soil knife and sheath combos! 
Leonard Deluxe Soil Knife
The Leonard deluxe soil knife is manufactured from the highest quality, rust-resistant Swedish stainless steel. The blade is engineered to withstand over 300 lbs of pressure for a lifetime of use. The six-inch stainless steel blade has a tapered slicing edge, plus a sharp, deeply serrated side made for fast root cutting.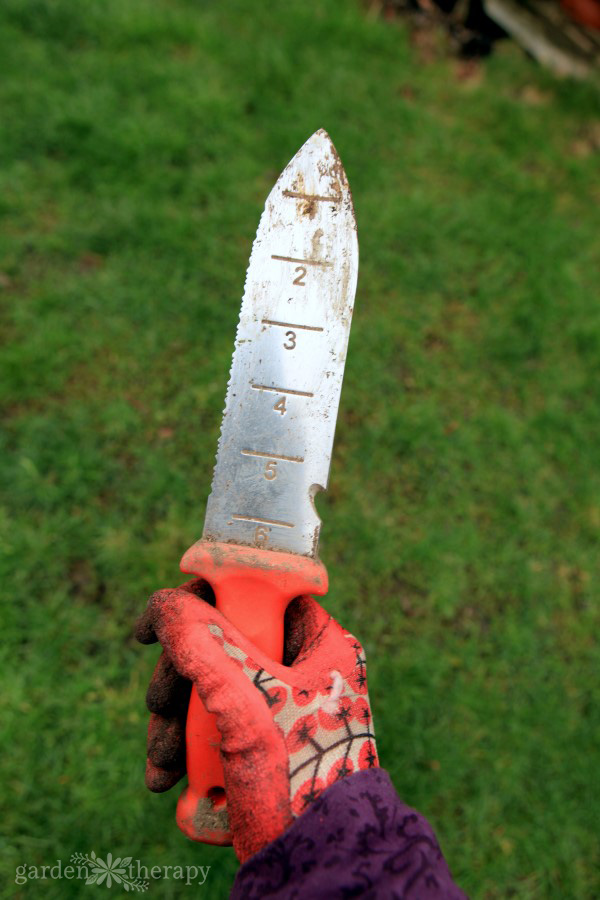 How to Use a Soil Knife
First things first, get yourself a sheath that clips onto your belt/pants or hip holster so that you can carry your soil knife around with you while gardening. This allows you to keep your hands free and grab it out of the sheath/holster when you see a weed or a branch that needs pruning.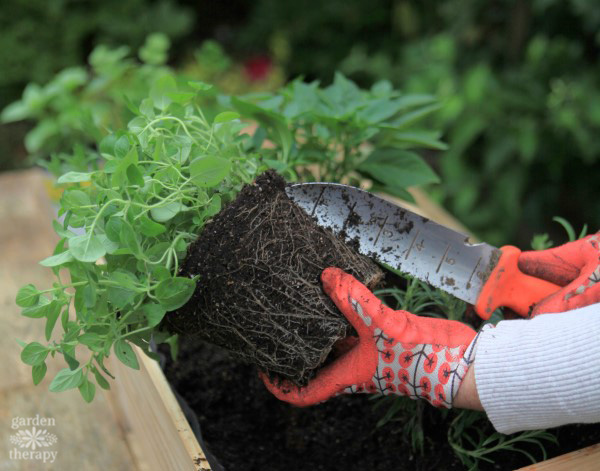 Weeding
The pointed tip of the soil knife makes it a great weeding tool. Simply use the soil knife to dig down into the soil and pop out the roots of the weed you are trying to remove. Its strong blade is able to get out even the toughest of weeds. And if there's one that puts up a bit of a fight, simply use the serrated edge to cut it.
Digging
The shape of the soil knife is like a thin trowel, which makes it easy to dig holes for planting or transplanting in the garden. The shape and strength allows you to dig even in quite compacted soil. If you run into a root, the serrated edge will help clear a hole in no time.
Cutting
A soil knife is also the perfect shape for slicing open a bag of garden soil and cutting garden twine.
Seeding
The slender trowel shape is perfect for filling up small seedling pots with soil, whereas most trowels are too wide and the soil spills over the edges. A soil knife can also make great seedling lines in the garden bed so you can sow rows of seeds.
Pruning
The soil knife will quickly remove suckers from a tree or small branch. For larger, more precise pruning jobs, definitely make sure that you use your bypass pruners, but for a quick fix when you just have a stray branch or sucker to remove, a soil knife is your new best friend.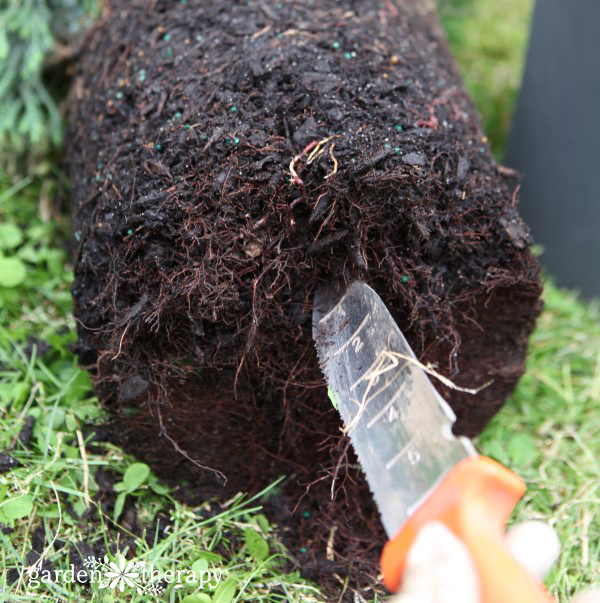 Aerating Roots
A soil knife is also great for breaking up a matted root ball in a plant that has been potted. Often when you buy a plant from the store or transplant something from a container the roots are tightly wound and need a little pruning to adapt to a larger pot or to the soil. Using a soil knife allows you to loosen up the root ball and spread out the roots, adding some much-needed aeration.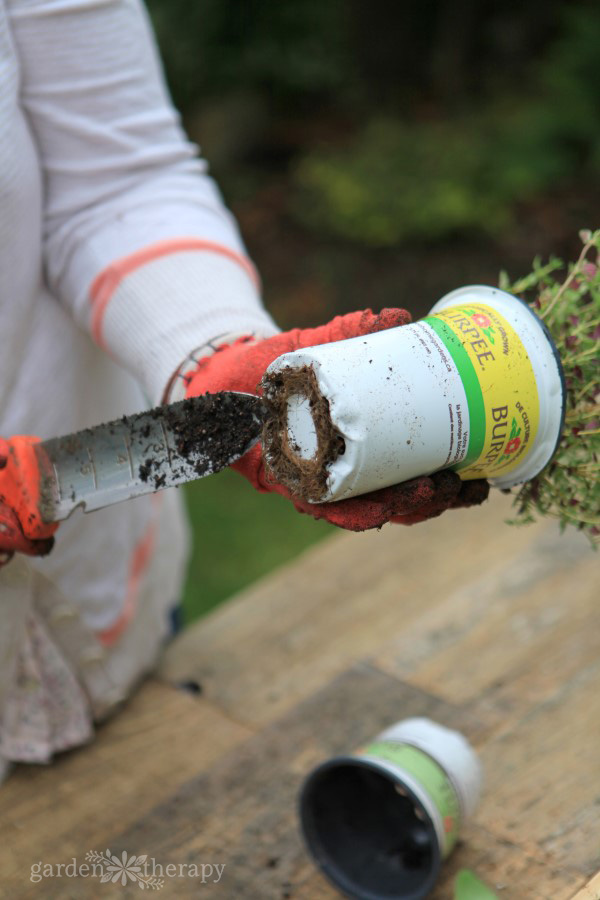 Giveaway!
This contest is now closed. Congratulations to our three winners: Cindy, Sharon, and Lisa Kristie!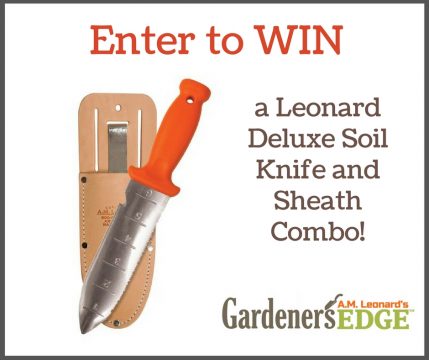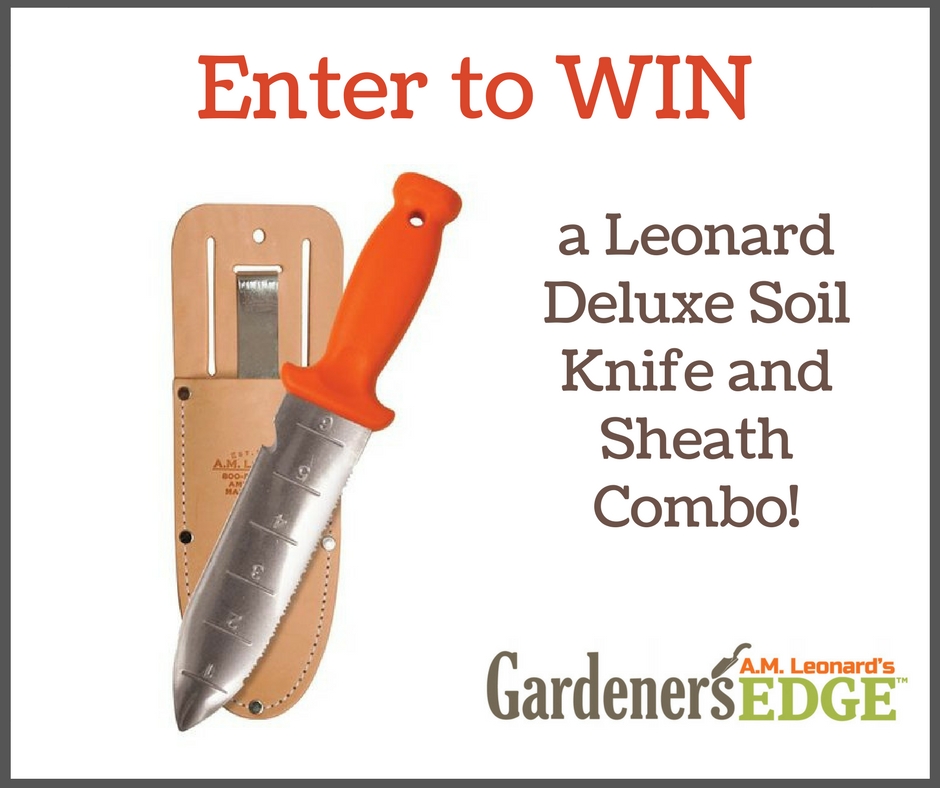 More Garden Tools and How to Use Them