Since I began gardening, I have been an intensive-planting gardener. Intensive planting helps to solve common garden problems like soil compaction, drainage issues, and poor yield. In addition, it helps to conserve water, reduce labor, and crowd out weeds, making gardens more sustainable. If I'm being honest, I could probably label myself more accurately as a plant hoarder. I pack as many plants into my small-space garden because, really, how can you choose between all the beautiful plants?
I've grown over 400 perennials, 100 vegetable varieties, and countless trees and shrubs into my small urban garden. It's lush, healthy, water-wise, and productive. And it's so crowded that weeds don't have a chance! I almost never have to weed my garden in the summer months when the plants have filled in all the space. Where on earth would they grow?
My good friend Shawna Coronado is also a plant hoarder, ahem, I mean intensive-planting gardener like me, and she joins us today to share how to boost yield and save water with intensive planting. Oh, and of course, it will save you from a summer of weeding!
Shawna joins us again today to share Hack #26 from her fabulous book 101 Organic Gardening Hacks. Once you read this fantastic organic garden tip, you will be rushing off to get the other 100.
Intensive Planting
By Shawna Coronado
Intensive Planting Techniques are practiced with several goals in mind: they minimize soil compaction, allow you to plant in challenging or difficult locations, solve drainage issues, eliminate the need for tilling, increase vegetable and herb production, and conserve water.
With many parts of the world suffering from drought, it is critical to find a way to use less water and still grow more produce in less space. Intensive planting techniques can accomplish all of these things and more.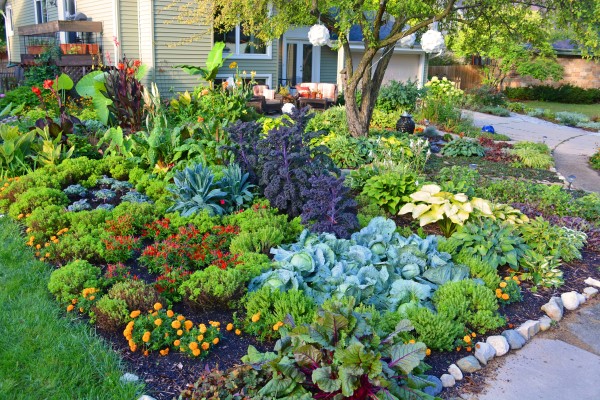 Preparing your soil for a no-till garden situation is vitally important to an intensive-planted garden (see Hack 1: "Retire Your Tiller") because the basis for a garden like this is a deeply fertile and well-drained soil. Using organic mulches, rotted manure, and rich compost as soil amendments is the foundation to a fabulous intensively planted garden.
There are several long-standing techniques for intensive planting that have proven to be very successful, including square-foot gardening and bio-intensive gardening.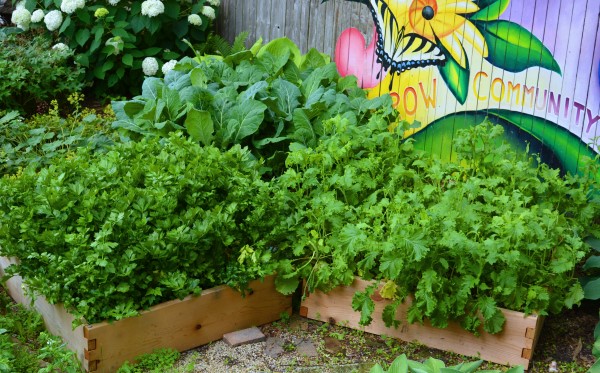 The no-till, richly fertile technique of bio-intensive gardening, combined with simply planting more plants, creates a special environment for your vegetable or herb plants that helps hold water at the roots for a longer period of time. This, in turn, creates a setting whereby the plants help support one another. In the photo above, you see three raised beds packed full of plants—collard greens, mustard greens, and celery—all growing quite successfully with minimal water. Careful advance planning is the key to success with this water-saving technique.
Plant herbs and vegetables in strips 1 to 3 feet wide using elevated or raised beds that are about 12 inches above ground level. Leave the side of the beds open or use a raised bed system. Packing the plants closer together without overplanting is important.
Mulching and thinning the plants as necessary to prevent disease and pests is also critical because tightly planted gardens also have reduced air circulation. Succession planting will help extend your gardening season.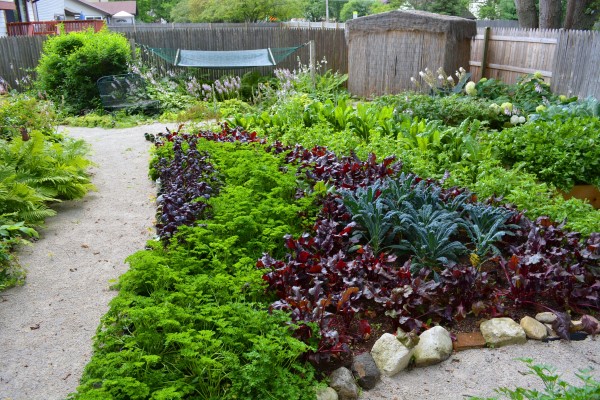 About the Author
Shawna Coronado is an author, columnist, blogger, photographer, and spokesperson for organic gardening, culinary preparation, and green lifestyle living who campaigns for social good. Shawna's goal in authoring gardening and green lifestyle books is to promote a world initiative to encourage healthy and sustainable living. Shawna was featured as a Chicago Tribune "Remarkable Woman" and speaks internationally on building community, simple urban garden living, and green lifestyle tips for the everyday person. Shawna lives in the western suburbs of Chicago where she has a famous front lawn vegetable garden. You can learn more about her at www.shawnacoronado.com. Be sure get your copy of 101 Organic Gardening Hacks for more amazing tips from Shawna.