Scent is one of the most powerful senses. It can instantly remind you of a memory or a person and change your mood. Since it's also so personal, sometimes it can be hard to find a scent you like that doesn't tickle your nose. Here is how to make your own natural perfume, including a both romantic and fresh blend to try.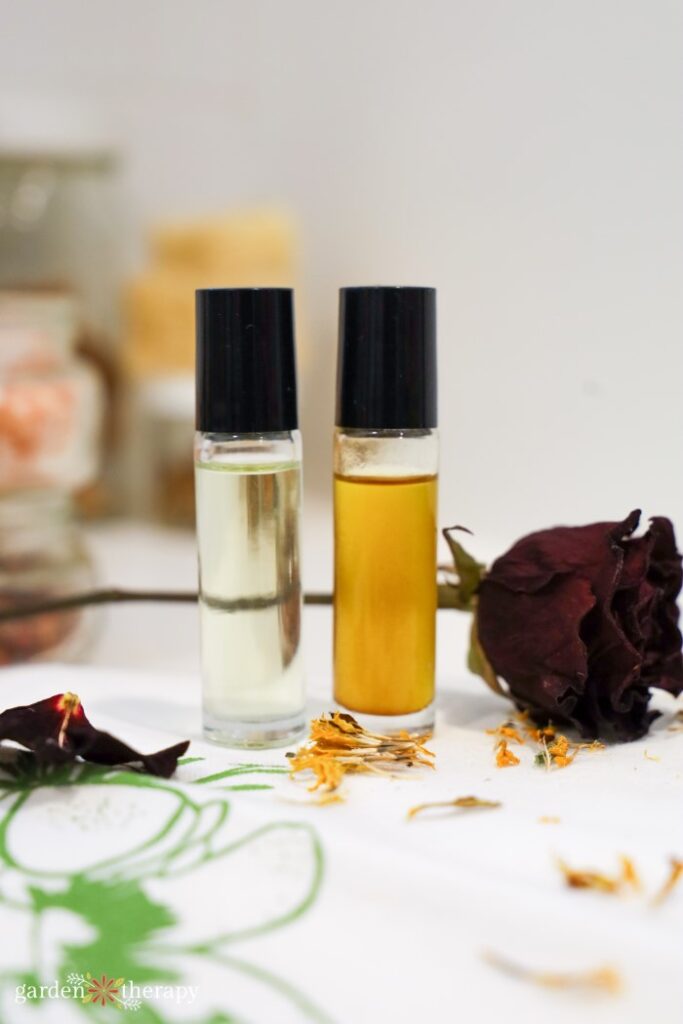 Jump ahead to…
The Dirt on Clean Beauty
Have you heard of the term clean beauty? It's taken the beauty world by storm, promising cosmetic and skincare products free from chemicals. But what if I told you that almost anyone could call their products clean?
There are no FDA regulations for referring to your product as clean beauty. This can make reading labels tricky, as you can't count on words like natural or clean to determine whether or not a product is free of harsh chemicals and synthetics.
I've always been a big fan of making my own products. When using plant-based ingredients, and even herbs I've grown myself, I know they are completely safe to use on my skin.
When making your own non-toxic perfume, you'll quickly realize that natural fragrances are more complex. For instance, when you sniff jasmine, you will get many fragrance notes. But a synthetic version of jasmine fragrance would only be able to capture one aspect of the flower.
Buying natural perfumes can get pricey, as it's difficult to get consistency when it comes to natural fragrances. BUT! I have found that creating your own essential oil all-natural perfume blends is an easy way to embrace the natural and smell good while doing it.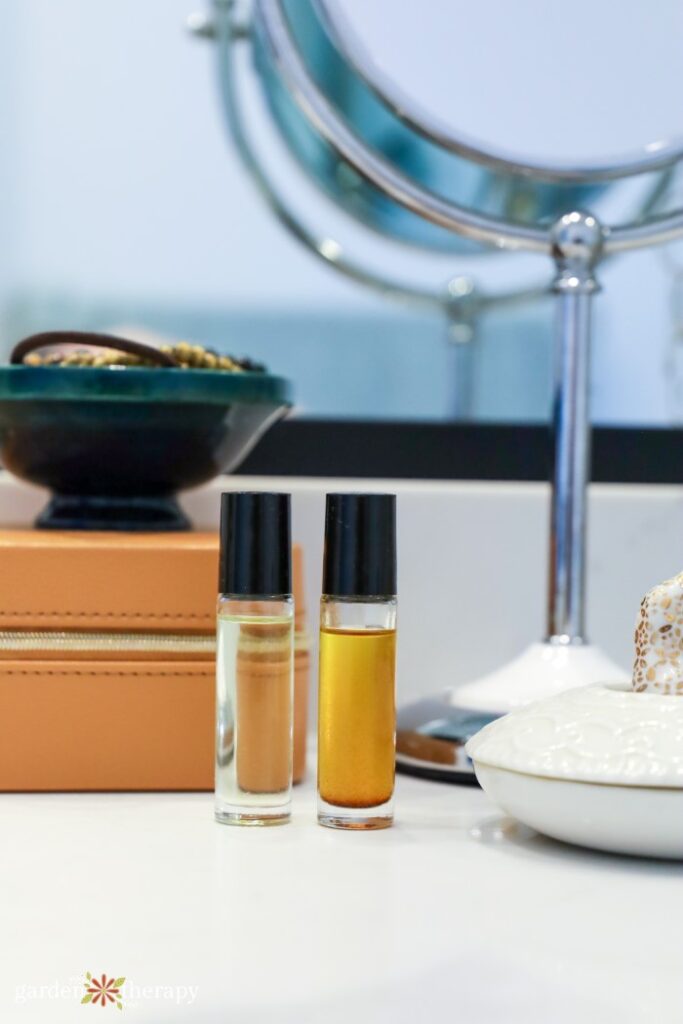 How to Make Perfume
This isn't my first time making perfume here on Garden Therapy. I've made essential oil roller ball recipes that are great to have with you on the go. However, I also wanted to share with you my everyday blends that are of a higher concentration.
You want to consider your different fragrance notes when making a natural perfume. These are your top, middle, and base note fragrances that make up a scent and create a complex perfume.
The best way to make a non-toxic perfume with natural fragrance is by using essential oils. Essential oils are powerful plant extractions that can carry tons of scents.
The power of essential oils also means you will want to dilute them with a carrier oil, such as grapeseed or jojoba oil, or a clear alcohol like vodka or grain alcohol. Applying essential oils straight to your skin is more likely to cause irritation.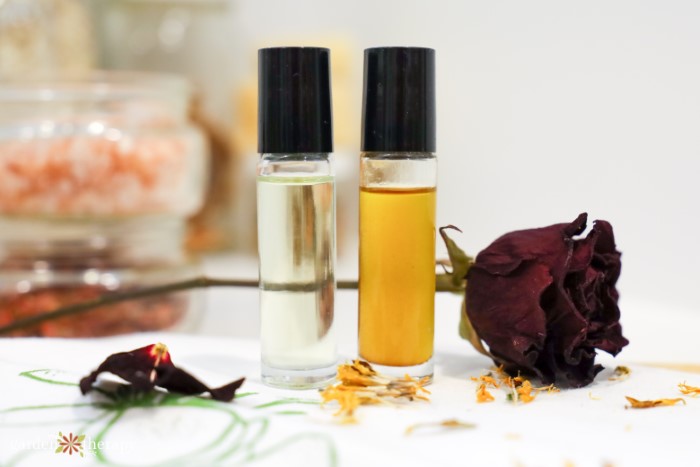 Natural Perfume Recipes
I have two custom blend to share with you all today! One I call my romantic blend is a much sweeter scent, while my fresh blend feels crisper. I like having two scents to choose from based on my mood.
You'll notice that both recipes use similar oils. But even the slightest change in the recipe can make these two perfumes smell nothing alike. One ingredient can completely change the entire scent.
Romantic Blend
To make these natural perfume blends, I use essential oils. Below is the list of essential oils I use and how many drops are required for each fragrance note.
Top Notes
Middle Notes
Cinnamon leaf – 3 drops
Litsea – 3 drops
Rose absolute – 4 drops (Note, rose absolute is very expensive, but I find it completely worth it. Consider the cost of perfume in a store!)
Base Notes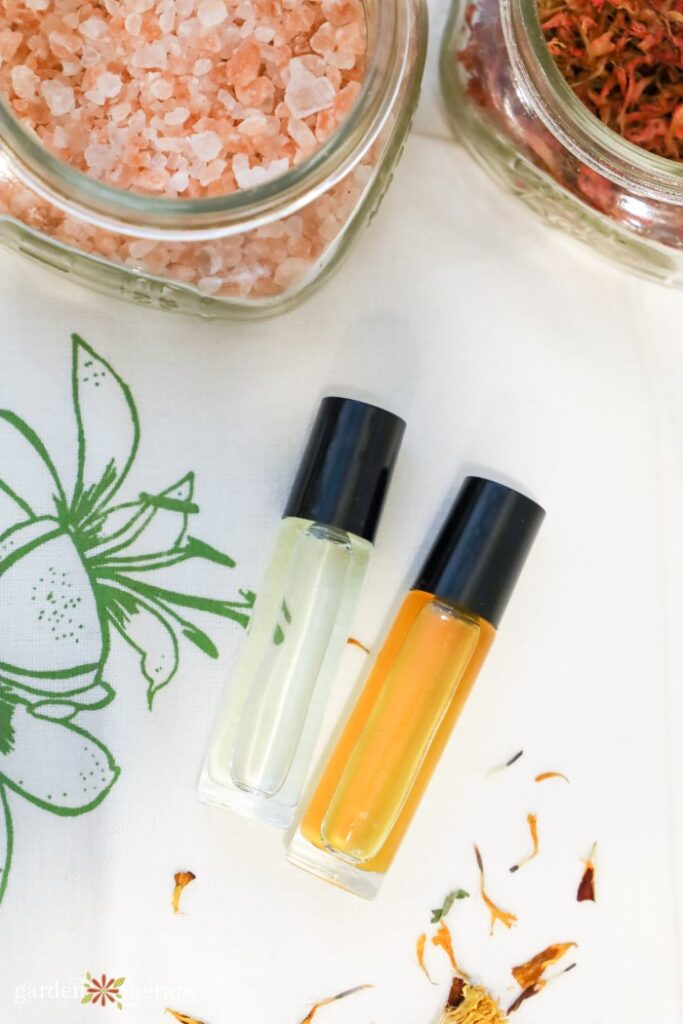 Fresh Blend
Once again, these all refer to the required drops of essential oils.
Top Notes
Middle Notes
Base Notes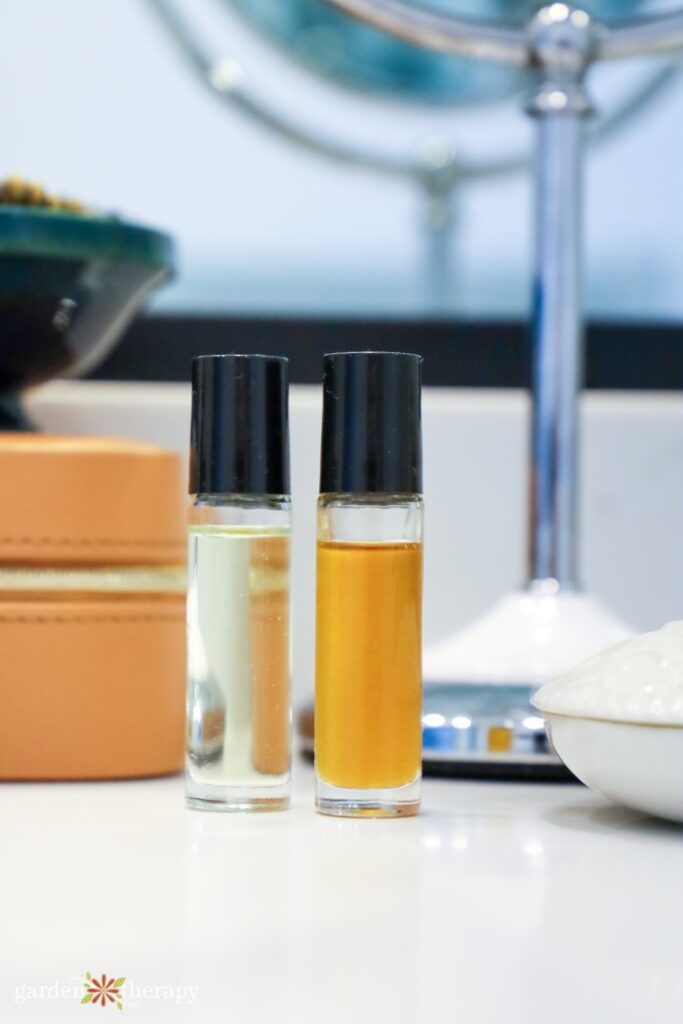 How to Apply Your Perfume
Before each use, shake your bottle to ensure nothing has settled. Then, apply sparingly, starting with the inside of your wrist. When you first apply it, note how it smells.
After 30 minutes, make some more notes about the scent. Repeat again after a few hours. When I first made the recipe, I found the perfume scent quite strong. I ended up cutting the recipe in half.
These all-natural perfume recipes feel perfect to me now, but testing them on yourself will ensure that the scent is right for you too. Scent is about as personal as it gets!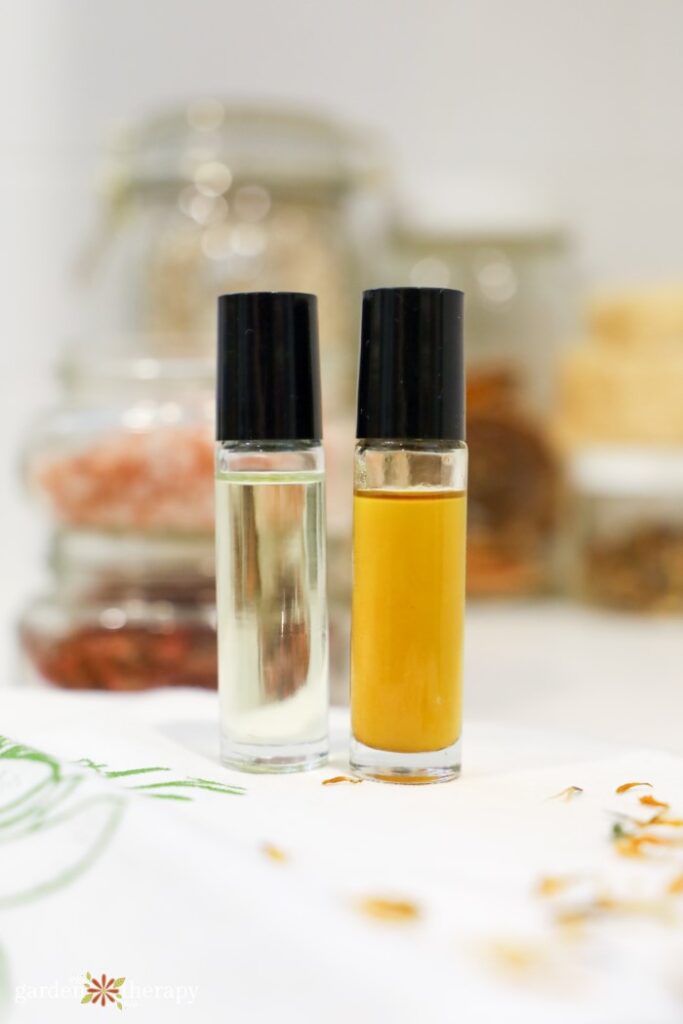 Frequently Asked Questions About Making Natural Perfume
What can I use for natural perfume?
The best way to make your all-natural perfume is with essential oils. Essential oils are extracted from plants, creating a highly potent extract. It contains many of the plant's herbal, medicinal, and fragrant properties.

While you can make your own extractions, it is quite difficult and sometimes pricey. Essential oils are natural and full of scent, making it easy to create a custom blend.
What is the difference between natural and synthetic fragrances?
Natural doesn't have any specific regulations or definitions in the beauty industry (hence why every skincare and beauty brand likes to use it), but in my books, it means plant-based. They are fragrances from flowers, fruits, trees, and more plants. They contain hundreds of complex molecules.

Synthetic fragrances are made in a lab. They can use inspiration from plants and may even begin from natural materials, but they're synthesized, so they are no longer like their natural form. In most cases, there are very few different molecules.
What are botanical fragrances?
Fragrance oils are made in a lab and are not extracted directly from plants. Botanical fragrance oils, or natural fragrance oils, use natural materials as the base and then isolate or combine specific molecules. So while it comes from a natural base, it has been altered and manufactured in a lab.
How long does homemade perfume last?
Natural perfume won't last as long as synthetic fragrances. But you will probably use all your natural perfume before it goes bad.

Most essential oils are good for about two years before they degrade in scent and herbal properties. Read the label of your essential oils and carrier oil. The earliest expiration date you see is how long your natural perfume will last.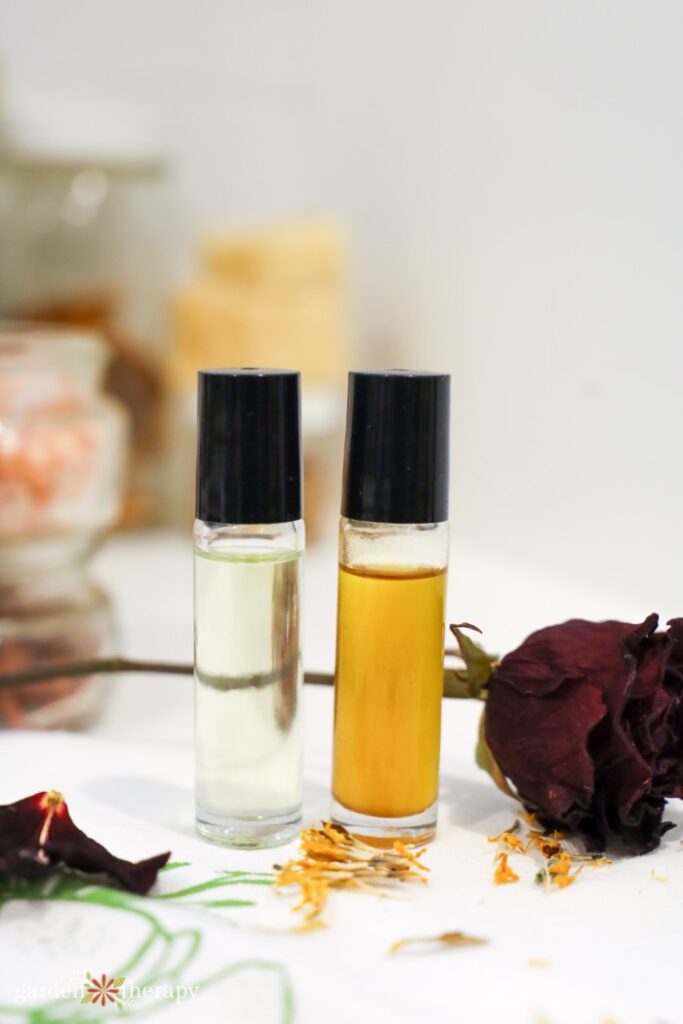 More Ways to Use Essential Oils
Romantic Natural Perfume Blend
This sweet scent has many floral and natural notes, including bergamot and rose.
Instructions
Remove cap from roller ball.

Add in carrier oil, followed by the drops of essential oils.

Add lid back on. Give it a good shake before applying sparingly to your wrist.