Here's an easy to make decor accessory made with natural materials you can probably scrounge up in your yard. The simple and elegant pinecone swag can be hung on the door, stair banisters, or even the front gate. Forage in your yard, the woods, or a friendly neighbor's garden for the greens and pinecones for this stylish holiday-themed craft.
Materials:
*Pinecones (assorted sizes)
Greenery from evergreen trees
Eye hooks
Thin wire or ornament hook
Ribbon
Scissors
*I used bleached pinecones. You can regular ones as well. Or you can use scented pinecones (see How to Dry and Scent Pinecones). Just make sure to bake them in a 200F oven for a couple of hours before use. This will ensure any creepy crawlies are taken care of before use. If you want to make your own bleached pinecones, check out this full tutorial on How to Bleach Pinecones.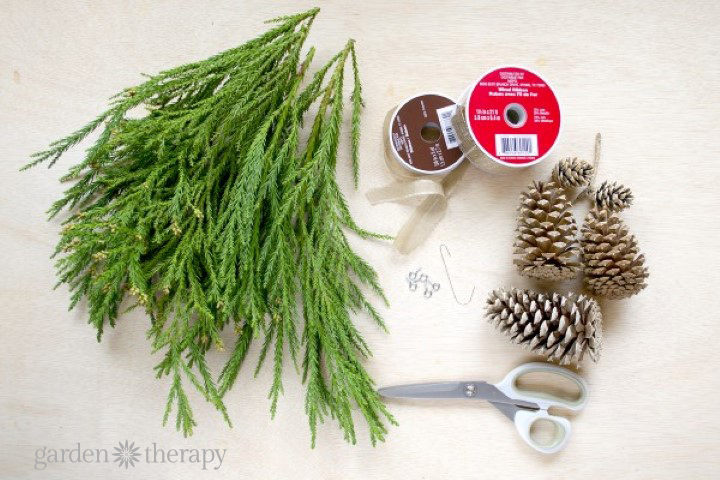 Make it!
Add the eye hook to the base of the pinecone. You will have to apply a bit of pressure to get the threaded end of the hook to penetrate the pinecone. Twist it in until it hits the base of the eye (round end). Repeat for the remaining pinecones.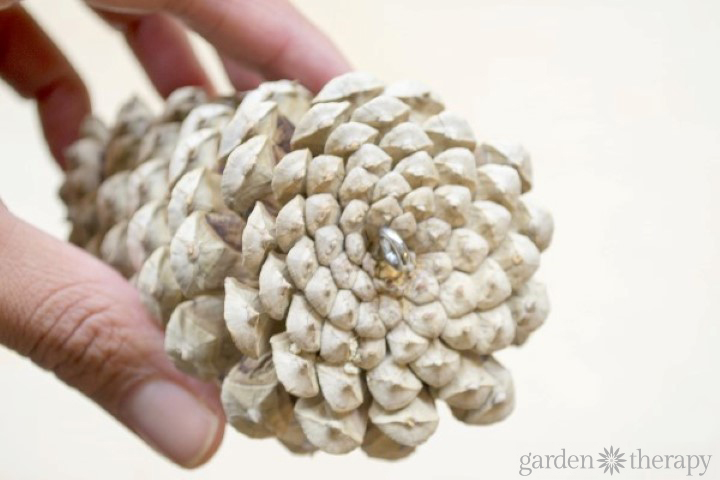 Cut a length of ribbon. String it through the hooks on the pinecones. Tie a double bow to  secure the ribbon to the hook. I kept my ribbon lengths about a foot long. Repeat for each pinecone.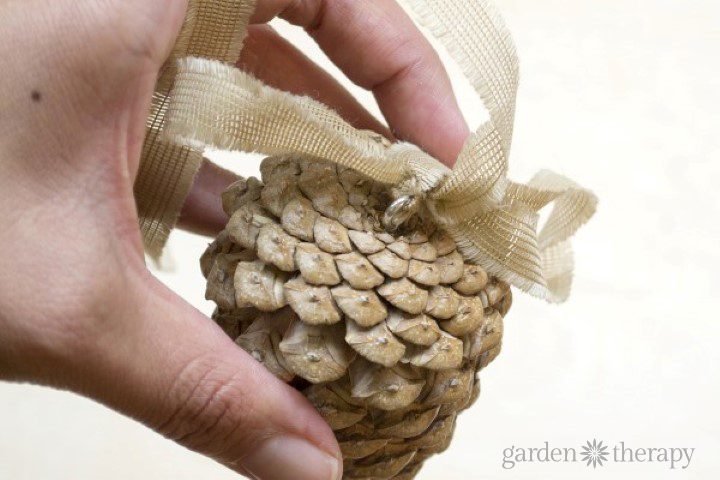 Cut another length of ribbon about a foot long. Gather the greenery into a bundle and tie it with the ribbon. Lay the greenery bundle down on a flat surface with the ends of the ribbons spread out.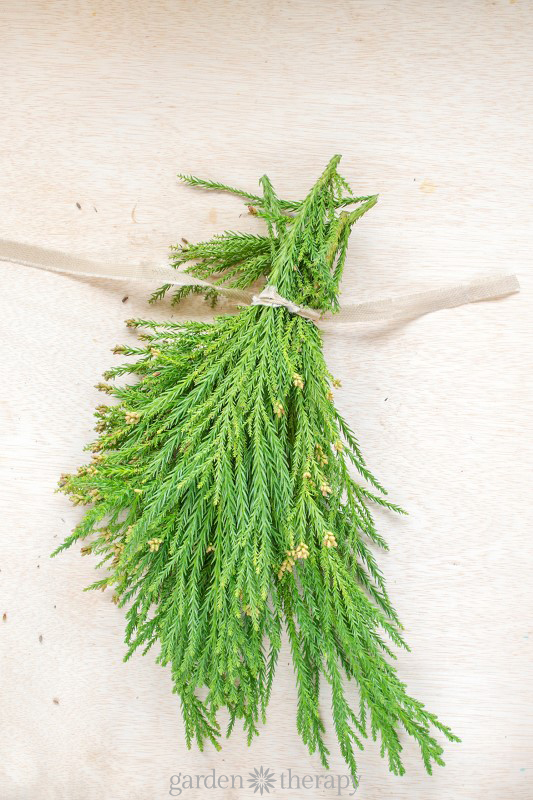 Arrange the pinecones. I like to use odd numbers and varying lengths. Gather the ribbon and let the pinecones dangle while you arrange them to your liking. Lay them on top of the greenery and tie them on with the excess ribbon that was used to hold the greenery together.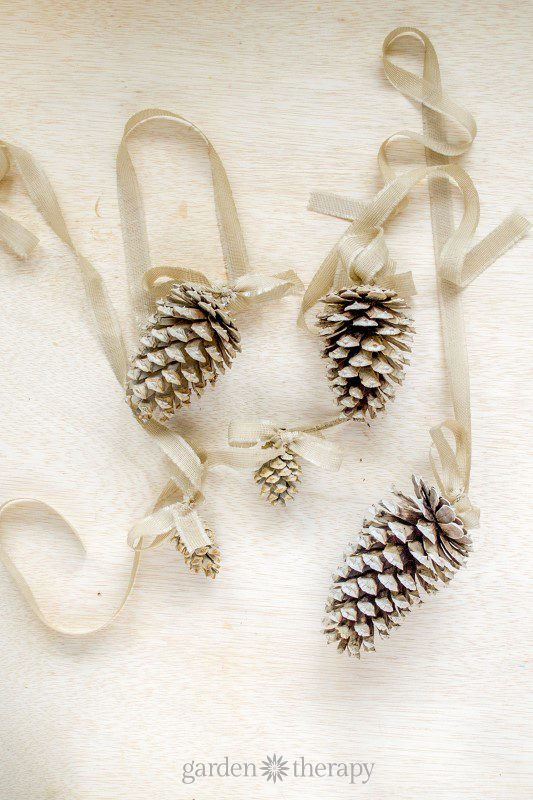 Adjust the pinecone lengths if needed by pulling on the individual ribbons. Once you are happy with the way they are arranged, wrap the ribbon around the top of the greenery bundle and secure with a knot. Trim off the excess ribbon.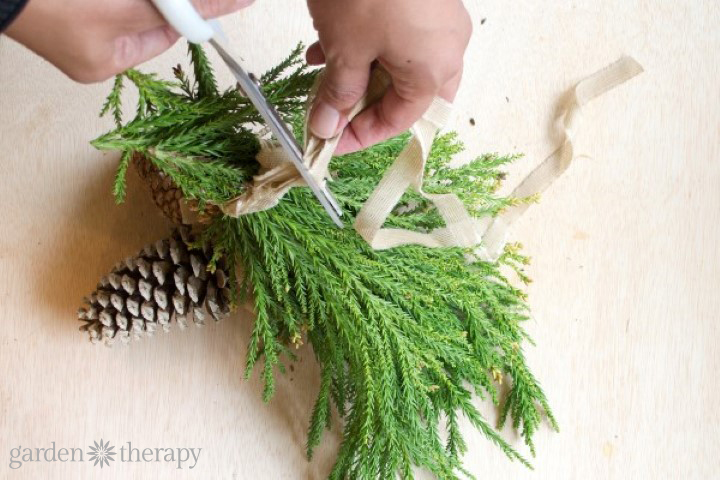 Take the thin ornament hook and loop it around the back of the swag. Bend the hook so it forms a loop and twist the opening closed.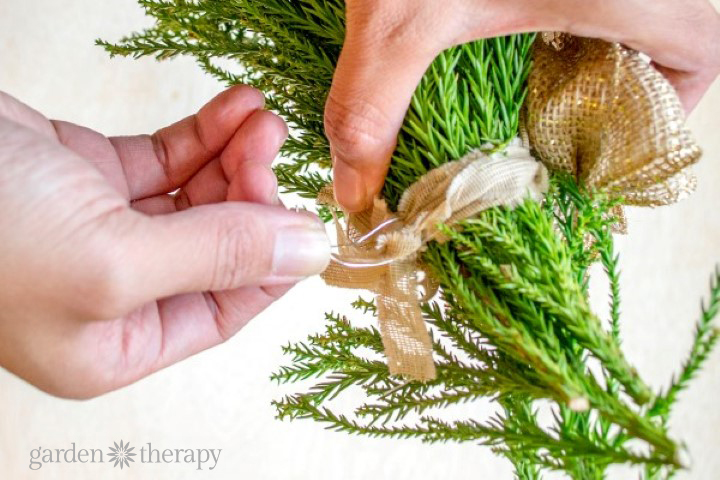 Add a large bow to the front and it's done!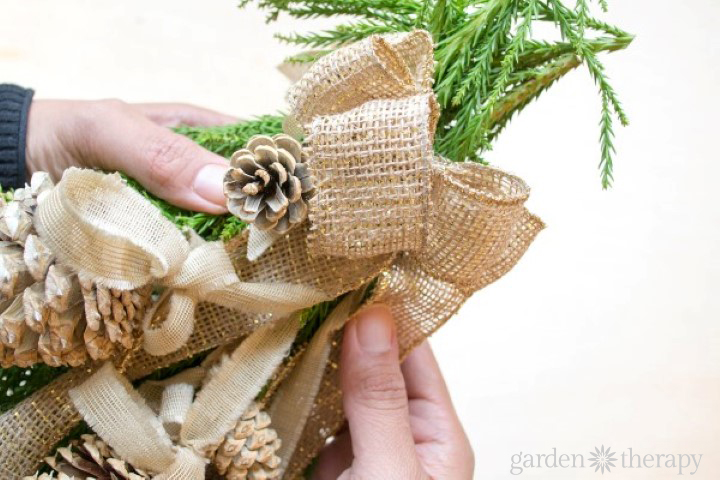 Your pinecone swag should last the entire holiday season. If the greenery starts to get a little dry, mist it with some water. Make a few extras to give as gifts.