Are you ready for the pumpkin harvest? Get ready with this ultimate guide on how to pick a pumpkin. Whether you're a certified jack-o-lantern artist or a pumpkin bread lover, I have tips to help you pick the best pumpkins for all your festive needs!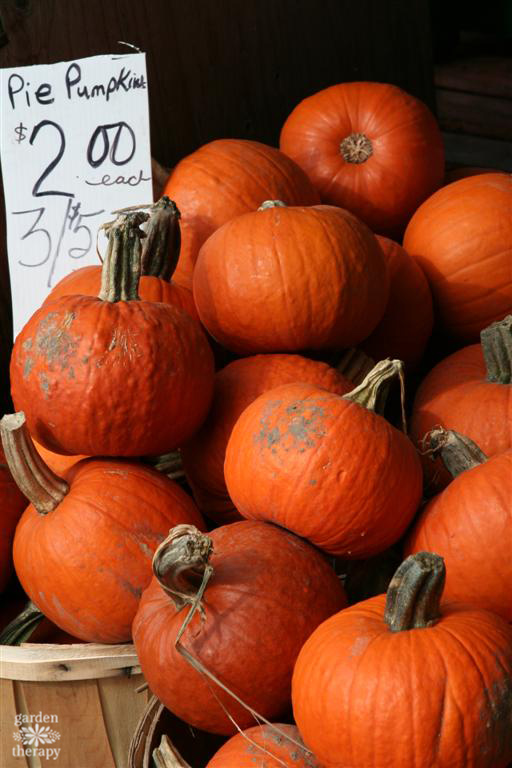 There's something about pumpkins that is SO nostalgic. They are so completely seasonal, reminding us of crisp fall days, comforting recipes, and of course, Halloween nights. After all, what's more autumnal than a pumpkin harvest?
I look forward to picking pumpkins every year for these nostalgic wonders. In dedication to these symbolic gourds, I've made you the ultimate guide to preparing for pumpkin harvest.
In this guide, you'll learn how to pick the perfect pumpkin for any purpose. I'll also answer any and all of your pumpkin-related questions!
This post will cover…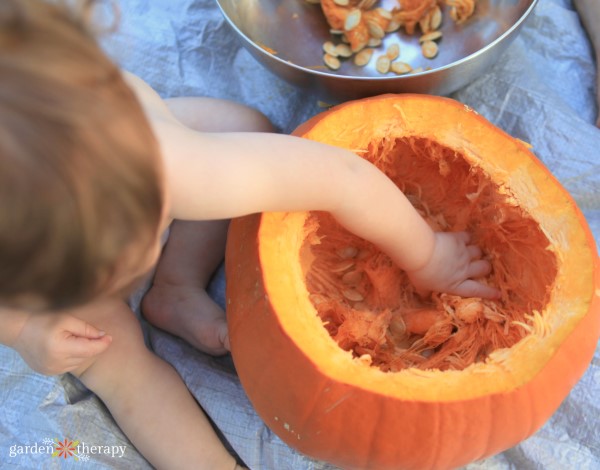 Stages of Pumpkin Growing
Interested in where your jack-o-lantern comes from? These are the stages in growing pumpkins!
From the Seed
It all starts with the seed! Planting depends on your climate, but pumpkins are usually best planted anywhere from mid-May to late July.
Pumpkin seeds will take 3-10 days to germinate. You can transplant germinated seeds, but it's best to germinate them directly in the outdoor soil! You should notice sprouts growing after germination (within a couple of weeks)!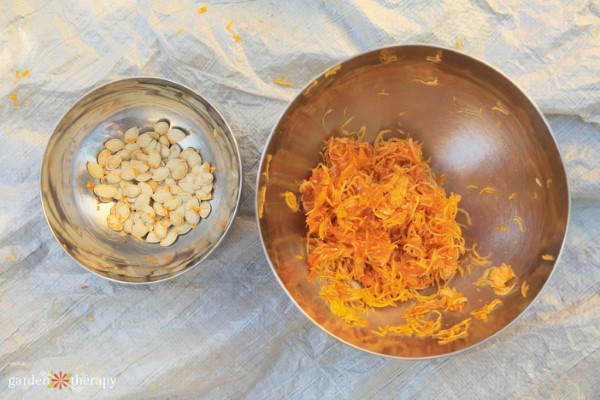 Developing Leaves
Next, the leaves! Leaves will begin to develop about a week after sprouting. They will continue developing for a few weeks after this.
Under ideal conditions, vines will grow rapidly (as much as 6 inches a day!). Vines will spread out from the base of the plant.
Forming Fruits
Vibrant yellow or orange flowers will appear midway through the growing season, first male flowers, then female flowers.
These flowers will become the fruits (AKA pumpkins) of the plant. Small green fruits will begin to form at the base of the female flowers. These are your baby pumpkins!
Pumpkin Harvest
Pumpkins will take several weeks to reach their full growth. They will usually take 45-55 days to grow to maturity after successful pollination.
Matured pumpkins will be fully orange. Their vines will be brown and starting to wither. It's time to harvest your pumpkins for eating!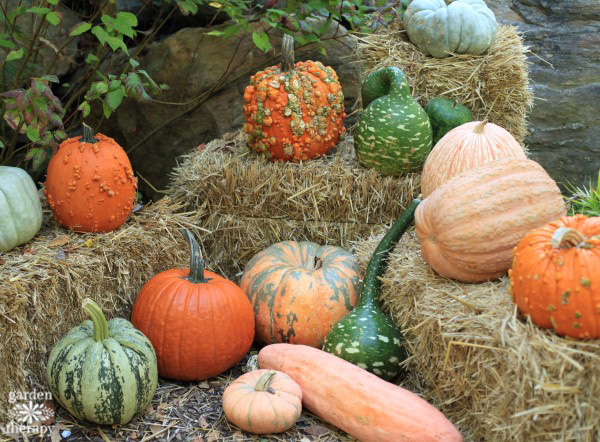 Tips On Growing Perfect Pumpkins
While you can head to the pumpkin patch to pick out a pumpkin, there's something so satisfying about eating and carving your own homegrown pumpkin. Here are some insider tips on growing the perfect pumpkins.
Early-Season Pollinating
To get the most out of your harvest, you'll want to invest in some early-season pollinating. You can hand-pollinate by using a paintbrush in four easy steps.
Locate a male flower and peel back the petals.
Collect pollen from the male flower onto your paintbrush.
Transfer this pollen to the female flower, brushing it onto the female's pistil.
Gently press the female's flowers together to keep pollen in.
Achieve Fun Twisted Stems
Have you ever seen pumpkins with those amazing twisted stems? You can achieve these storybook pumpkins yourself!
When you're growing pumpkins in your garden, turn them 1/4″ once a week to get these whimsical, curly stems.
Get HUGE pumpkins
If you want large pumpkins, you need to make some sacrifices! The plant only has so much energy to produce pumpkins, so you'll need to choose whether you want one huge pumpkin or a bunch of smaller ones.
If you choose several smaller pumpkins, keep them all on the vine. If you want to achieve a huge pumpkin, however, pull off the babies and just leave one or two behind.
You can also get bigger pumpkins depending on the seeds you choose. Choose wisely!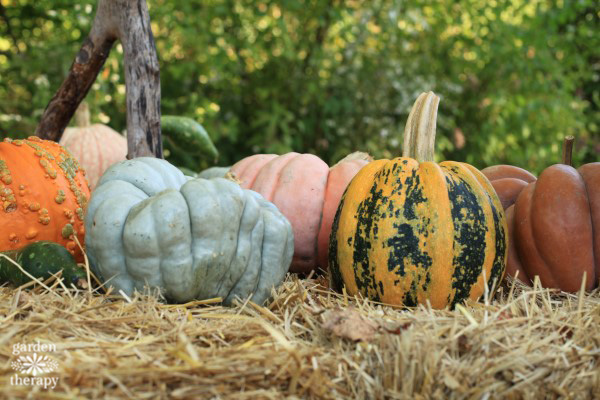 When to Harvest Pumpkins
Pumpkins are best harvested when fully matured! You'll be able to tell they're ready when they're fully coloured (a brilliant orange colour) and the skin is hardened.
Try testing your pumpkin skin with your fingernail; it should be tough enough that it isn't easily punctured. You should also hear a hollow sound if you knock on its side.
If you want to use your pumpkin for decorative purposes, you can definitely harvest them when they're green. Green pumpkins can be picked in early October. They'll continue to mature when taken off the vine if they've at least begun to develop colour. It will take them about a month to be totally ready in time for Halloween.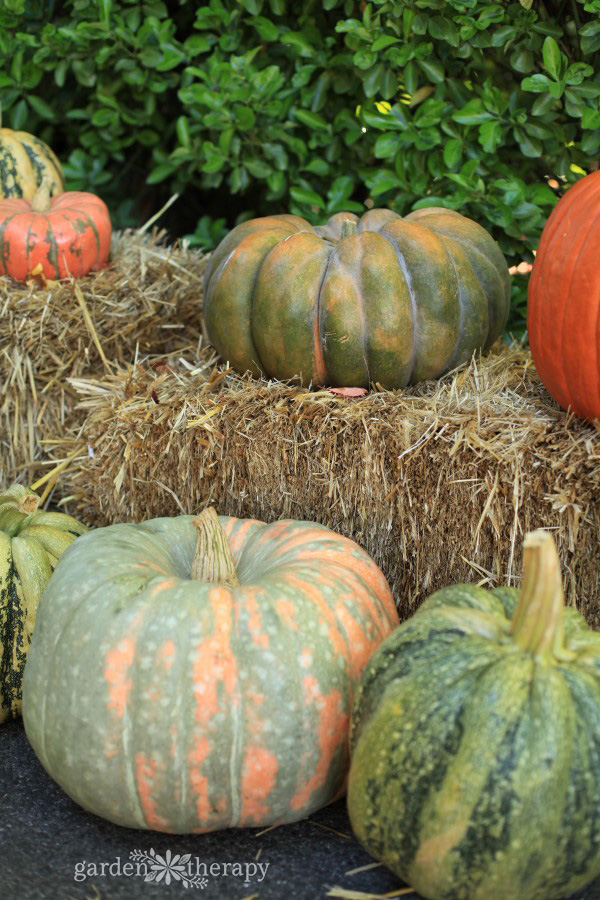 How to Pick a Pumpkin
While I like growing pumpkins, kiddo and I have been known to frequent a pumpkin patch or two. I have all the hot tips on picking the perfect pumpkin, whatever you're using it for!
Picking a Pumpkin for Carving
When searching for the perfect jack-o-lantern pumpkin, I try not to get ones that are too big. As fun as it is to have a giant pumpkin, it's really hard to carve!
Kiddo always goes for the big pumpkins, and I go for the small ones because I know I'll have to spend time helping him with his.
When at the pumpkin patch, I look for green pumpkins all the way around with little bits of orange if it's early in the season. I avoid any and all soft spots and brown or yellow spots; these are all hazard signs of future rotting!
When harvesting, whether at the patch or in your own backyard, ensure you cut the stem with a bit of length and a curved top. The hooked-over stem has a classic look and acts as a handle to provide easy access to the jack-o-lantern!
One of my favourite ways to carve a pumpkin is with these fun jack-o-planters!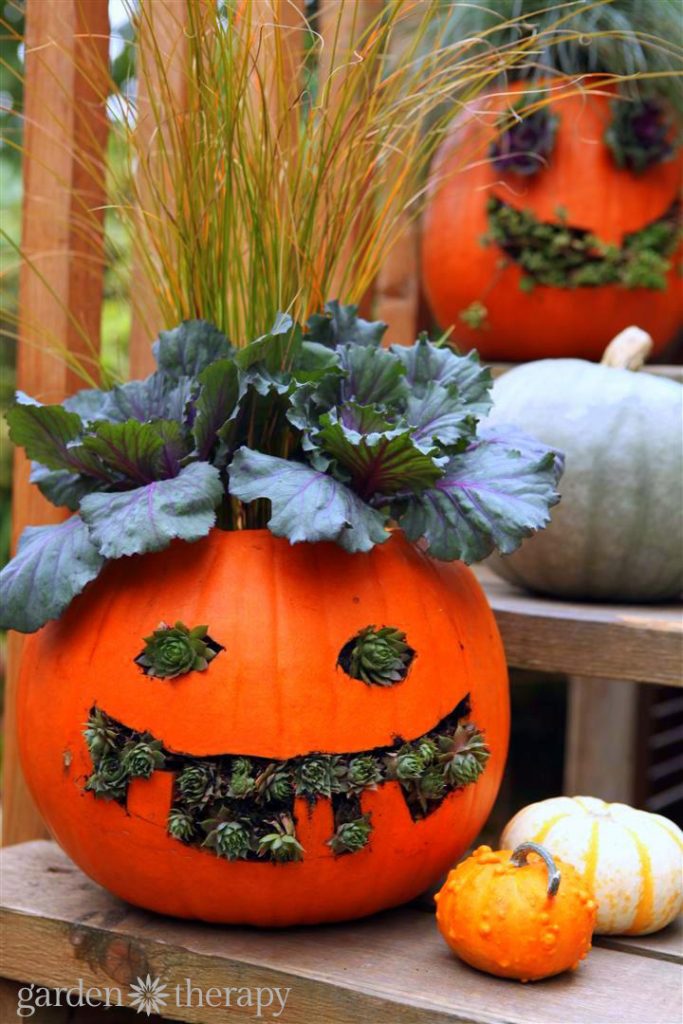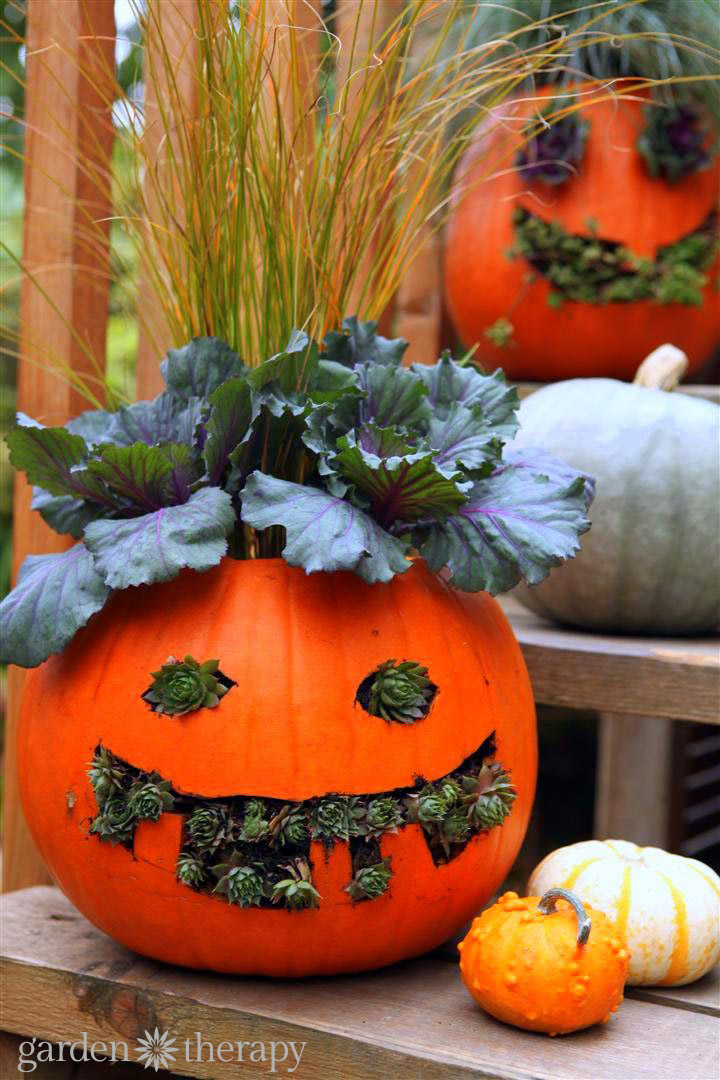 Picking a Pumpkin for Home Decor
When looking to use pumpkins for home decor, think small! Mini pumpkins make great choices for home decor because they're so long-lasting!
If stored in dry, cool conditions, these miniature gourds should last between 6 and 12 months. Keep these babies uncarved to enjoy lasting, festive decor.
I love using my pumpkins to decorate and use as planters, like this fabulous pumpkin arrangement! You can then make your pumpkin last longer with these tips.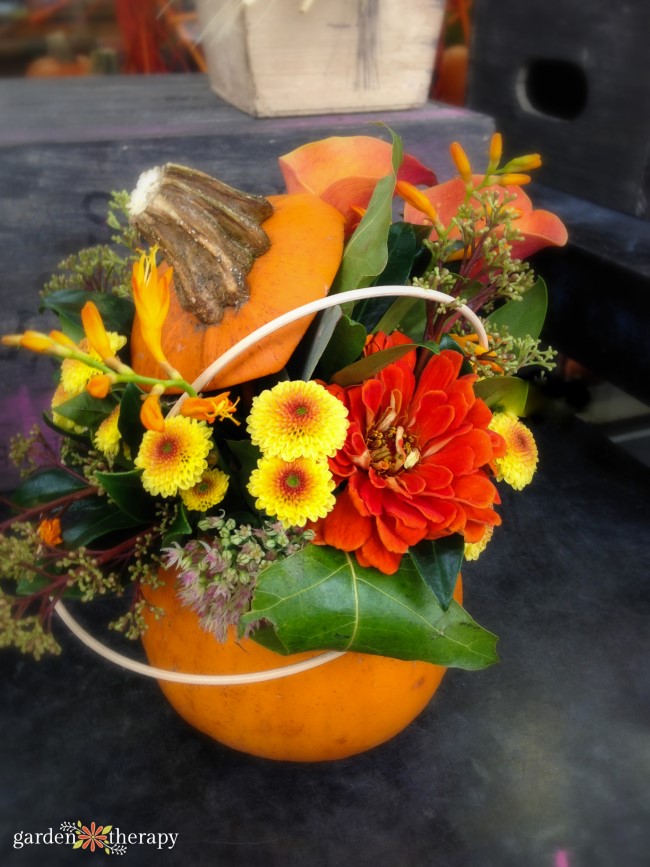 Picking a Pumpkin for Eating
Pumpkins are one of my favourite seasonal ingredients…they just scream fall time!
When picking the best pumpkin to add to soup, pasta, or a tray-bake, you'll want to go for a fully matured pumpkin. This means picking a pumpkin that is vibrant orange in colour.
The same rules apply from before, avoid those soft spots because they could be a sign of early rot! The colour should be even with no signs of discolouration or mould.
I LOVE pumpkin seeds. Try out this recipe for sweet and salty roasted rosemary pumpkin seeds.
Frequently Asked Questions About A Pumpkin Harvest
How do I find pumpkin picking near me?
The internet is your friend! Do a quick deep-dive with your favourite search engine. You're sure to find local farms with pumpkins ready to be picked.

If you're feeling really pumped on pumpkins, try growing your own. That way, you only have to go as far as your backyard.
Can you leave pumpkins on the vine too long?
While you'll want to leave your pumpkin on the vine for as long as possible, there is such a thing as leaving them for too long. Pumpkins should be safe to leave on the vine until the first autumn frost. Any longer than that, your pumpkin runs the risk of rotting on the vine.

If you're nervous about rot, you can always pick your pumpkins before they're fully matured. As long as they've begun to colour, your pumpkins can continue to ripen when off the vine. 
What does a green pumpkin mean?
Green pumpkins are a part of the growing process. If your pumpkin is green, it means it's unripe and still needs to mature (preferably on the vine!). 

These pumpkins aren't suitable for eating yet but can be used for carving and other decorating ideas at this stage.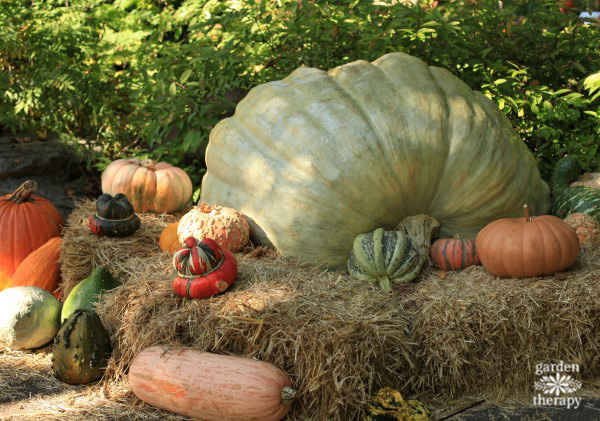 What do pumpkin plants look like?
You can identify pumpkin plants by their large, lobed leaves and signature vines. During their flowering stage, they have lovely, funnel-shaped flowers with globe-shaped bases. Their colours range from orange to yellow!
How long will my picked pumpkin last?
It depends! Whole pumpkins can last for 2-3 months when properly stored (in a cool dry place). 

A carved pumpkin will decay a lot quicker, usually lasting about a week or two when kept outside.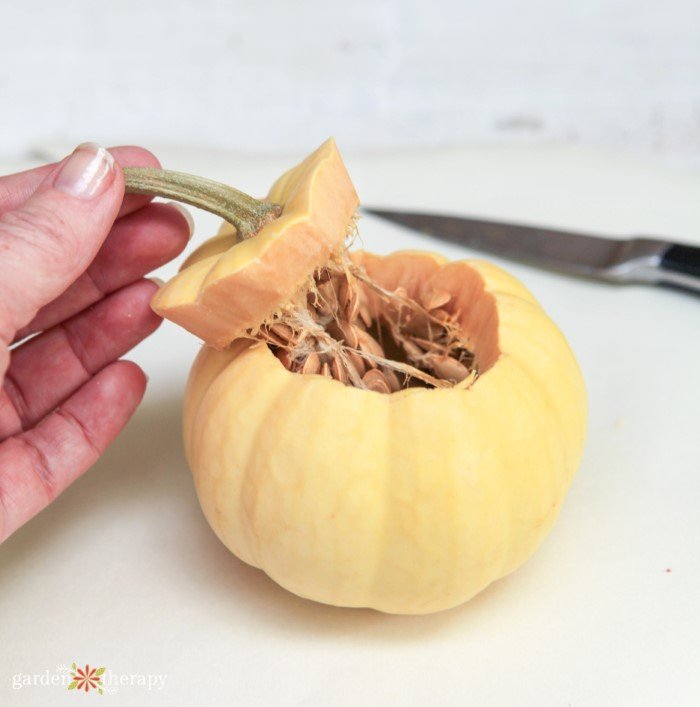 One of fall's greatest pleasures, enjoy the season with your newly picked pumpkin! Leave any more questions in the comments down below.
Pumpkin Projects to Try