This the fourth post in the Seed Starting Series. Please have a read of the other posts starting with Seed Starting 101 for the basics, Seed Starting Containers: The Real Dirt – Part 1 for many ideas on making your own homemade containers, and Seed Starting with Mini Greenhouses on how to get outdoor seeds a great start earlier.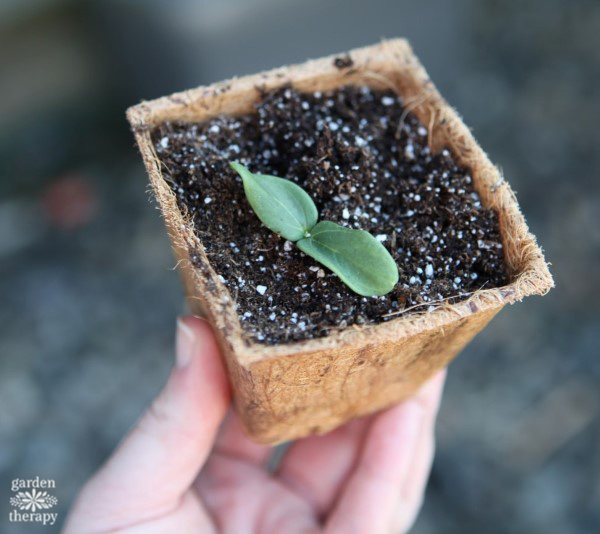 Part 2 of Seed Starting Containers: The Real Dirt checks out the pros and cons of store-bought seed starters from your garden center or supply store. Just like the homemade containers, there are many different options for starting seeds with purchased containers but not all of them will give your seedlings the best start. The prices range from frugal to just plain silly. Expensive doesn't always mean best. Please have a read through this list of pros and cans so you can sort out the gimmicks from the goods.
Peat Pellets
These little pressed peat pellets are sold in small disks covered by thin netting. When soaked in water they grow to 3-5x in size and have a little hole in the top for the seed to go in. They are often sold in mini greenhouse kits with a black watering tray and clear plastic greenhouse dome. With these pellets you are growing a plug which is meant to be potted up to a larger pot or in the ground quite soon after the seedling sprouts.
Pros: fairly cheap if bought in bulk (but watch out for high prices in some shops), compact to store, fits nicely in seed starting trays (in many cases you can fit 72 plugs per tray), netting can carefully be removed providing a protected soil plug that can be carefully potted into a larger pot or the garden

Cons:  too small to be useful for most seedlings, the netting should really be removed as to not stress the roots when they are tiny (technically roots can grow through the net, but in my experience the plants are smaller as the net restricts normal root growth), re-potting when seedlings are that small is unnecessarily stressful to the plant and they are easily damaged
Please note that peat moss is a controversial product. Some reports say that peat bogs are being over harvested and other reports show otherwise. For more information please check out Peat Moss and The Environment and The Myth of Permanent Peatlands.
Peat or Coir Pots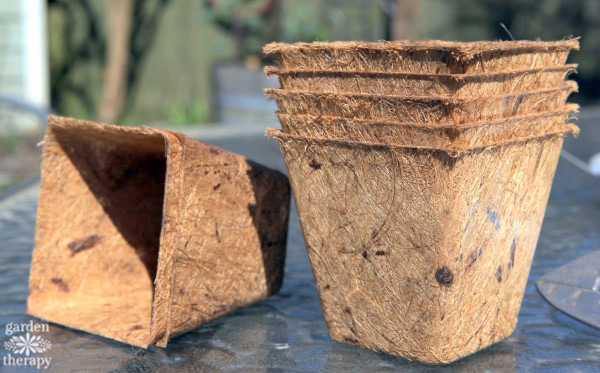 Pots made of pressed coconut coir (fiber) that you still fill with soil before planting your seeds are becoming increasingly popular plus they on-trend with a push towards green, biodegradable products. The claim is that the roots can grow through the pot so they can be planted directly out in the garden. You should rip the top of the pot off to soil level when planting out however, because if the edges of the pot sit above the soil line, it will wick moisture away from the roots.
Pros: Large enough that you don't need to repot the seedling right away, more sustainable than plastic (but see note on peat moss above)

Cons: EXPENSIVE, gimmicky, gives roots unnecessary struggle to get through pot to reach garden soil (some manufacturers call this "root-pruning" but I still find the plants are much smaller and less healthy than those without the root ball surrounded by a biodegradable pot
Plastic Pots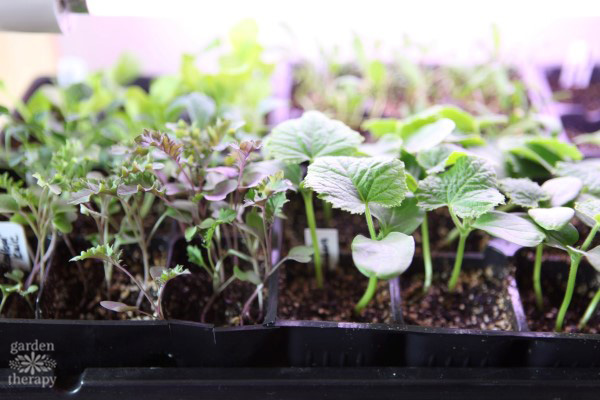 There is a wide array of plastic pots available for seed starting. You can use the nursery pots that you or your gardening friends will no doubt have stacked up somewhere from buying brand-sparkly-new plants. You can also buy a whole array of sizes and shapes for setting in black plastic trays. In general, bigger pots are best for bigger plants and plants that are delicate (that you don't want to transplant too many times). Smaller pots sometimes come in multiples like 6 or 9, can be used for growing smaller plants, plugs of multiples (like lettuce and peas), or for seedlings that will move out to the garden in a very short time (like beans).
Square tall plastic nursery pots are my favourite way to start plants. I like that they have a deeper soil base, are large enough that you don't need to pot-up seedlings before transplanting in the garden, and the square shape efficiently fits into black plastic trays. I also like plastic containers with 6 separate sections for growing many of one kind of plant.
Now, while plastic is not sustainable or biodegradable, I use the same pots year after year, washing them out at the beginning and end of the season. Some I have purchased but many I've just acquired so the cost is very low. I do replace my black plastic trays every few years when I can't patch up the holes. I have found a place to recycle them though, so I feel a bit better about that.
Pros: cheap to free, reusable, variety of sizes, best possible start for plants in my opinion.

Cons: not biodegradable, not cute or trendy
Mini Greenhouse Trays

The peat pellets, fiber pots, and plastic cells can be bought in pre-made mini greenhouse kits that include a black plastic bottom tray with some grooves to drain off the water and a clear plastic dome to act as a greenhouse, which prevents soil from drying out and maintains humidity. You must remove the dome after the seeds sprout as too much humidity can lead to "damping off," a fungal disease that will kill the new seedlings. I have a set of these from when I was a seed-starting beginner and I use them year after year. They are a great investment and an essential seed starting tool for me.
Pros:  neat, convenient, good system for germinating seeds, reusable

Cons: you will have to buy a larger dome if you want to keep using it past the sprouting stage as seedlings will quickly outgrow the lid, dome only useful for germination (after that high-humidity causes fungal disease)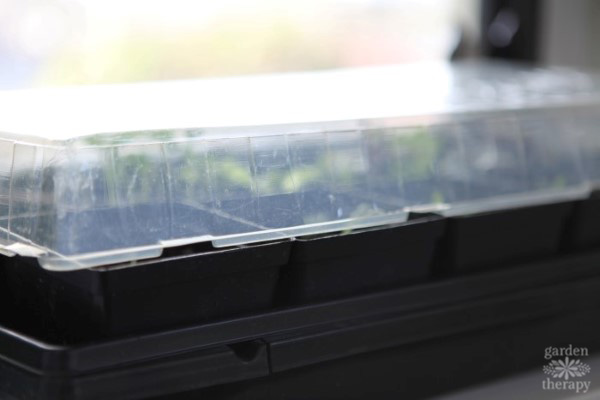 Self-Watering Trays
If you are a forgetful gardener, or plan to be away when you've started your seeds, then a self-watering tray is a good option. The pots sit on a fiber pad that wicks water up from a reservoir below. You must soak the pad and ensure that the reservoir is full then the soil sucks up moisture from the pad when it's needed. I have some and they stay very moist which is good for seedlings AND fungus. One thing to watch out for is mold growth or fungal disease starting on the wick. Keep the wick clean, washing occasionally and spray with a bit of hydrogen peroxide to kill fungus.
Pros: low maintenance, prevents seedlings from drying out

Cons: expensive to buy, promotes fungal growth
Heat Mats
Some greenhouse kits come with an electric heat mat that sits below the plastic tray. These can also be purchased separately. Heat mats claim to aid in germination by raising the soil to the optimum temperature. Some people use heating pads (that you would use for your back) but the temperatures are much higher on those so proceed with caution, you could easily cook your soil and seeds.
I always use heat mats for my tomatoes, it helps them germinate in just a few days as opposed to weeks and gets them off to a better start. Use the heat mat during the day and turn it off at night to simulate the natural cooling of the soil at nighttime. Remove the heat mat as soon as all the seeds have germinated and set them up with some grow lights instead.
Here is a photo of my set up, that include plastic pots in mini greenhouse trays (tomatoes, peppers, cucumbers, kale, tarragon, cilantro, spinach, radicchio) and some green self watering pots with individual greenhouse domes (different lettuce varieties and oriental greens).
For more information on the whole process of seed starting, check out Seed Starting 101 for a birds eye view of what's required to start seeds.
Check out the next post in this series, Growing Seedlings Indoors, which has instructions to build a DIY grow light set up like this: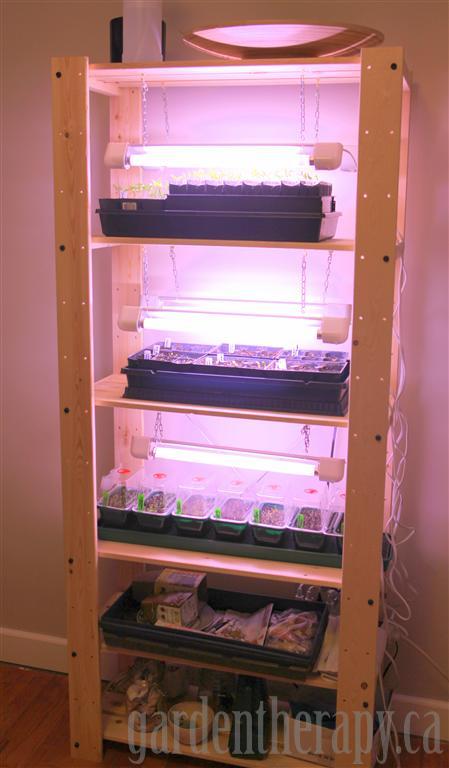 Buying Guide
To see the products that I wrote about, click on the links below. Most of these items can also be found in nurseries or hardware stores in late winter and spring. I have used them all and really there is not much difference in quality, so look for a good price! Please note that these are affiliate links and if you purchase one of these items through the link I provioded I will earn a small commission.