Craft projects don't always have to take blood, sweat, and tears. I mean, do we really need to work so hard for style? Or pay a fortune for it? Not in my books, or I should say Alison Caporimo's new book.
In InstaCraft: Fun and Simple Projects for Adorable Gifts, Decor, and More, Alison shows us 50 fun and simple projects for adorable gifts, decor, and more. One-of-a-kind bookends with two bricks and a little paint, designer-inspired French jewelry with an old locket and two coats of colorful nail polish, heart and star shaped cookie cutters into adorable picture frames–all will leave you saying, "I can do that!".
Alison joins us today, briefly, to share a project on turning an old pair of stockings into absolutely the fastest flower pot transformation!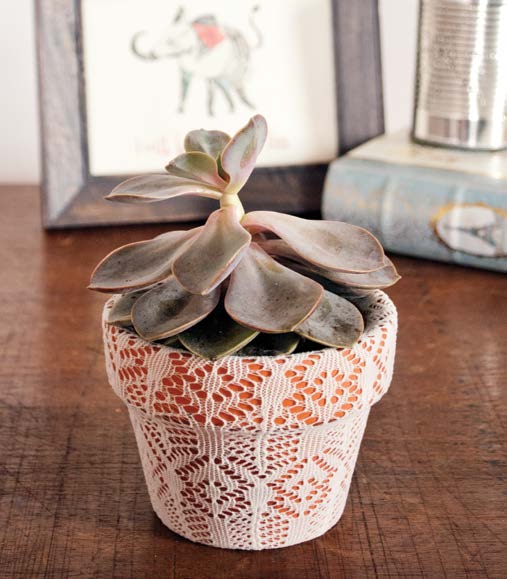 Stocking Flowerpot
Instead of tossing torn or ripped tights, try this two-second technique to give small pots some texture.
Materials:
Scissors
Tights
Flowerpot
Directions:
Cut the foot plus some extra off of a pair of tights. Pull the foot onto flowerpot.
Tip: To water the thick-leaved echeveria succulent seen here, fill a spray bottle with water and spritz the soil.
And yes, that is really all there is to it! For more information on planting and care of echeveria check out this Modern Succulent Bowl where I propagate and refresh these stunning succulents and How to Divide Succulents where you can learn how to increase your collection inexpensively.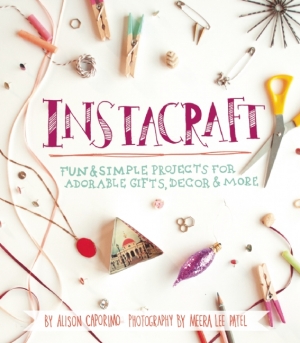 Whether you're a crafting pro or newbie, InstaCraft shows you how to turn 5 minutes, a few simple household items, and your own creativity into stylish, personalized trinkets, accessories and knick-knacks. Thanks so much to Alison for taking the time to stop by and share, even if it was just a few minutes out of her busy day!
Reprinted with permission from Instacraft by Alison Caporimo © 2013. Published by Ulysses Press. Photography courtesy of Ulysses Press.