Spring is made even sweeter with the emergence of delicate purple violets, dotting many a lawn and field in most parts of the country. Before you start spraying them or ripping them out and cursing them as weeds, think about this: violets are not only pretty, but like many wildflowers they are also edible flowers! Harvest them, make a gorgeous purple violet simple syrup, and whip up a sweet spring cocktail. One taste and you will look forward to them every year!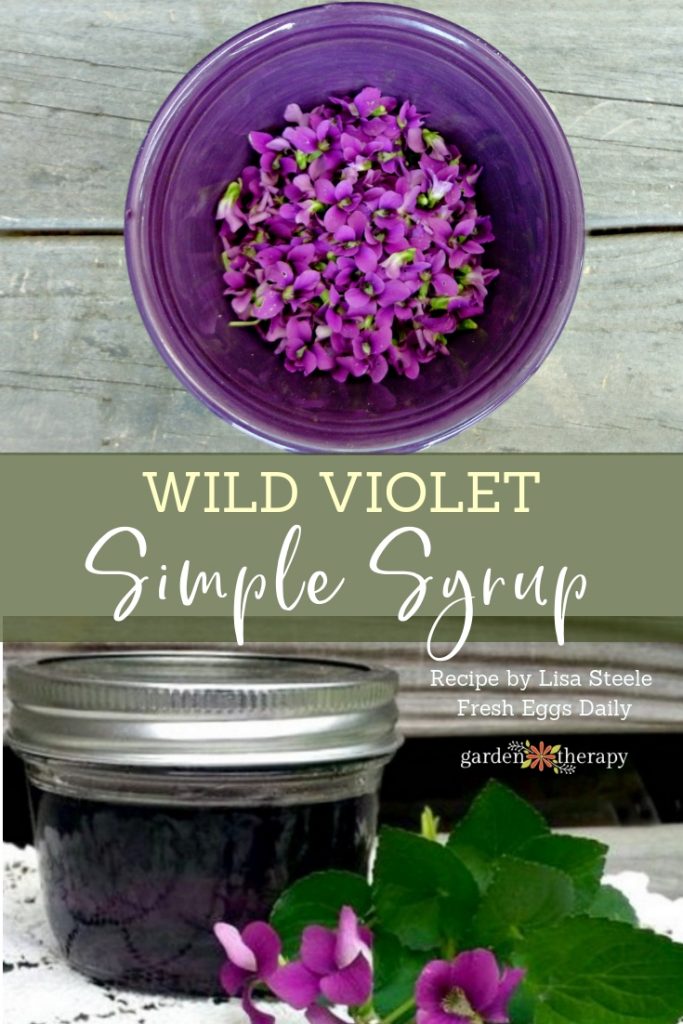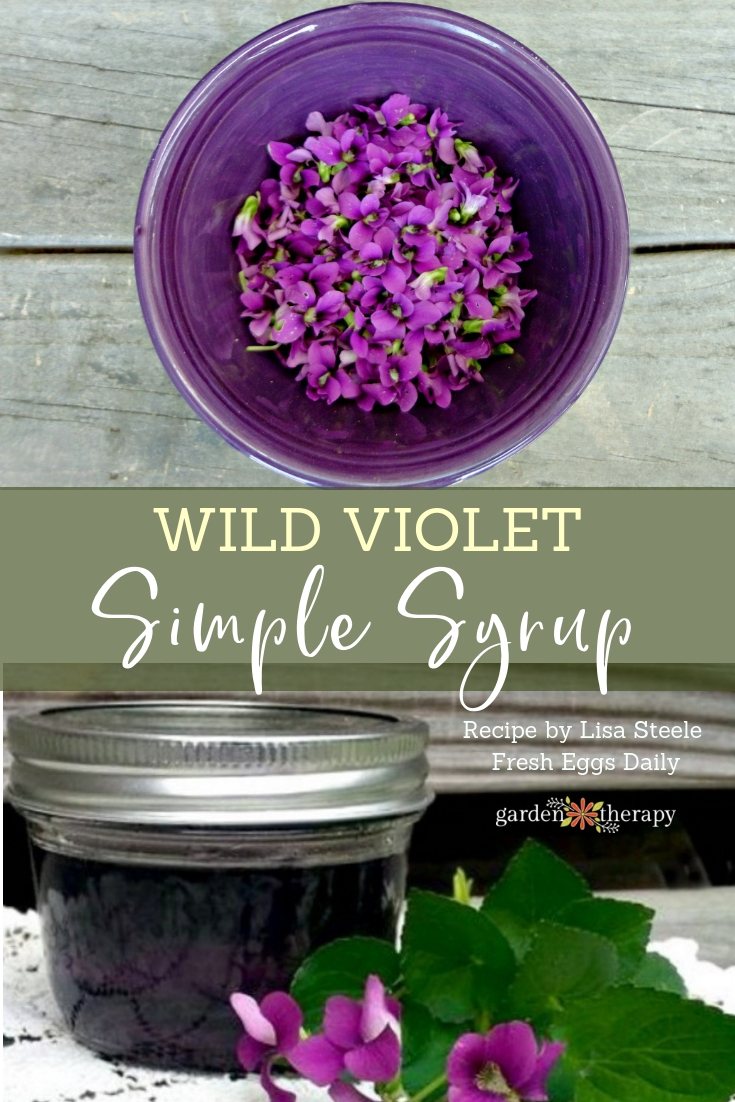 Violets contain a healthy dose of Vitamin C and purportedly help to promote restful sleep, ease headaches, and quiet coughs. The fresh flowers make beautiful dessert garnishes on top of cakes or cupcakes and a nutritious, as well as colorful, addition to salads.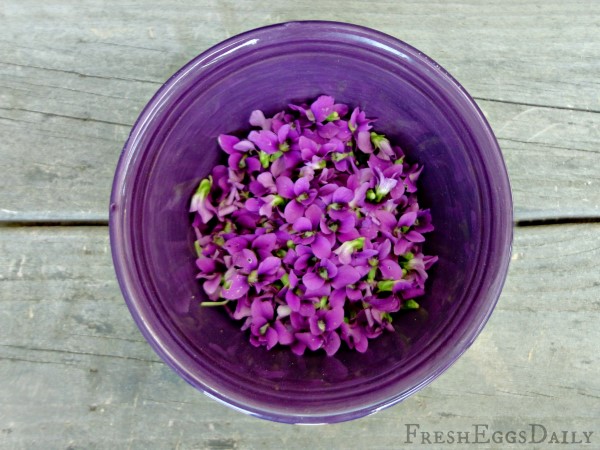 But one of my favorite ways to use violets is in homemade soda that starts with a batch of violet simple syrup. Far healthier than store-bought soda, it is simple and inexpensive to make. In addition to being all natural and not containing any preservatives or chemicals, the best part is that you can control the amount of syrup you use in each glass, as well as the type of sweetener you use, tailoring it to your own taste.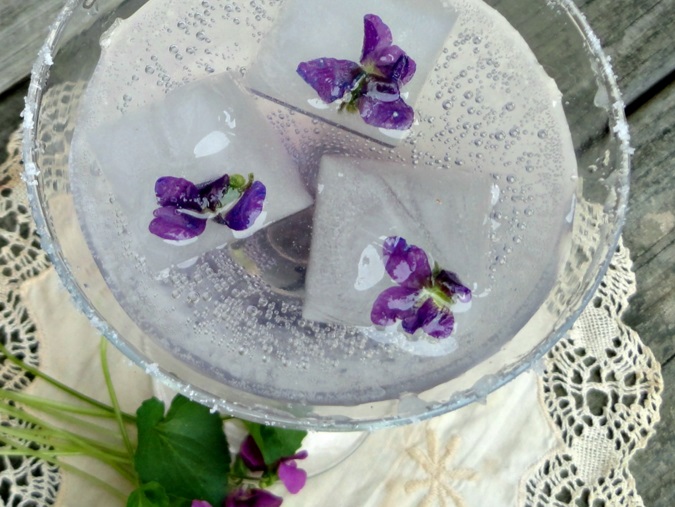 Homemade violet soda is the ultimate refreshing warm-weather drink, and when served in a martini glass with a sugared rim and some fresh violets (or violet ice cubes) as a garnish, it will wow your guests. If you are so inclined, you can also add a splash of your favorite alcohol such as vodka or gin to make it an adult drink.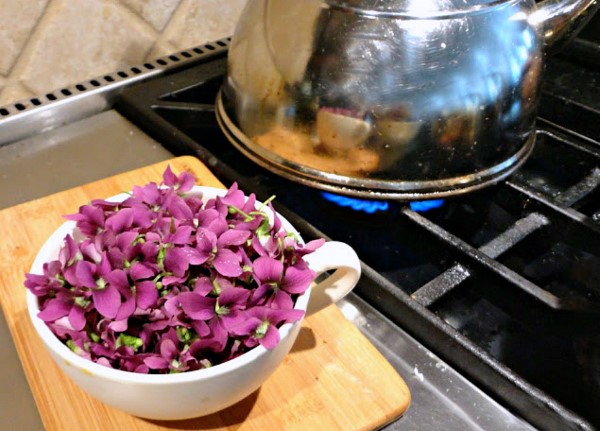 Wild Violet Simple Syrup & Soda Cocktail Recipe
Ingredients
Makes 8 servings
1 cup fresh-picked violets, rinsed clean
1 cup boiling water
1 cup sugar (you can substitute honey or any sweetener of your choice)
Club soda
Vodka or gin (optional)
Make it!
Pour the boiling water over your violets in a medium-sized bowl and let sit covered with plastic wrap overnight on the kitchen counter.
The next morning, strain the liquid into a small saucepan, pressing down on the flowers with a rubber spatula to release all the liquid, and discard the violets. Add the sugar to your saucepan and bring it to a boil, whisking until the sugar dissolves.
Remove from the heat and let cool completely. Pour your violet simple syrup into a sterilized mason jar and refrigerate until chilled.
When your syrup is chilled and you are ready to make your soda, spoon an ounce or so of syrup into each glass, then fill the glass with club soda. Moisten the rim of the glass and dip it in sugar first for a sugared rim. Garnish with fresh violets.
I often freeze a few extra violets into ice cubes and then put several into each glass before I mix my drinks. Feel free to add a dash of vodka or rum to give this sweet spring cocktail a little added zing!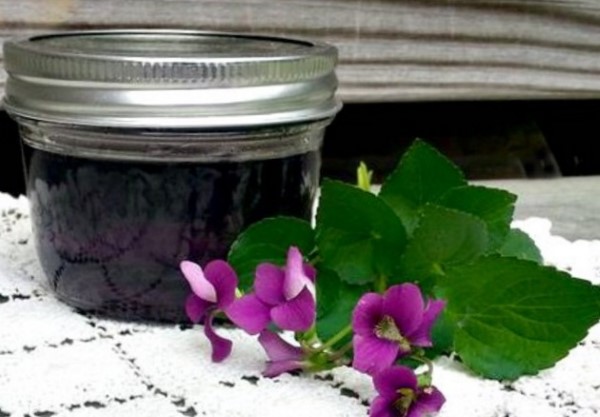 For more fresh, natural  ideas for using herbs as well as tips and tricks to help you raise happy, healthy chickens naturally, visit my blog Fresh Eggs Daily or find me on Facebook.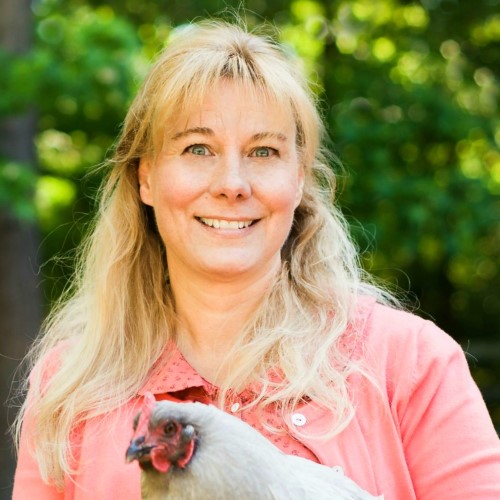 About the Author
Lisa Steele is a 5th generation chicken keeper, herbalist and avid gardener who lives on a small hobby farm in Maine with her husband, flock of assorted chickens and ducks, a timid German Shepherd, fearless Corgi, and a barn cat. When she's not tending to her flock or writing her blog or books. Lisa is the author of many books including Fresh Eggs Daily: Raising Happy, Healthy Chickens…Naturally, and Duck Eggs Daily: Raising Happy, Healthy Ducks…Naturally. Lisa enjoys knitting socks, sipping tea, and cooking using fresh produce from the garden and fresh eggs from her coop.
More Edible Flowers: