Pucker up for lemons in the most sinful way…as decadent pudding cakes perfectly portioned in individual jars.
Perfect for baking and serving, this recipe is just one of the many you will find in Kris Holechek Peters' book  Vegan Desserts in Jars, a full-color cookbook packed with 75 easy-to-follow recipes (without any dairy or eggs!).
Kris has joined us today to share this mouth-watering dessert.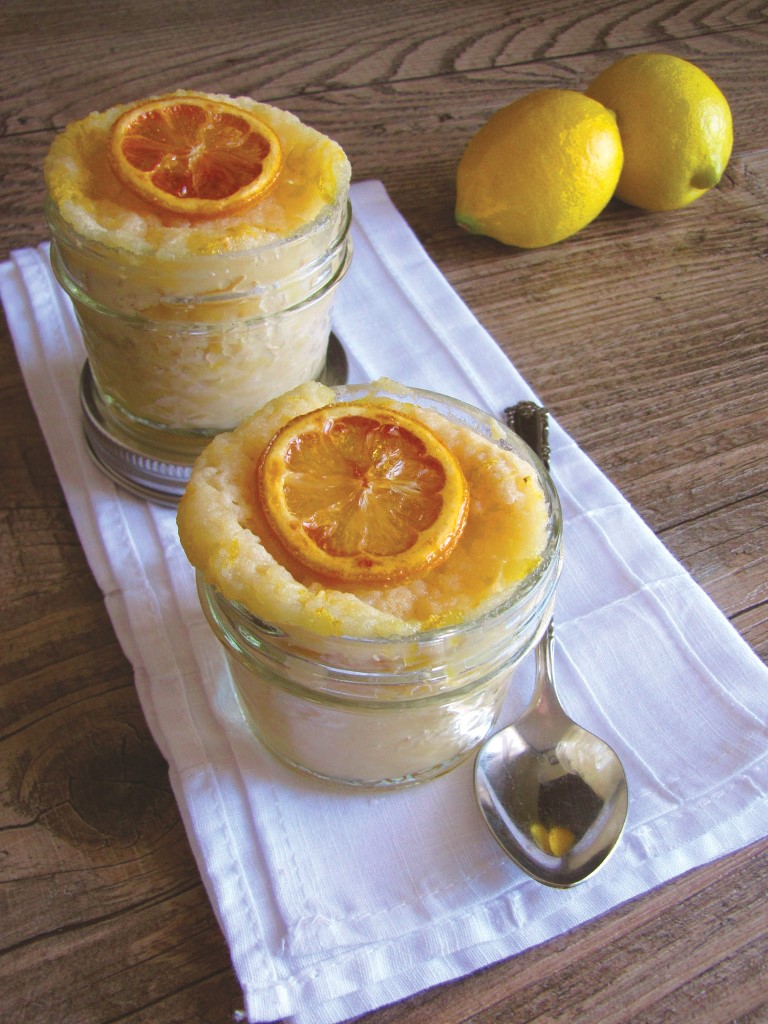 This is a recipe that can cause you to think, "Uh, oh." Before it goes into the oven, its fate appears dubious, but the oven gods work their magic. The moist cake floats to the top while the tangy pudding sinks to the bottom—kitchen chemistry at its finest. For saucier cakes, reduce the cooking time by 2 minutes.
Ingredients
Pudding:
¼ cup evaporated cane sugar
1 teaspoon grated lemon zest
¼ cup fresh lemon juice (from 1 large lemon or 2 small lemons)
¾ cup hot water
Cake:
1 cup unbleached all-purpose flour
1∕3 cup evaporated cane sugar
1 teaspoon baking powder
½ cup non-dairy milk of choice
2 tablespoons mild vegetable oil
1 teaspoon grated lemon zest
½ teaspoon vanilla extract
Makes 6 cakes
Make it!
Preheat the oven to 350°F. Lightly grease six 4-ounce canning jars and place on a large rimmed baking sheet.
Begin by prepping the pudding ingredients. In a small bowl, mix together the sugar and lemon zest. Set aside. In a small stockpot, combine the lemon juice and water and bring to a boil. Once boiling, turn off the heat, but leave the pot on the burner.
To make the cake, combine the flour, cane sugar, and baking powder in a small bowl. In a larger bowl, whisk together the milk, vegetable oil, lemon zest, and vanilla to combine. Add the dry ingredients to the wet in two batches and mix until just combined.
Fill each of the jars halfway with the cake batter. Top the batter with 1½ teaspoons of the sugar-zest mixture. Pour 3 tablespoons of the water/lemon-juice mixture on top of each jar. DO NOT COMBINE. It will look scary, but trust me.
Bake the cakes for 14 to 16 minutes, until the cakes have risen and are golden and the lemon pudding is bubbling underneath and around the edges. Let the cakes cool on a wire rack for at least 15 minutes before serving.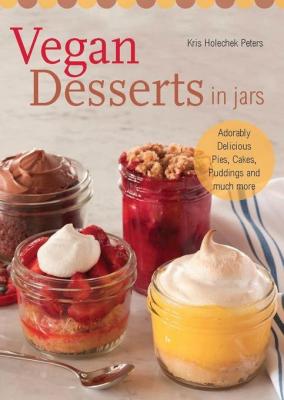 Kris has joined us before for these creamy Pumpkin Crème Brûlée jars. If you are looking for even more vegan delights that can be served in jars, grab a copy of  Vegan Desserts in Jars: Adorably Delicious Pies, Cakes, Puddings, and Much More and you will surely find something to tempt your tummy.