Get ready to awaken your senses with this energizing basil and peppermint soap. With just one whiff of this soap, your nose will be carried away to a herbalicious world. Ready to go? Make your own batch with this swirled cold process soap recipe!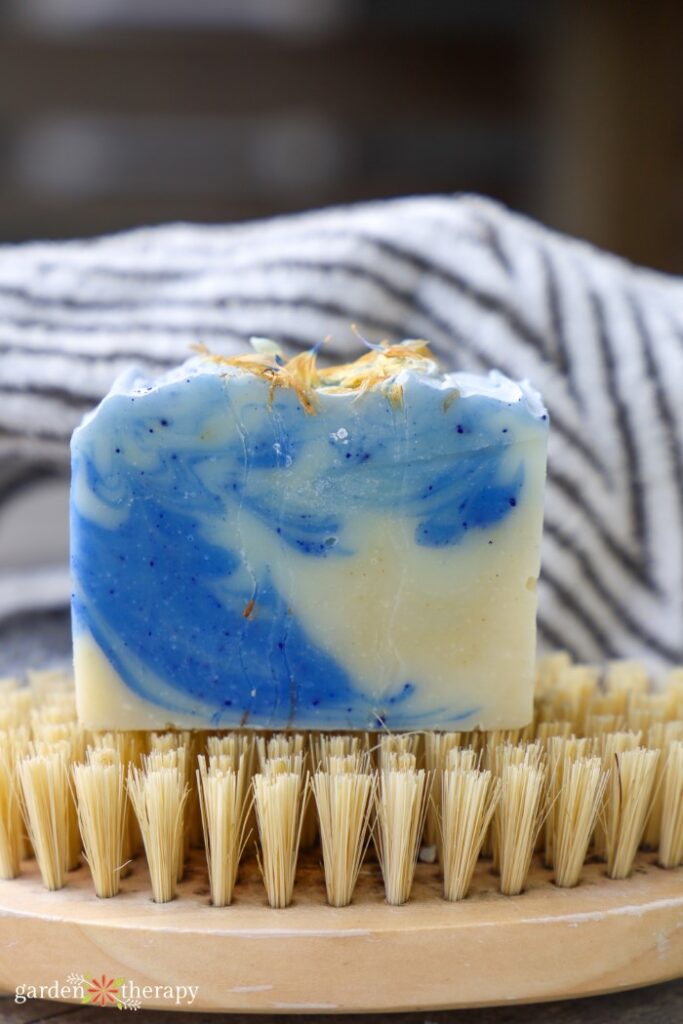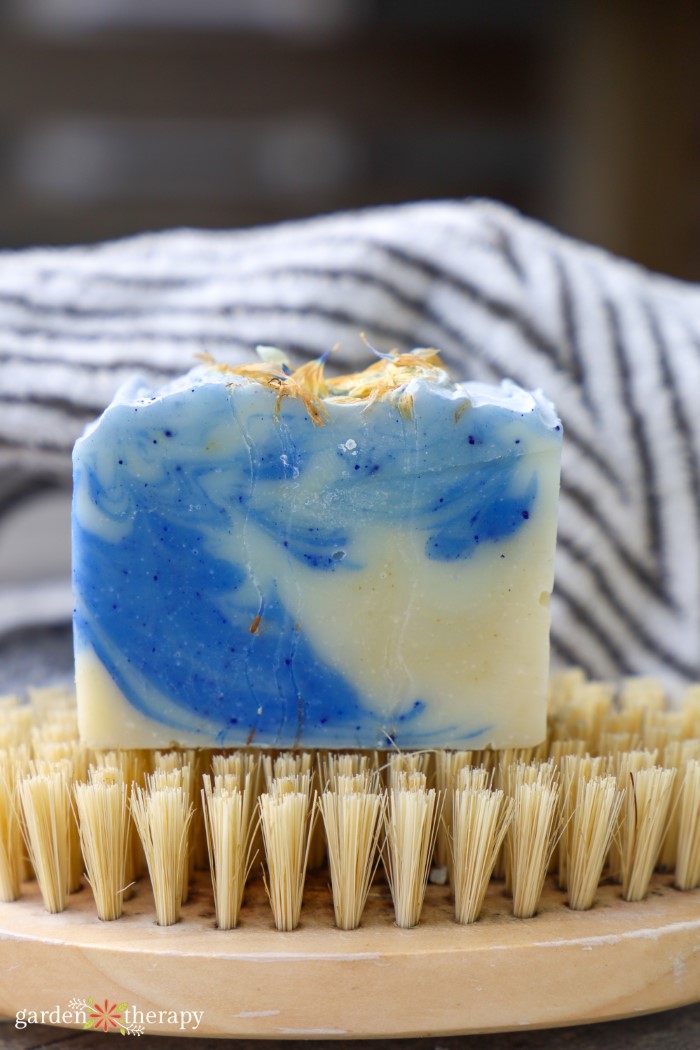 From chewing gum to mojitos and pizza to pesto, peppermint and basil have long been favourite herbs for many of us. While soap may not be your first thought for these two herbs, it really should be on the brain.
The combination of these two soaps is unlike any other. It's sweet, a little spicy, and a whole lot fresh. Excellent for spring, it reminds me of fresh garden air with the sweet and clean scent of herbs like mint and basil.
I love to use this soap in the kitchen to help deodorize my hands from cooking as well as in the shower when I want an extra pop of freshness to start the day.
This post will cover…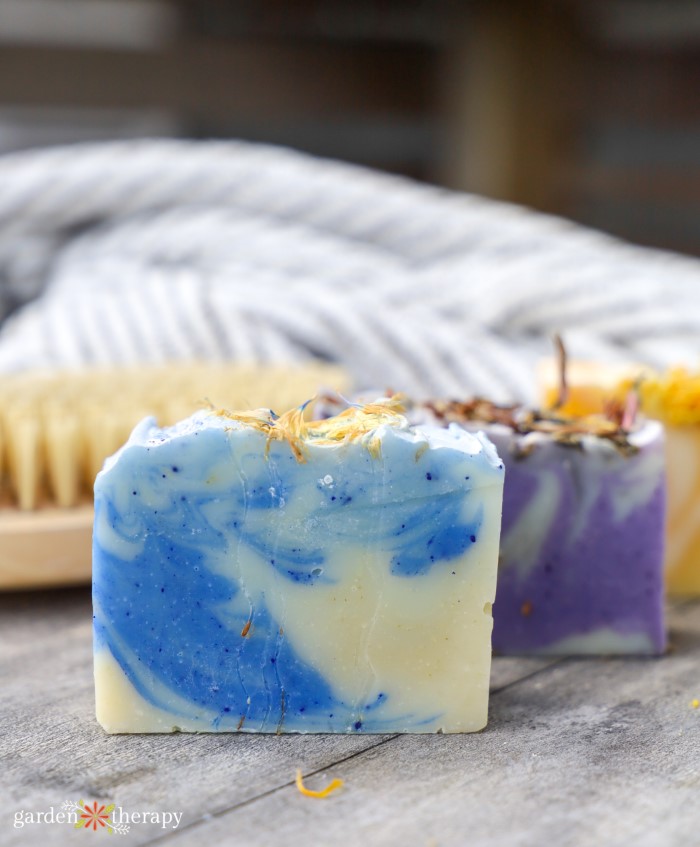 Why I Love Peppermint Soap
The main attraction of the mint family, peppermint essential oil is extracted from the leaves of the peppermint plant. Everyone knows the strong smell of the herb: cool, fresh, and just slightly sweet. Whether you're inhaling it, tasting it, or applying it to the skin, the effect is similar.
This is thanks to the chemical components of menthol and menthone. This gives the signature cooling effect that you feel on the skin when applied topically. First, it makes your skin feel cool, then it becomes nice and warm. This feeling distracts and helps with muscle aches and pains.
Perhaps one of my favourite uses of the herb is for treating headaches. When applied to the forehead or temples, it helps treats pain from tension and migraine headaches.
Peppermint also has minor antimicrobial properties. You can use it to help reduce the severity and length of itchy skin.
But you can't deny the scent. It's refreshing and energizing, working as an excellent deodorizer. So don't be afraid to get dirty and scrub it all away with this peppermint soap!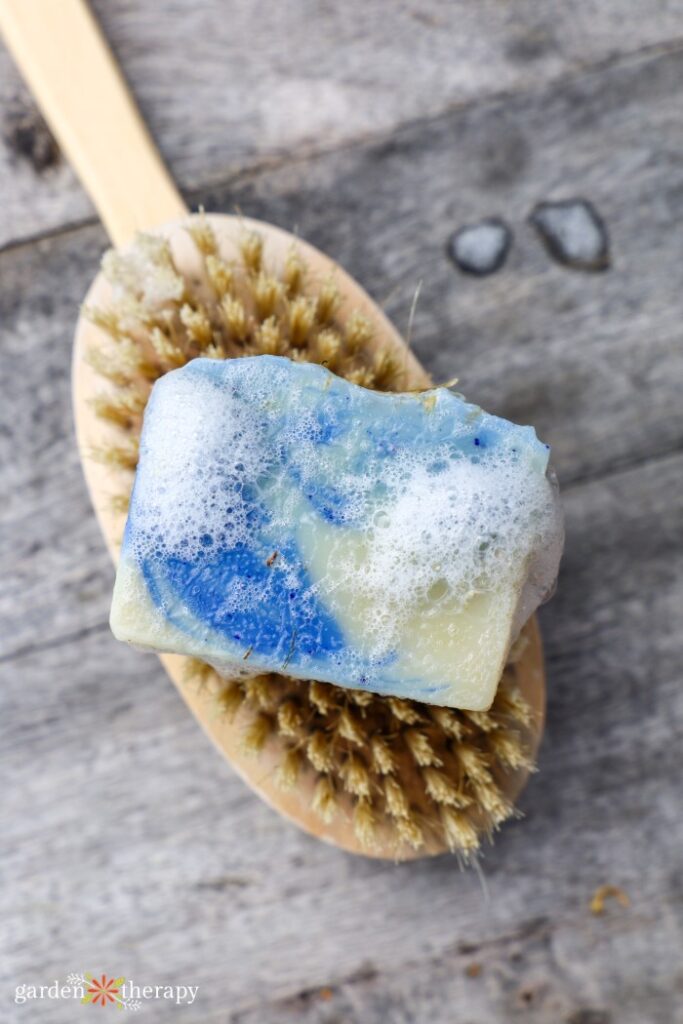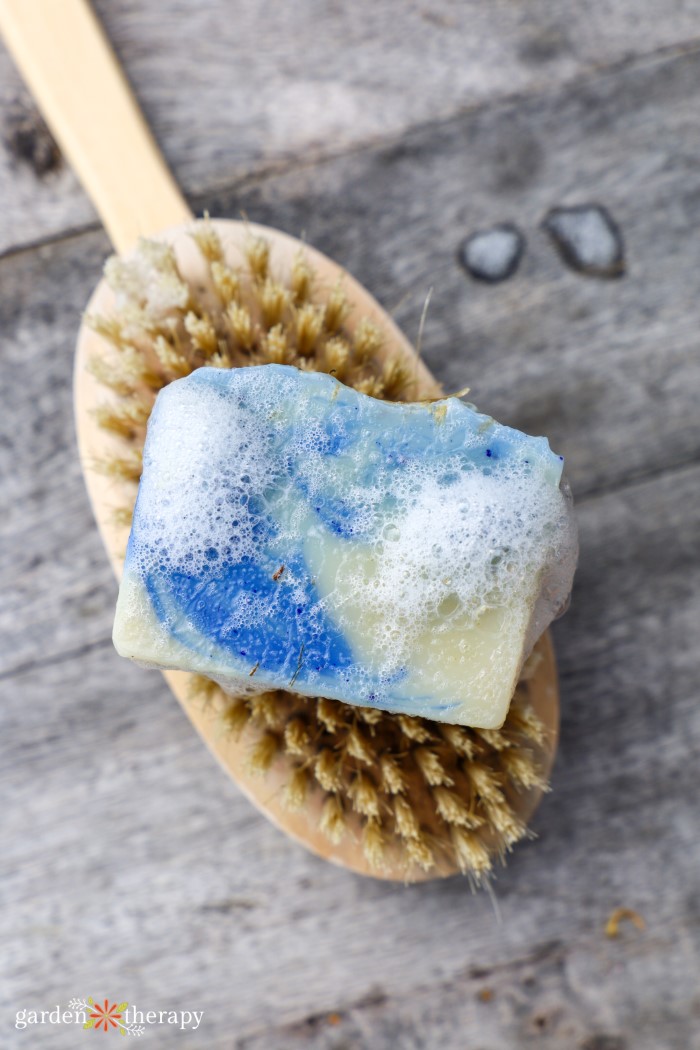 Benefits of Basil Soap
We also can't ignore the other half of this delectable soap, basil! Right next to mint, basil is one of the world's most beloved herbs. No herb garden is complete without basil. Ready for clippings immediately, everyone who grows a culinary garden needs basil.
One of the best parts of the herb is its fresh and notable scent. Sweet and slightly acidic, just one brush with the plant will give you a burst of fragrance.
The smell and the plant itself have cleansing properties thanks to being antibacterial and anti-inflammatory. Basil is known for helping with acne and blackheads and improves the appearance of dull-looking skin. Many people enjoy using it as a toner.
Together with peppermint, you have an extremely fresh and fragrant soap that's ready to tackle the day.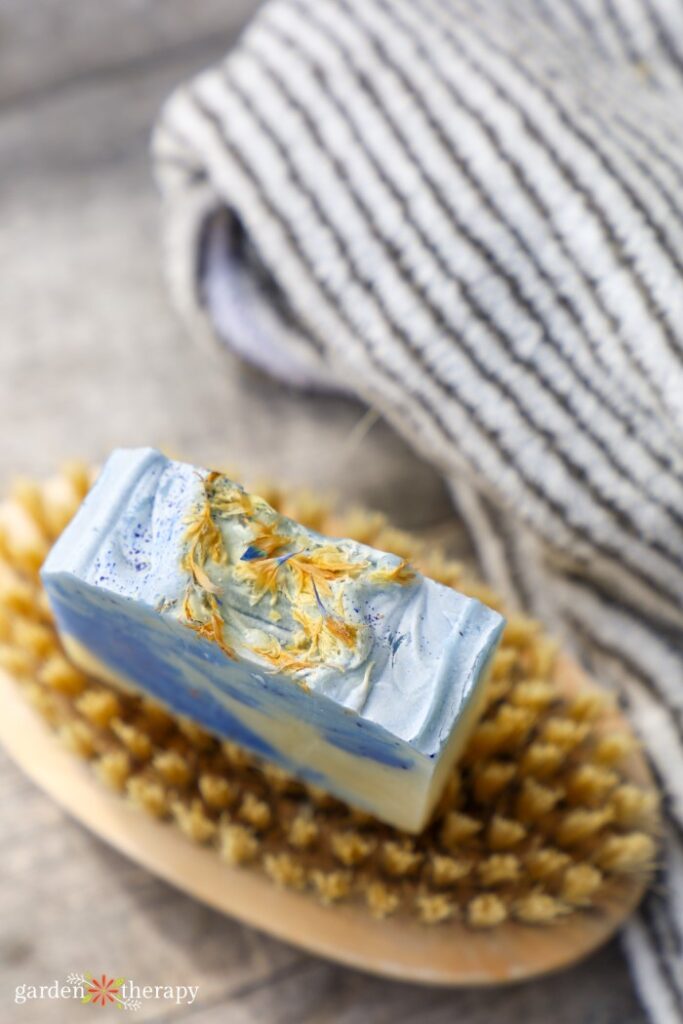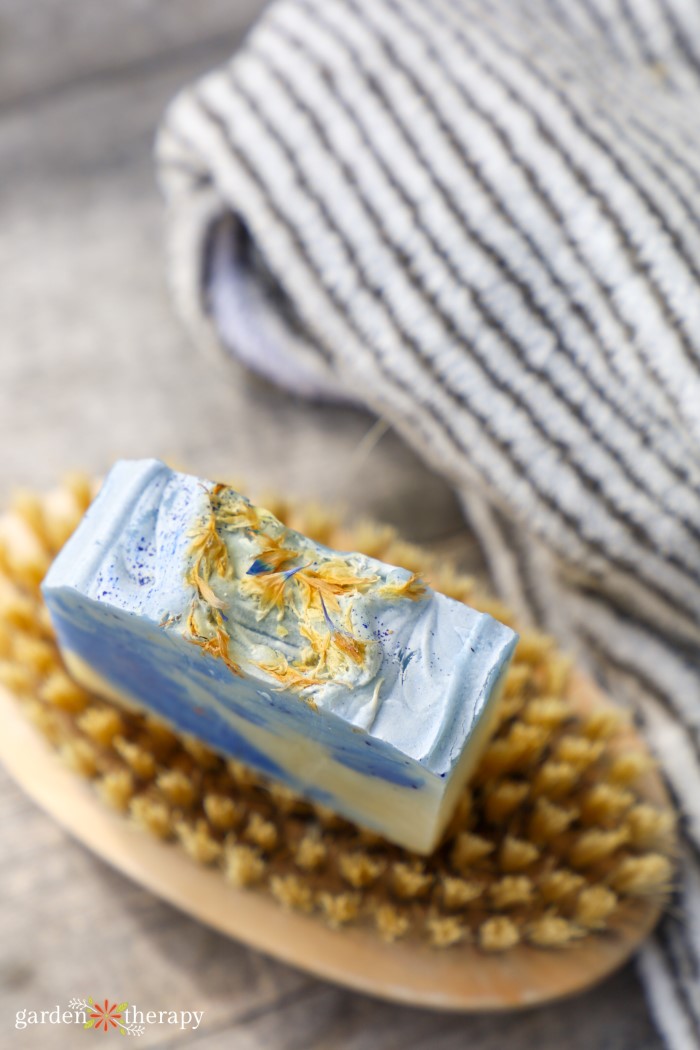 Basil and Peppermint Soap Recipe
Even if you woke up on the wrong side of the bed, you can still start off the day fresh with this basil and peppermint soap. I have many many soap recipes so if this is your first time making soap, be sure to see the detailed instructions on making cold process soap first.
Ingredients
This recipe makes 2 lbs of soap. For exact measurements, see the recipe card.
Materials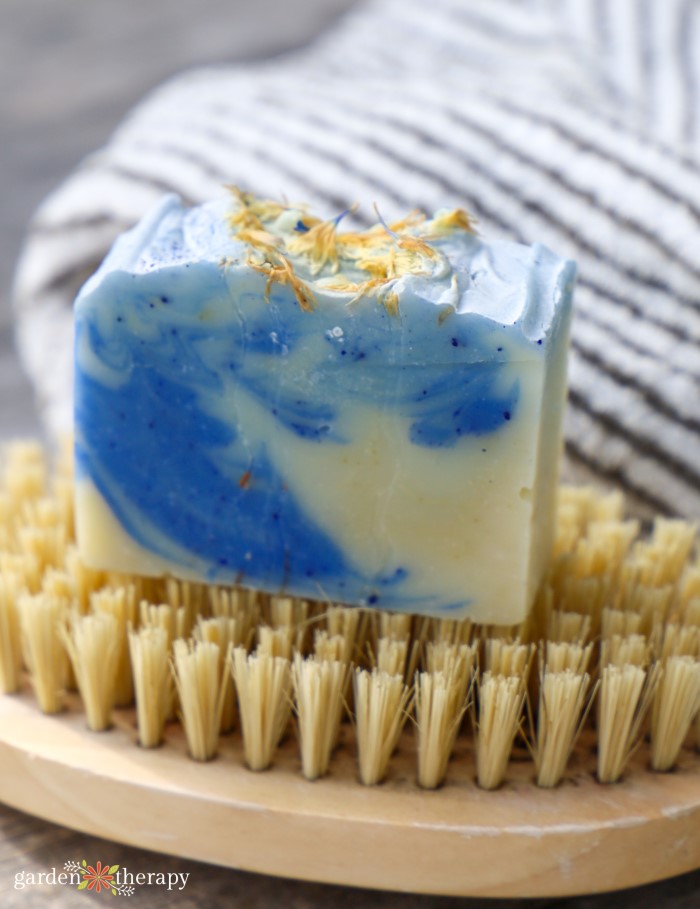 Make It!
Measure all of your ingredients with a kitchen scale. Begin by melting your oils and cocoa butter over low heat. You want them to reach 115° F.
In a heatproof container, combine your lye and water in a well-ventilated area. Keep stirring until the lye is completely dissolved. Move the glass to an ice bath to help it cool down until it reaches 115° F.
Once both the lye water and oils are ready to go, add the lye to the oils slowly in a large bowl. With an immersion blender, blend until the soap reaches a light trace. Add in the essential oils and blend again.
Next, I use a specific technique for creating the swirl. You can find a full tutorial here. For this mint soap recipe, I used blue mica powder to make the swirl.
After you're swirled and poured your soap, top it with a mixture of dried calendula and cornflowers. Let your soap sit somewhere warm for 48 hours before cutting it up. Once cut, let it cure for 6 weeks and then your peppermint basil soap is ready to go!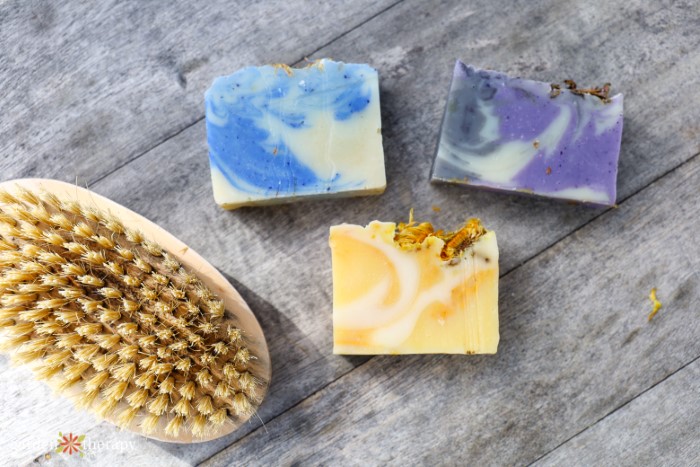 Frequently Asked Questions About Basil Peppermint Soap
Is Peppermint Soap Good for Skin?
Peppermint feels wonderful on the skin. Similar to how it feels on the tongue, it offers a cooling and refreshing sensation to your skin. This sensation helps with pain management, itchiness, and inflammation. The scent alone is refreshing and energizing, working to deodorize the skin too.
Is Basil Good for Skin?
Yes! Basil has plenty of antioxidant, antimicrobial, and anti-inflammatory properties. This works well for treating acne, preventing skin infections, and slowing signs of aging.

Holy basil in particular is also well known for helping to brighten a complexion and reduce dark spots and scarring.
Is Mint Soap Good for Your Face?
Mint soap is safe for use on the face (avoid getting it in the eyes). Just be aware that you may feel some of the cooling sensation on your skin after using it! It can potentially help treat acne, keep away harmful bacteria, and brighten the complexation.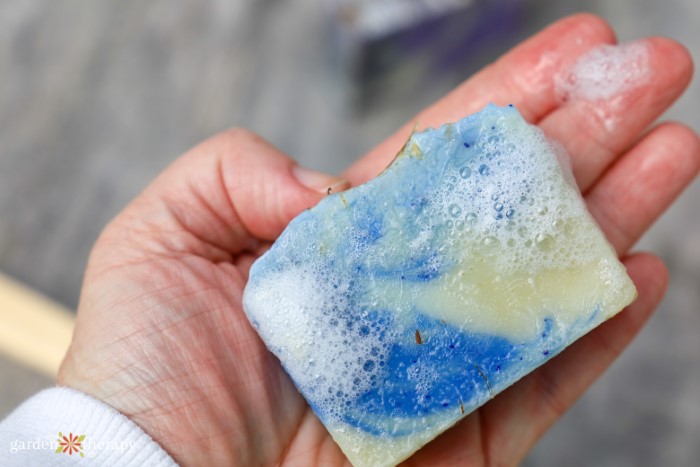 Let me know if you give this recipe a try in the comments down below! I love hearing how you use the recipe and how it works out for you.
More Soap Recipes
Basil and Peppermint Soap Recipe
Energize your day with this basil and peppermint cold process soap recipe. Makes 2 lbs of soap.
Equipment
Double boiler, soap making pitcher, and a pot of water.

Safety gear (rubber gloves, face mask, apron, eye protection, etc.)
Instructions
Measure all your ingredients.

Melt your oils and cocoa butter over low heat to 115° F.

Mix your lye and water together until fully dissolved. Let it sit and cool in an ice bath until it reaches 115° F.

Mix your oils and lyes together in a large bowl using an immersion blender. Mix until it reaches a light trace.

Add in your essential oils and then blend again.

Mix in your blue mica powder to one side of the bowl with a spatula. Make slow circles until the powder creates a blue circle around the edge of the bowl. Pull the blue through the soap twice.

Pour your mixture into a 2 lb soap mold. Top the mixture with dried calendula and cornflowers.

Let the soap sit somewhere warm for 48 hours.

After 48 hours, cut the soap into equal bars. Let the soap cure in a cool, dark place for 6 weeks before using.